Micah turned 3 this month and to celebrate
we threw him the party of his dreams… a puppy party!
Micah has a whole pack of puppies that he snuggles up with all day and night.
One doggie specifically  goes everywhere with him. (the alpha dog.)
With a 6 week old baby..I tried to keep it simple but still have fun and be creative!
I get energy from planning little celebrations like this and I love
seeing their faces when they walk in the room on their birthday!
All the littles get in on helping out in different ways for their sibling's big day.
I'll share in this post the little details I layered into the party to make it super fun for my puppy lover!
The photos were taken by the amazing Whitney Donae (who I connected with via instagram!)
She's a local photographer and I already lined up two more sessions for us because she was so great to work with!
If you're in the Charlotte, NC or Rock Hill SC area you need to connect with her.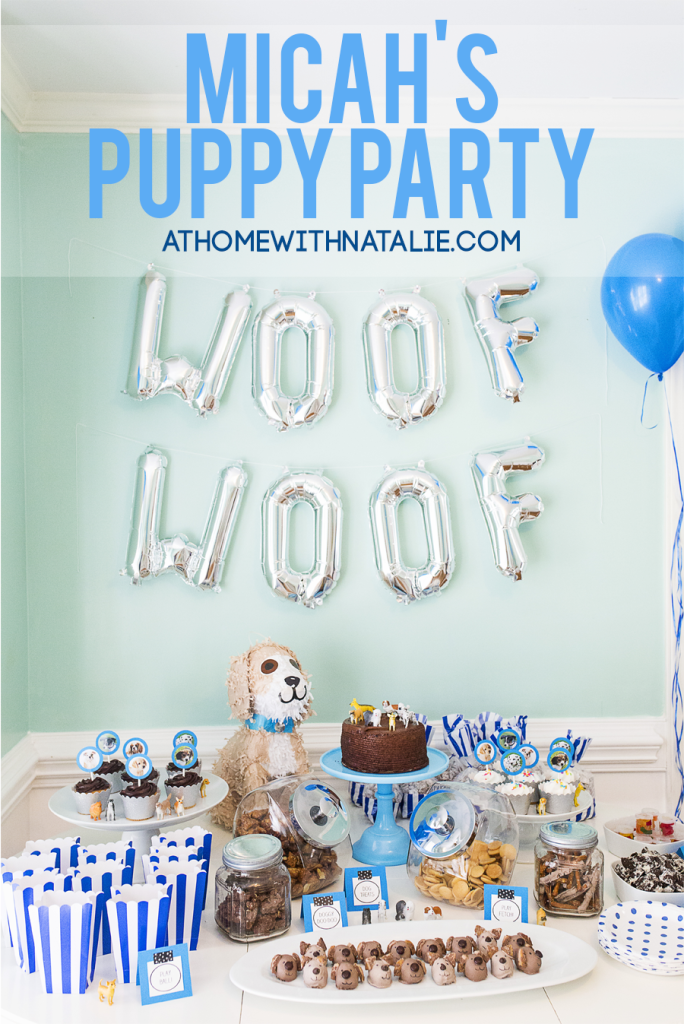 We all know I'm a sucker for the dessert table!
I knew the backdrop needed to be simple for me, (still adjusting to 4 kids)
So when I saw these silver letter balloons on Zurchers.com I knew they were perfect!
The best part…you blow them up yourself with the tool that comes with it.
Those babies were on the wall in minutes and the kids loved spelling out the words.
I also got blue balloons and a jumbo 3 balloon from zurchers.com and
got those blown up at the grocery store when I picked up a cake.
(yes the morning of I picked up the cake..lol. I wanted to bake one (I love to bake!) but then got realistic. ;)
I also knew that to make things simple, and immediately cohesive looking, I needed to pick two colors!
I chose silver and blue. I also knew we would have a lot of brown because Micah likes chocolate!
Choosing colors can really help you with your party planning, saving you time and money.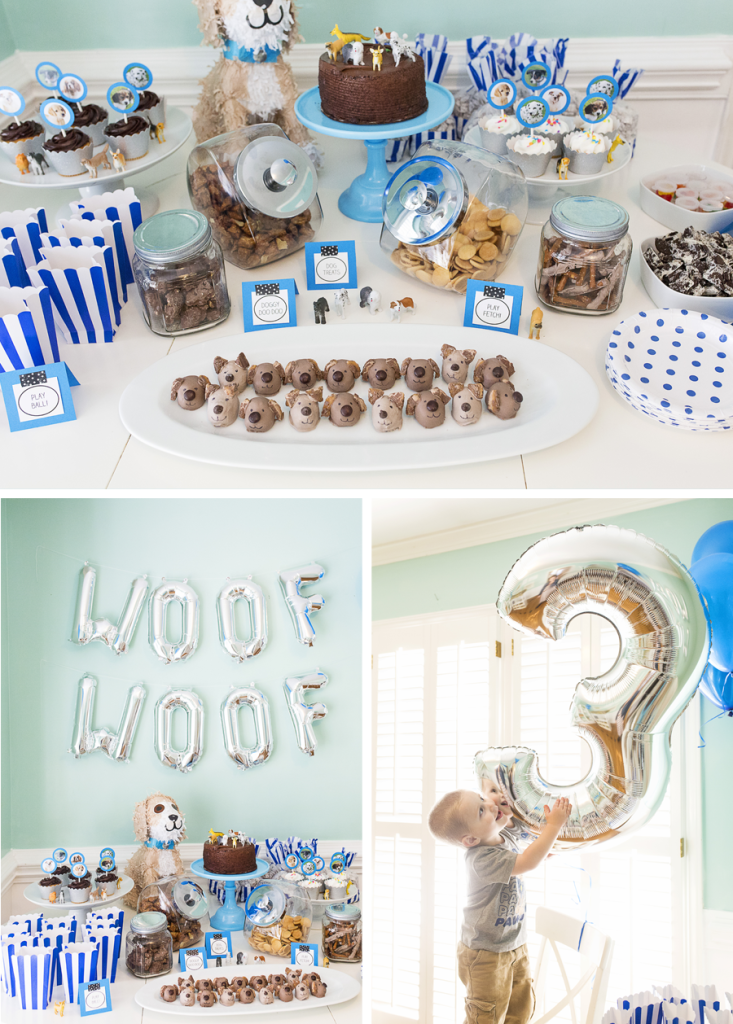 I only prepared, myself, two things for the dessert table.
Both were no bake treats..so super easy to pull off.
The day before the party I made the puppy oreo bark. (get it?? get it??)
(SO EASY! and delicious. I'm making it for christmas just with some peppermint oreos on top!)
Gummy bears were on sale at target with my cartwheel app so I grabbed those and then found some
8 packs of clear containers at the Dollar Tree for the Puppy Vitamins!
The kids were slamming those…lol.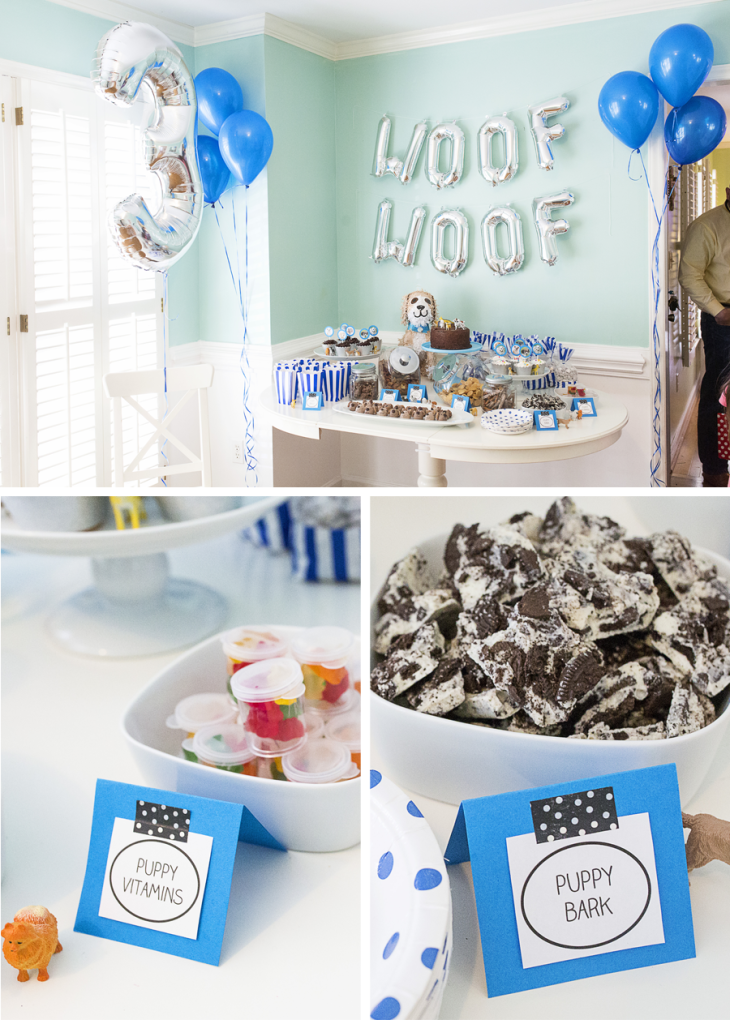 I made some cute little oreo truffles that looked like puppies!
Kind of winged those using halloween candy (mini milky ways for ears!)
I think they were Micah's favorite part. He passed them out to each guest as they arrived haha.
I'll try to make up another batch and photograph the process.. so fun!
I filled my jars (target last year, but they might still have them) with Dog treats and Frisbees…
aka peanut butter pretzels and mini vanilla wafers.
Target Bargain bins had the smaller glass jars.
I also had pretzel sticks plain and then dipped in chocolate. (from oreo truffle making)
For the very popular Doggy Doo Doo.. I got on sale a couple bags of peanut clusters at target.
The adults loved those and I think my mom and dad just liked
asking the kids to go get them some doggy doo doo. silly grandma and grandpa! ;)
The little puppies are from Oriental Trading. I used them around the table (with Sienna's help) and on the cake.
I was going to pipe some green grass on the cake..but decided to leave it and call it a dog park. ;)
I made up food cards using leftover blue paper and old washi tape I searched my craft bin for.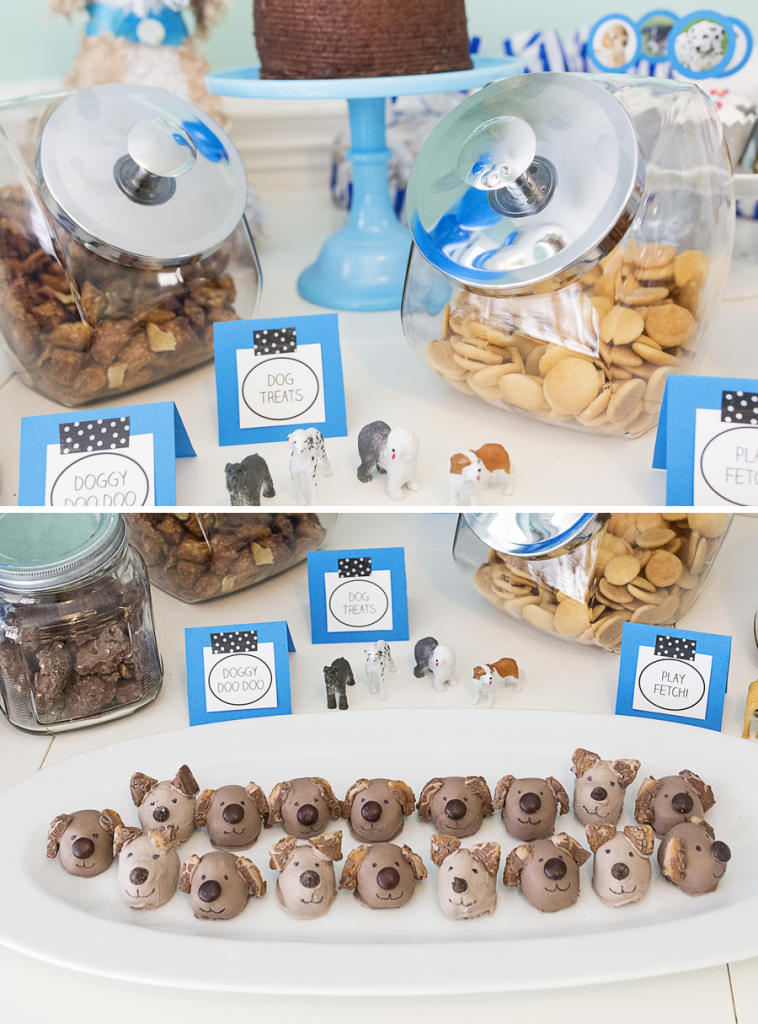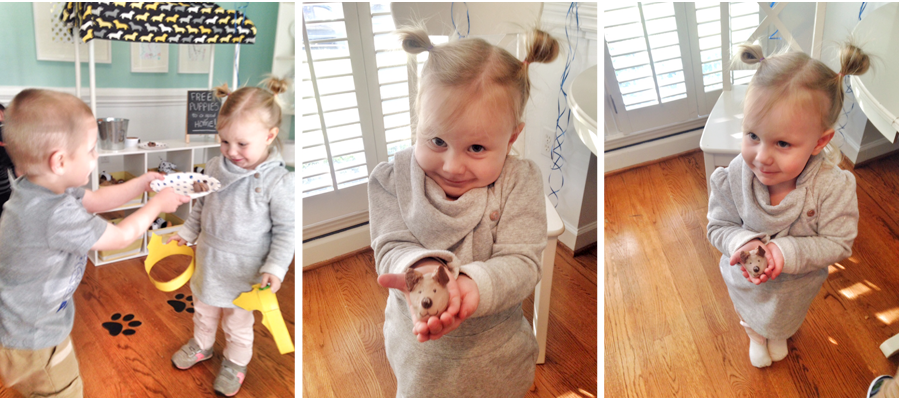 The JUMBO 3 balloon was a hit. and thennn turned into a weapon. Of course.
Still love it! haha. The chair was known throughout the day as "my fwee chair!" Translation…my 3 chair.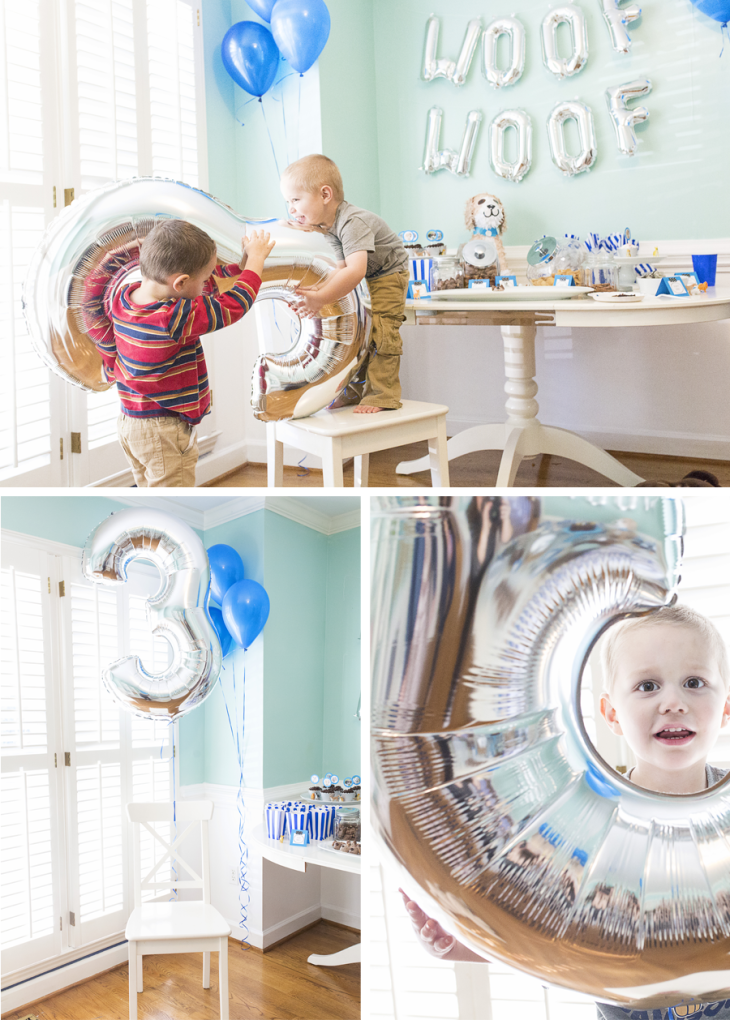 Micah LOVES Popcorn Booty.. or as other people call it.. Pirates' Booty.
I filled up the large striped containers with some of the snack for the littles.
Kids always love holding their food. (containers from zurchers.com- I just got a different color)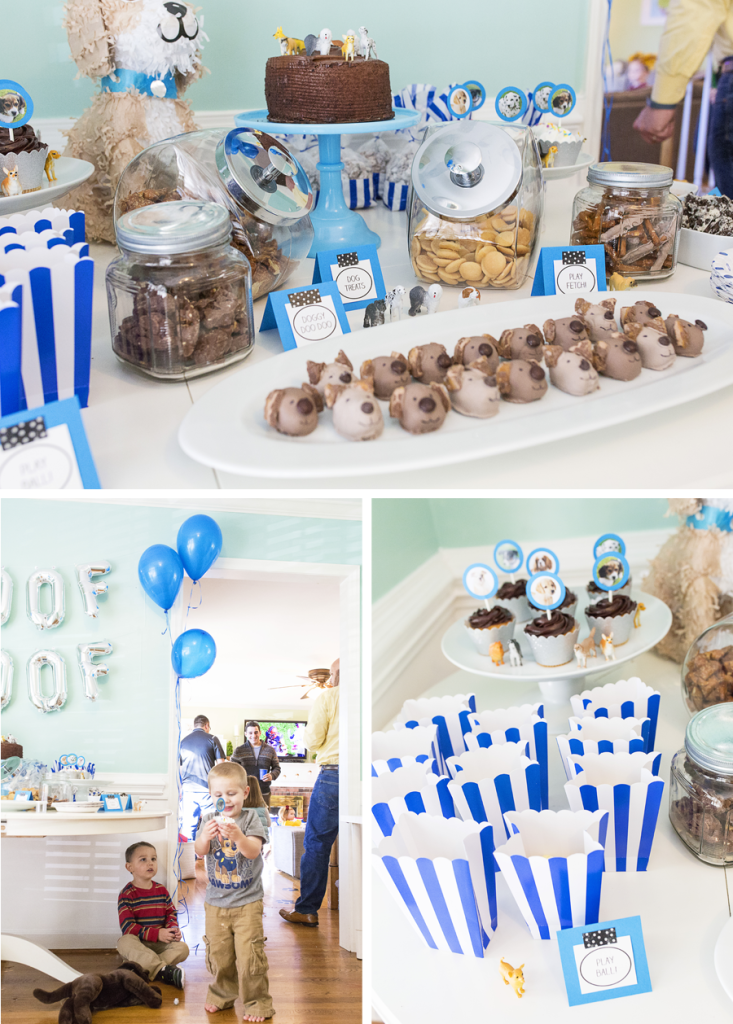 The plates and the favor bags (filled with home made puppy chow) are from Zurchers.com
Loved these plastic favor bags because they can keep the treat fresh
and not show grease marks like paper favor bags!
The cupcake wrappers are also from there. Loved how sparkly silver they were!
I made cupcake toppers using doggy stickers from Oriental Trading and blue craft paper from Hobby Lobby.
Micah was my helper..passing me the stickers and we put them on the paper and then
used my craft punch to cut them out and tape to lollipop sticks we already had!
The kids loved picking out which puppy/cupcake they wanted.
I thought it would also be cute to put the little doggy figures on the cupcakes too, if the toppers didn't happen!

I had "real food" in the kitchen…
buffalo chicken dip and spinach dip..and different kinds of chips and drinks.
But the party was at the dessert table. ;)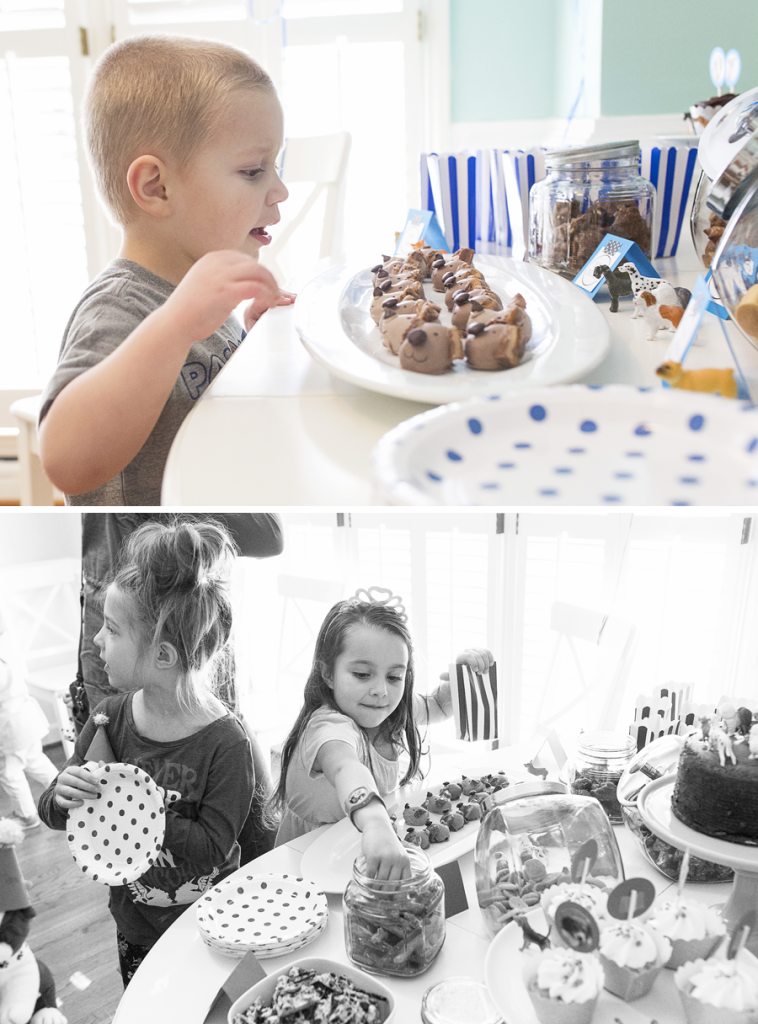 Micah and his cousin Violette were a hoot at the party.
They were all about those oreo truffle puppies!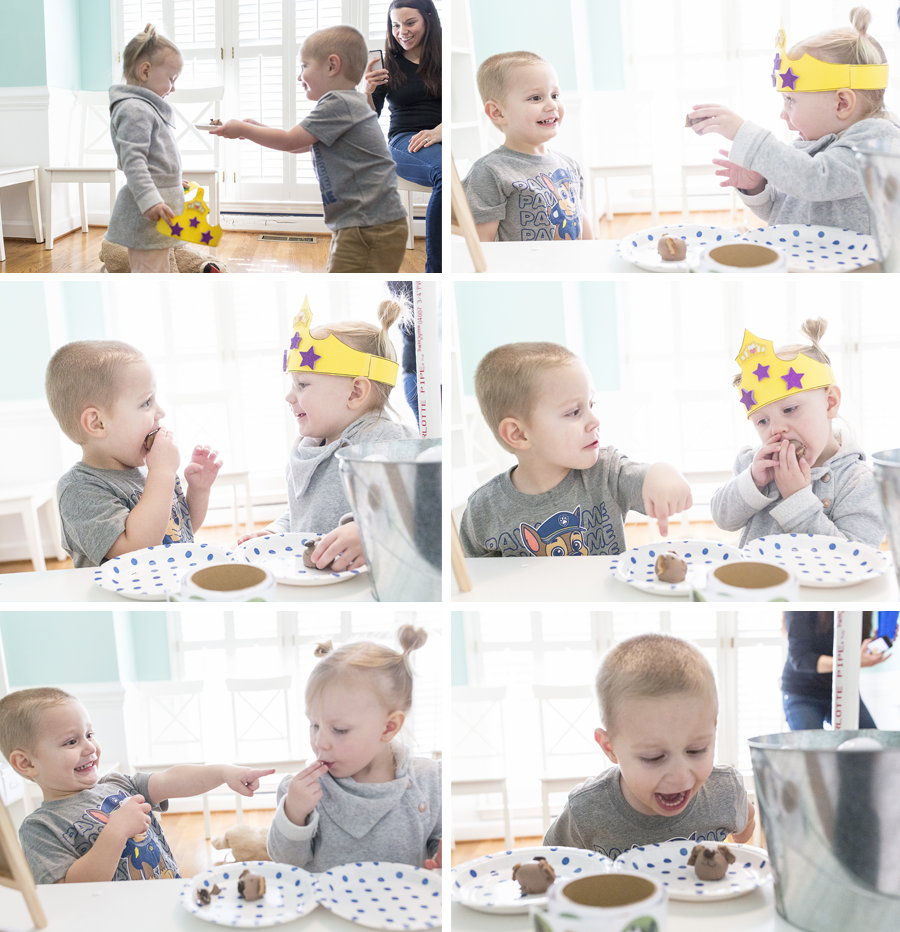 I put the puppy pinata from Zurchers.com on the dessert table next to the cake.
With all the sweets we had, I didn't see the need for filling it with candy…
It was just part of the decoration and now Micah gets it to play with.
My blue cake stand (from zurchers.com + sienna's frozen birthday party) was perfect for this table!
The kids picked out the doggies to go on the cake. Micah's favorite was the dalmatian.
Sienna wanted the chihuahua up front.
(the pack of dogs was from oriental trading.com) The candles were from a pack
I had gotten at target. (spritz brand.) We slowly are using all the colors in the pack!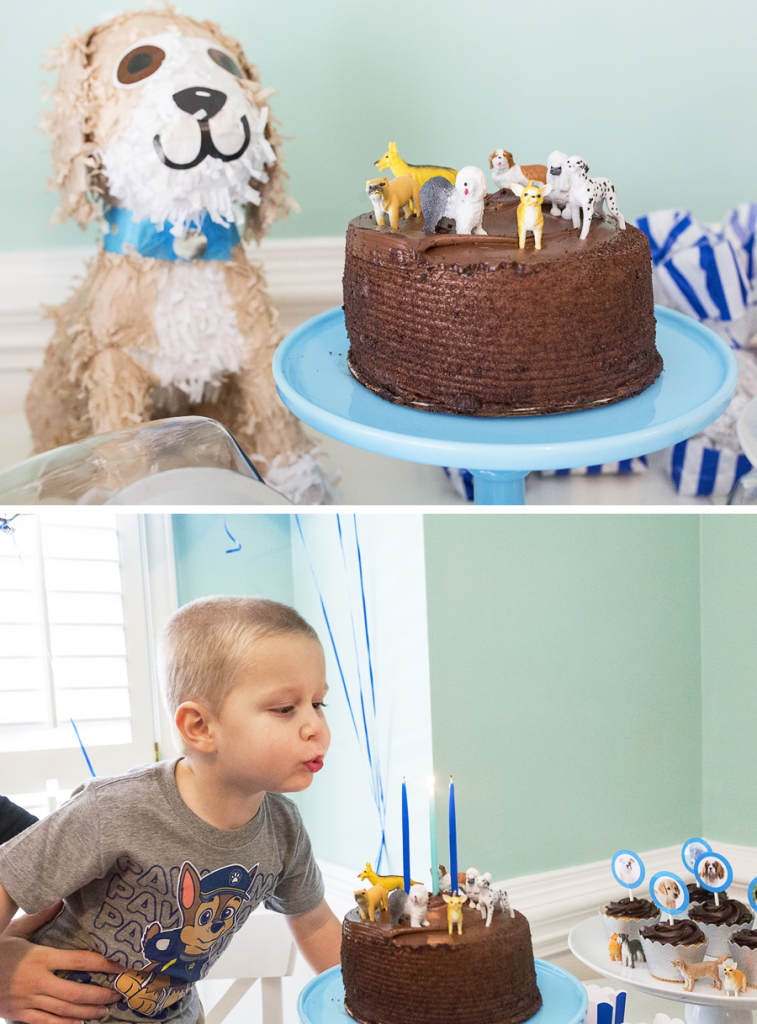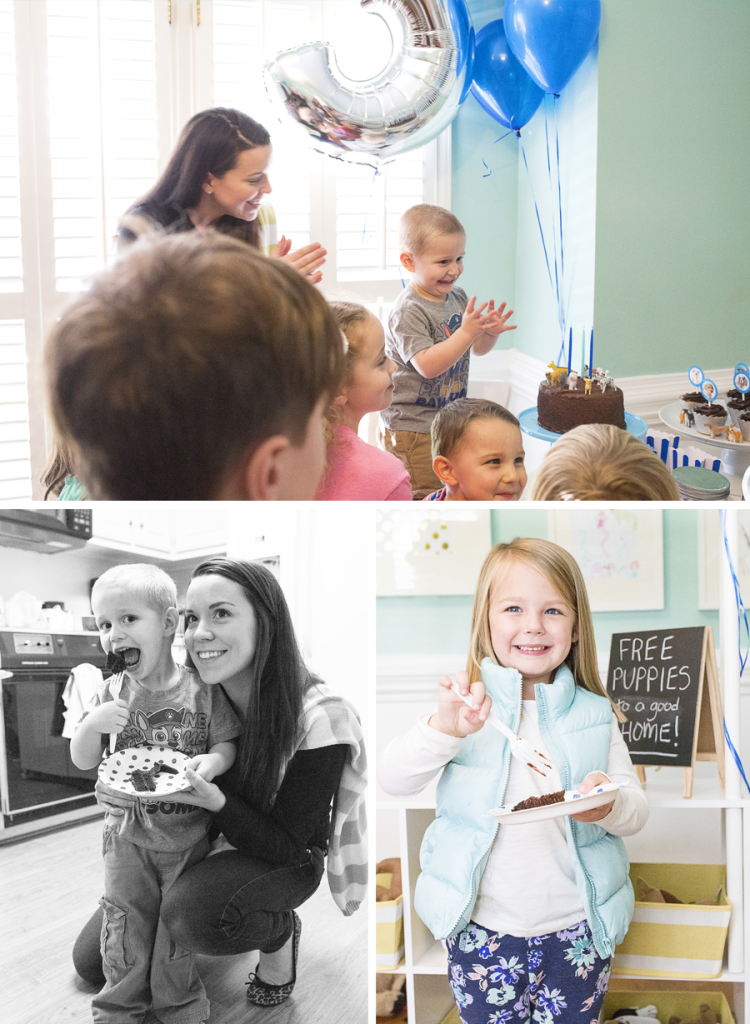 Another fun part of the party was out little Adoption Station!
I didn't really plan on using the kids DIY lemonade stand booth I made them…
but then it just kind of came together and a couple days before I ran to JoAnns and found
this cute puppy dog fabric 50% off! (The bins are from target in case you're curious!)
The kids loved being able to pick out a puppy to take home.
We filled the bins up with the cute puppies from oriental trading.com.
They also had stickers and little puppy dog eggs to take home. (both from oriental trading.com)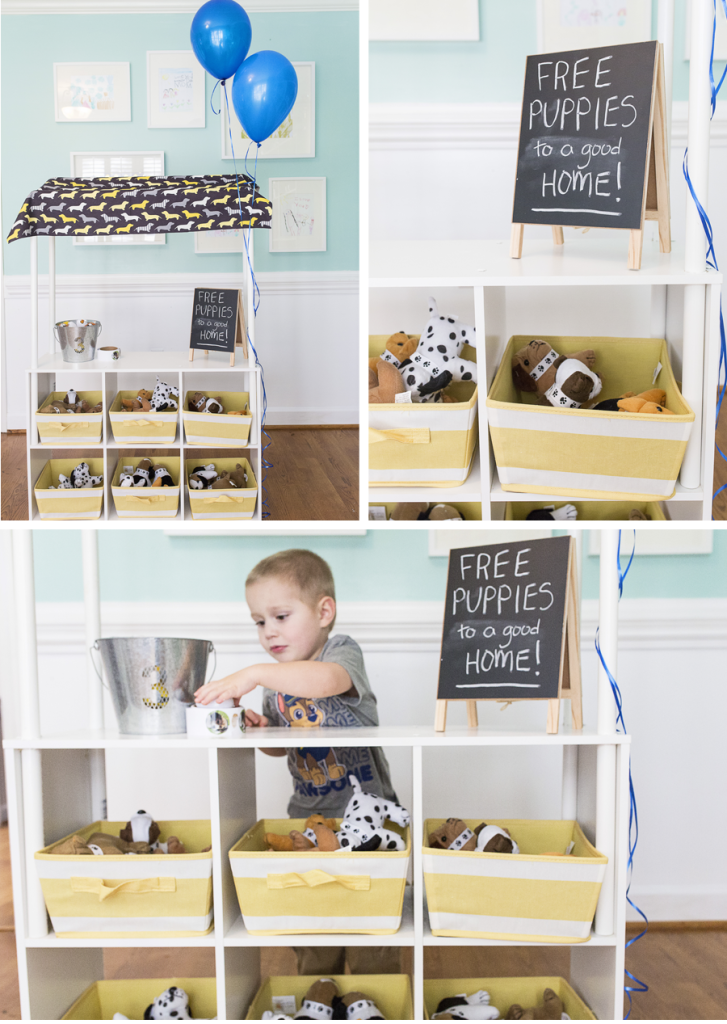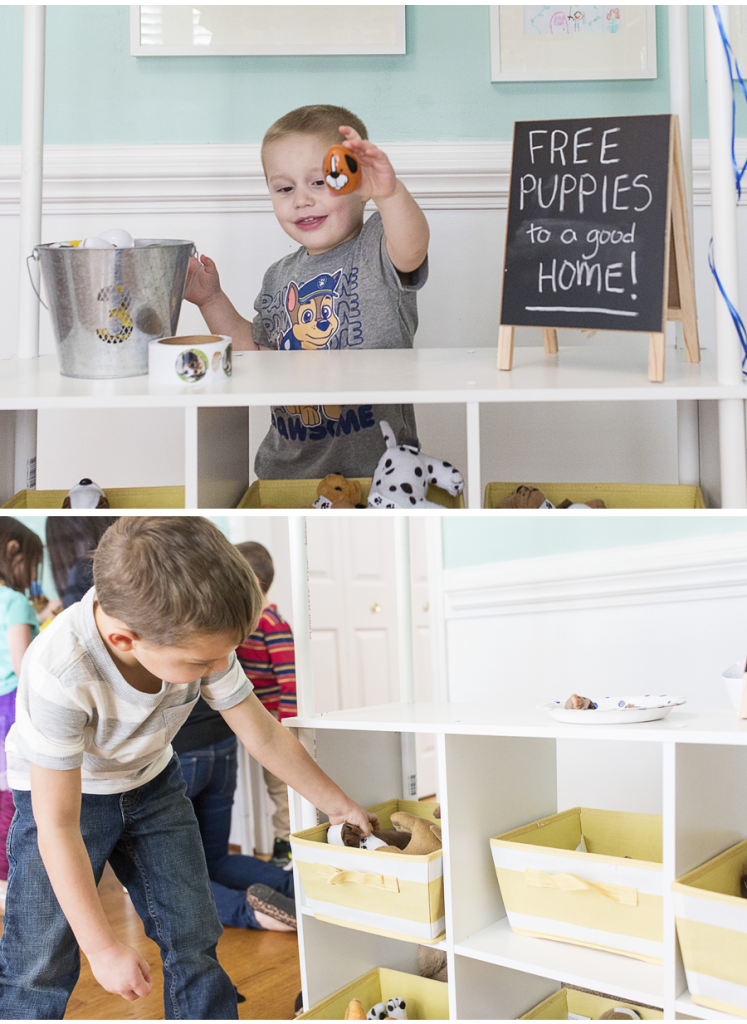 After the kids picked out their puppy, they got to come over to me and get their name tag.
It was cute hearing the names they picked out. We had some trixies, peter, johnny, lightning, starburst, harry…
I had made up some party hats too using the leftover paper from the cupcake toppers…
and some christmas sale pom poms from hobby lobby!
The collars were made with ribbon from hobby lobby..and some sticky velcro that I cut to size. (from michael's.)
Then I used gift tags for the name tags…just cutting the hole with a slice from the scissors to slide onto the ribbon.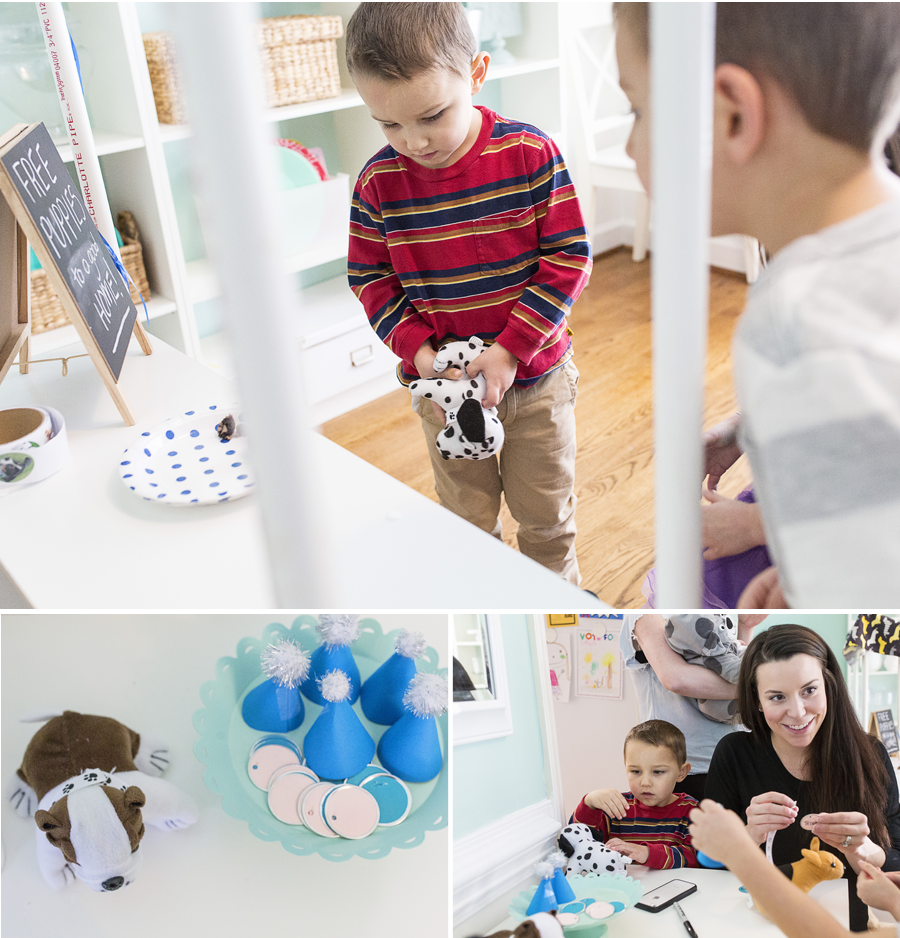 I like that the kids can put the collars on and off… my girls LOVED that part.
A friend at the party asked me how do you come up with these ideas?!
and I just said this is how we played as kids!
It's fun to put these creative ideas to use with my own kids now and have fun together!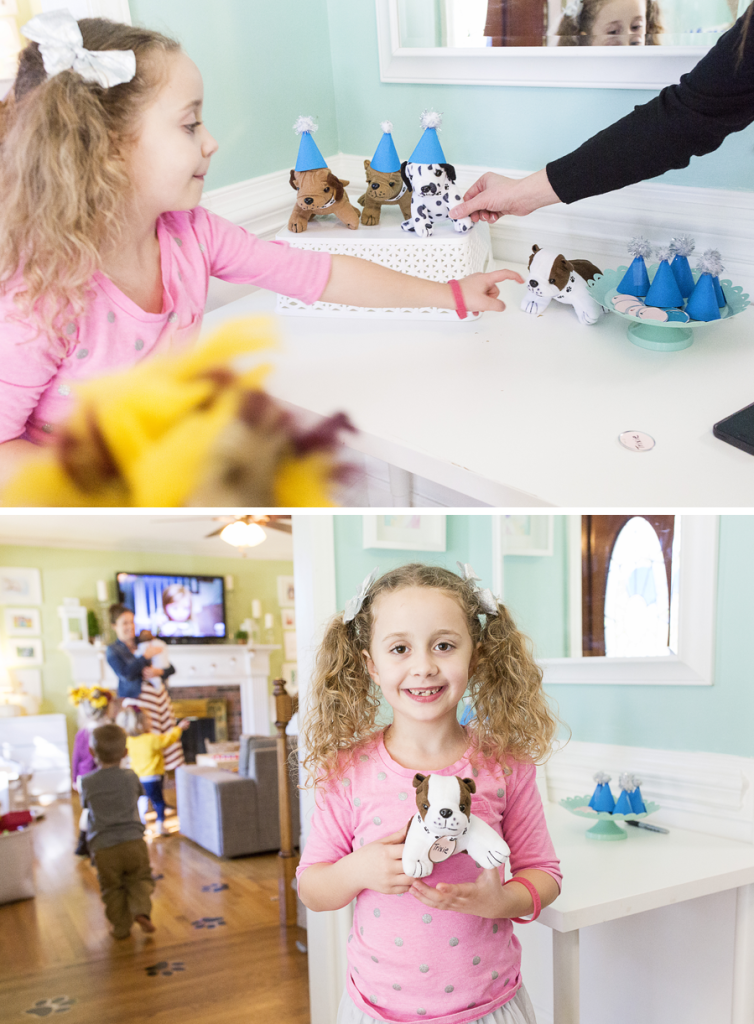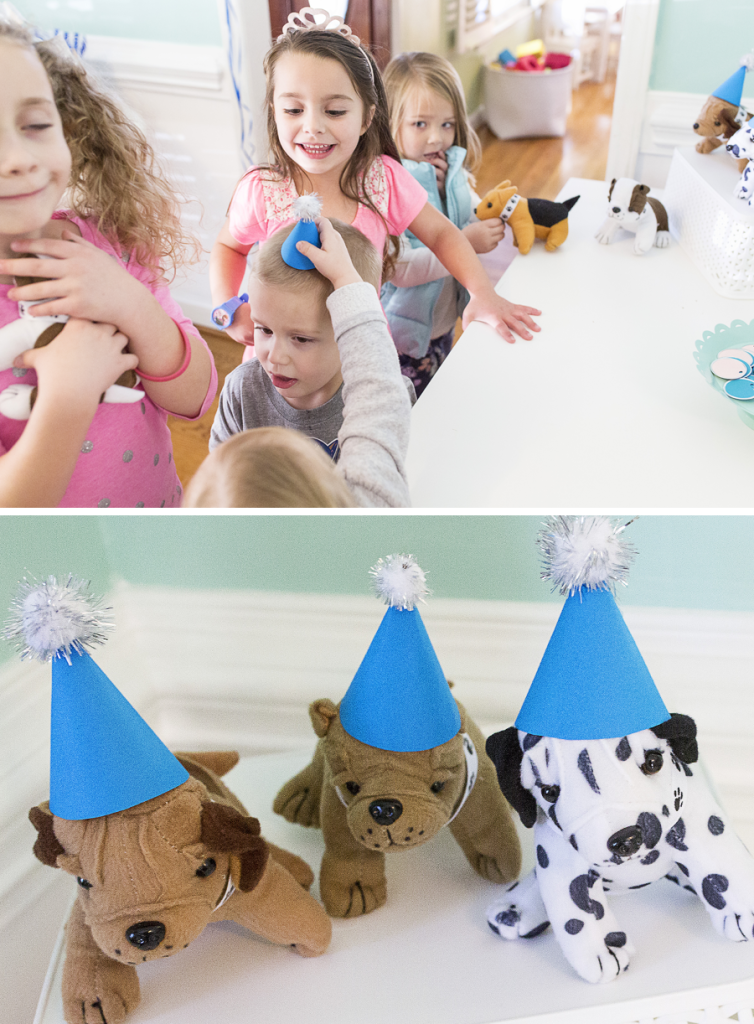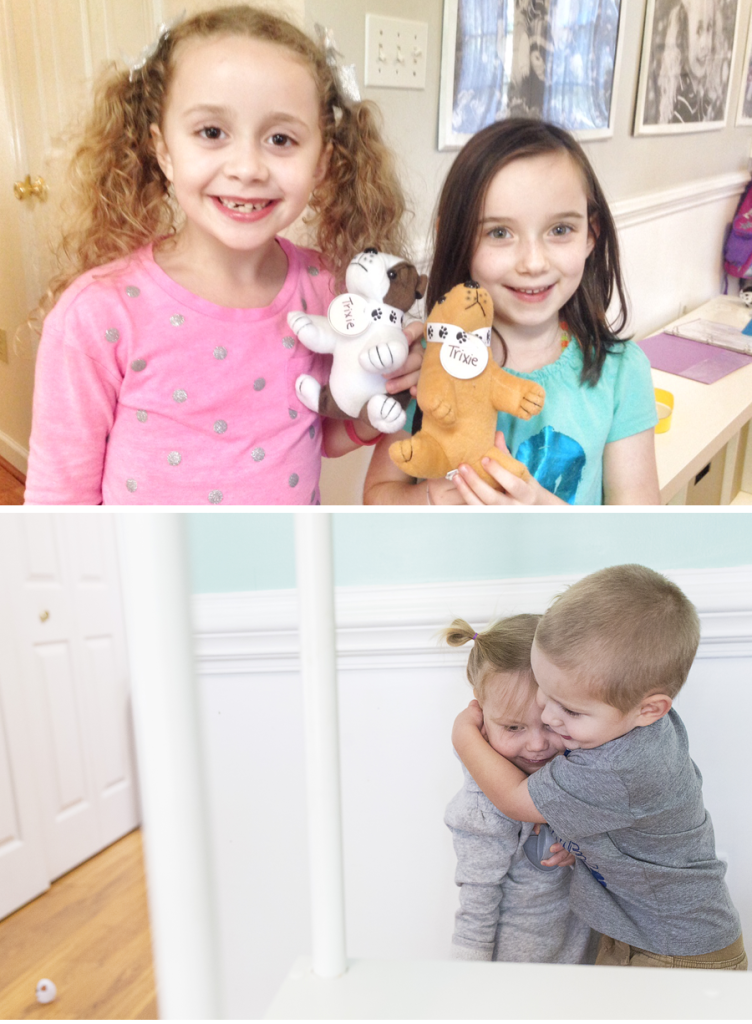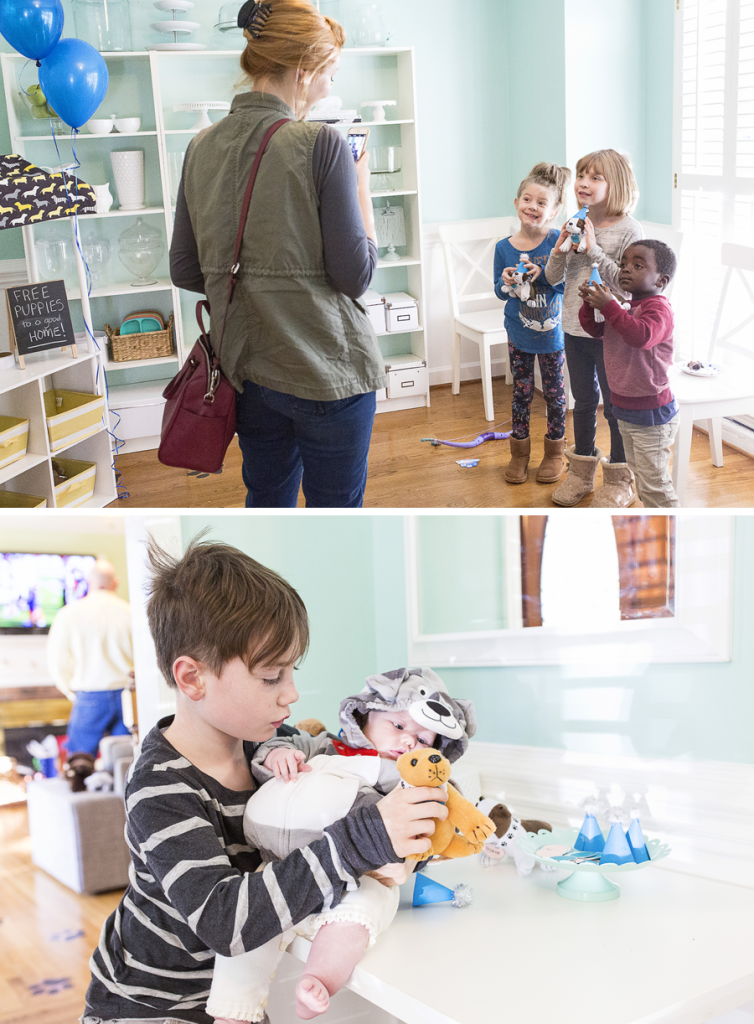 My niece came dressed as a puppy….cutest thing ever. Micah wanted to keep her.

This hulk photo cracks me up… He LOVES hulk.
best day ever in his book.. now they all creepily watch him while he sleeps, all in a row.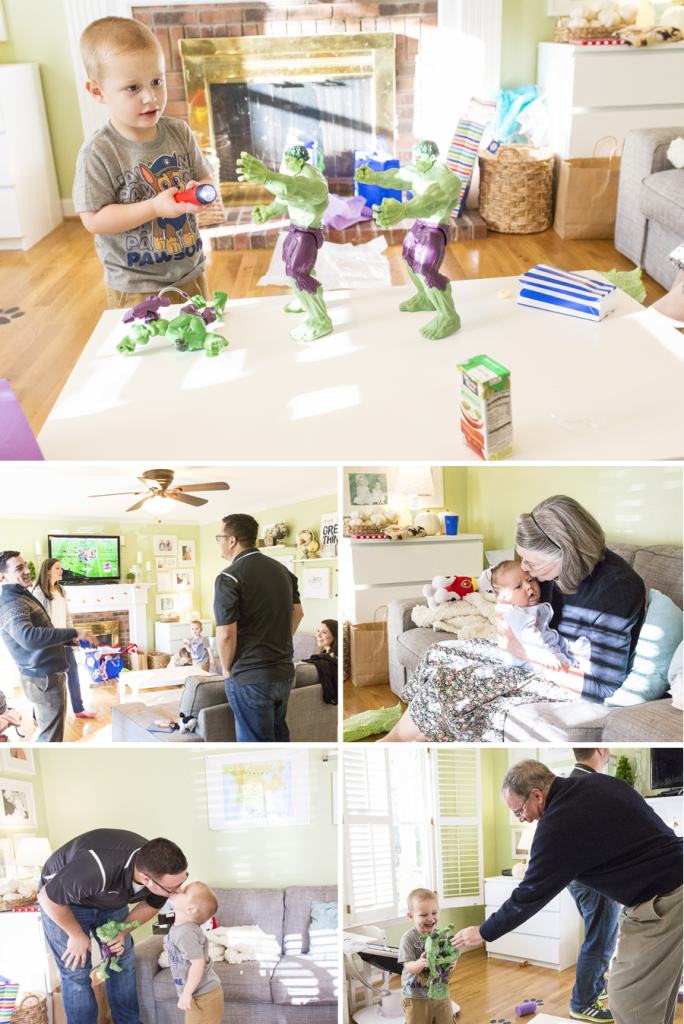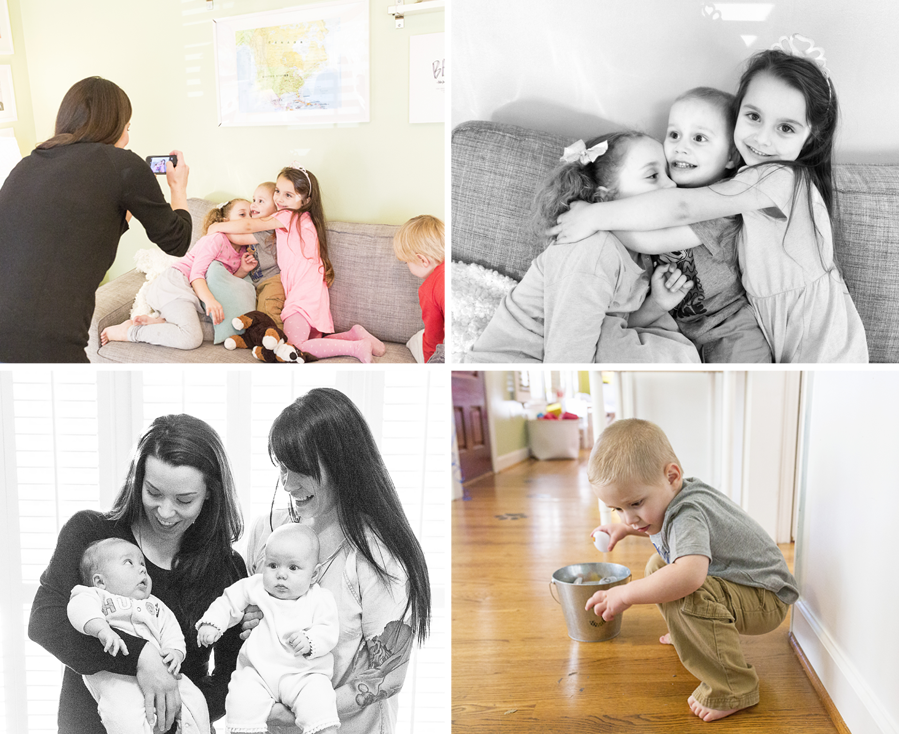 Sophia and Sienna put down all the cute little paw decals we had from Oriental trading.com!
The kids loved marching around from one paw print to the next.
We still have them on the floor…they think it's part of our normal decor at this point.
I need to get on that. haha.
How adorable are these two babies??? Asher and his cousin Lily. (that's my mom and sister)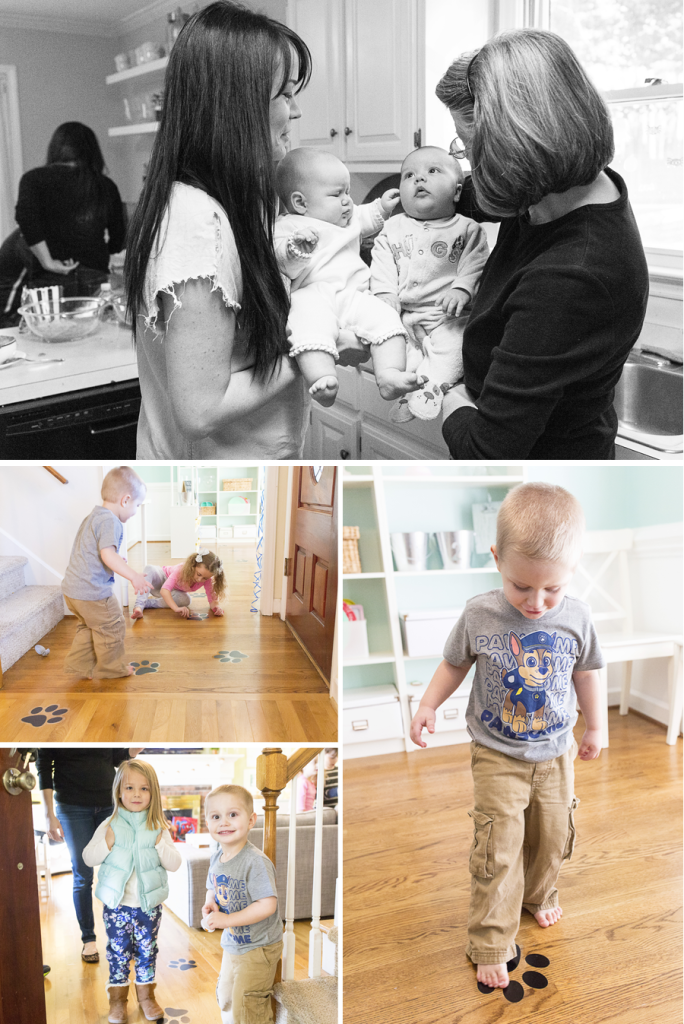 I'm so thankful for this sweet family of mine and
that we can celebrate all together our Micah Man!
We snapped this quick before friends and family started arriving.
Asher's face cracks me up here. and Micah is like wait..why are we outside all the fun stuff is inside?? ;)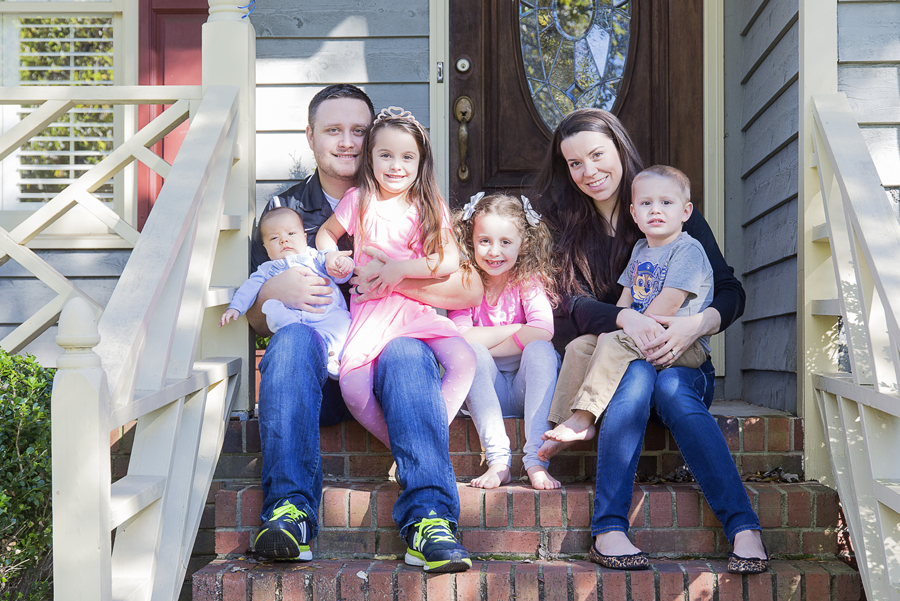 It was a fun day! Thanks for stopping by to check out his big day.
Hope you get some puppy party inspiration!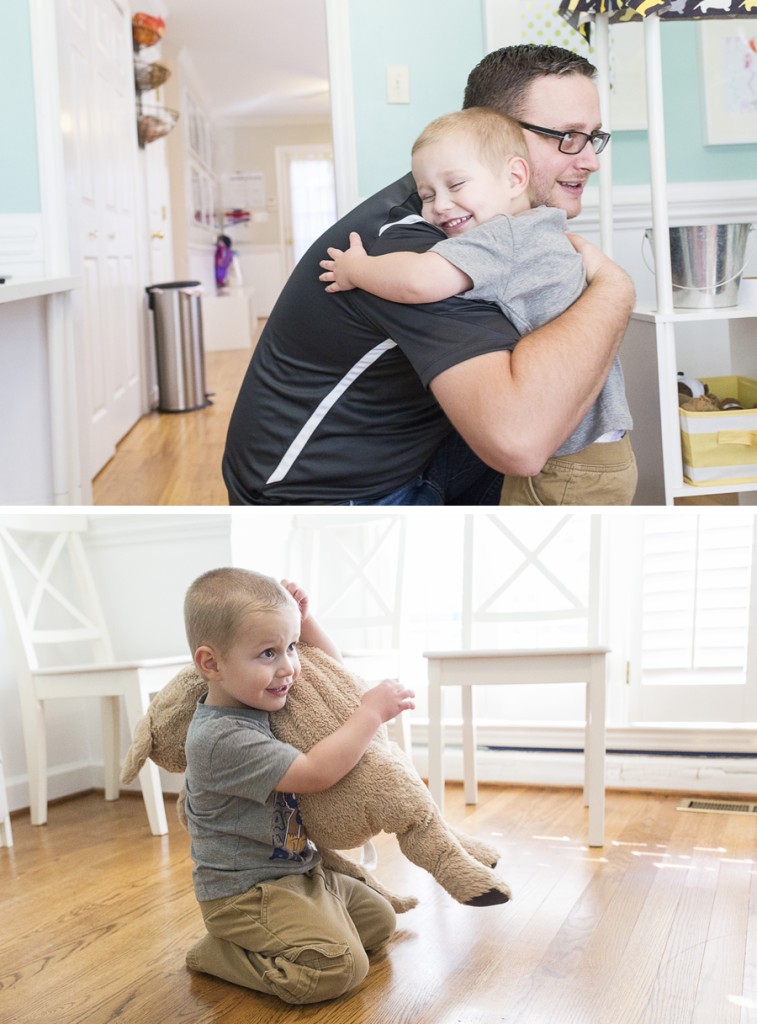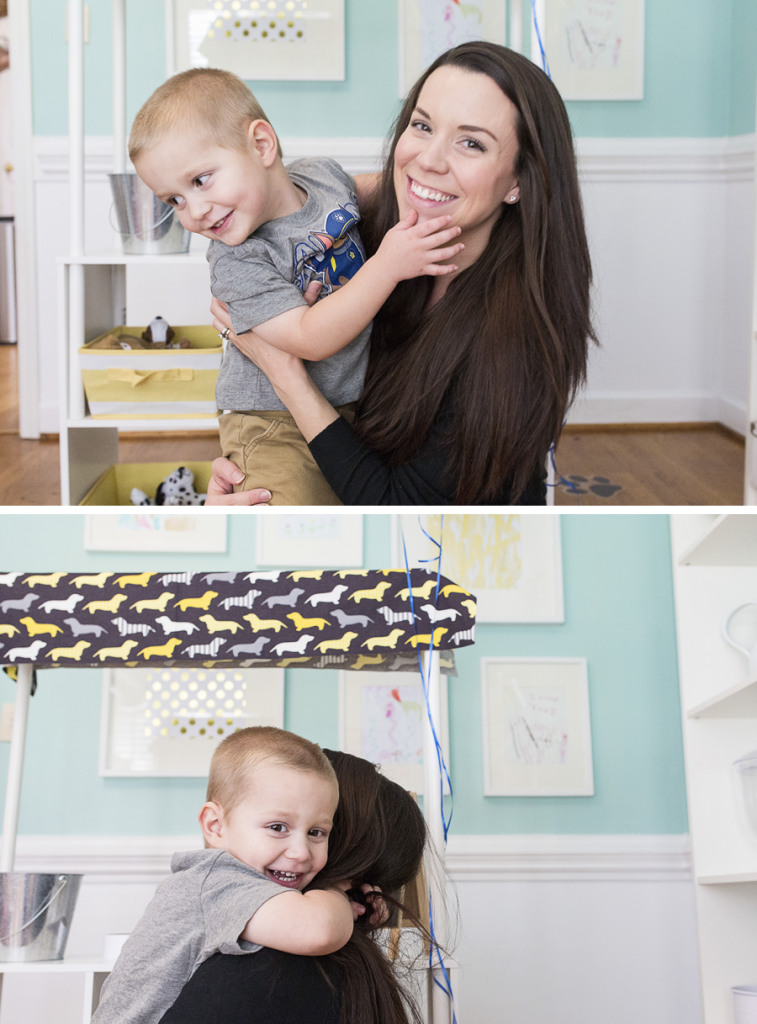 Happy Birthday Micah!!!!
WE LOVE YOU!