I love our current house, but one downside is that the kitchen isn't
very big and doesn't offer much storage space.
I've learned ways of using the space to it's fullest potential with shelves that double
with displaying my favorite decor and help me stay organized!
The key for me to stay organized, is for everything to have it's place!
I love knowing exactly where to go to find something or to put it away.
Today I'm highlighting this corner of our kitchen and how I styled the shelves for function and pretty!
Most of these items I've gotten over the years and when we moved in,
I rearranged a few times to make them all work together.
I do love how bright the kitchen is… It makes the day cheery!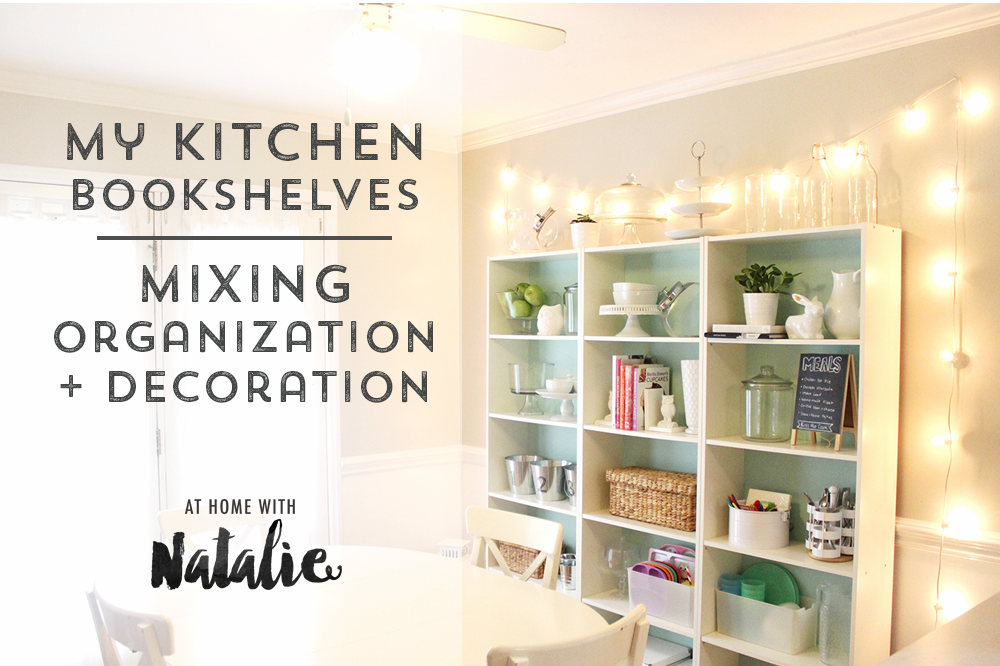 I couldn't find a bookshelf to fit the space like I wanted! I searched high and low online.
Some are so expensive and I knew building my own from scratch just wasn't going to happen!
So instead, I got three bookshelves from IKEA and connected them. (I also attached them to the wall to make sure it's nice and safe for the littles.)
Before putting on the back piece I painted them a blue shade using our leftover playroom paint
(sherwin williams: aloe) and some white trim paint!
We needed more light in our kitchen eating area! I had some leftover outdoor lights from target…
so I put up two nails and strung them up.
I love the sparkle it gives the kitchen, especially at night when I'm crafting at the kitchen table!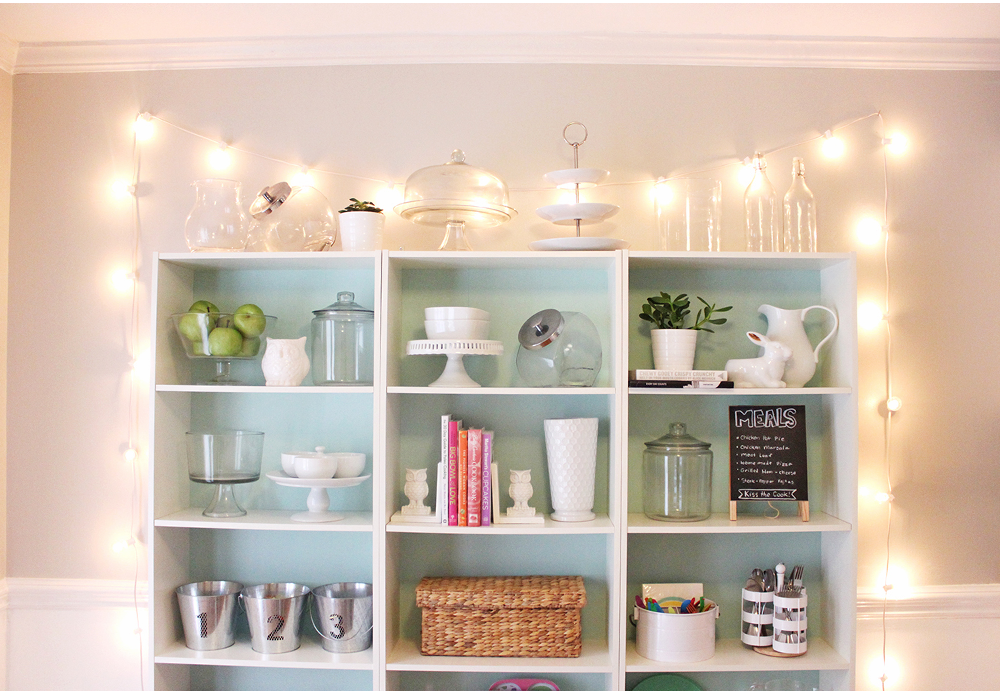 The bottom three shelves are all "kid proof" items. Things that aren't breakable.
We don't have enough storage in our kitchen cabinets for all of our kid plates and cups.
So I found at target two bins to load up and have at their level so they
can help set the table with their own dishes. I have a bunch of different size IKEA storage boxes at the lower
levels. I was always having to go upstairs to the linen closet for kitchen towels, so instead
I filled up a basket (target) with my pretty ones. We do a lot of coloring time right now at our kitchen table.
I put a plastic tablecloth on and use that three container caddy filled with crayons!(bargain bin at target)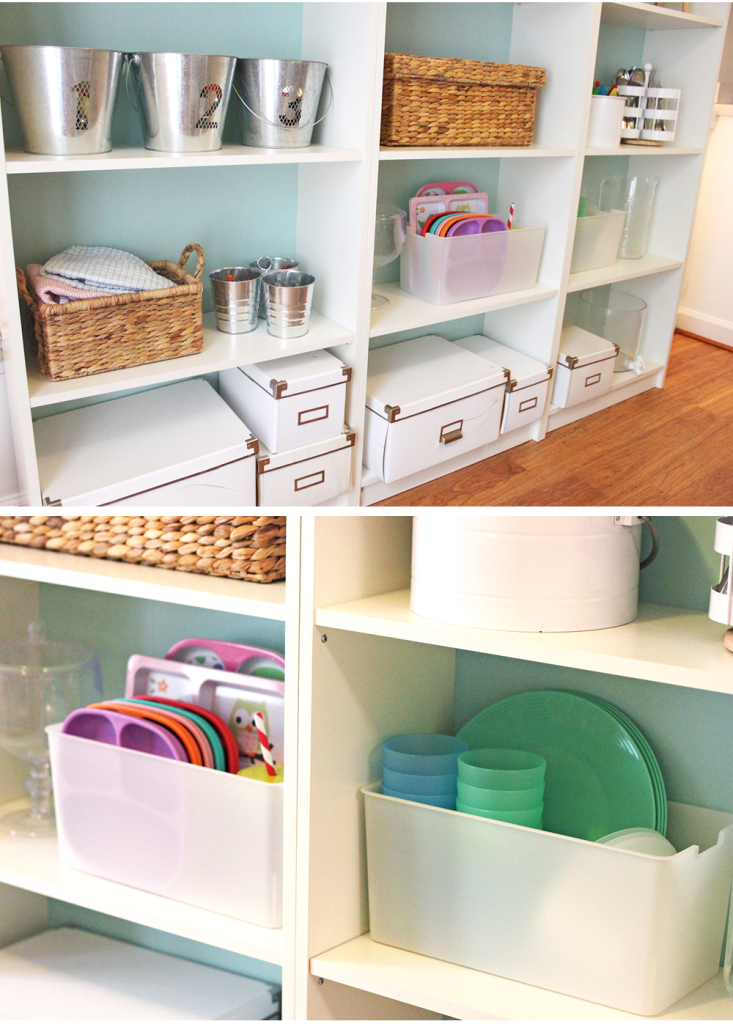 I am not always the best meal planner… as far as assigning a meal to a certain day.
Especially with me being pregnant, some days things don't sound good
or I don't have enough energy to pull it off.
But I like knowing and being reminded easily, what we have to make!
My little chalkboard is my reminder board… and can also be a cute spot for a quote,
bible verse or "we are out of this list!" (the silverware caddies are from target over the years.)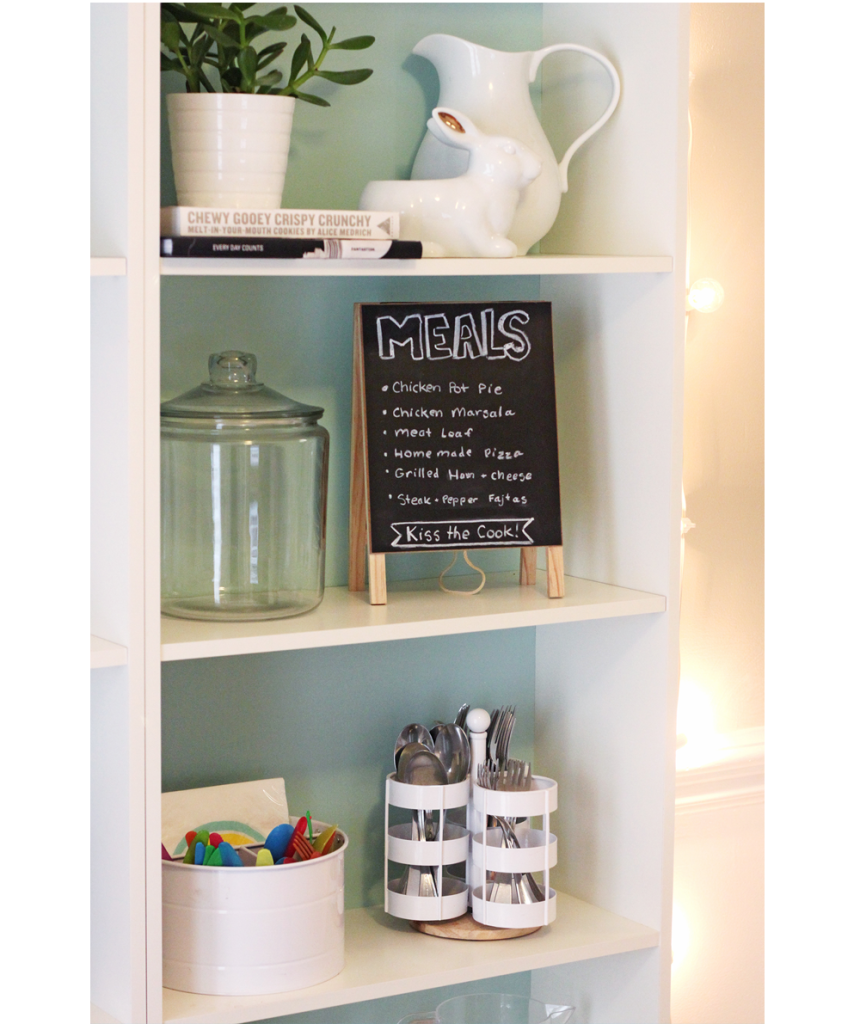 I display my favorite cook books on the shelf. I love the colors of these ones all together!
I found three tin buckets at the bargain bins of Target…loaded them up with our cookie cutters for now.
I think they'll end up in Micah's room as I pull that space together!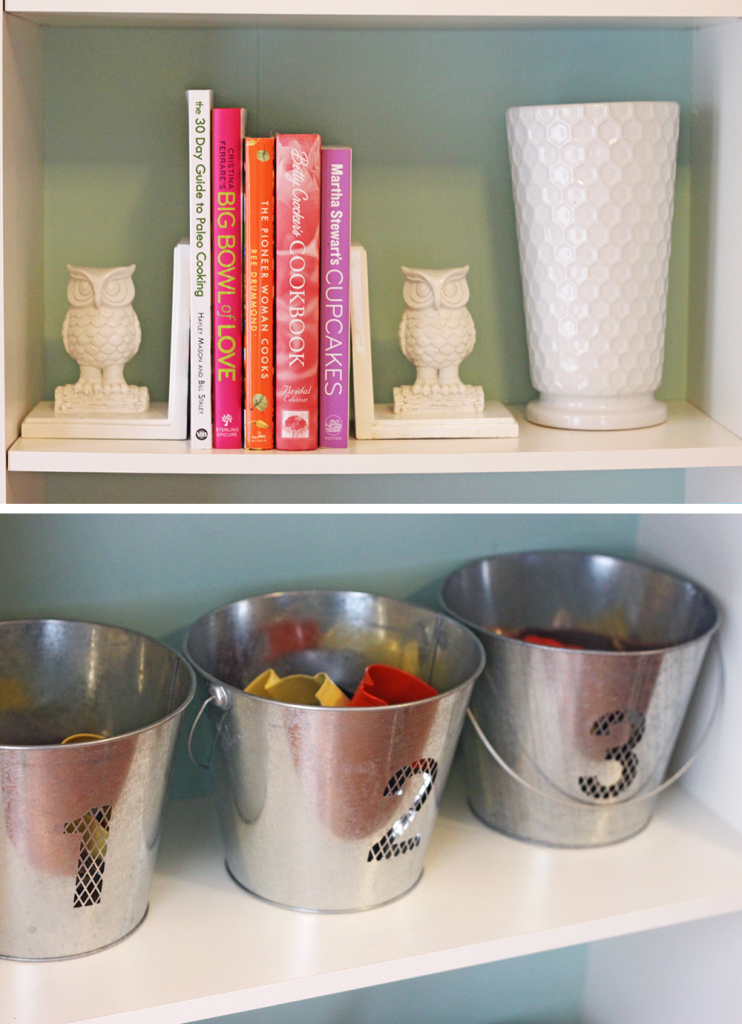 I found a great basket at Target months back and knew I had to have it.
It has three compartments and is perfect for holding my ziploc bags!
(gallon size, quart size and snack size.)
I'm always using them for snacks on the go or fridge storage…
love having them out of the pantry and ready to grab!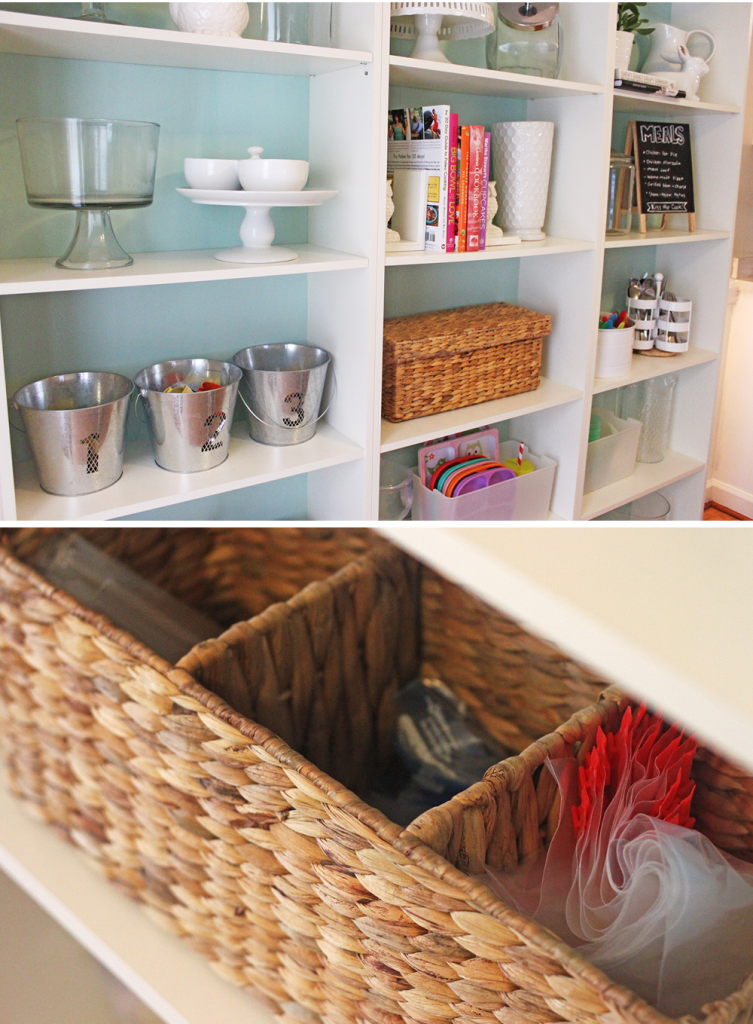 I had a lot of dishes I've collected over the years that
I wanted to have out and be able to enjoy!
I kind of have a thing for owls. I've reeled in the obsession.
I'll never get over white and glass dishes though. ;)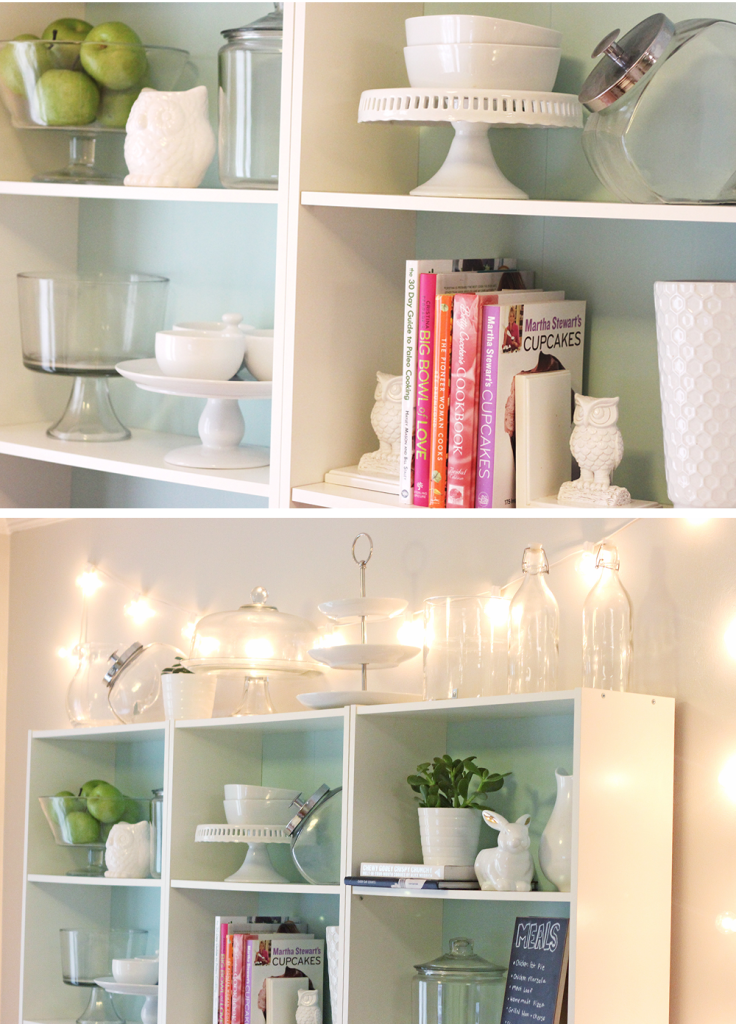 I teamed up with The Maids to bring you this organization + decor inspiration.
I love their cleaning checklist for last minute company arriving! It's brilliant.
Thank you for supporting the brands that help make this site possible!
As always, all ideas & opinions are my own.