I am slowly adding more and more rustic and farmhouse style items to our home that are "fixer upper" inspired!
Are you as obsessed with that show as I am?? If you are…then you are going to love this post!
Maybe you are trying to get a similar look but don't know where to start;
Maybe you are renting or don't have it in the budget to tear down walls and put up shiplap!
I'm putting together some go to items to help you create that space you are dreaming of
without breaking the bank. Some of these items are under $5!
This inspiration board of all things rustic-farmhouse-fixer upper…will help you in creating that look you want.
You'll know what to keep an eye out for when you are at the store!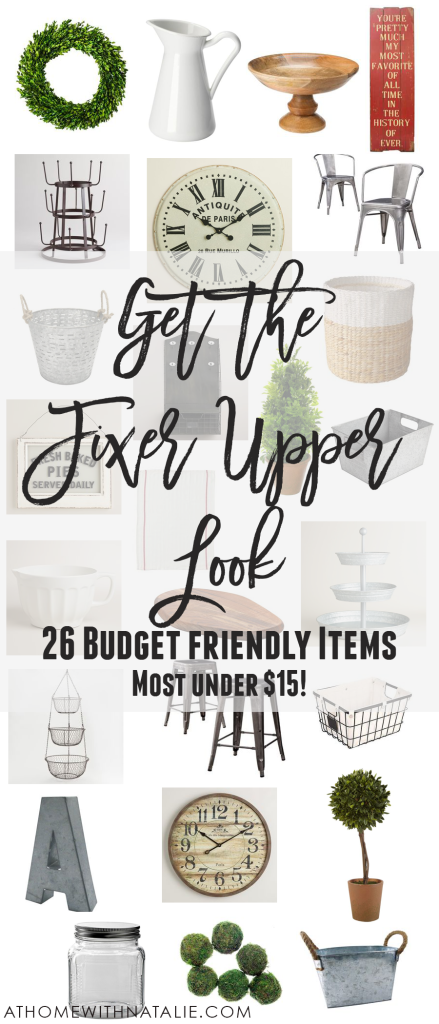 I'm leaving the pop of color in our dining room (Aloe by Sherwin Williams)
But I'm going to be painting our family room a neutral. That's one thing you see in most farmhouse looks.
Lots of cool toned paint colors of greys, blues and beige. Do you have a favorite neutral paint color??
I'm currently looking at trying Intellectual Gray by Sherwin-Williams – used on Fixer Upper.
Stay tuned for a family room make over. I'm currently finishing up the girls' room and can't wait to share it!
Lots of crazy organize everything january moments have helped me get my act together up there.
Having a spot for everything really helps tone down the toy chaos, although never completely.
If you follow me on Instagram you've probably seen some of the progress so far with toy bins and book shelves!
GET THE LOOK!
Boxwood Wreath (Target), Vase (IKEA), Decorative Wood Bowl (Target), Wall Sign (Hobby Lobby),
Wire 3-Tier Glass Drying Rack (World Market), White Metal Addy Wall Clock (World Market),
Carlisle Metal Dining Chair (Target), Galvanized Garden Basket (Target),
Wall Storage (World Market), Boxwood Topiary (Michaels), Natural Woven Basket (Target),
Wood and Glass Pie Sign (World Market), Small Galvanized Bin (Walmart)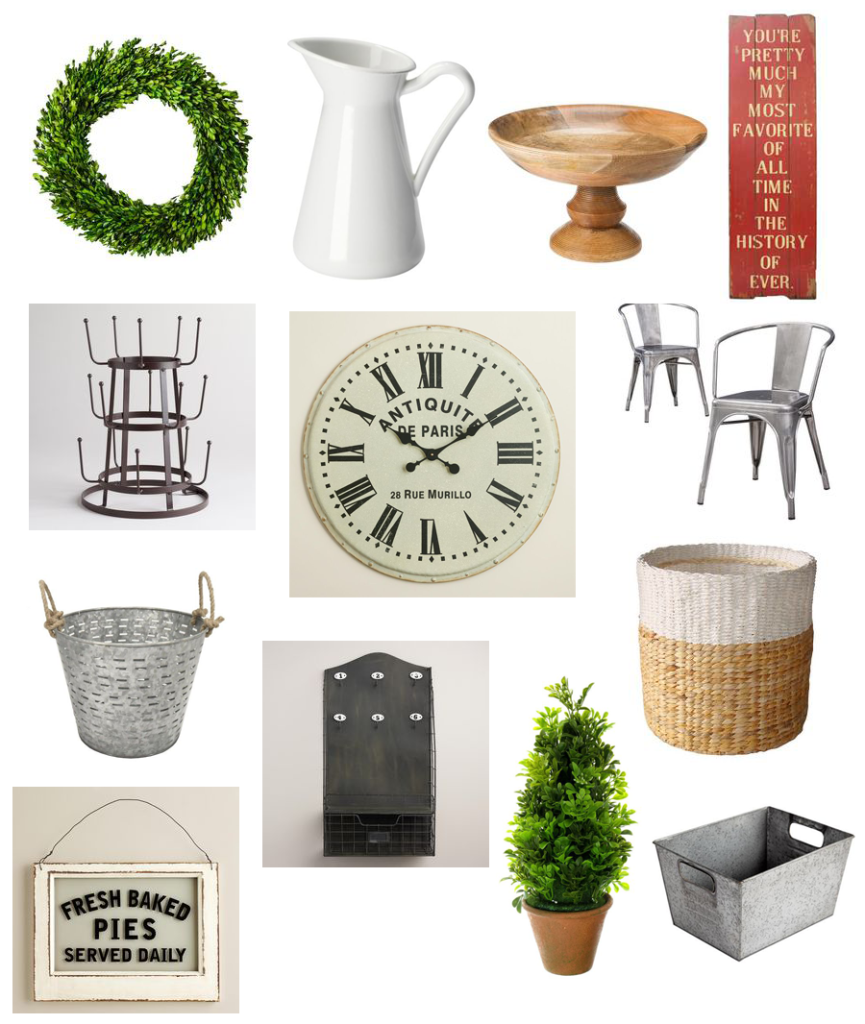 Dish Towel (IKEA), White Melamine Batter Bowl (World Market),
Chopping Board (IKEA), Metal 3-Tier Stand (World Market),
Wire 3-Tier Hanging Basket (World Market), Metal Stools (Target),
Wire Basket with chalkboard (Walmart), Galvanized Letter (Michaels), Wood Clock (World Market),
Boxwood Topiary (Michaels), Glass Jar with Metal Lid (Target), Moss Ball Decor (Michaels),
Galvanized Pail with Rope Handles (Target)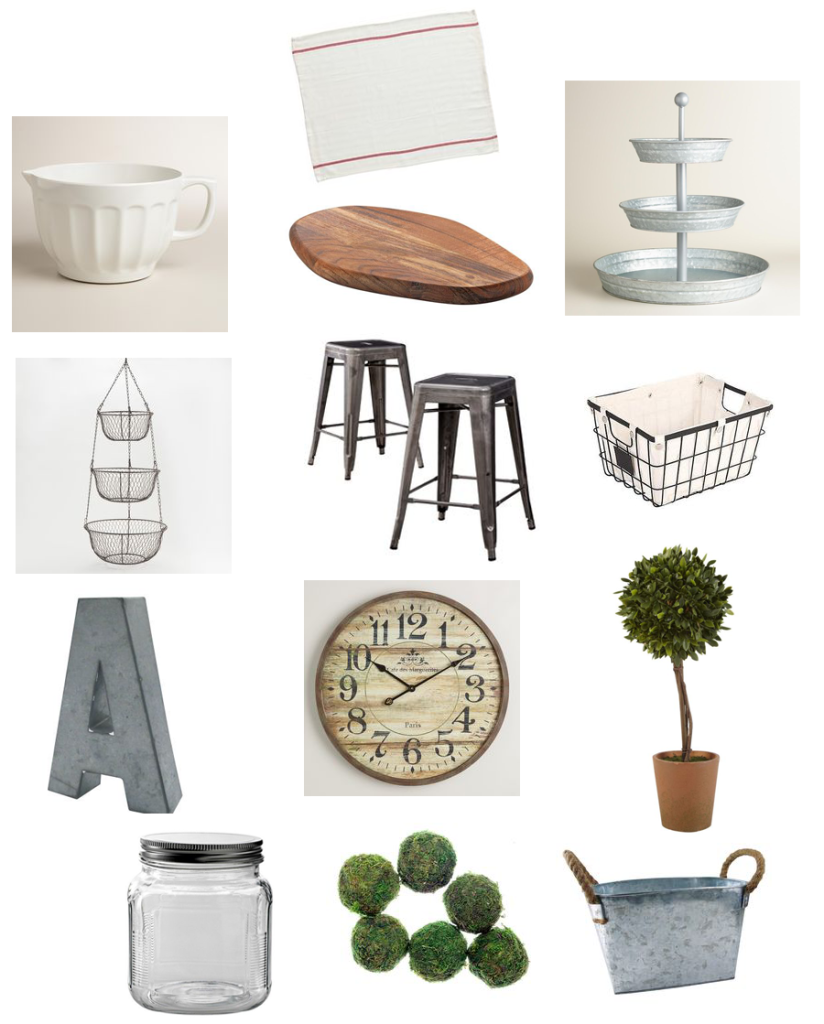 General things to look for when trying to get the Fixer Upper Look:
greenery, woven baskets, school style chalkboards, metal baskets, galvanized buckets, tool boxes
vintage scales, weathered books, neutral or cool paint colors, industrial furniture,
signs, windows, wooden crates, repurpose products, chicken wire!
Sign up for my Newsletter to get more product love!
I'm always on the hunt for cute things for our home that aren't crazy expensive.