Excited to share the progress in our Master Bedroom! We have a newborn set up ready
to roll which just makes me feel a little more prepared for his or her arrival! (5.5 weeks to go!)
I love how simple and calming our room feels. It might be my favorite space in the house right now.
We've slowly been pulling together the room with new and already owned pieces.
I'm sure I'll tweak it over time, but happy with this progress so far!
(sorry no paint color for you– this was the color on the walls when we moved in!)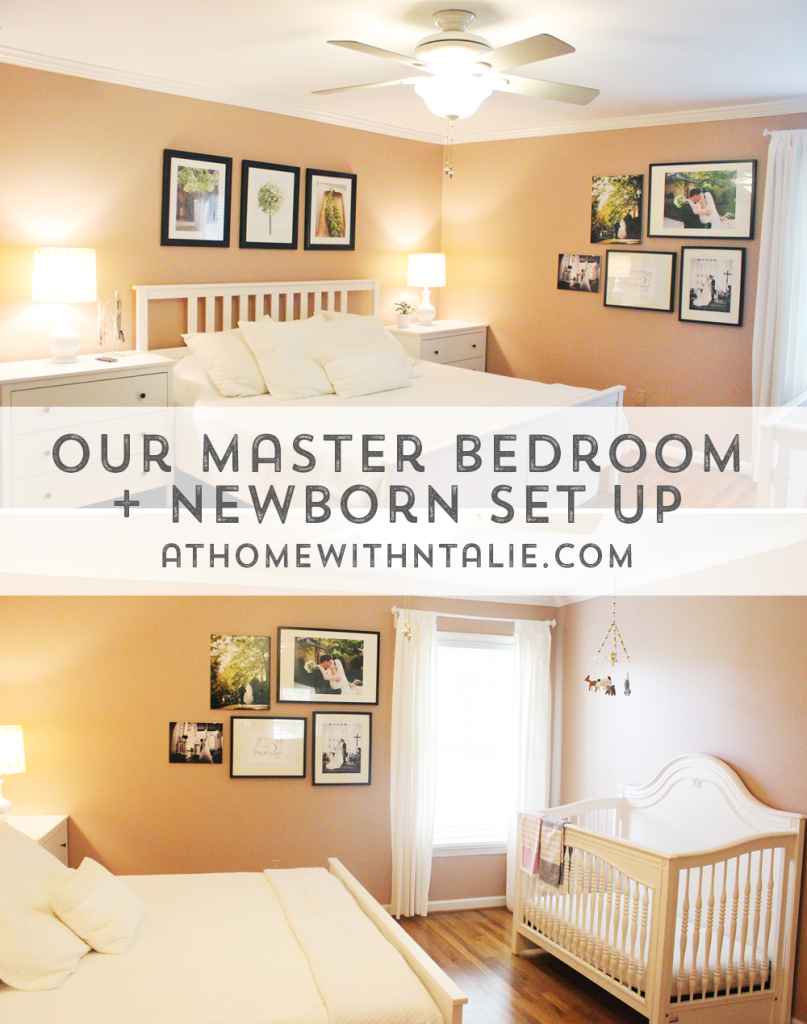 One of my FAVORITE parts of our room is the KING bed.
I can't rave enough about it. I used to think noo we don't need it.
NO. I was wrong. We needed it lol. It's from 4Sleep and I'm a believer.
It arrives in a box at your door and crazilly puffs out into shape when opening it.
We've done a memory foam mattress before, but this one is way different…
Ben doesn't notice me getting out of bed five times to pee because of baby.
Ben is so in love with this mattress that when we have company over,
somehow they end up in our bedroom checking out the mattress. lol.
4Sleep gave me a $75 Off code to share with all of you – athomewithnatalie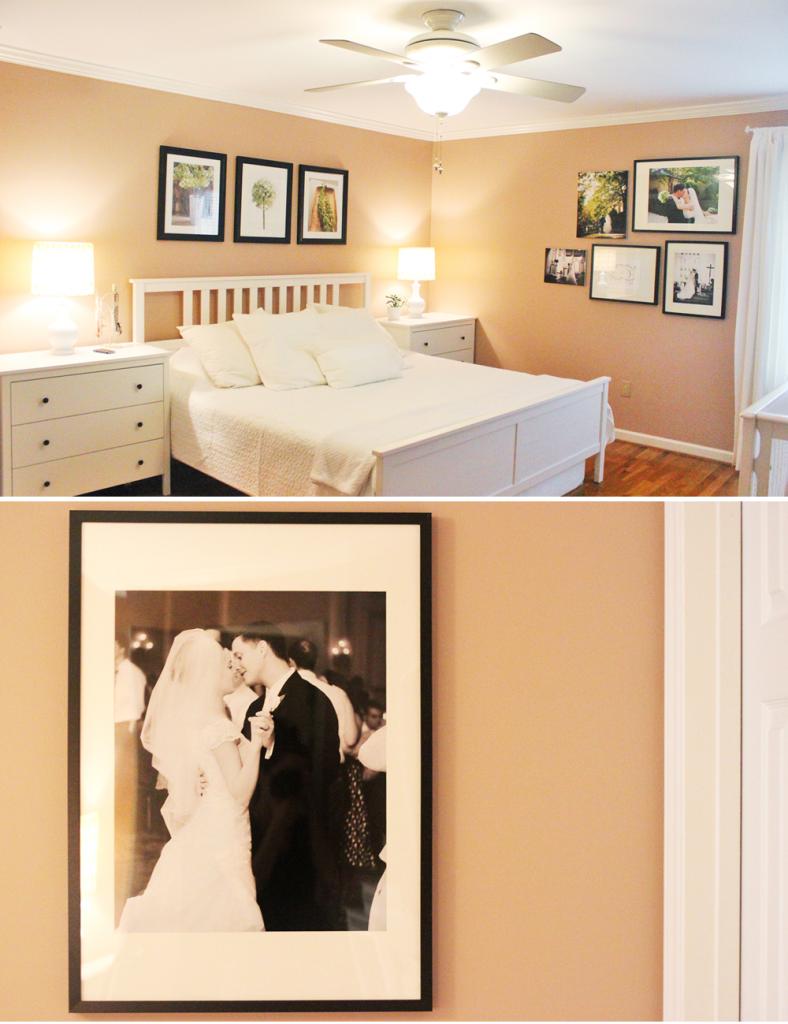 Our Curtains/Curtain Rod and Bedding are from IKEA.
ALINA Bedspread and (2) cushions   Small Pillow
26″x 26″ Cushion Inside     26″x26″ Cushion Pillow Cases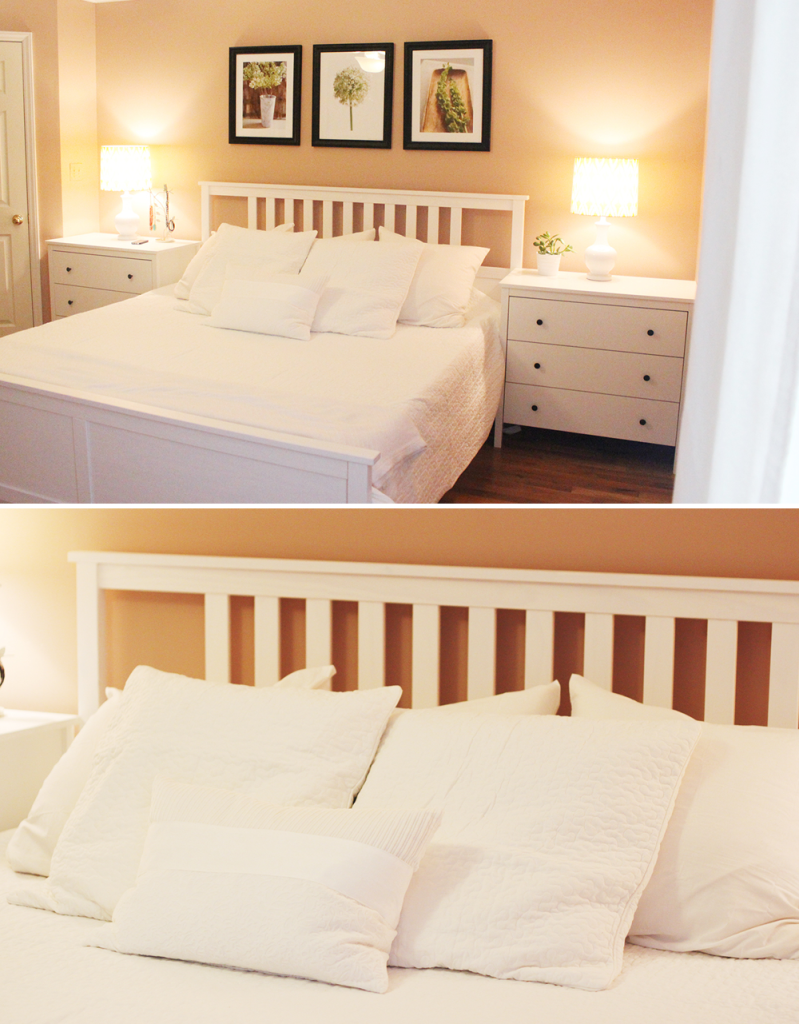 I used frames that we already had. Almost all from IKEA.
Had to go grab a replacement one that was broken during the move.
The prints over the bed are oldies from IKEA. I first had white frames up,
but it just felt too washed out. I am liking the contrast right now.
The Psalm 139:13 print is by The Worship Artist. I got it at a blog conference
years ago, and finally found the perfect spot for it! LOVE it.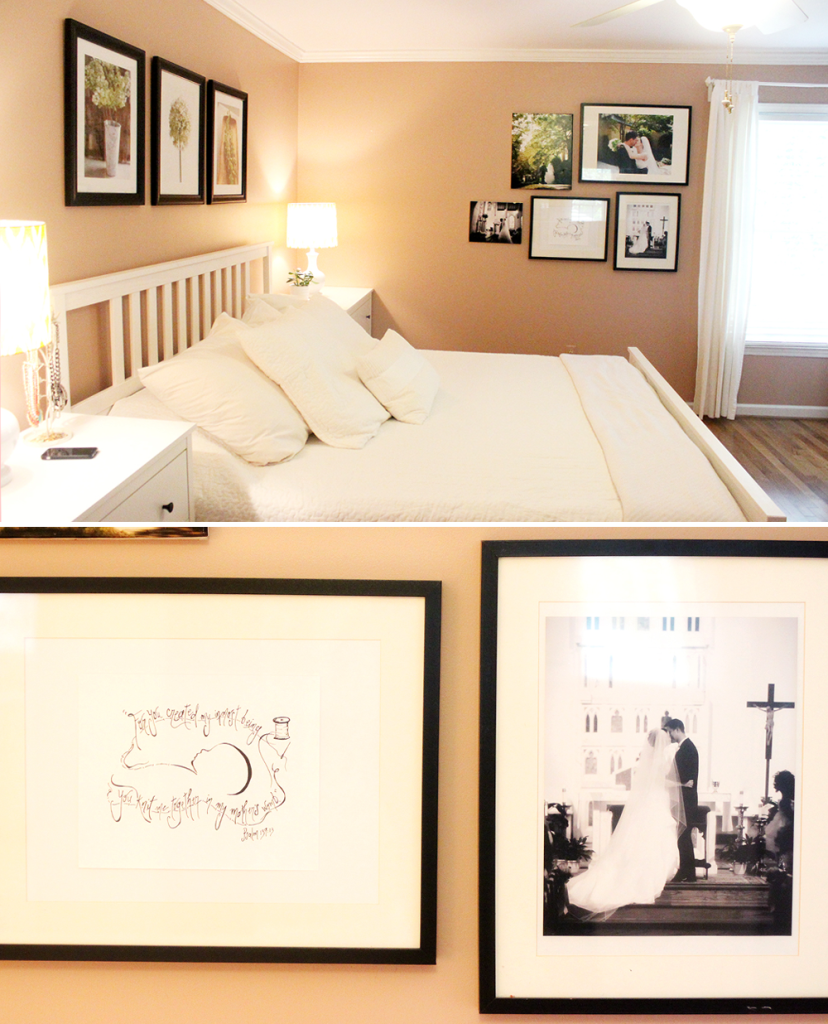 Our nightstands are from IKEA – HEMNES.
Our lamps are from Target… that I snatched up on clearance!
Something crazy like $15 each. (that's for the base and shade!)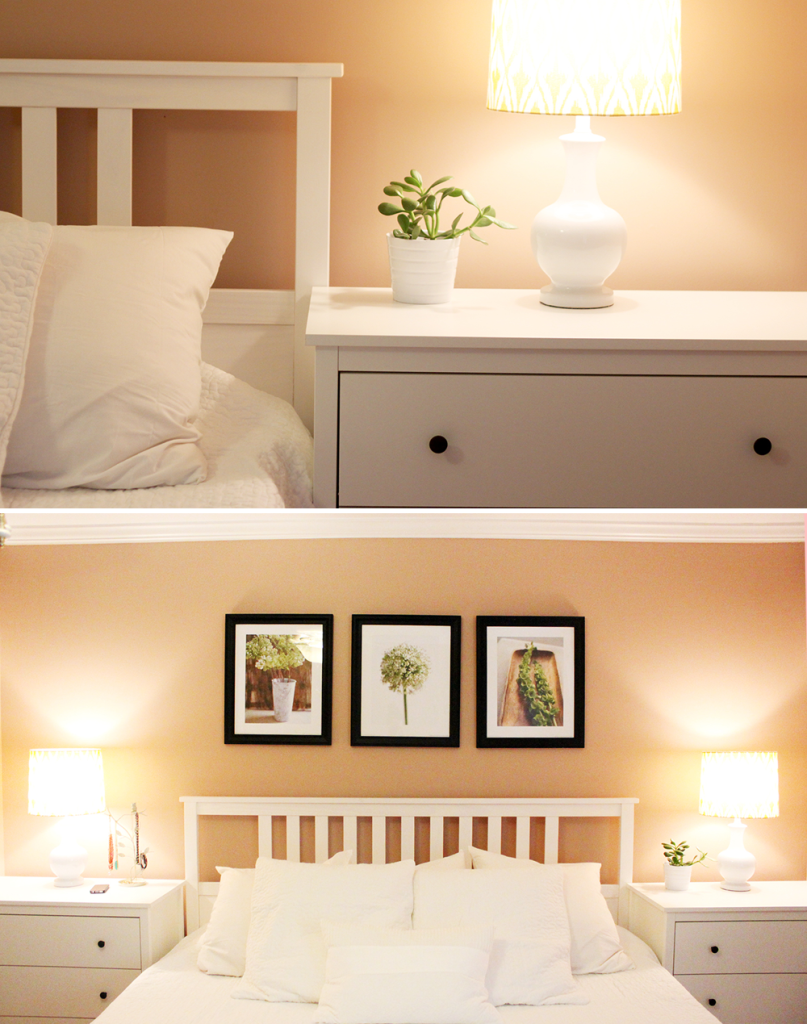 Our crib is from USA BABY….we've had it since Sophia and it has served us well.
We hung up the sweetest baby mobile from Petit Pehr – Woodland Creatures. It is so adorable!!
I also have a blanket from Lulujo Baby for a boy..or a girl… so we shall see!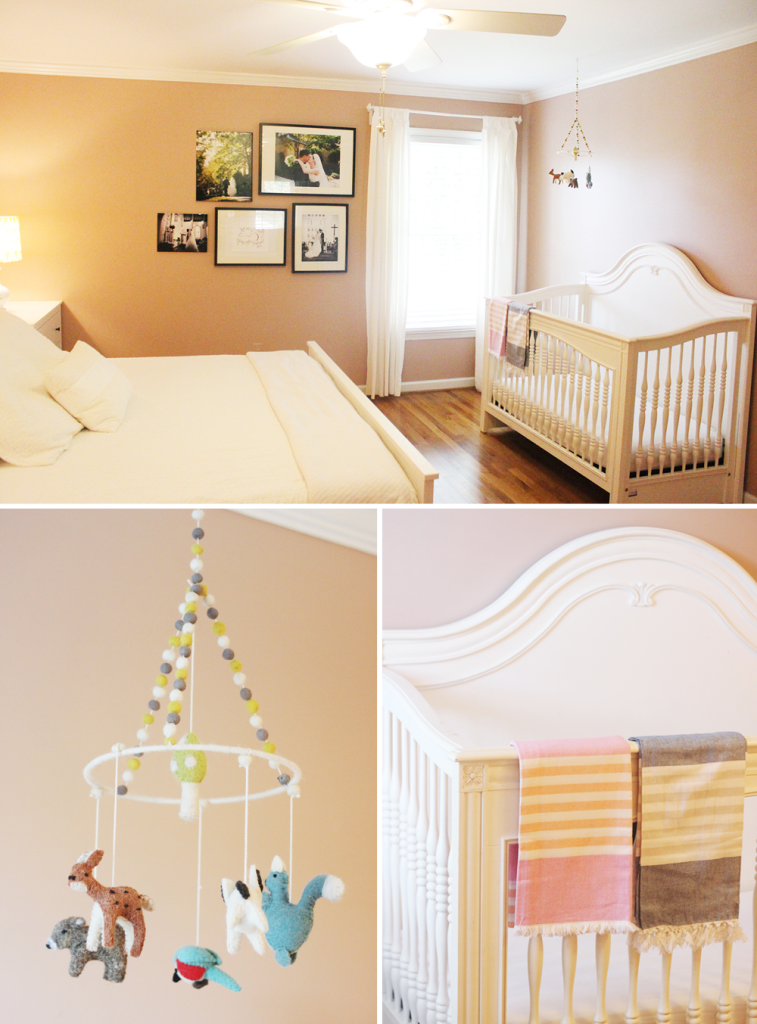 Can you spot the pregnant lady in a shirt that's too small?? LOL.
Sophia is constantly pulling down my shirt for me.
This side of the room is still coming together. We have the dresser moved over because the door opens and hits it…
Currently loving having it blank. I need some white space in my life!
But maybe I'll eventually do a DIY with this IKEA dresser we've had over the years.
I've seen some cute makeovers with paint and handles added.
Right now I just have some lanterns and a sweet baby basket from Petit Pehr on the dresser.
I have it loaded up with baby blankets and burb clothes!
The citrus stripe colored blanket is from Petit Pehr. The Burp Clothes are from
Witt's End Design and feel absolutely amazing. Can't wait to use these on our baby!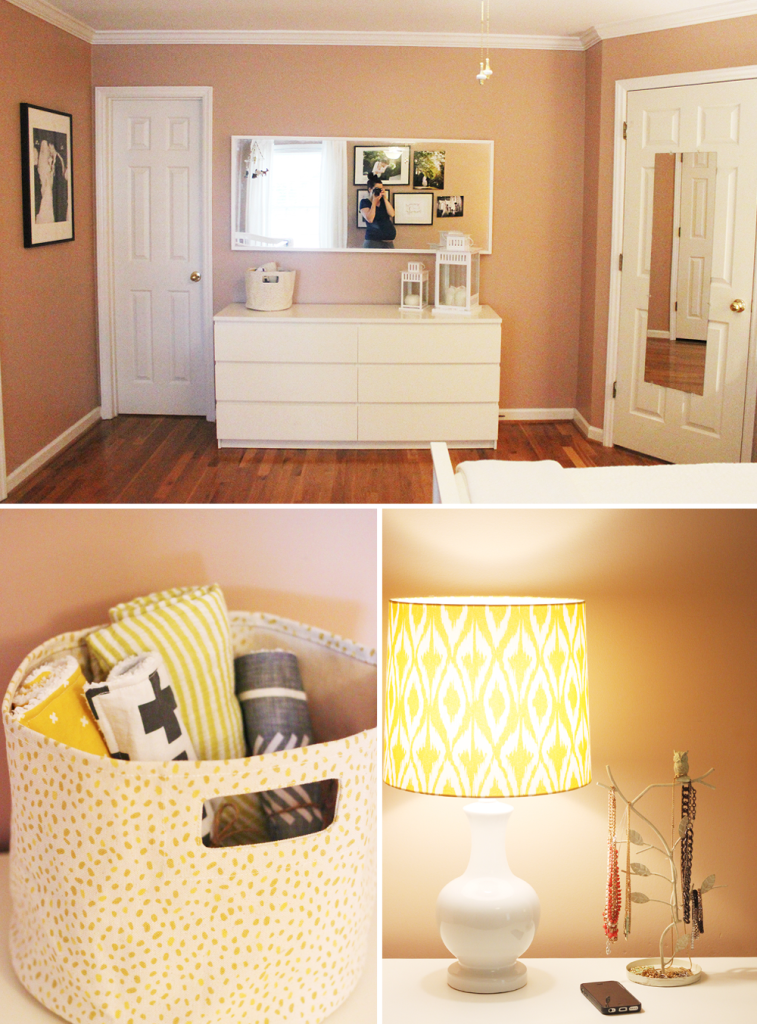 I love how our house is slowly starting to feel more like home.
Having a peaceful organized home helps me stay peaceful and organized! lol.
Plenty of days the house gets crazy and the beds aren't made…but I sure love it when it's clean!
Next time I share our bedroom I'll make sure to include the 2 baskets
of clean laundry, at the base of my bed, that I need to fold. ;)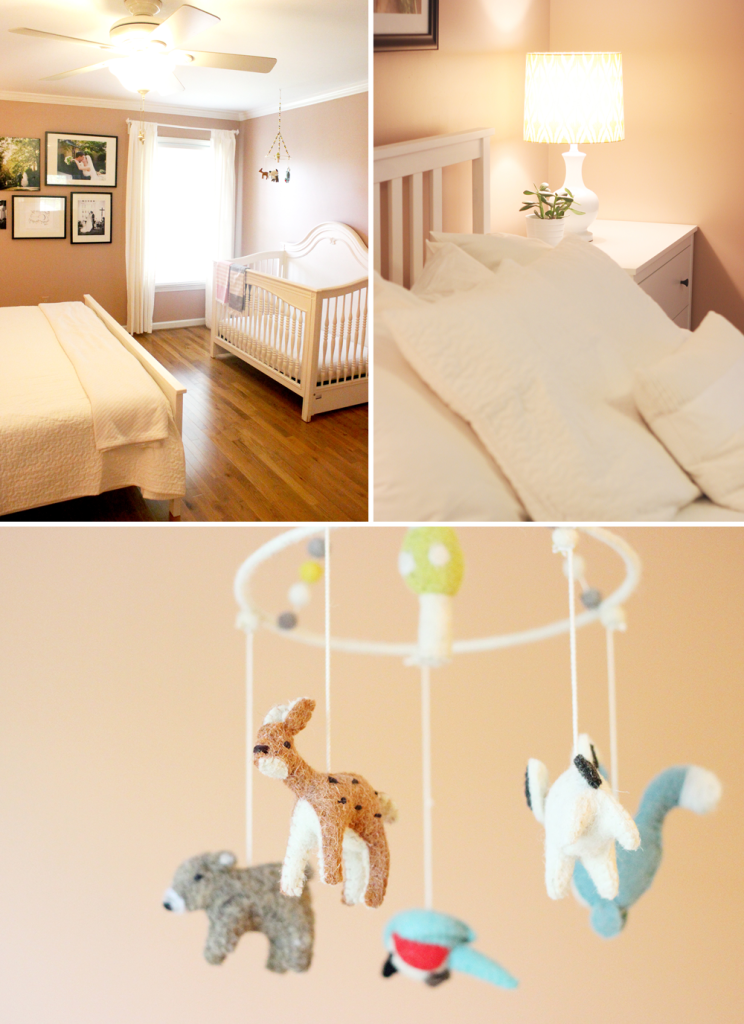 Thanks for stopping by!
Hope you are having a great week so far!