Baby should be arriving soon, so I thought I would share my Baby #4 Must Haves!
I picked some items for baby and items for mama in my round up.
It's really all for mama in the end…haha. Happy baby is a happy mama!
Some are new favorites, and some are "I used this with all my babies" items.
If you are trying to figure out what you really need after baby arrives, hopefully my list helps!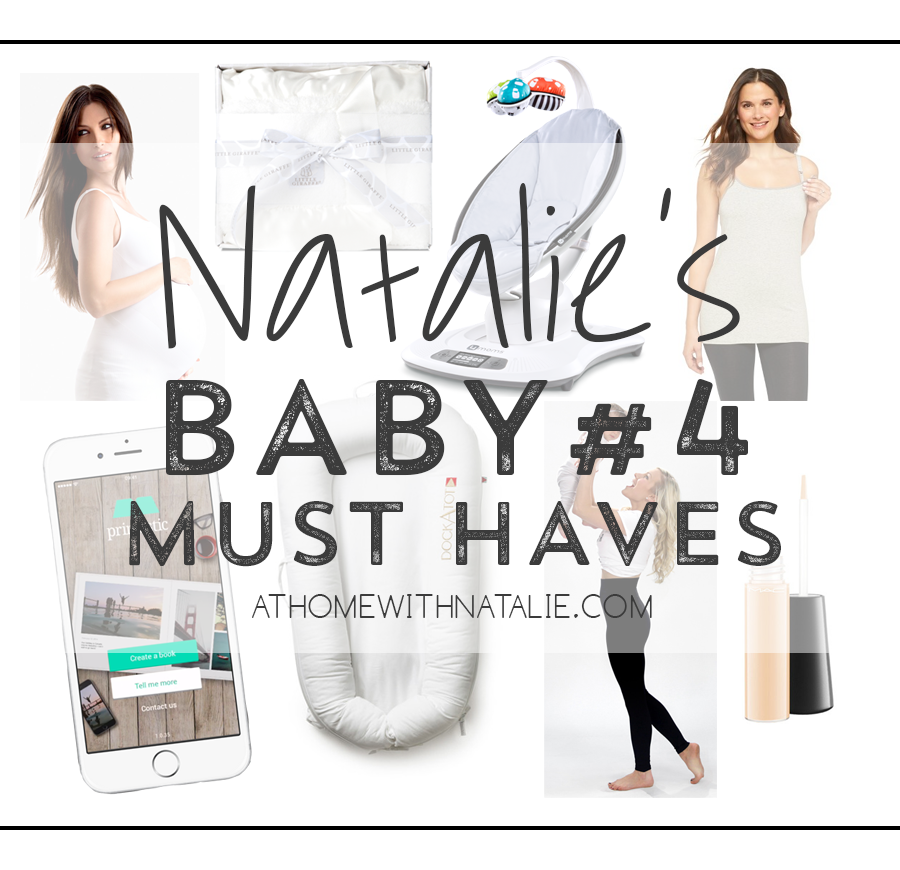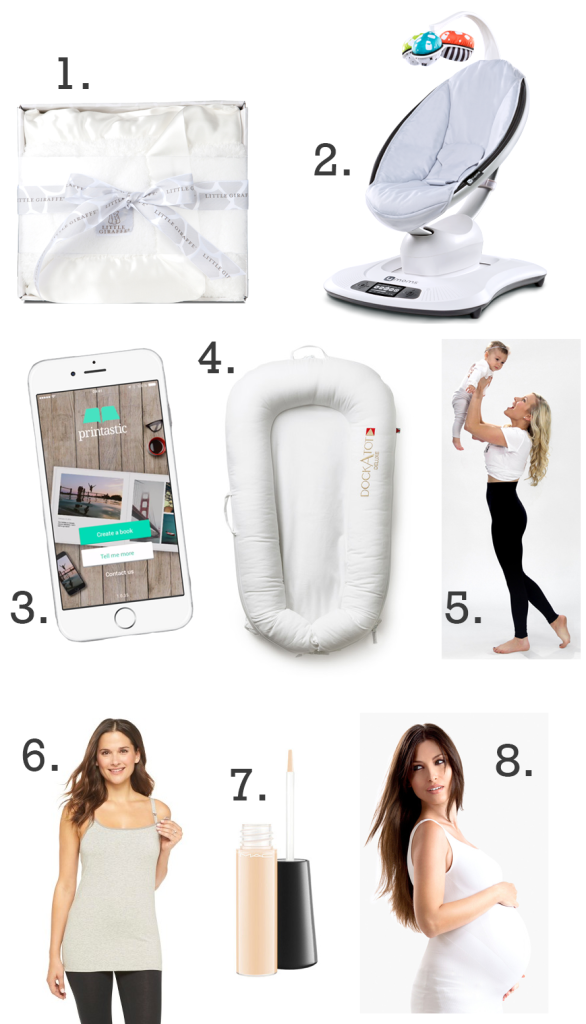 1. Little Giraffe – Chenille Baby Blanket
Ok first up is a baby essential…for comfort but also for photos!
I just added this blanket to my hospital bag so I can snap some sweet newborn photos
of baby in this fuzzy blanket. It's SO soft and pretty. I went with white
(for either boy or girl) but you can find colored ones.
2. 4moms- mamaRoo
This is  a MUST. It's a game changer.
When we had our first baby 7 years ago, someone gave us a different version of this but it worked wonders.
It's kicked the bucket but I wasn't able to find one similar until now!
Mamas don't swing our babies…we sway and do other motions and the mamaRoo mimics those motions.
I've heard amazing things about this one and so many of my instagram mama friends have one for their new babies!
We just put ours together and it went up like a breeze and fits in great with our space.
Doesn't take up much room at all!
3. Printastic App – Photo Books for Phone photos
This is a must if you are like me and take a million photos on your phone but want to
be able to enjoy them long after your phone fills up and you dump them on your computer.
I used the Printastic App to create a photo book of our Outer Banks
trip this summer and LOVED how it turned out.
You can use Code: NATALIE20 to get 20% OFF!
I'll be using this app for the baby's baby book! I've made books like this for
all my kids and they love looking through it.
It's something you can make happen even in the delirious sleep
deprived first few weeks. You won't regret it.
4. DockATot – Deluxe Dock (with Chevron Cover)
I am SOOOO excited about using this with our baby.
I've heard incredible things about it's sleeping baby magic.
It arrived and is made so well and I love the chevron cover I picked out for it.
5. BLANQI High-Waist Maternity + Postpartum Leggings
First time mamas…I'm going to speak some truth to you…
After you have a baby, you will have a tummy. for a while.
Sometimes longer than you want. But these postpartum leggings are EVERYTHING.
They smooth you out and offer you that support you want.
Great to wear with a long tunic. You'll be comfy and feel "pulled together."
If you are having a baby in the fall or chillier seasons..this is a must.
GUESS WHAT? You can snag them at 50% off!!
Use CODE: NATALIE50. Expires 9/25/15
6. Gilligan and O'Malley Nursing Cotton Cami
This is probably my most recommended new baby suggestion.
I have lived in these, the first few months, with ALL of my babies.
They are amazing nursing tanks that are functional and comfortable.
I have 3 of them. one grey, one white and one black. yup. Just cycle through these and you're set.
I have one in my hospital bag!
7. MAC's Mineralize Concealer
Ok ladies…..two words for you.
MIRACLE. WORKER.
I use this daily, but it's especially essential during those first months of newborn baby.
This under eye concealer immediately brightens your face and makes you look
like you've actually slept and haven't been crying off and on for weeks from your crazy hormones. haha.
I've tried other cheaper options…but always come back to this one. It's worth it and lasts a long time.
8. BLANQI Bodystyler, Maternity High Performance Belly Support Tank Top.
I wear this during my pregnancy…but after you have baby you are
still going to want some help in that tummy area.
It smooths and supports and is easy to nurse in.
I use a size medium through most of my pregnancy and keep wearing it till I'm too small for it.
It's a good maternity piece because it can last you for a long time in both seasons.
(I'm wearing mine below at 37 weeks and 6 days)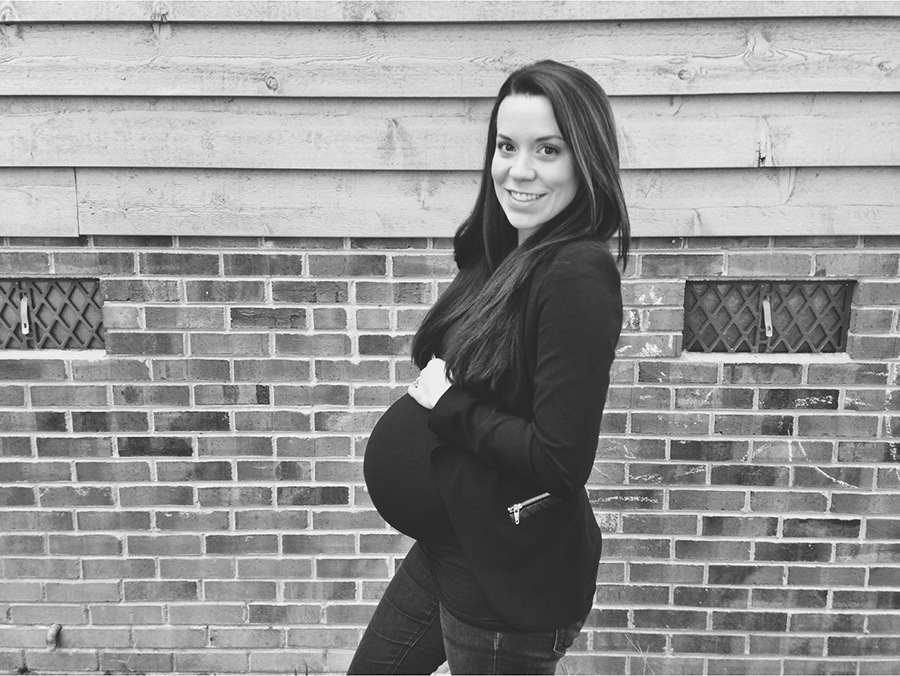 I hope this post was helpful! I always love seeing what other mamas love and swear by.
Follow me on INSTAGRAM to see all of these items in action.
Hopefully SOON! I'm 38 weeks and 5 days right now.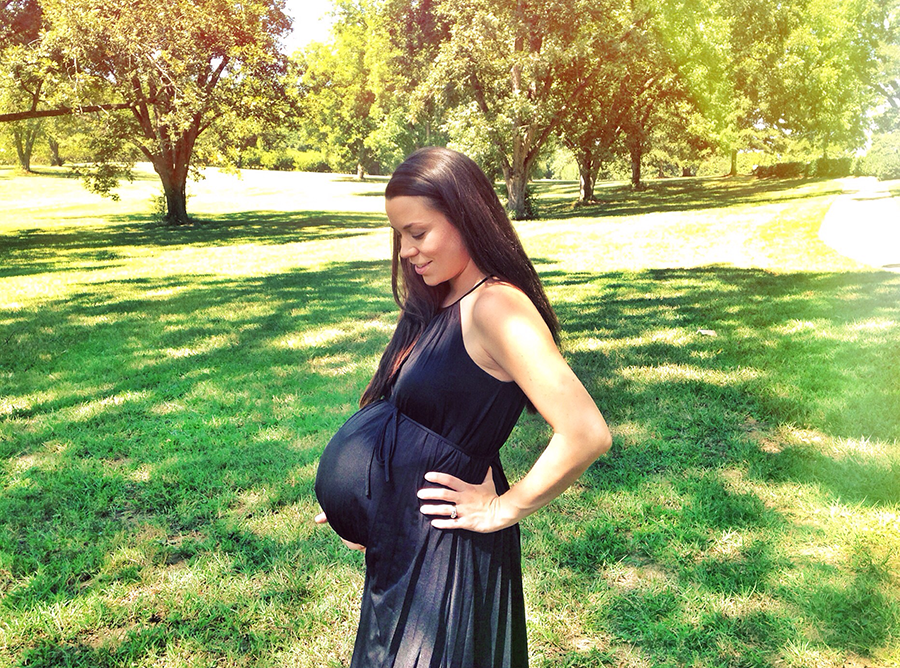 My world is currently being rocked with prodromal labor, but hanging in there.
Soaking up the moments with my three littles, but can't wait to find out what we are having!
Almost EVERYONE tells me I'm having a boy….but we shall see!
Praying for a healthy baby and good delivery experience.
Have you checked out my hospital bag post?
It's been one of my most popular posts this year!