When I first started blogging I had no idea you could earn money doing it!
I shared our parties and my creative ideas… It was a hobby blog!
Eventually it clicked that it could be so much more!
I could keep on sharing our family life and the parties I already wanted to create and share…
BUT… I could earn money while doing it!
Maybe you are considering starting a blog to share your own creative ideas
or maybe you are just SO CURIOUS how this is even a possibility.
Today I wanted to share five things you can do to make your hobby of throwing parties, earn you an income!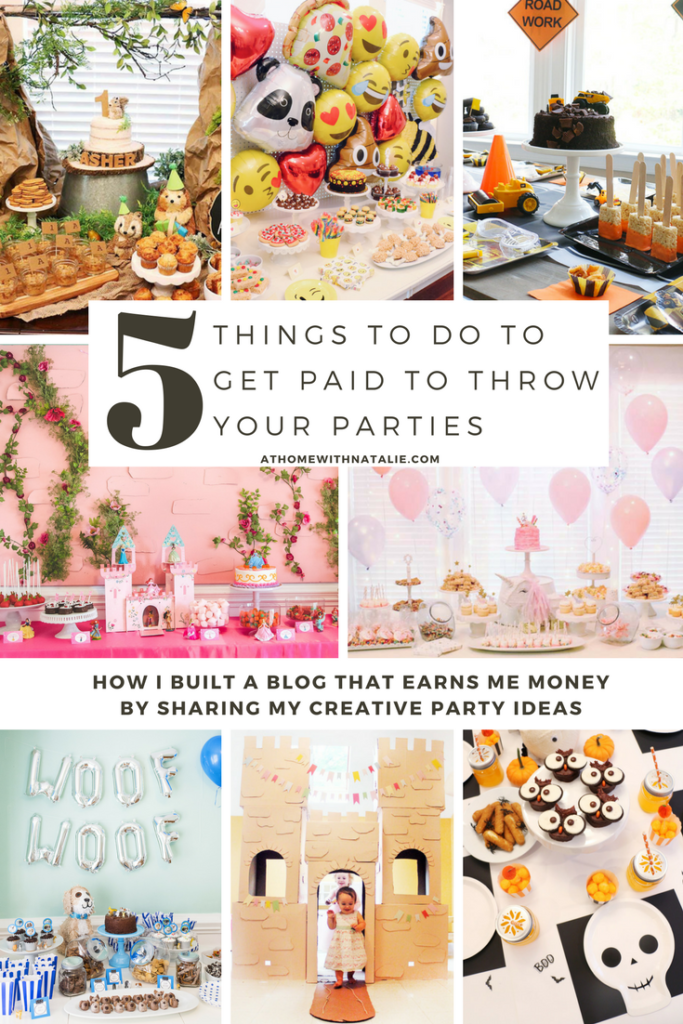 These tips are for anyone that has a blog already – whether it's booming with
views or only your mama and your cousin read it.
BUT… let's say you don't have a blog at all – you need one first lol.
Put that at the top of your list because
you can't make money with a blog you don't have! ;)
I have a Blog Course and Facebook Community if you want to
know where to even start and not feel alone. I gotch you.
BUT… as we continue let's pretend you have that blog set up… and are ready to publish your party posts!
Let's dive into the 5 things you need to start doing to get
the $$$ while you throw your parties!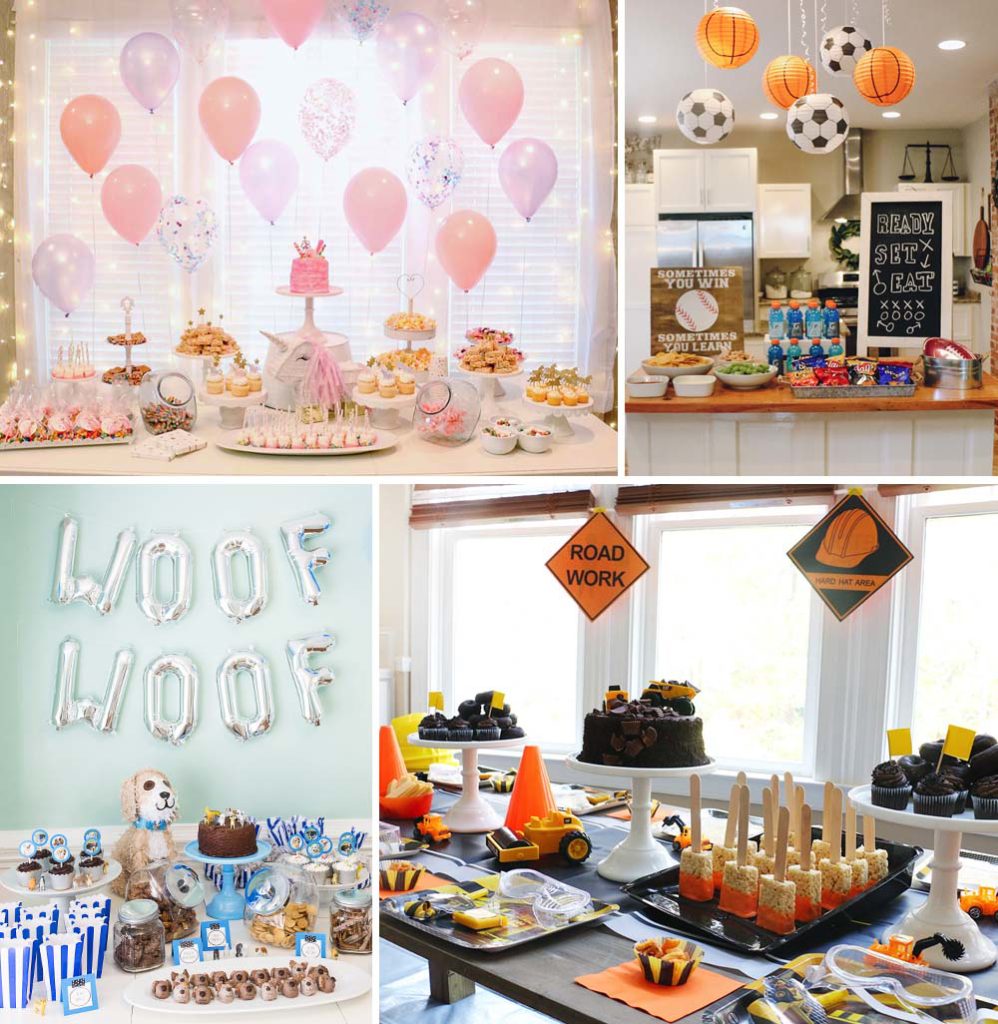 1. Upload your Party Content to Other Sites.
When I first started blogging I shared our parties and I had NO one coming to my page… nada.
BUT that didn't get me down! I knew I needed to go where the party people were –
So tip 1. Upload your parties to share sites –
Obvious choice is Pinterest…but even more than that check out party themed sites.
Example: Catch My Party.com
Everyone on that site has party planning on their mind and looking for inspiration.
Help them discover YOU and your blog! And when we get more page views…we can get some good things going.
Pinterest basics: We all know we should pin our party posts to Pinterest…
Use key words in your description, add title words to your main graphic,
and vertical is better you want it to take people longer to pass by your image.
(canva.com has Pinterest graphic templates you can use!)
Repin your pins that are already out there getting traction.
You can search your pins by going to http://pinterest.com/source/YourWebsite.com/
2. Fake it till you make it.
Maybe you REALLY want that party supply store to send you ALL the fun stuff to style your next party.
If you are just starting out with throwing parties…I suggest you get a couple under your belt:
post great photos… LINK where you got everything!
Because when you are ready and reach out to that party store they are going
to be looking for great photos and to see if you actually can represent them well and link them correctly!
That you are worth sending free stuff! Or discounted stuff!
Consider throwing a couple play dates or other themed parties to show off your talent with styling!
Then when they come to check you out they will go gaga over your work! You don't have to go crazy with your parties…
People are looking for inspiration in big and little celebrations. Some people don't want a huge dessert table
but want ideas on how to set up something small but thoughtful.
3. Affiliate link it up.
Properly linking items that you LOVE and naturally fit into the blog post are
a great way to earn a passive income with your blog.
You put the work into that party and that post upfront…but then it's
there getting traction on Pinterest or as people discover your blog through your social media shares!
Amazon Affiliates is a great place to start! There are tons of Party Supplies
on Amazon that
you can use in your parties and show others how to style for their own parties!
People are looking for ideas… why not share yours with them!?
4. Brand Sponsorship- $$ or free product
Reach out to those party supply companies… There are SO MANY to choose from!
Of course you might think of the big ones at first but think of all the smaller Etsy shops and stores!
You can offer a rate or start with offering the styled photos in exchange for the product.
(Think of all the extra fun experiences you can offer your kids with free product!
You got party skills and create something so fun!
Shops are looking for content creators! If you can show them you are good at it and
can produce great photos and links to their stuff… they'll want you!
A great place to start when reaching out to shops is social media!
Go to their instagram account and turn on the post notifications for them.
Every time they post something… you'll know and can be one of the first to like and comment on it.
Most likely the one running their account is the one that lines up influencers
or at least GETS the value in working with bloggers.
Let them know you love their stuff… and help them discover you!
5. Create digital downloads to include in your parties.
A LOT of people are looking for inspiration that they can take directly from your parties.
My first bucks from blogging came from people asking me if I would sell
them the printables I created for my own kids' parties.
Maybe you don't feel like a graphic designer but check out sites like Canva.com
where you can get help in creating your own designs!
I use photoshop for creating my printables. I learned a lot through tutorials on youtube!
I also like to use the site CreativeMarket.com to purchase fonts or graphics to use in my own designs.
You buy the license so you can use it as part of your own designs you work up to sell.
Each product shares details and pricing.
SO MANY amazing products listed to help you create incredible party details.


I hope you found this post helpful as you jump into the world of party blogging or maybe you are
already in it and feel like you are missing the boat on an income you can bring in!
YOU PROBABLY ARE! I know there are a ton of girls who were just like me when I started out…
totally clueless about some practical and easy things you can put into place with your party posts.
These are just some of the things that can make your blog, as a whole, help bring in an income for you.
*There are affiliate links in this post – I love sharing what has worked for me! Thanks!*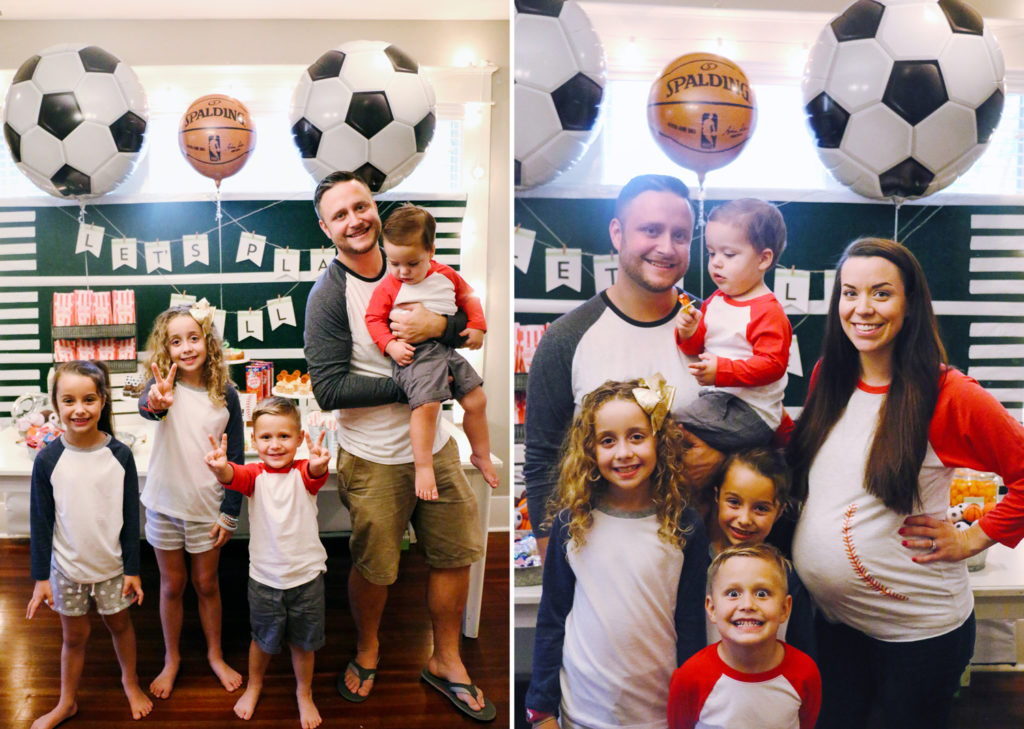 If you are looking for direction and someone in your corner… I would love to help!
I created a blogging course that is filled with concrete tips and tools to
help you start or grow the blog you have!
A long with the course you gain access to our Private Facebook group where
we encourage, inspire and share each other.
The group is very active. We have 'share days' and also live chats with me!
It's not a one time purchase but rather we are all growing together.
Blogging should be fun and YOUR PLACE to share your creativity and passions!