I have the yummiest recipe on the blog today!
I made this the other night for my crew, and my mom who is in town, and they devoured it!
Loaded Cheese Fries. This is an easy and quick recipe that will be sure to please a crowd.
Perfect for upcoming graduation parties and cook outs!
You could even bring this as an appetizer to a party and pop it in their oven when you get there
for perfect bacon cheesy goodness!
I used Ore-Ida's Extra Crispy Fast Food Fries and a couple other ingredients to whip this up!
You'll be amazed at how easy it is and your house will smell amazing!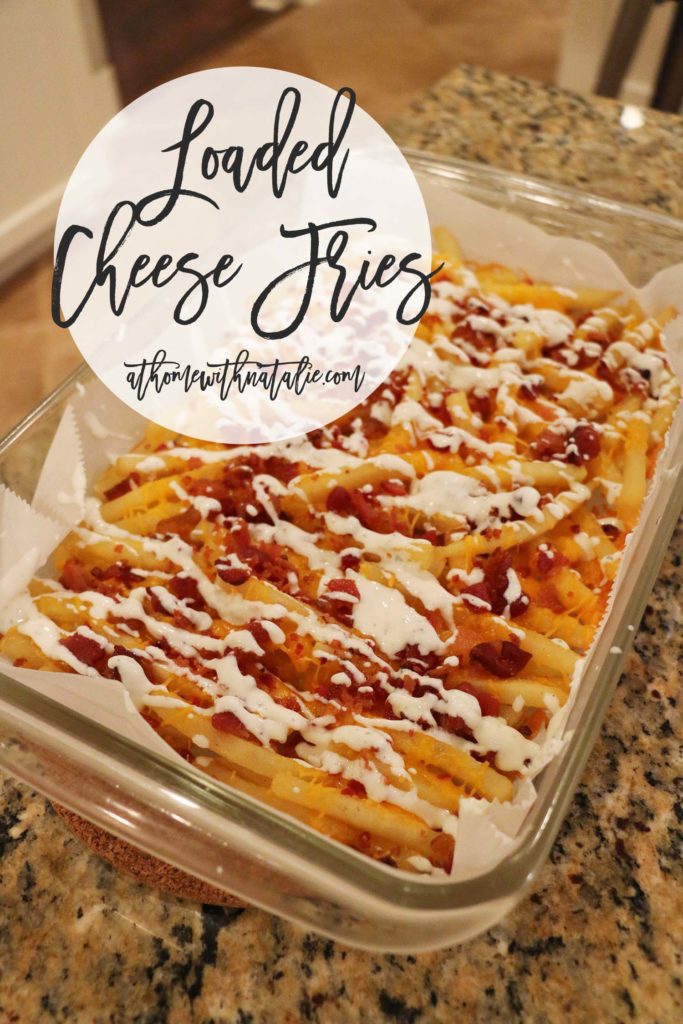 INGREDIENTS:
Ore-Ida Extra Crispy Fast Food Fries
Pre- cooked bacon (to make it even easier!)
Shredded Sharp Cheddar Cheese
Daisy Sour Cream
Package of Ranch Salad Dressing Seasoning Mix
Milk
Pepper and Hot Sauce (optional)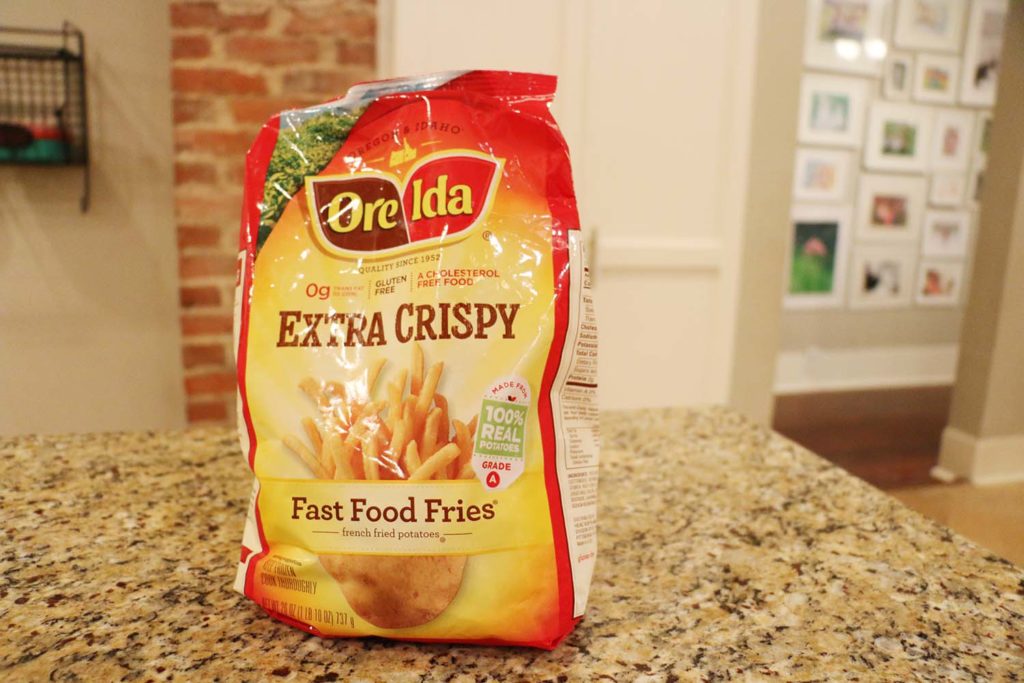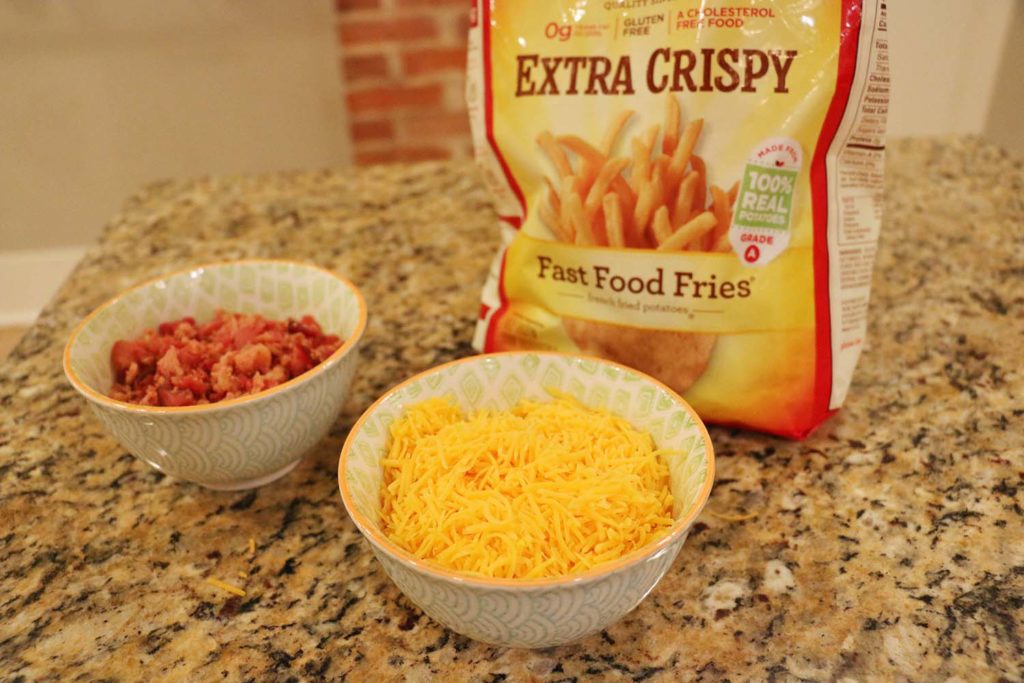 DIRECTIONS:
-Layer a 9×13 pan with parchment paper.
You could also just grease the pan but I love how easy this makes the clean-up.
-Layer the fries in a single layer. It's ok if there's a little overlap!
If you want crunchy fries, bake in a 400 degree oven for 10 minutes before adding toppings.
But if you want easy and regular fries you can add the fries and toppings all at once.
I went ahead and sprinkled the bacon and cheese on the fries at the same time.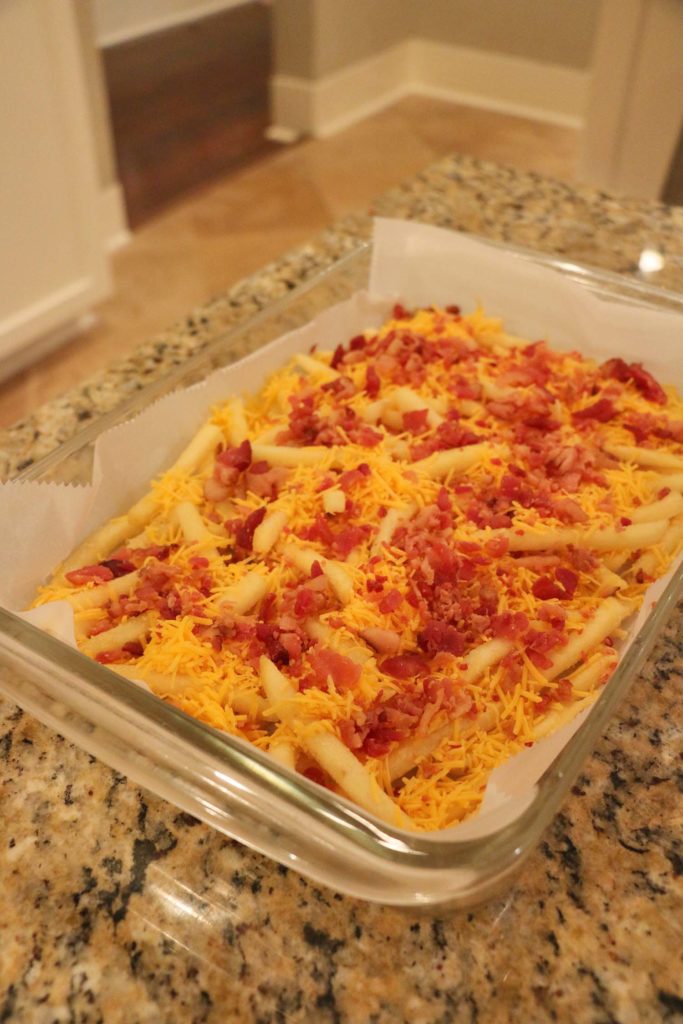 -Bake the fries and toppings for 18 minutes.
-While they are in the oven it's time to make the ranch dressing!
-Use a packet of seasoning, 1 cup milk and 2 cups sour cream.
Mix together and you can always add sour cream to get your preferred thickness.
-When the fries come out, use a whisk to drizzle the ranch dressing across the top!
You'll also have extra dressing for people to add to their plates for dipping.
My husband loves hot sauce so he added that and pepper to his plate of fries.
You could also have chopped up green onions for even more yummy topping options!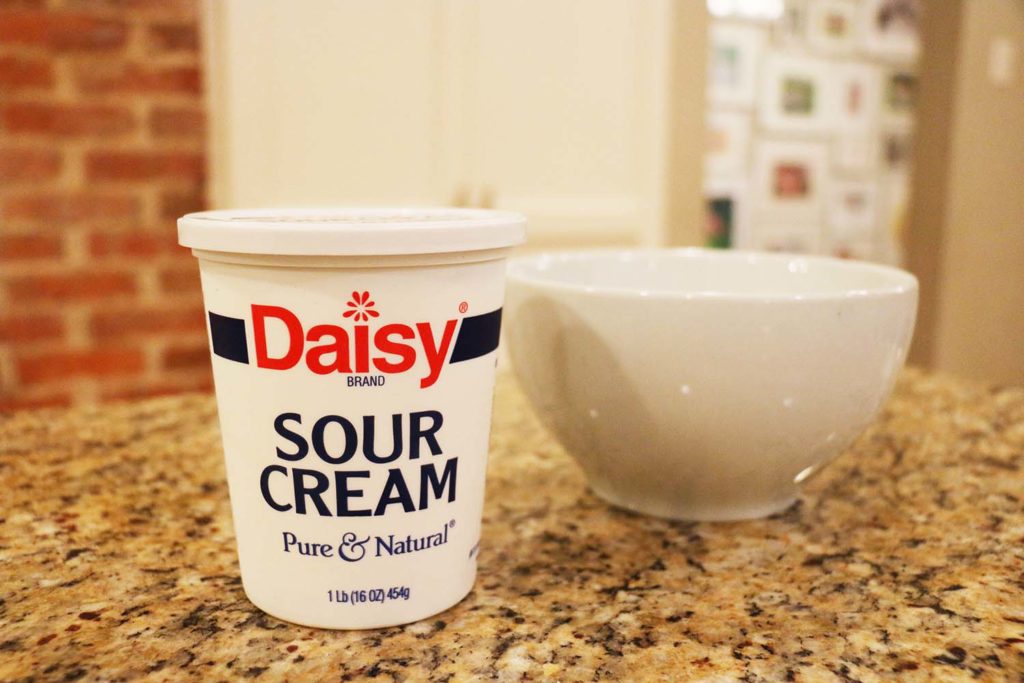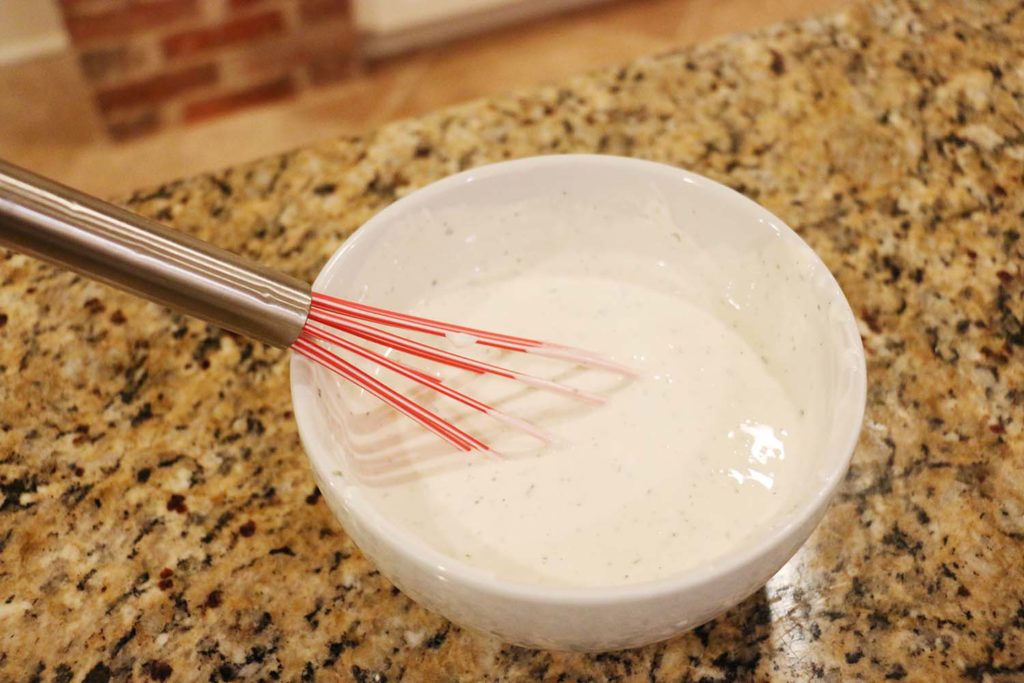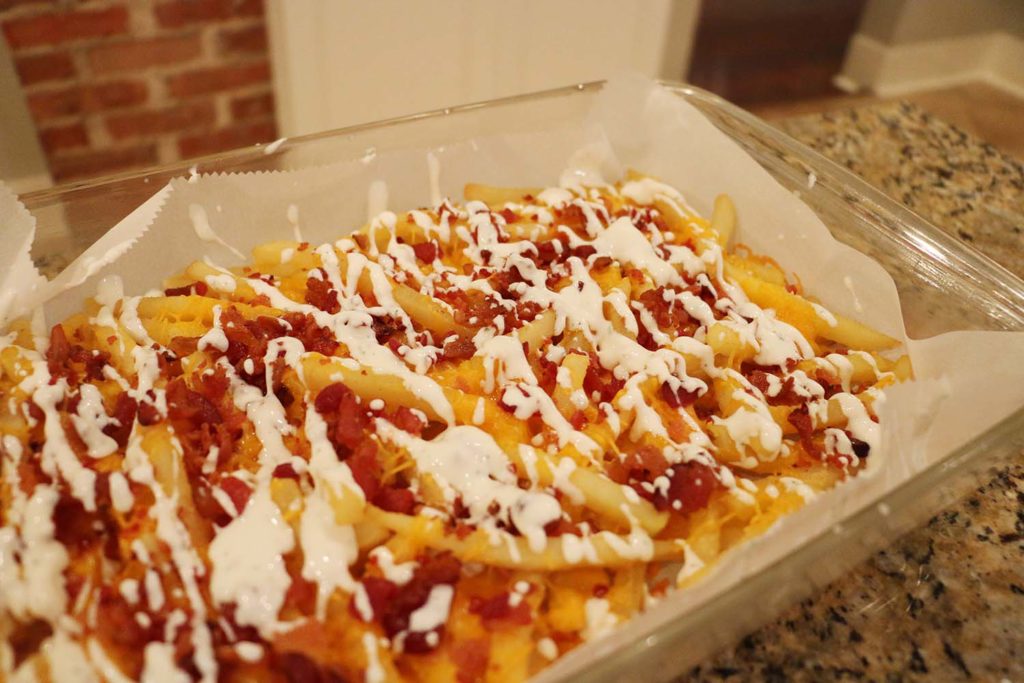 I love how easy and yummy this recipe is.
The Ore-Ida Fast Food Fries are the perfect crunch and are made from 100% real potatoes!
Feeding an even bigger crowd? Use a cookie sheet and layer in as many fries as needed!
This is a great recipe for a crowd and if you are wanting to
make something warm to serve but need it to be easy. Enjoy!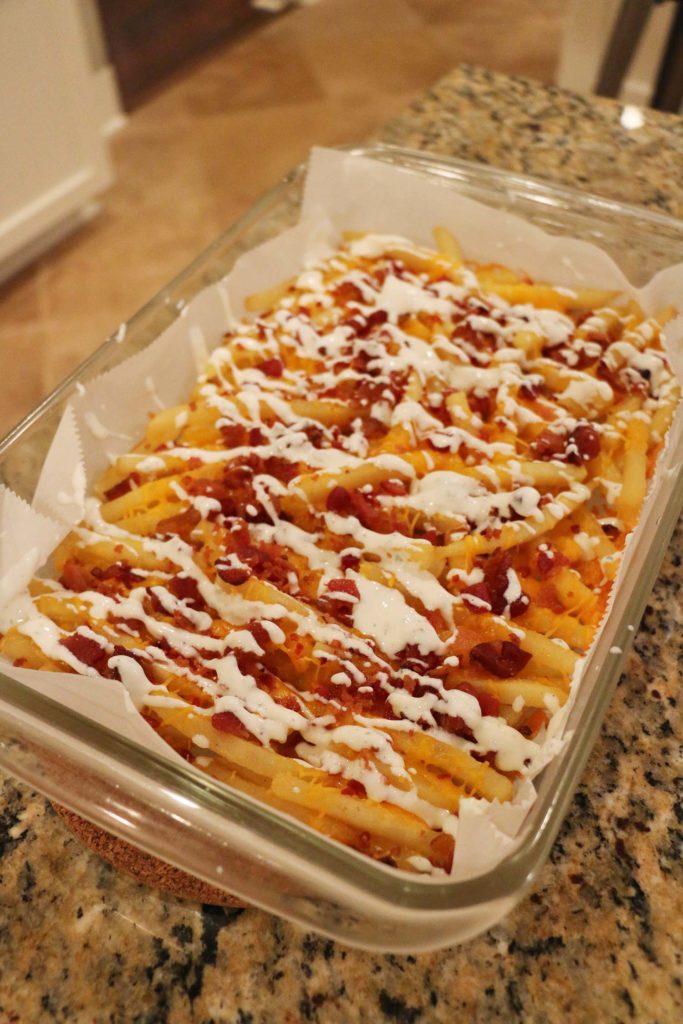 Thank you to the National Frozen & Refrigerated Foods Association (NFRA) for sponsoring todays' post!
I'm on the Cool Food Panel and love sharing meal ideas like this one with you guys!
Be sure to check out EasyHomeMeals.com for even more ideas!