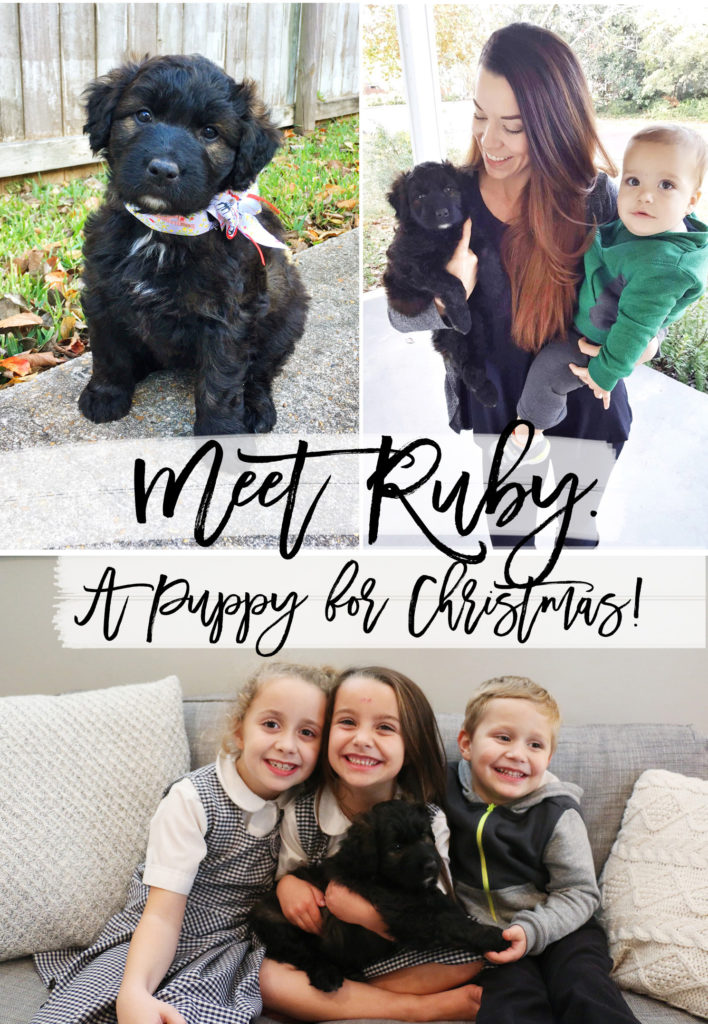 Ben has been looking for the perfect dog for our
family since we moved here and we finally found her!
She likes cuddles as much as Asher. The two get along great.
We filmed all of the adorableness. Wait till your see the Asher Ruby smooches. I about died.
We are so excited to have her a part of our crew!
Embracing the crazy because we are gonna LIVE life!!

She has the kindest eyes and is sooo sweet! She's a flandoodle! (which is the best name for a dog lol.)
They are known to be great with kids, family dogs, calm natured and non shedding!
Ben had to convince me, but I'm smitten!
We surprised the kids with this sweet babe under the tree.
They walked in from school and to quote Sophia, "I feel like this is a DREAM!!"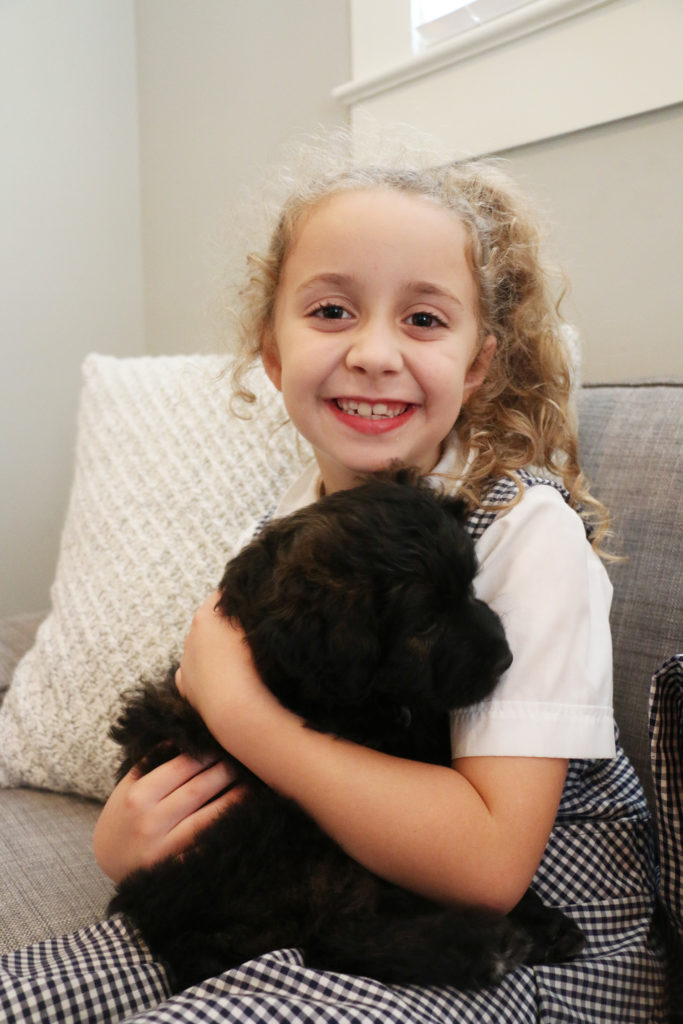 Micah has been so precious with her I can see them becoming best buddies.
"I love dogs. I have love for doggies in my heart!"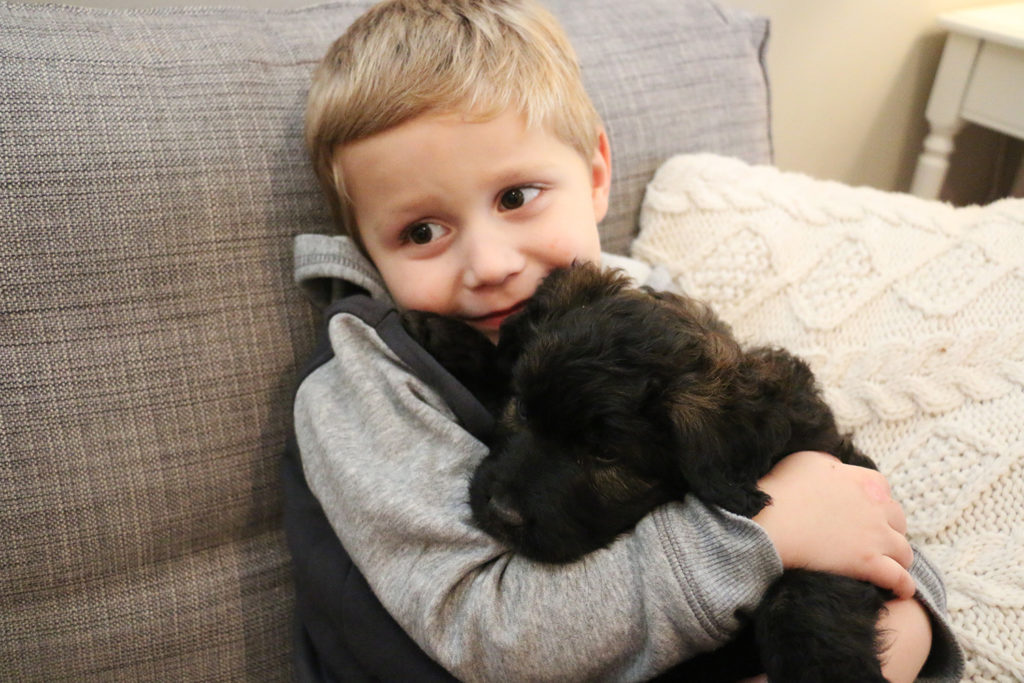 We named her Ruby!
At dinner the first night she slept underneath the table…
Then she went to drink her water and fell into the bowl…
Prancing around the dining room while Ben and I tried to dry her off the kids were DIEING LAUGHING!
Little wet paw prints all over. It was like out of a movie.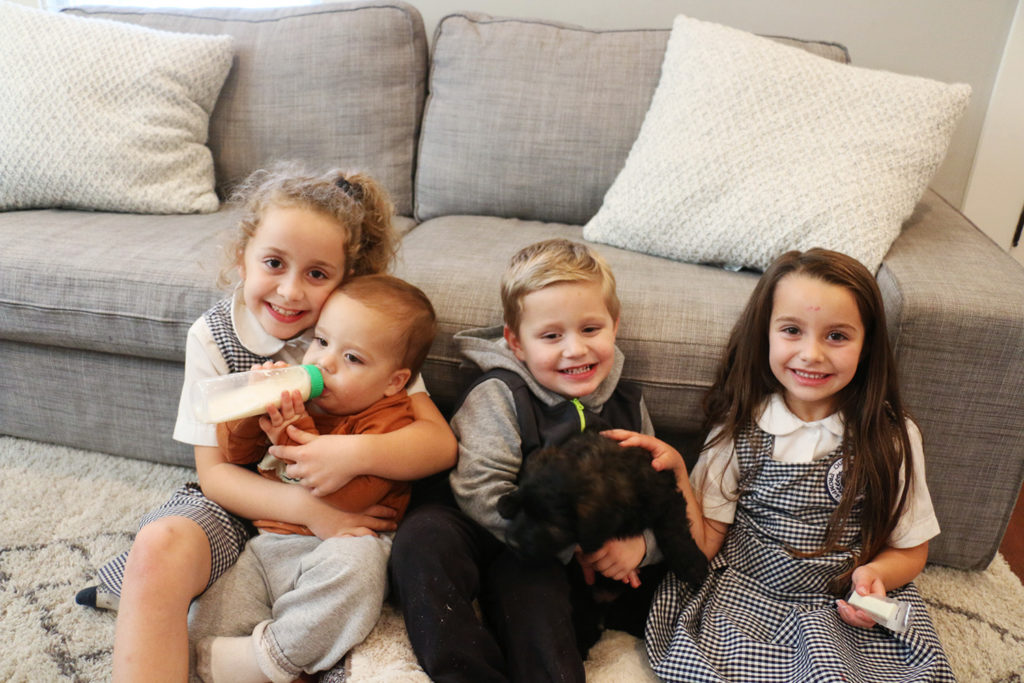 Ben was convinced about a dog for our family…
but I told him I needed some time to think it through these past few months.
It wasn't necessarily my plan to get one right now. But now that we have her, she's just the perfect fit.
I think I was so hung up on trying to make life as smooth and as easy as possible (with four kids)
that I forgot that it's ok and good(!) to do things like this… see the joy over the crazy…
That things will never completely calm down in this season and that's not a bad thing.
Those days will come.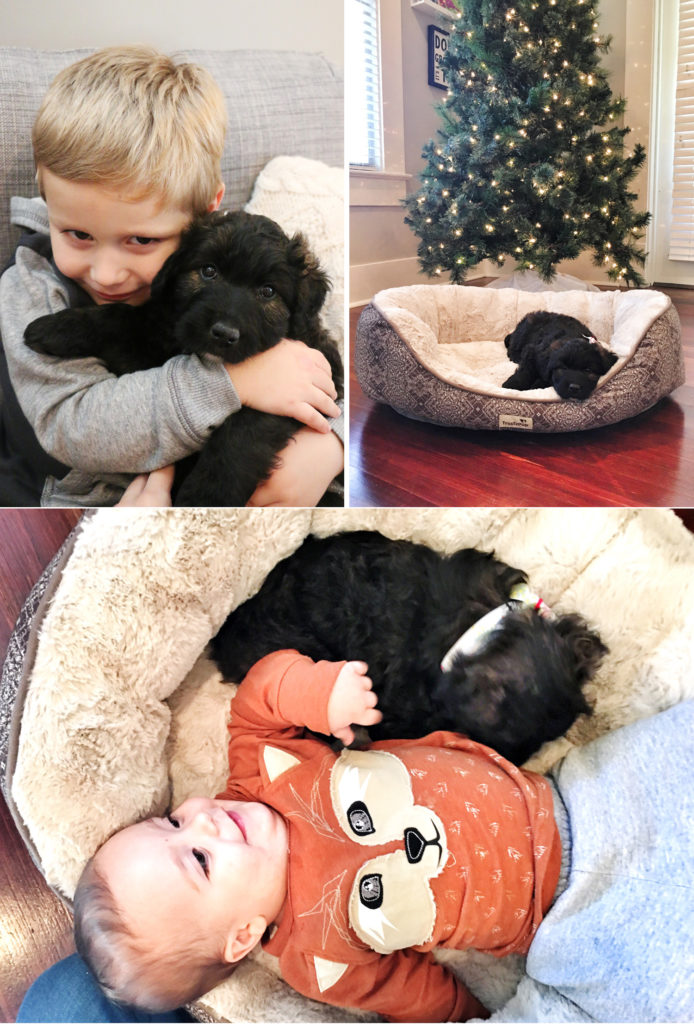 The other night Ben walked through the door with arms full of roses.
I slowed down for a moment and just thought about where we are at right now.
I'm thankful for this family that I get to do life with. The crazy days and all.
I feel so lucky to live this exciting, always on your toes (er feet) life!
Some day things will slow down and I'll miss this.
I'll miss the kids at my feet and the silly convos (All the talking lol) I don't want to worry
today about the messes or wanting to have it all perfectly perfect before we do things.
I want to focus on enjoying my people and the memories we are making.
Especially as we enter into this Christmas season this has been on my mind!
I hope you join me in just throwing your master plan out the window.
It's His plan we should be focused on anyways!
Let's enjoy life with our families and not rush through these days trying to keep it all perfect.
I think I've been so focused on wanting my kids to behave perfectly…
In reality I was wanting them to start acting like adults…
but you know what, they are kids! And they will make messes
and need redirection but these are the days I'll never get back.
God willing I'll have many days of them acting like adults but today, it's kid time.
And all this… led me to saying YES to Ruby. And yes to all this fun that we've been having. :)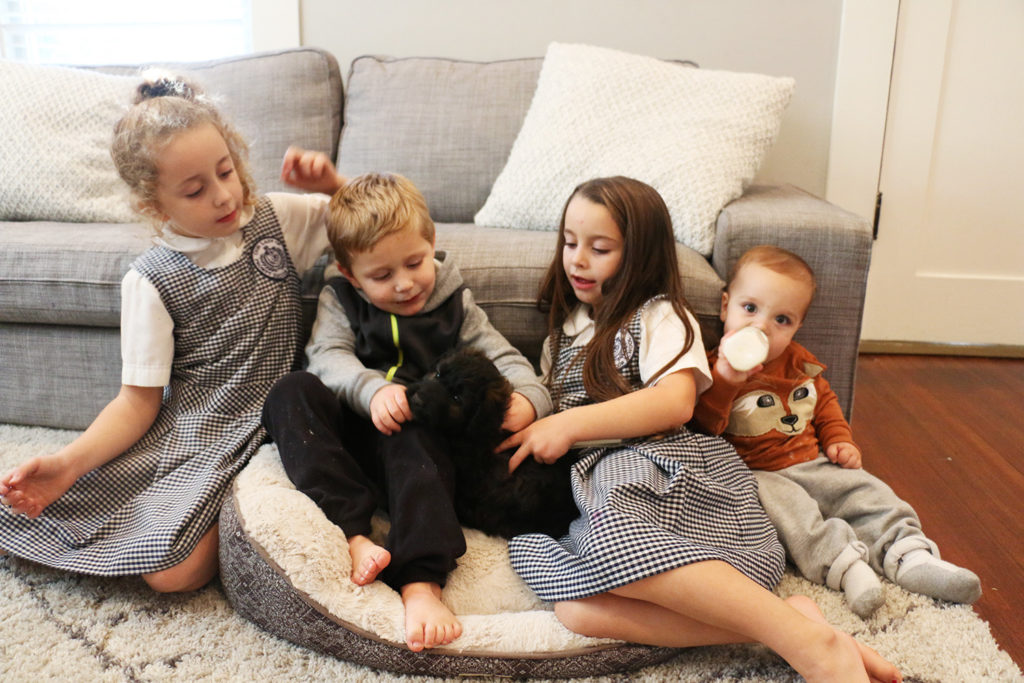 Can't wait to share it with all of you… I pretty much am getting nothing done with this lovebug around.
She likes to snuggle at my feet when I'm working on the computer during Asher's nap time.
And when the kids get home from school she gets sooo excited and then crashes asleep haha.
Which is perfect when you are a 6 or 8 year old girl wanting her to be your baby. ;)
The kids go to bed and it's our turn to snuggle her up.
I'm excited for her to get a little bigger too…
just like with our kids, every stage has its fun parts and challenges.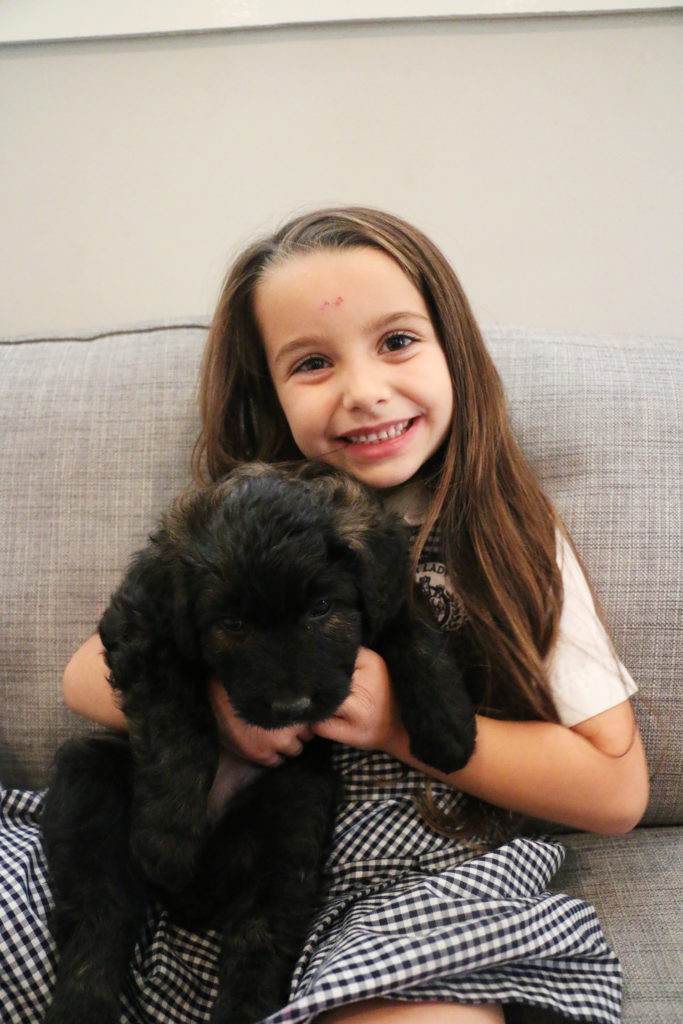 I have two bubbas now. haha.
I think everyone needs a flandoodle in their life.
She's like a teddy bear! Excited for these little ones to grow up big and strong together.
I love the memories I have with our childhood dogs…
Thankful I'm in a season where I get both baby and puppy snuggles.
Both a little slobbery. Haha.
I'm pretty sure Ruby thinks Asher is a puppy too.
They both toddle around and fall over each other.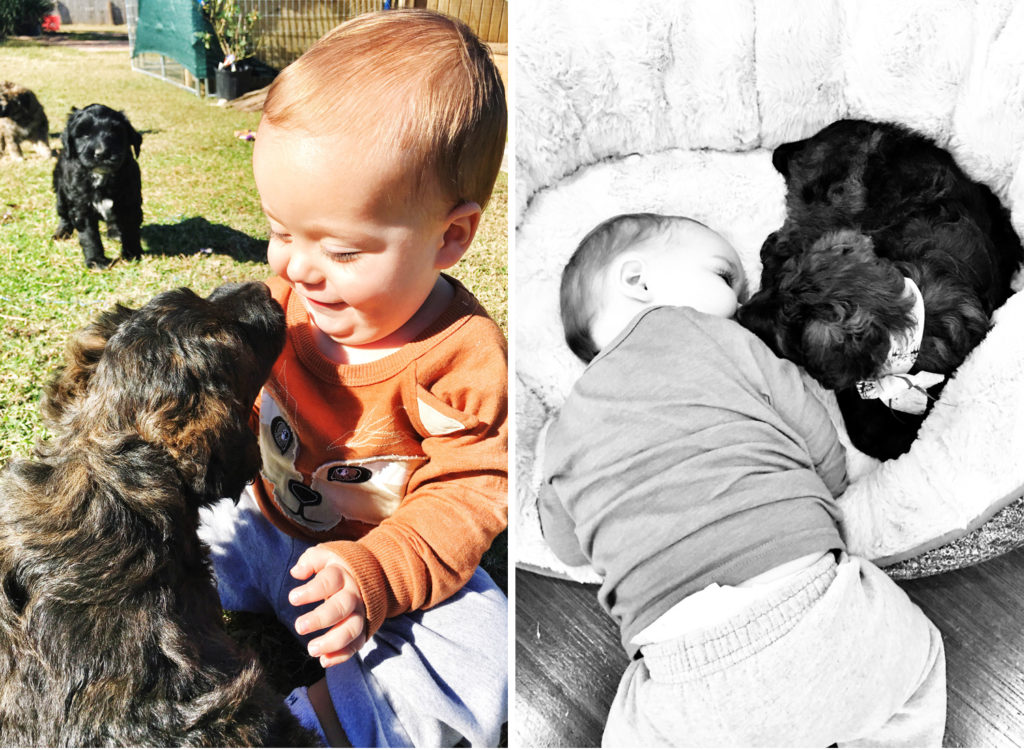 Our little Ruby is all about her mamas. Alllll the mothering going on. haha.
I love how having a pet has built up this gentle girl's confidence.
She CAN do it. Sophia has always been my more timid and "think things through" girl.
Which is a great thing most of the time…
But every day I find I need to encourage her to not give up and to keep trying.
That she CAN do it. I love seeing her find confidence in herself and see what she's capable of.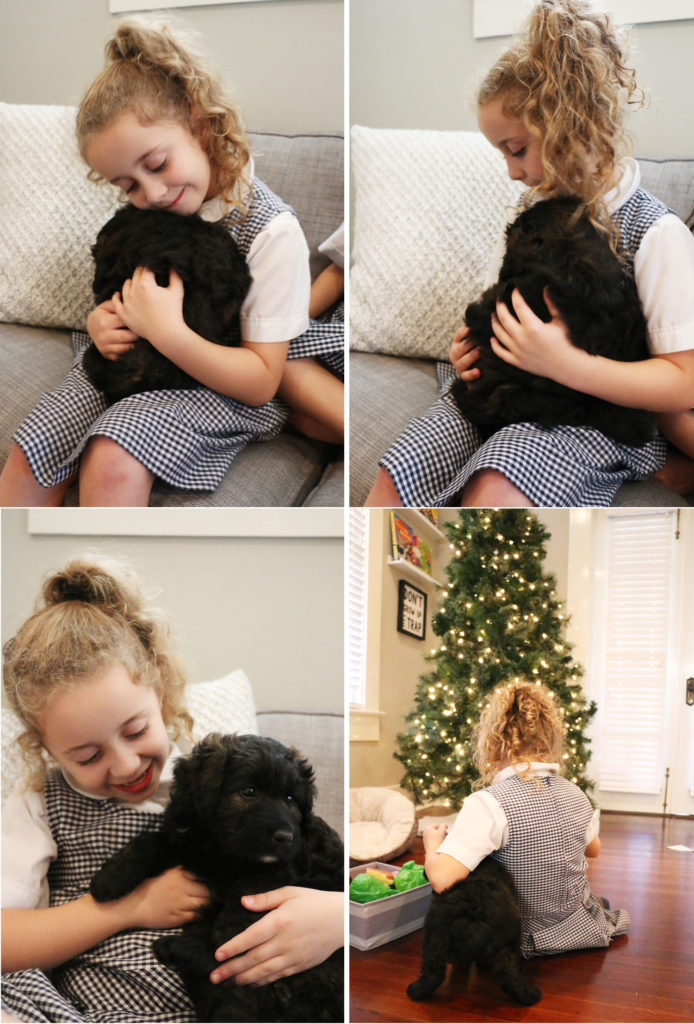 The kids have been so great with her and I'm loving all of these
REAL smiles they've been giving me when I go to take their pictures! :)
JOY. that's what Ruby is giving them. and it makes my heart so happy.

Follow a long on
Instagram where we post daily!