We have been settling into our house here in Louisiana.
Because of limited time and budget…
I try to finish around one project each week in a space.
For this post I'll focus on what I did, over time, in the girls' shared room!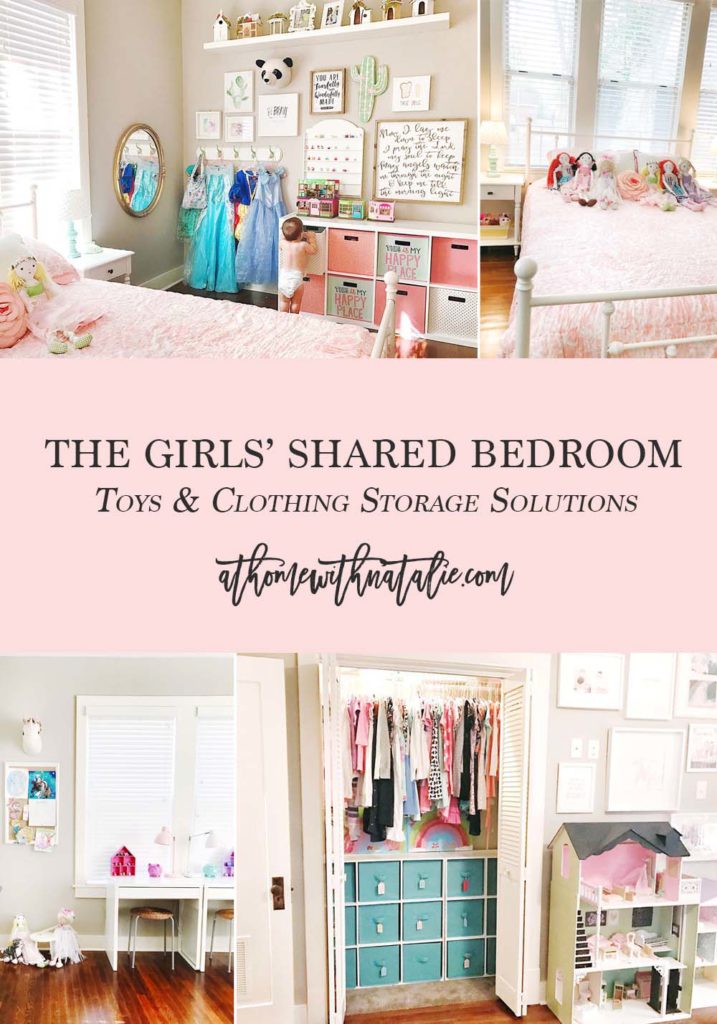 First thing I did in the space was to hang these frames!
All but one are from IKEA. It just feels more like home when there are frames on the wall.
(Here's info on the dollhouses!)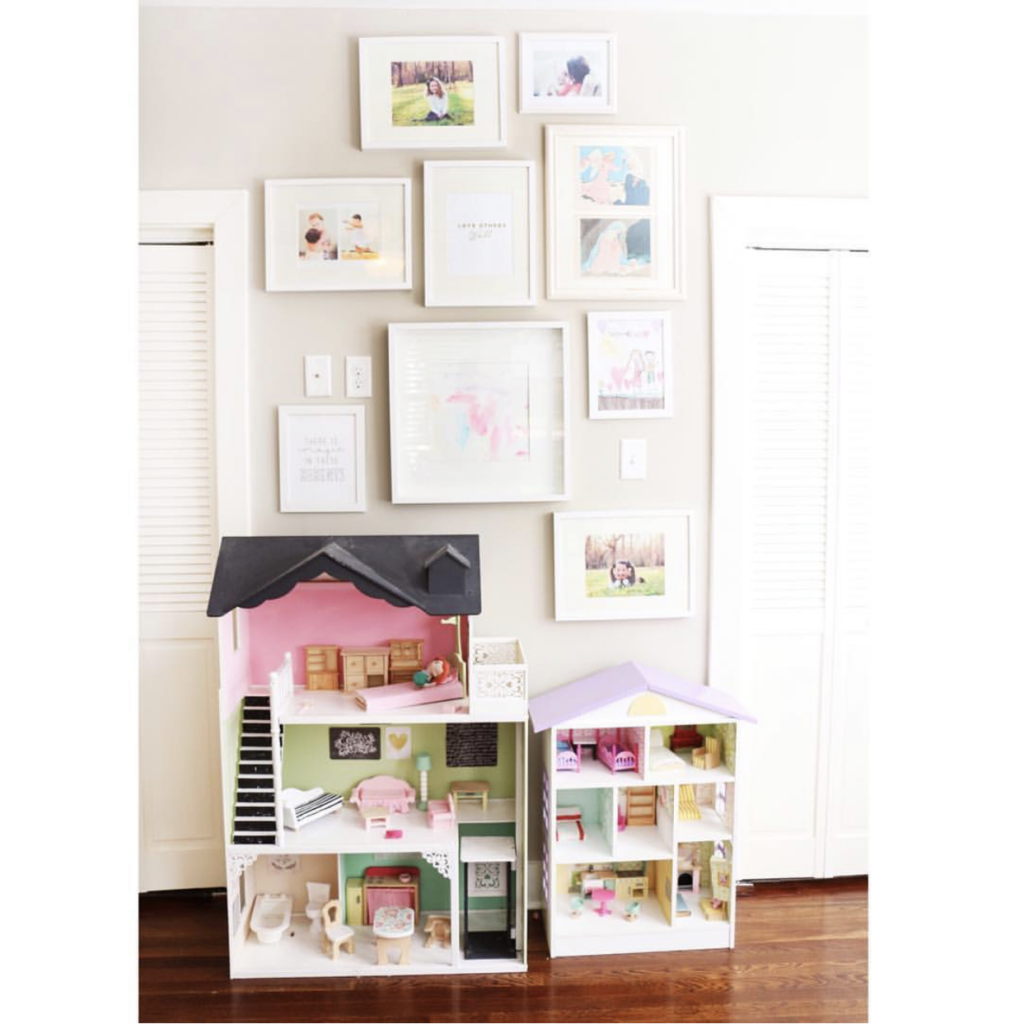 One week I figured out their bedding and pillows.
So glad I waited for the Pillowfort items to be discounted!
The bedspread I had to get online… and the pillows I bought discounted at the store.
If you don't use the free Cartwheel app for Target… you need to download it!
There is an online Pillowfort sale right now too! – Pillowfort Flower Pillow,
Pom Pom Throw Pillow, Shams and Queen Bedspread
(Dolls from Pottery Barn Outlets)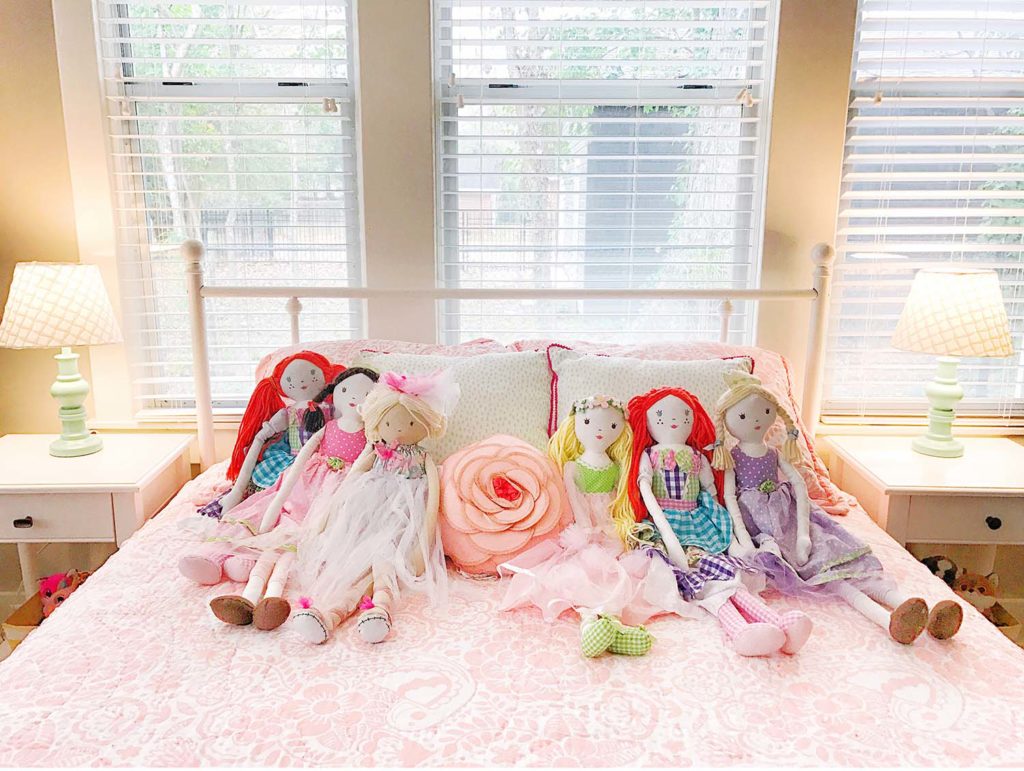 One week I made a new clothes system plan and set up the storage cubes in their closet.
I got two inexpensive ones from Walmart…with the ClosetMaid Fabric Drawers!
9 Cube Organizer and 6 Cube Organizer.
It wasn't till the next week that I added the labels and cleared out the
clothes that were too small or the wrong season.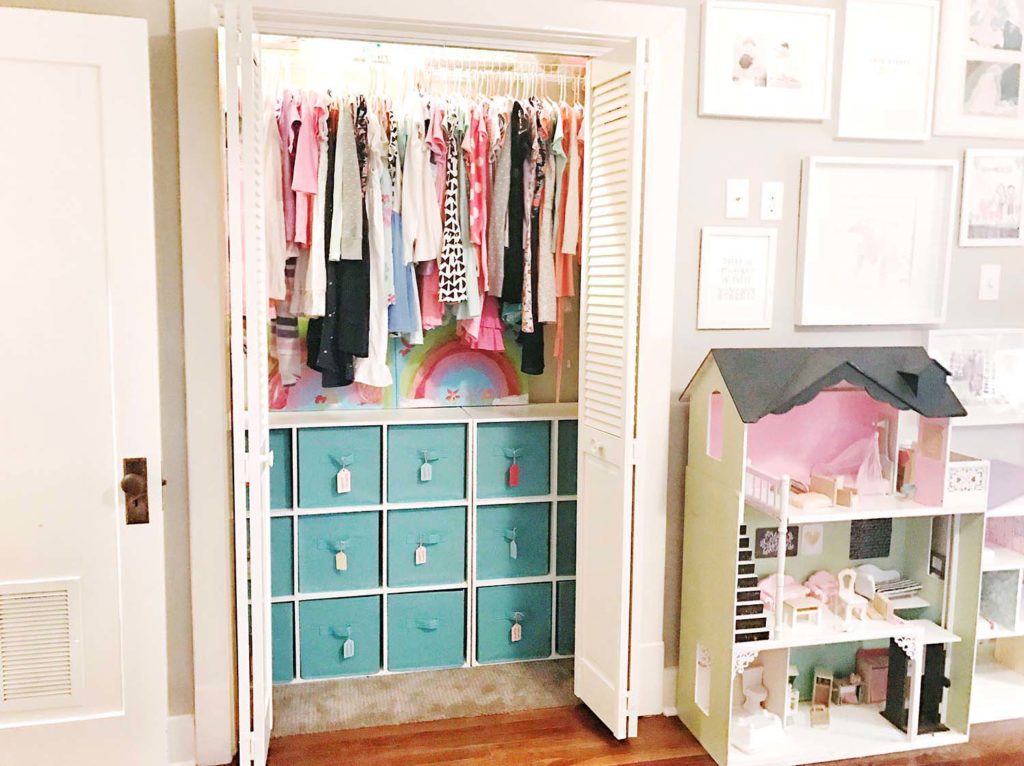 The labels were on sale at Michael's
(always look on their site for coupons before you check out!)
They were colored wood labels and I used a gold sharpie to write on them.
I tied them on with some pink yarn I had. I wanted to make it really simple
for the girls' to put away their own laundry.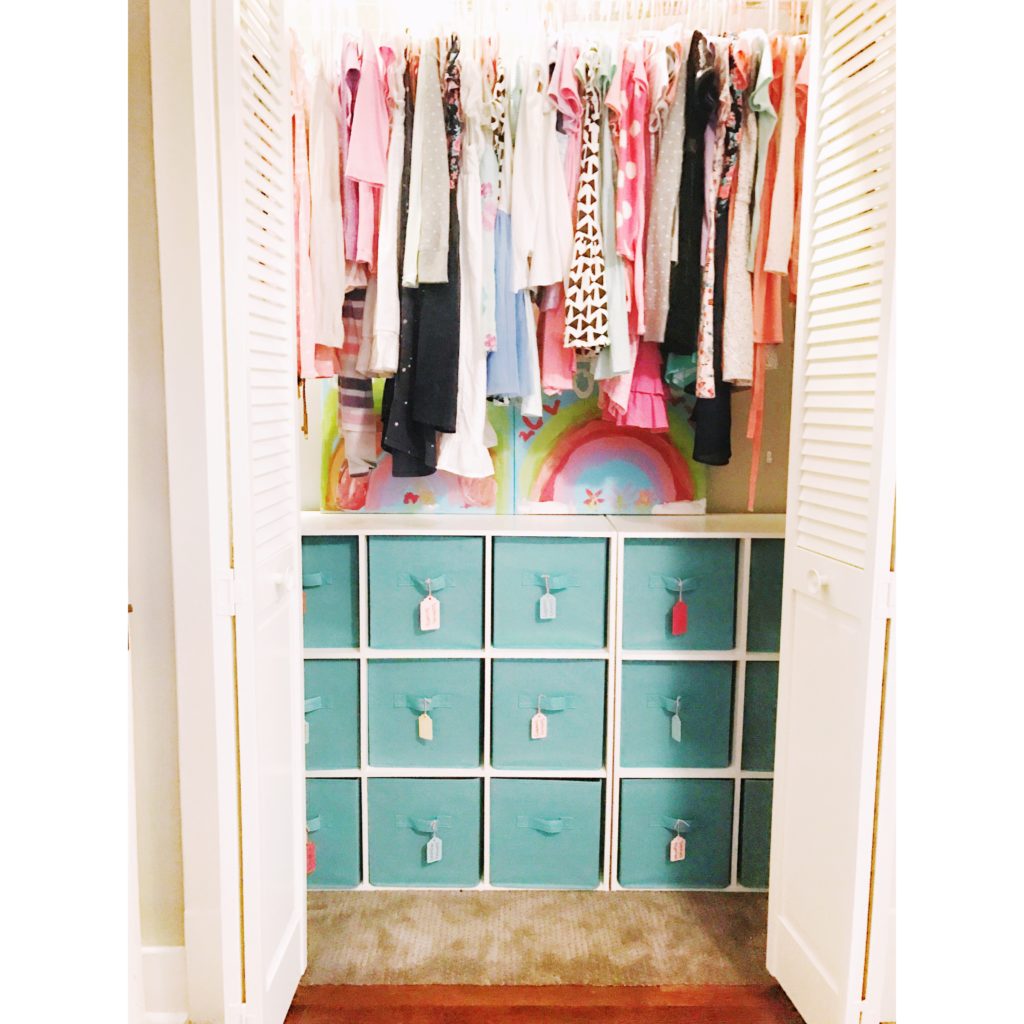 Another week I found one end table on sale…
and then it was missing the knob, so they discounted it even more.
So then I went online and got a matching one when they had a furniture sale going on!
Turned Leg Accent Table – Threshold
They are the perfect size for the room.
The lamps and shades are from Walmart. Bin with stuffed animals is a Target bin.
The bed frame itself we picked out from Amazon. DHP Manila Metal Bed (Affiliate Link.)
It was pretty easy to put together and feels SUPER sturdy!
It was just what I was wanting for that space. The girls used to have bunk beds.. and then twin beds…
but they always ended up in the same bed anyways…
so we decided to do a queen bed for them since the room also doubles as the guest room!
So far it's worked out great. I like having a space for visitors and the girls like being together.
Of course there are nights where someone is kicking someone or using all the covers…lol.
But overall they do great and love it.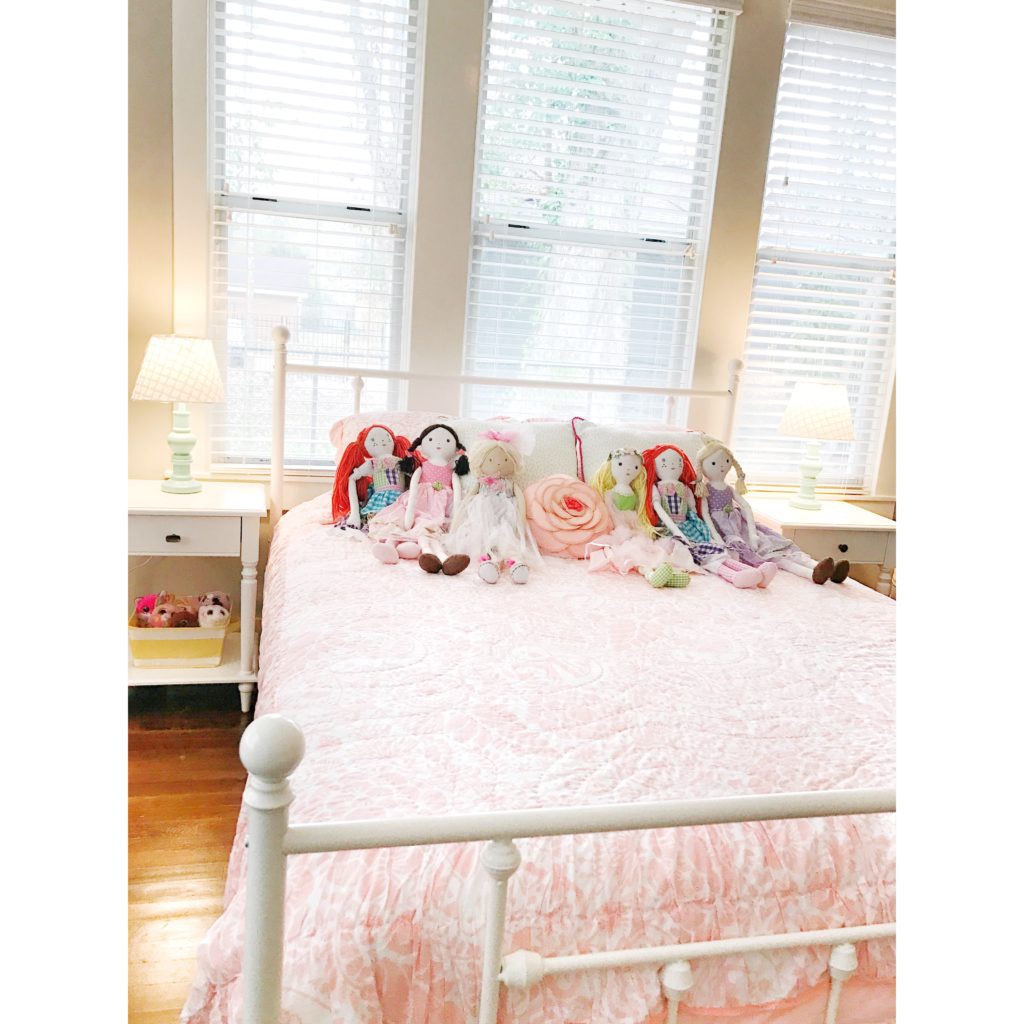 This past week my goal was to get some things on the walls that I had waiting in the wings!
First was to finish up this wall below….
I had the target storage unit, shelf and some of the frames already up.
I added a few more frames I already had + the Panda (and Unicorn on other wall) I got majorly discounted.
Then finally found a spot for the $6 Goodwill Mirror I found around Thanksgiving!
So happy with how this space turned out.
The hooks are from Marshal's and I plan on cycling out their favorite dress up clothes.
8 Cube Organizer and Fabric Cube Storage Bins are from Target.
Shopkins shelf from Goodwill, painted. All the art work besides the white IKEA frames
are from Hobby Lobby over the years.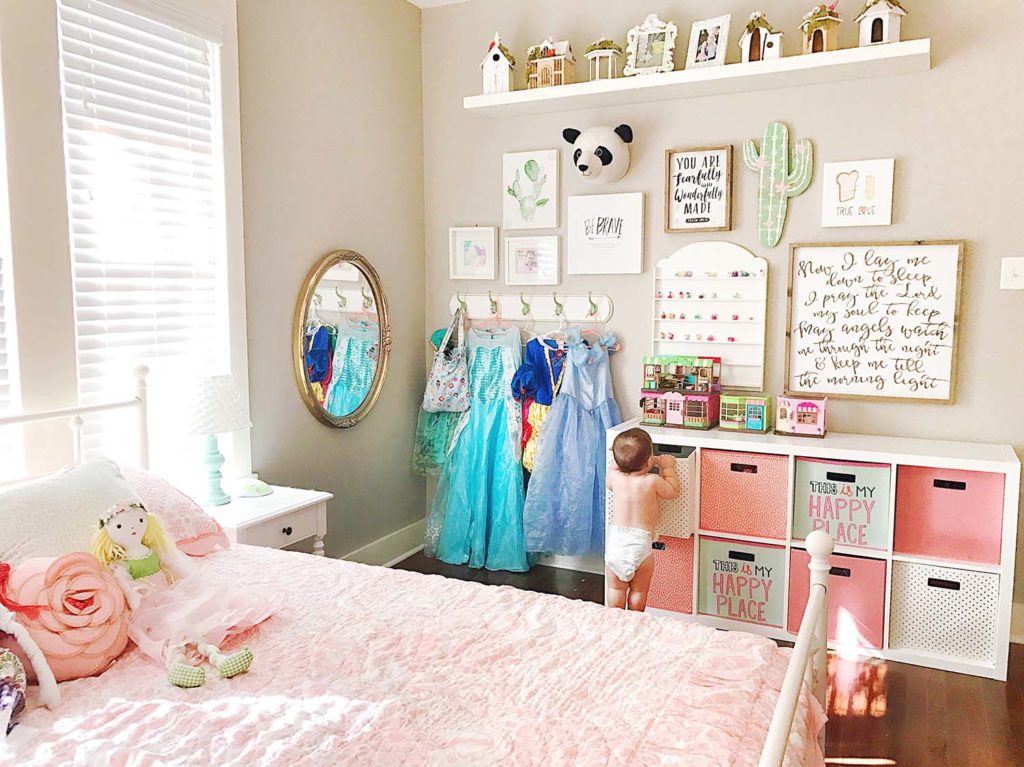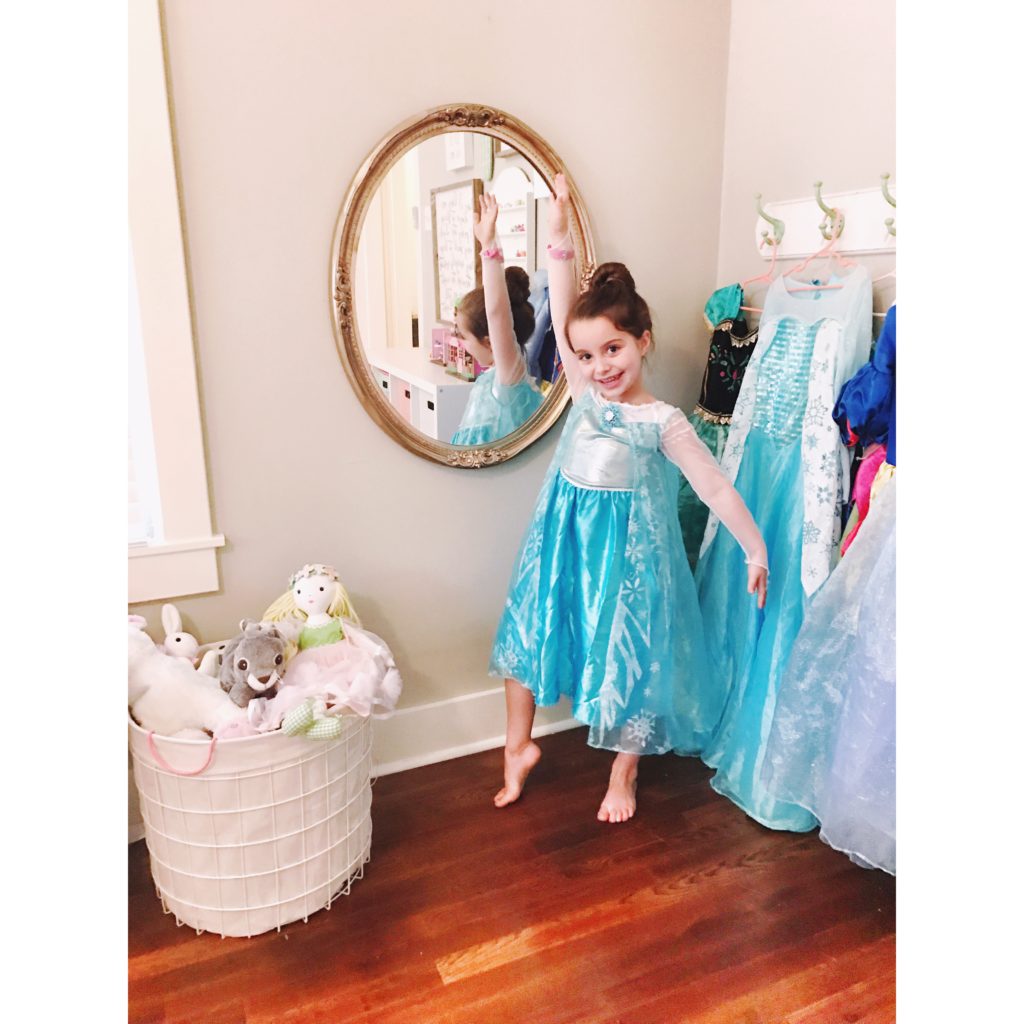 We got the girls desks for Christmas presents this year!
MICKE Desk
They are the perfect size and have a drawer to stash all their treasures.
The stools are also IKEA and were on clearance for 10 bucks or something crazy!
I couldn't find it on the website.
The desk lamps I got during the Pillowfort Sale.
Cork boards are target from office section.
Piggy banks and houses for shopkins are Target bargain bins.
Doll table and chars are from Pottery Barn Black Friday Weekend Sale.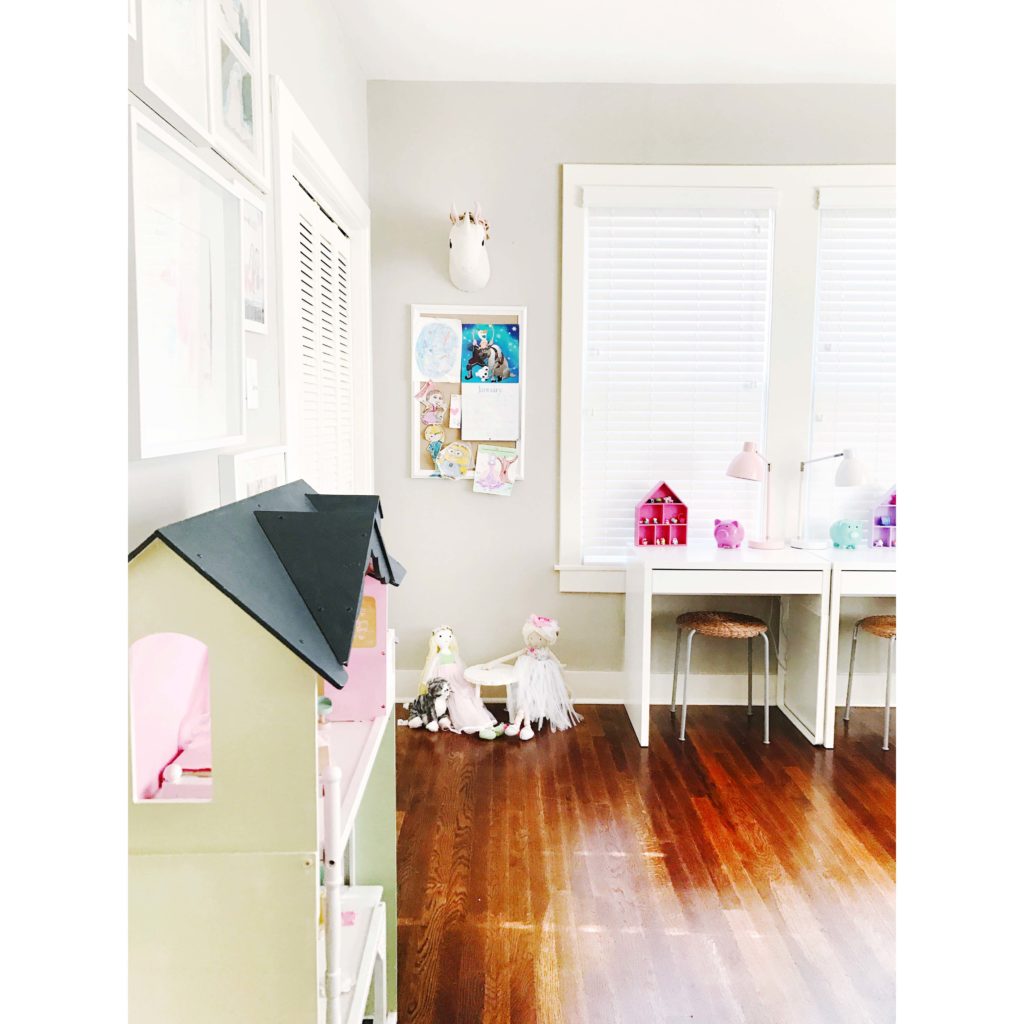 Doll bed and high chair are from Santa a couple years ago…
who snagged them from Walmart.com.
The girls have been so happy to have their cork boards…
I found a paper on Sienna's with dance moves drawn out. squiggly lines showing where to
go with words like "twist" and "bow" at different spots. It was amazing.
I love creating a space for them to use their imagination and make their own!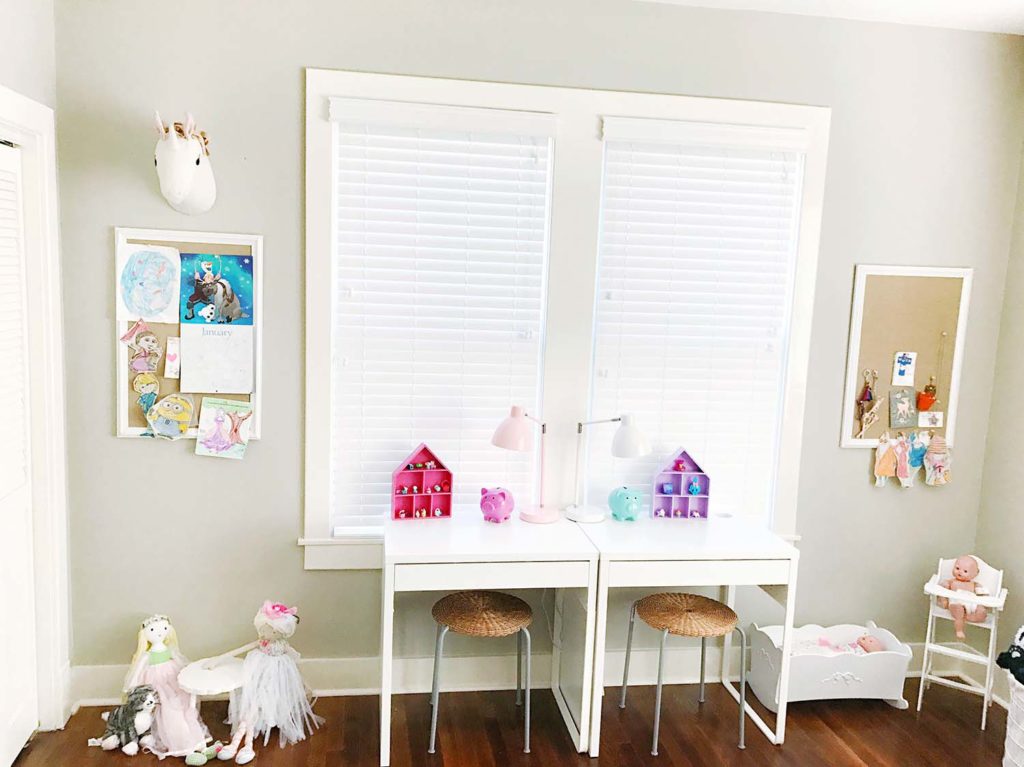 I'm going to try and do a little semi-clean home tour video of the house this week!
You guys seemed to like the video I shared right after we moved in.
Semi-Moved-In Home Tour – Subscribe to my channel and you'll get emailed when I post the new video!
I enjoy making our house a home and getting organized. Feels good!
Makes life a little less stressful when everything has it's place…and easier to clean.
Thanks for stopping by! Let me know if I missed anything you want to know about!
(But sorry I don't know the paint color!! It was this color when we moved in.)