Today we are sharing all the fun details from Sophia's Emoji Birthday Party!
She turned 9 and, embracing her love for Emojis, we went silly and festive with her party theme!
Lots of DIY decor and desserts that look trickier than they really were to do….
and got the BEST reactions from the birthday girl and her friends.
Keep reading to see how we pulled together this fun Emoji party theme!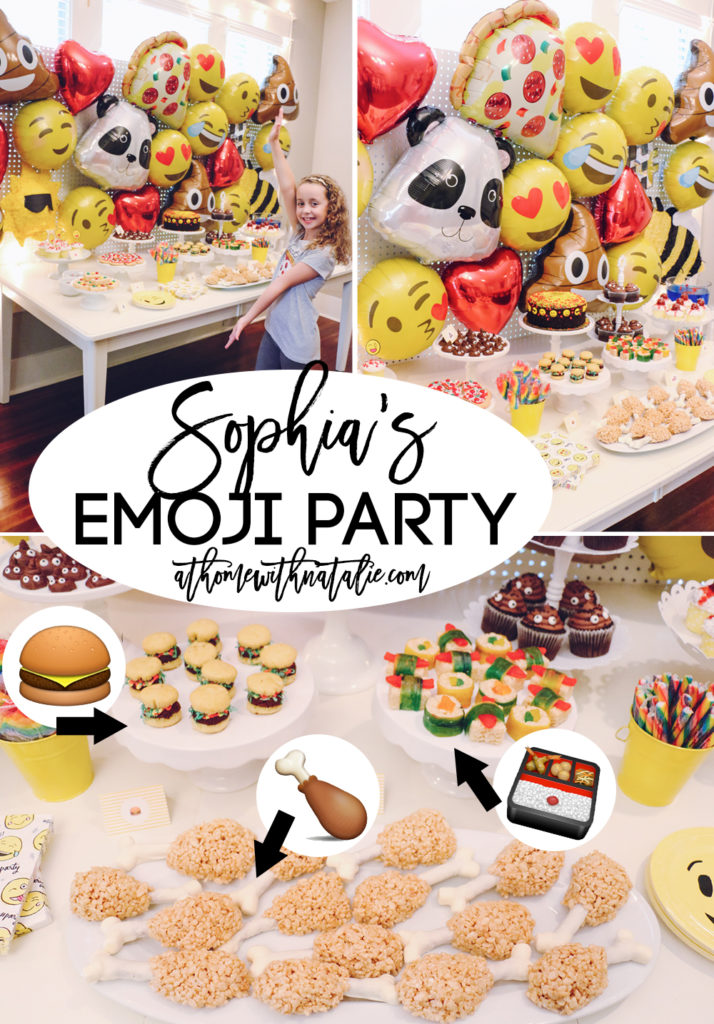 I'll share the Dessert Table first since that was the main table
of the party and had SO MANY fun details on it!
We went to a local hardware store and purchased one large sheet of peg board. It was $18 and already white.
We then placed it on the windowsill ledge and pushed our dining room table up against it.
It held up pretty well because of the height of our table (and the balloons are light weight)
but just to make me not stress, I reinforced it with some white ribbon.
I had picked out balloons from a few stores. I'll link where each is from below.
But just used loops of scotch packing tape to attach the balloons to the pegboard.
Make sure you put the tape in the right spot if you want the balloon to angle up instead of facing down.
We had a string of lights in the closet so I pulled those out and strung them up.
I love how it made the whole set up glow!
Panda Balloon, Heart Balloons and the Pizza Balloon are from Zurchers.
Poop emojis are from Haus of Hooray. Emoji faces are from Inspired Party Studio.
The sun and bumblebee piñata are from oriental trading.
The strawberry piñata is from Zurchers. The metal hashtag is from Michael's.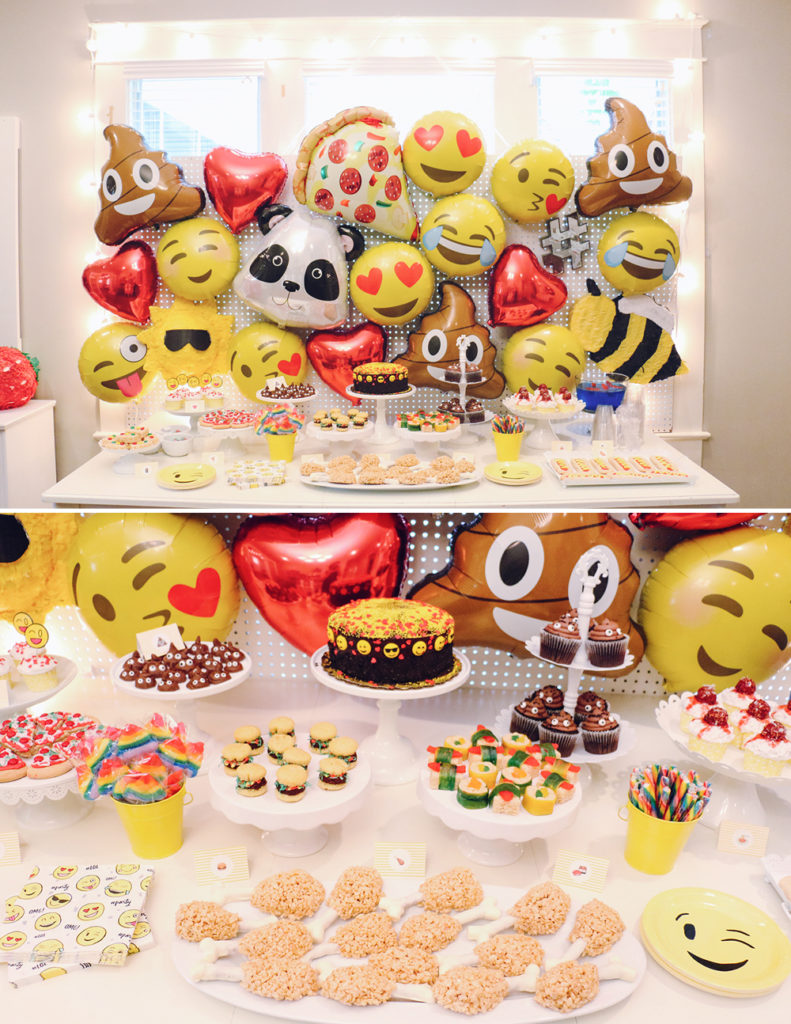 I was trying to plan out the treats for the dessert table…and thought about how Sophia LOVES to laugh.
She's too much of a sweetheart to really prank anyone but she loves April Fools Day silliness!
So we took inspiration from some of the emojis and created treats that looked like them!
My kids thought I was just hilarious and the best ever. It was pretty funny seeing their faces.
Most of my plates and cake stands are from:
Target, Zurchers.com, Pottery Barn(wedding registry) or Marshals.
I LOVE white dishes and use them for all our events. They are displayed on our Dining Room shelves.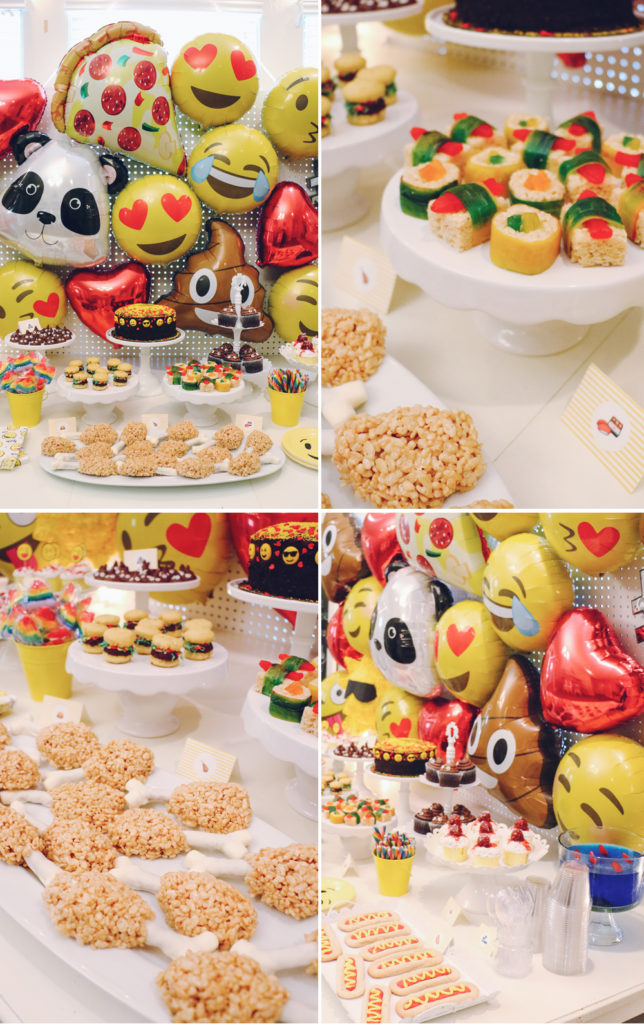 My kids love Rice Krispie treats…
so I knew some of the desserts needed to be made with them!
I got a box of pre-made rice krispie treats and made both stop lights and the sushi with it.
I brought in Sophia to help unwrap them and to sort out the stop light colored M&M's.
I cut the treats to make the right size…and used a little dab of white frosting to
attach the M&M's. These went FAST on the table.
Asher ate the M&M's off of two of them before we realized what was happening. haha.
The Sushi was a fun one to make that looked way harder than it really was!
I used store bought rice krispies..either cut to size or mushed a little to be circles.
I got a box of fruit by the foot and opened them all lol looking for the green flavor.
If it wasn't the right color I just kept it in the package. My kids don't care!
But the green flavor ones have streaks of green and yellow and I
just cut those areas and used them to wrap my sushi.
I used Swedish fish and pieces of gummy worms for the toppings.
You can get those in bags for 99 cents and you'll have leftovers for another time.
The sushi was another huge hit on the table. The kids thought it was SO SILLY.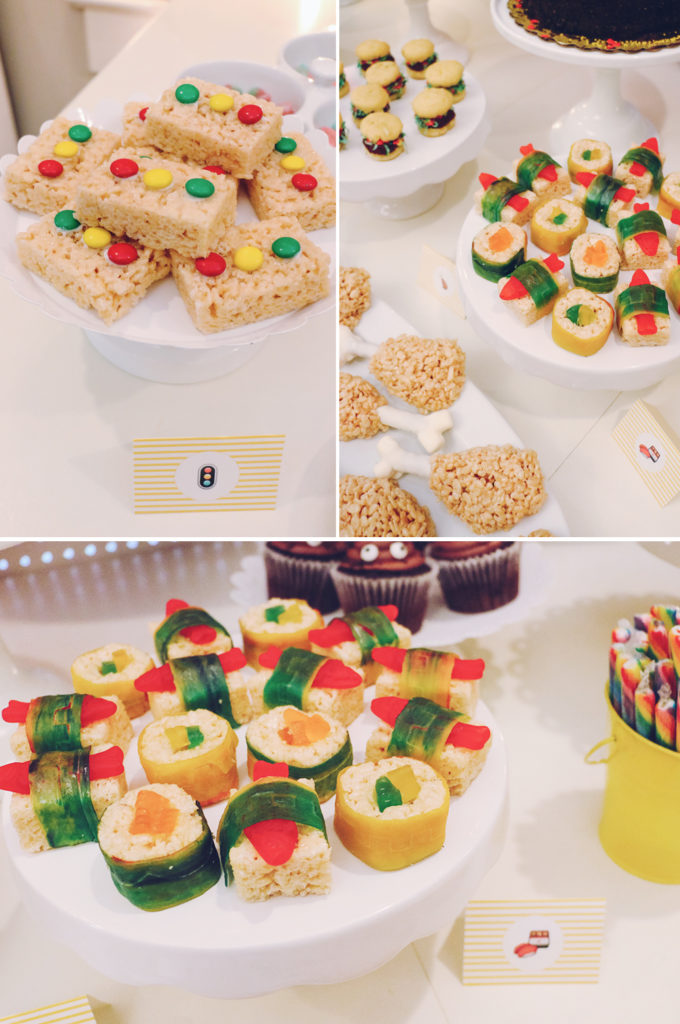 Another fun detail on the table, and by far the favorite
when I shared party peaks on Instagram… the turkey legs!
All you do is break pretzel rods in half, take mini marshmallows
and dip into melted white chocolate and press onto
the end of the pretzel rod. I layed them all out to harden a bit on parchment paper.
After 5 minutes or so you dip the rest of the end of the stick into the white chocolate!
Lay back down to harden. I made a batch of rice krispies and once it cooled a little I took handfuls and
pressed around the other end of the pretzel rod to make the turkey leg!
The kids FLIPPED over these when I was making them. and also ate a bunch of marshmallows with me. ;)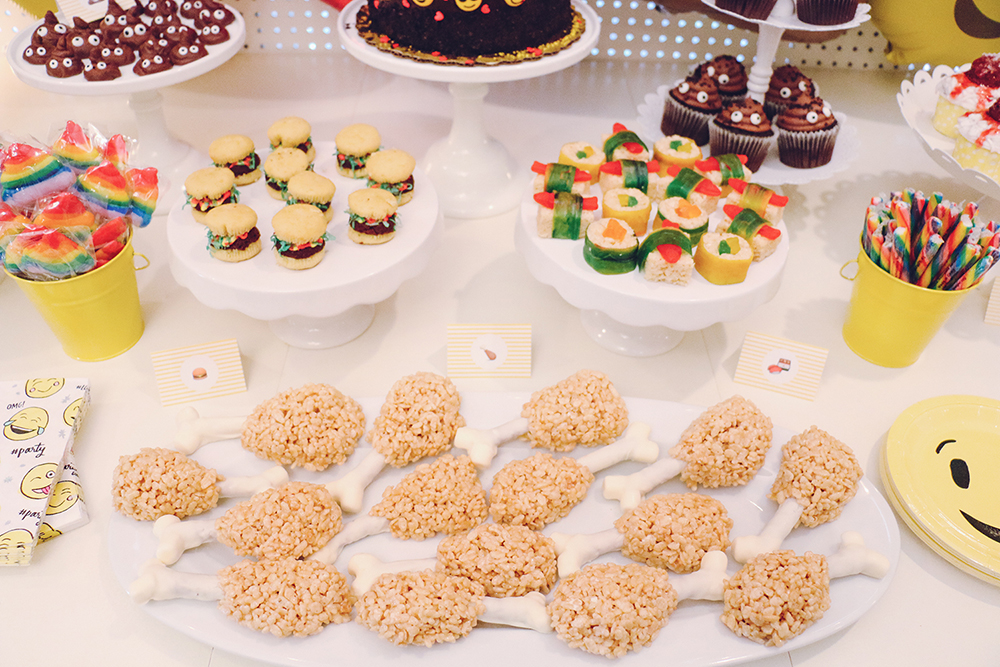 I KNEW I had to make little cupcake cheeseburgers.
I couldn't handle making more than this haha but they were totally worth it.
I just made a batch of mini cupcakes. After they cooled I cut them in half and used the top parts only for the buns.
I bought a box of those brownie bites. (You know in the portion packs!)
Cut those in half for the patties. I had white frosting and had the kids help me portion it out into bowls…
and add food coloring to make out ketchup and mustard.
(We were using the mustard for the hot dog sugar cookies too!)
We put some shredded coconut in a bowl and added a little green food coloring to make our lettuce!
Once everything was made I assembled the little burgers and the kids were amazed at my burger making skills.
(They doubted me at first when I explained how it worked.) ;)
The mustard ended up looking like melted cheese but I liked it! Extra cheese please!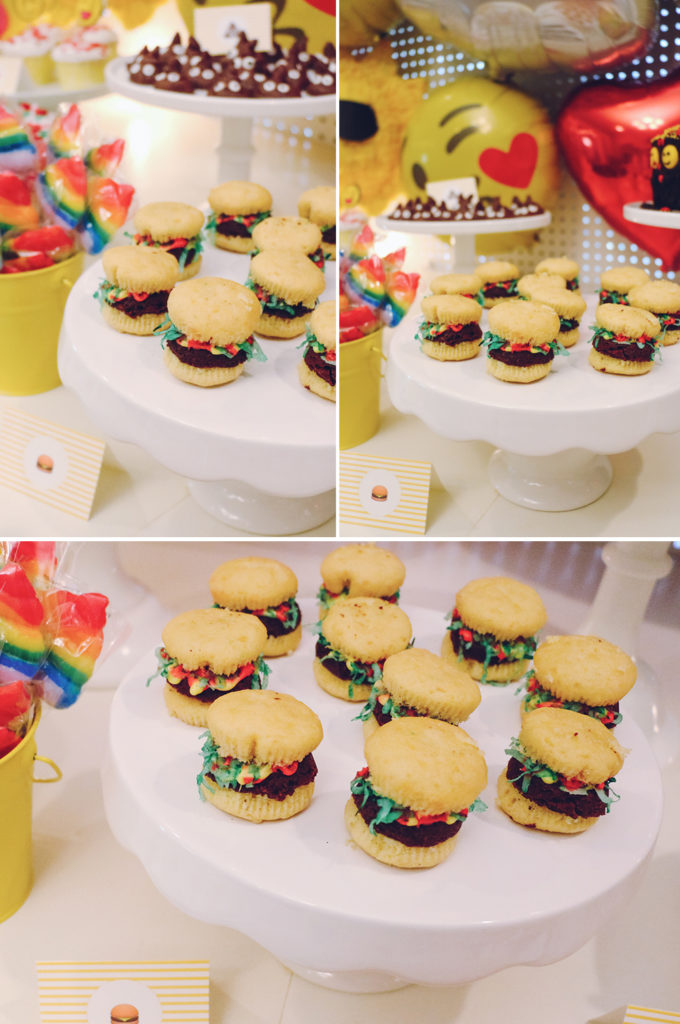 Since we had our mustard icing above… I'll go ahead and show you the hot dog sugar cookies!
I made these a couple years ago to bring to a fourth of July family cookout.
They got such a great response, and I saw the hot dog emoji, so I knew I had to do it!
They are pretty easy too… I just use a bag mix of sugar cookies (make it the "cut out cookie" way on the bag.)
You can see my full Hot Dog Sugar Cookie Recipe Tutorial Here.
They ended up bigger this time than before…but the kids didn't mind.
and it made it seem more like a hot dog because it was the real size of one.
The yellow containers for the suckers were from Hobby Lobby and the
suckers themselves are from Oriental Trading. Rainbow poop emojis?? YES. a must. ;)
The other suckers were leftover from Sienna's Unicorn Birthday party.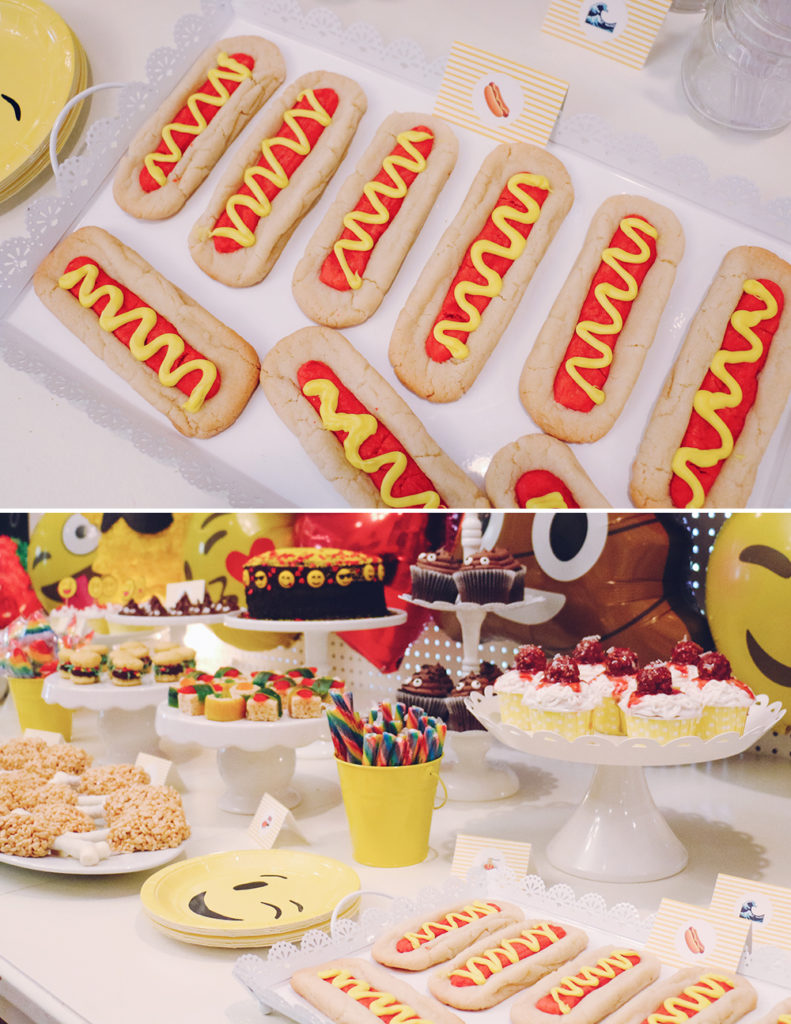 I was thinking of doing a beach themed cupcake…
but I knew Sophia loved jello. AND I wanted an easy recipe for the table.
So I made a big container of blue jello..once it hardened
I added some leftover Swedish fish from the sushi treats
and BOOM….ocean emoji treat. ;) This was a hit on the table…
that we ended up moving to the kitchen counter so we could help the kids!
You could do the same idea in pre-portioned cups with a fish in each cup…
but I didn't have enough space on the table and I didn't want to spend time doing it. :)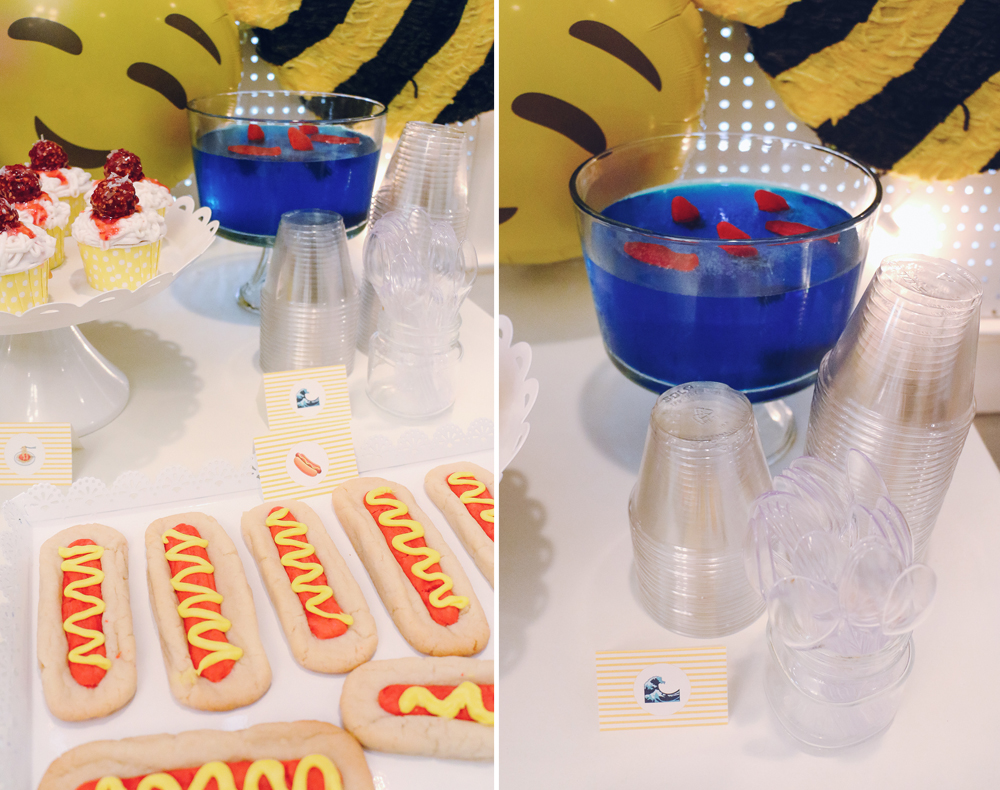 Some more of the treats were Cupcake Spaghetti and Meatballs!
(Just a regular vanilla cupcake with vanilla frosting drizzled on top.
The meatball is a truffle chocolate (Sienna's favorite!) dropped in some
strawberry preserves ice cream topping sauce…
And then after placing the meatball on top of the cupcake I scooped some of the sauce on top of all of it.
NOT the most appetizing treat on the table… I think TWO were eaten lol.
But it got all the giggles so worth it.
The Pizza Cookies were made using store bought cookies cut into triangles.
I used the "ketchup frosting" for the red sauce.. and then white
frosting (from the cupcakes) for the melted cheese.
The shredded coconut "lettuce" from the burger cupcakes added some pops of green for green peppers
and the red M&M's from the stop light treats were the perfect pepperonis!
(If you can't tell…when making homemade treats I like using ingredients that work for multiple ones!)
I made cupcakes in these cute yellow polka dot baking cups from Bakers Party Shop and after frosting
sprinkled some heart sprinkles on them from Shop Sweets & Treats.
The Emoji toppers are from Hobby Lobby.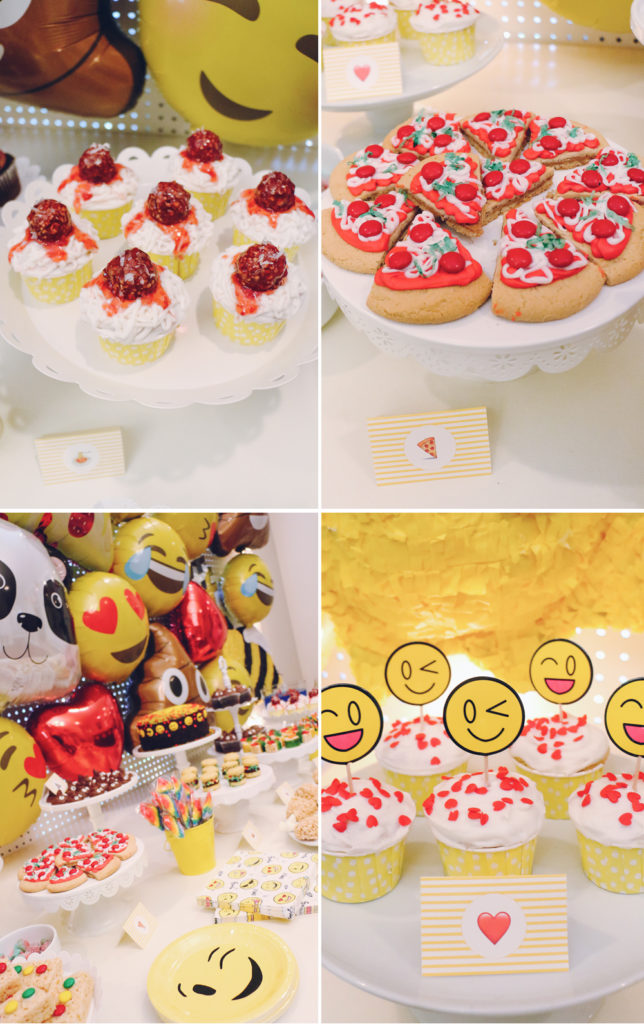 I bought some chocolate cupcakes from the Walmart Bakery that
looked "close enough" to poop emojis and added some eyeball candy toppings from The Bakers Party Shop.
Our conversation at the bakery… "Do these look like poop emojis enough Sophia?" "Oh yes totally!" haha.
The cake was store bought from Kroger. We had gotten some emoji candy decorations from Hobby Lobby and Sophia was very excited to decorate her own cake. I let her take on that detail and she wanted yellow sprinkles on top with the heart emoji sprinkles mixed on the edges!
The yellow sprinkles are from The Bakers Party Shop and
the heart sprinkles are from Shop Sweets and Treats.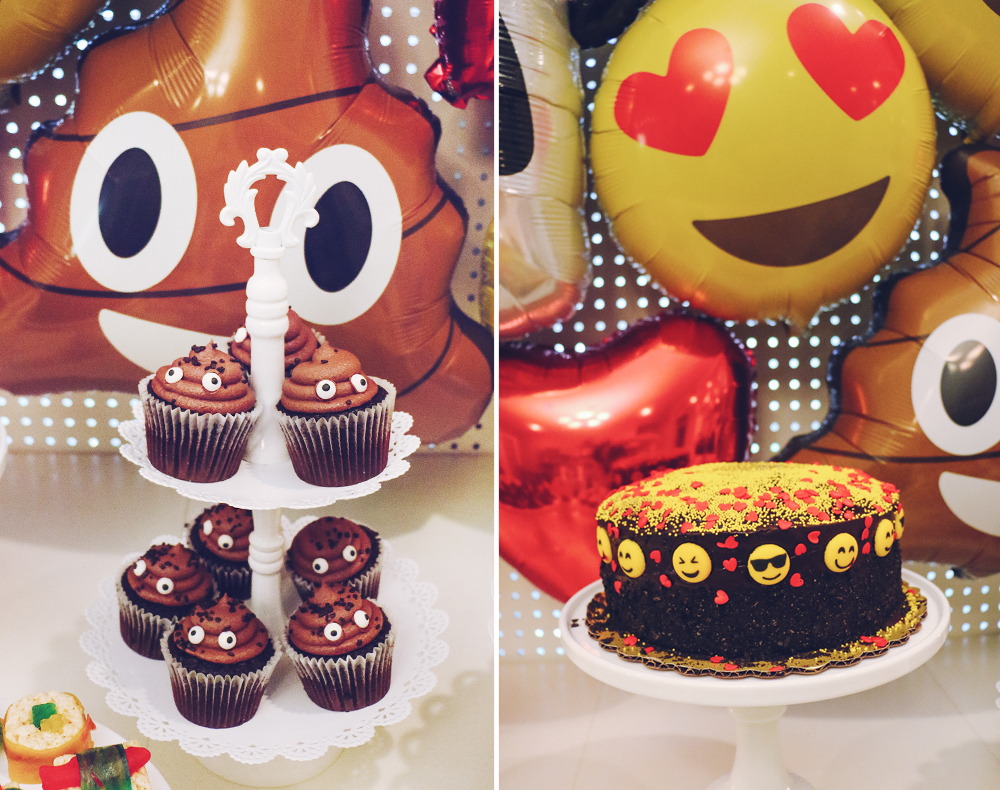 One more I didn't get a close up of are the marshmallow poop emojis (see below)
Probably the grosest treat I've had to make… but the kids LOVED them
and said they were NOT a Pinterest Fail. so. going with it.
They were made with marshmallows melted and added to melted chocolate.
once it hardened a little I put in frosting tubes…let it set up
a little more and then swirled out onto parchment paper.
They didn't want to hold their shape very well so I ended molding them and then
popping them in the freezer for a minute. Then adding the eyes.
WHAT EV. I seriously didn't want to spend another minute on poop emoji treats. Moving on. haha.
The cute plates and napkins on the table are from Daydream Society. (they are launching soon!!)
We also had cute emoji tattoos from them that the kids loved.
And I thought they were actually really pretty! (you can see them in the video!)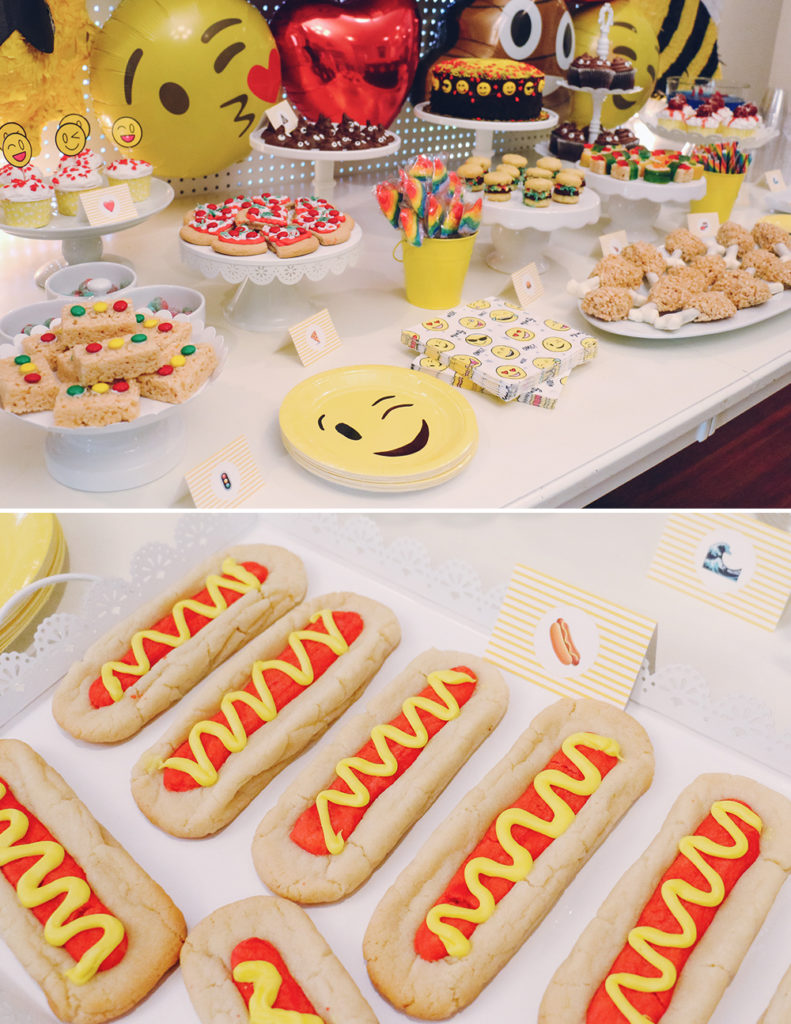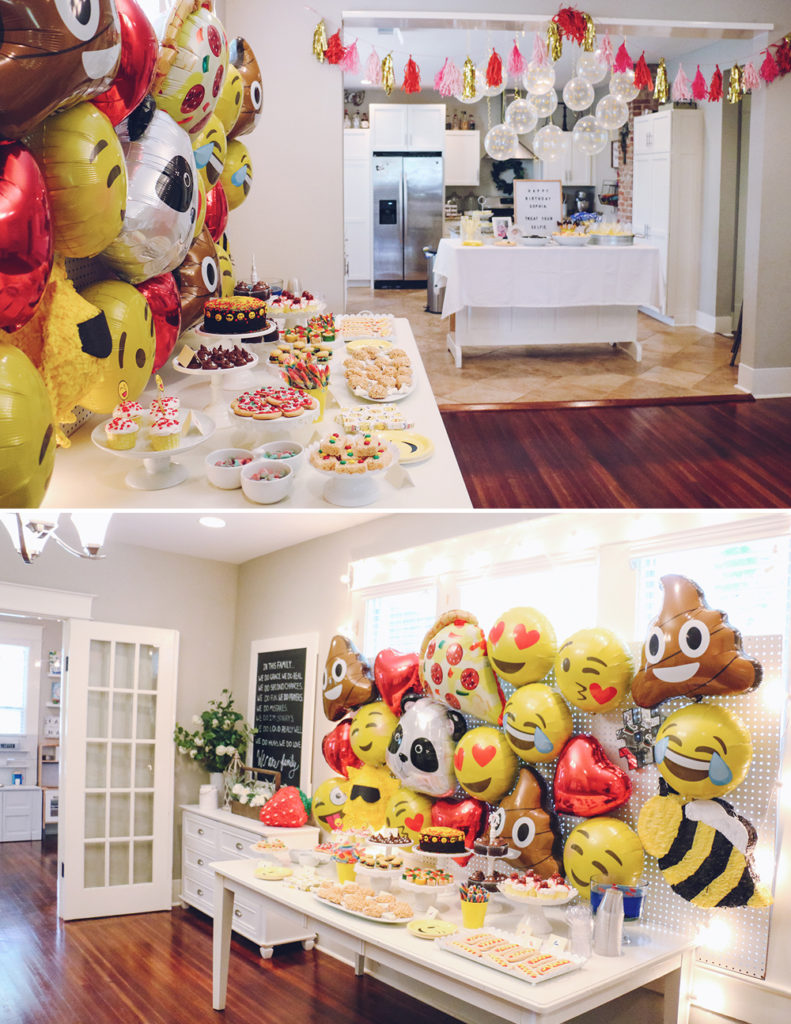 I'm so happy with how all the main table turned out.
Sophia was excited to show her friends all the silly treats and laugh together!
And that was my hope for it!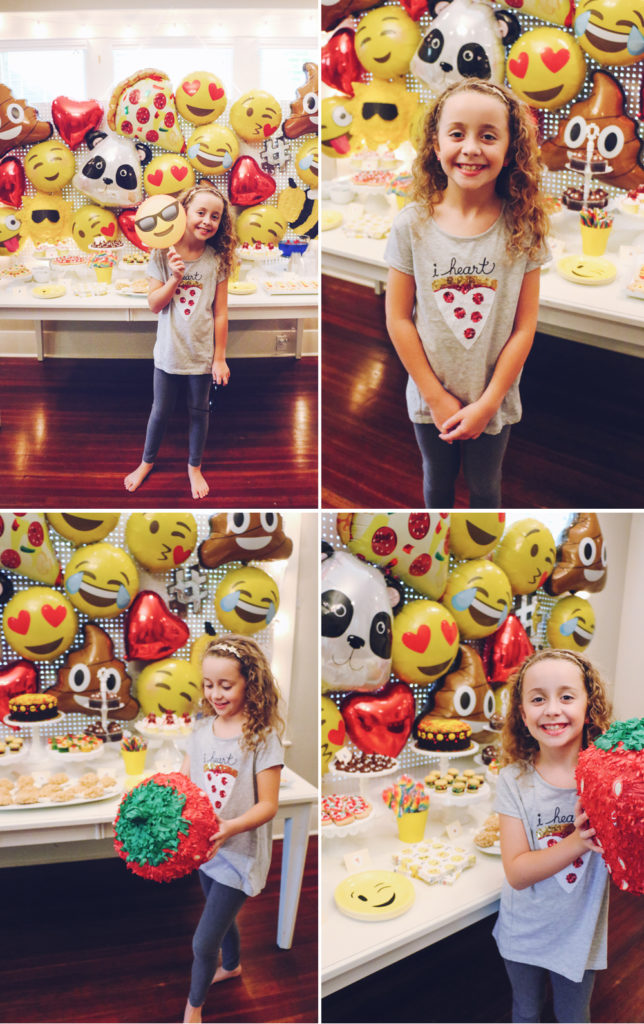 The rest of the kids were just as excited about the treats!
Before everyone showed up we snapped some photos.
I can't even handle their poses haha….. my crew makes me laugh.
This is what it's all about..these memories!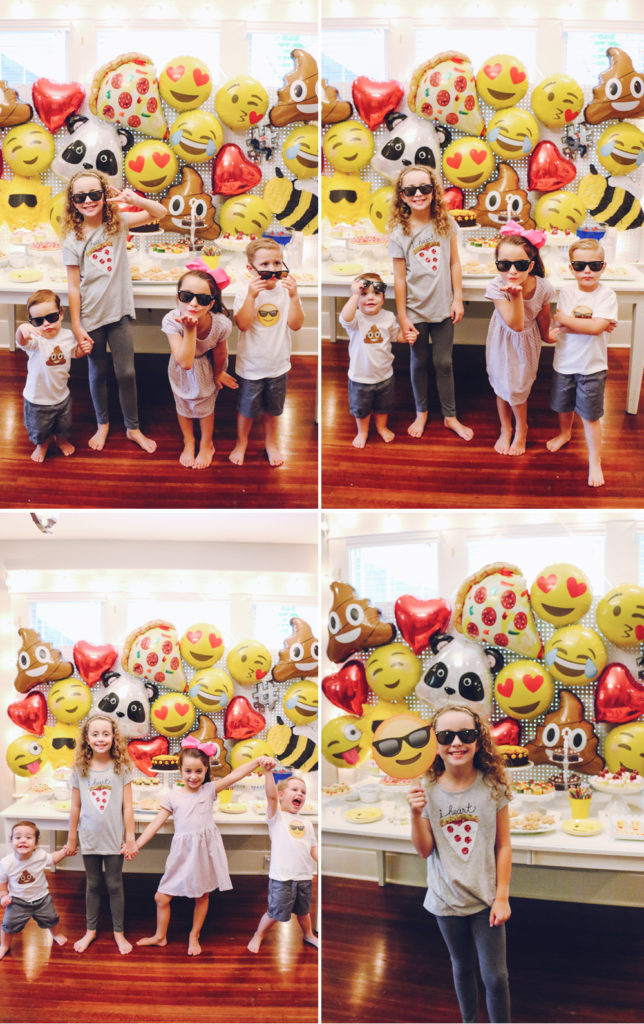 We set up a little photo backdrop area in the family room!
I just used the fringe tissue garlands(Inspired Party Studio) that we used for Sienna's Unicorn Party
and some yellow curling ribbon to hang emoji plates and polka dot balloons!
We used emoji photo booth props (from Amazon) and the kids
had fun choosing the ones they wanted for each photo.
It didn't take long to set up this area and it was a very active little space during the party.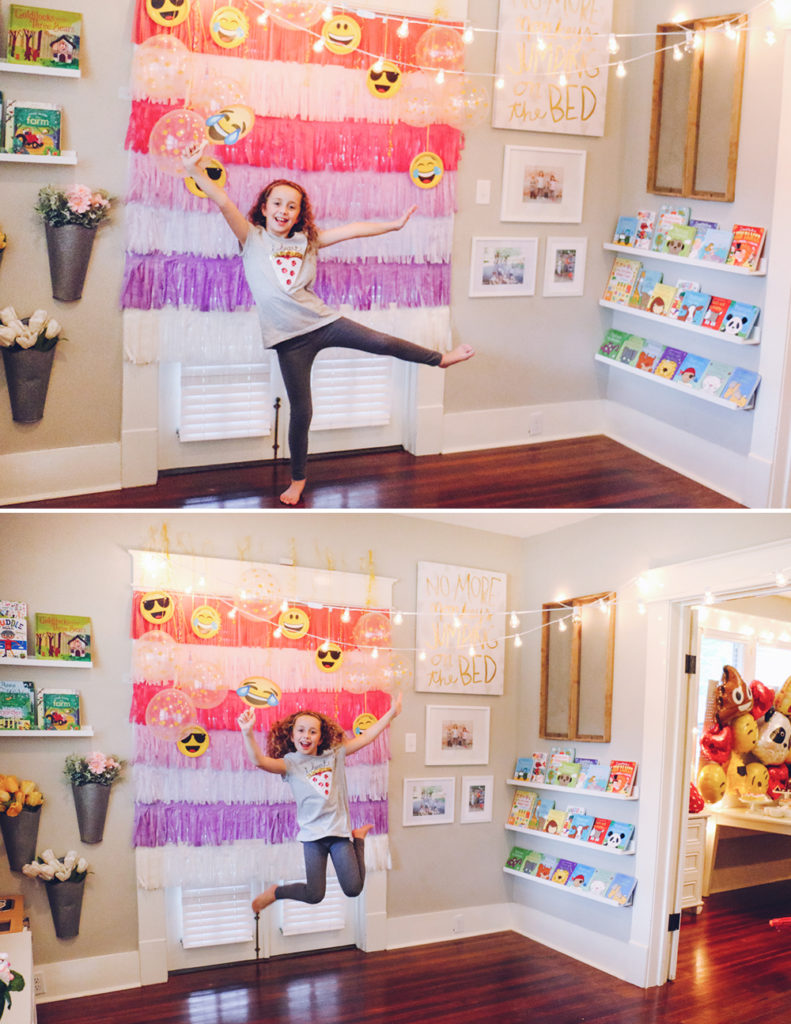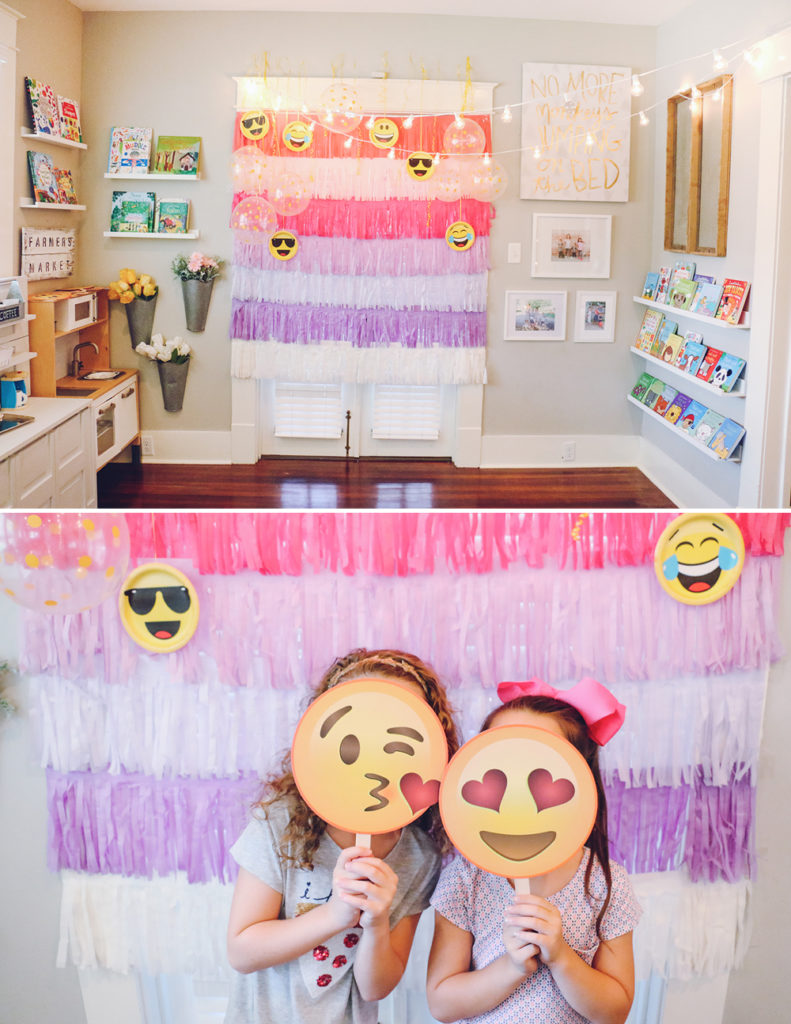 The kids tested it out that morning. ;) They approved.
The Emoji plates are from Hobby Lobby I believe! and the Emoji photo props were from Amazon.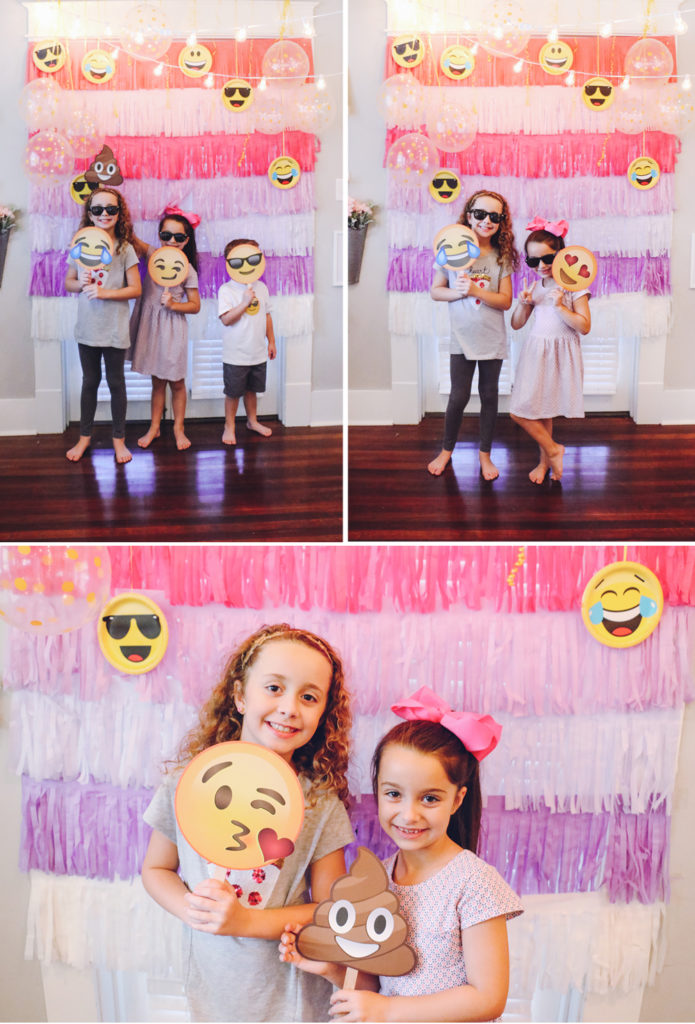 Another main party area was our Kitchen Island!
I set it up with all of the favors and activities we had for the party guests!
I strung up some garlands I had from a past party (I think they are from Target!)
and then hung yellow polka dot balloons from the ceiling.
Curling up some ribbons hanging from the balloons and extra strands of ribbons too.
The letter board is from LetterLines. I put out some cute cups, napkins and straws on this table.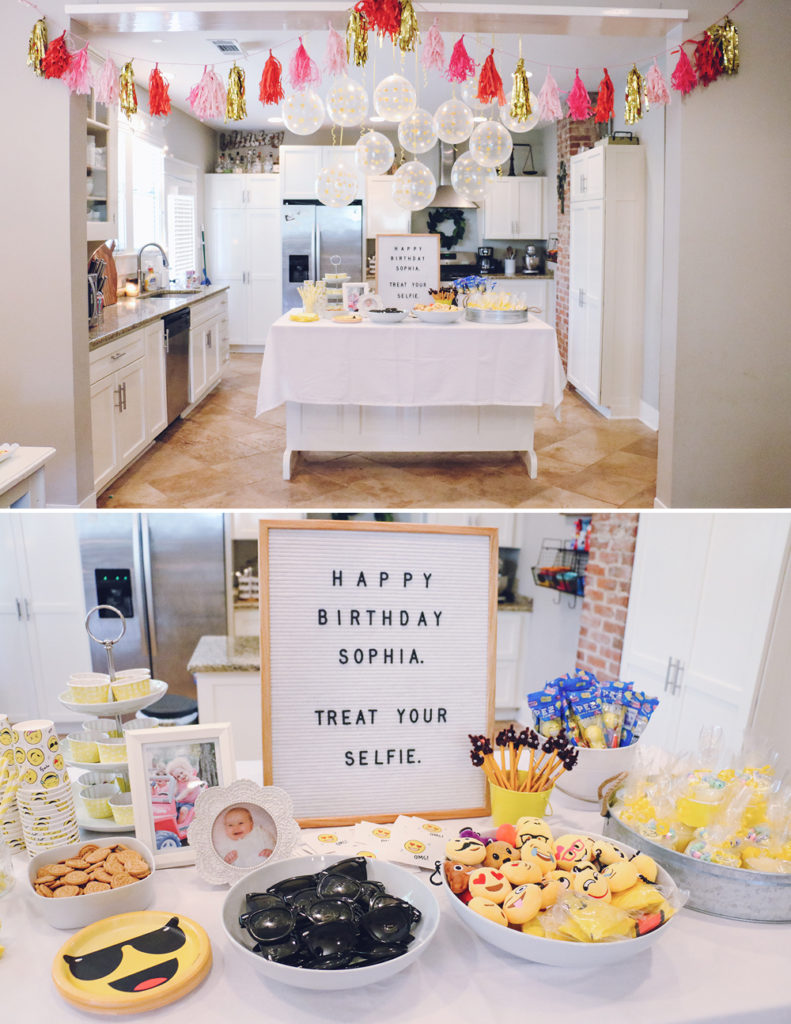 I made #2 pencils. HA HA. get it get it? yeah.
We had sunglasses like the "cool guy" emoji. (amazon)
We had plush emoji keychains. (amazon)
Pez Emojis (Oriental Trading.com)
And a homemade favor….Emoji Slime! We shared the fluffy slime recipe on my Instagram and
will try to do a blog post tutorial on it because it's been our favorite batch so far!
We put the slime in condiment containers you can buy at Walmart (By paper plates/cups!)
Then bagged them up in little Yellow Baking Cups from Bakers Party Shop and then in
Walmart favor bags and put an emoji candy bracelet (Oriental Trading) on the top before
tieing them up with the yellow curling ribbon.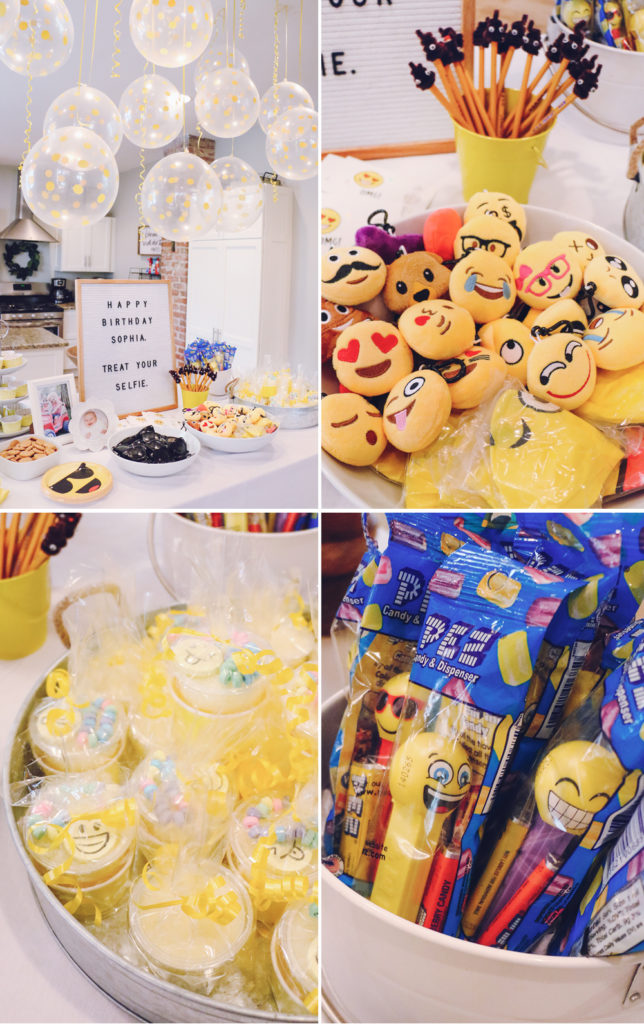 I knew I wanted sunglasses (amazon) for the party!
My kids love this emoji and I knew it would be a cute photo op.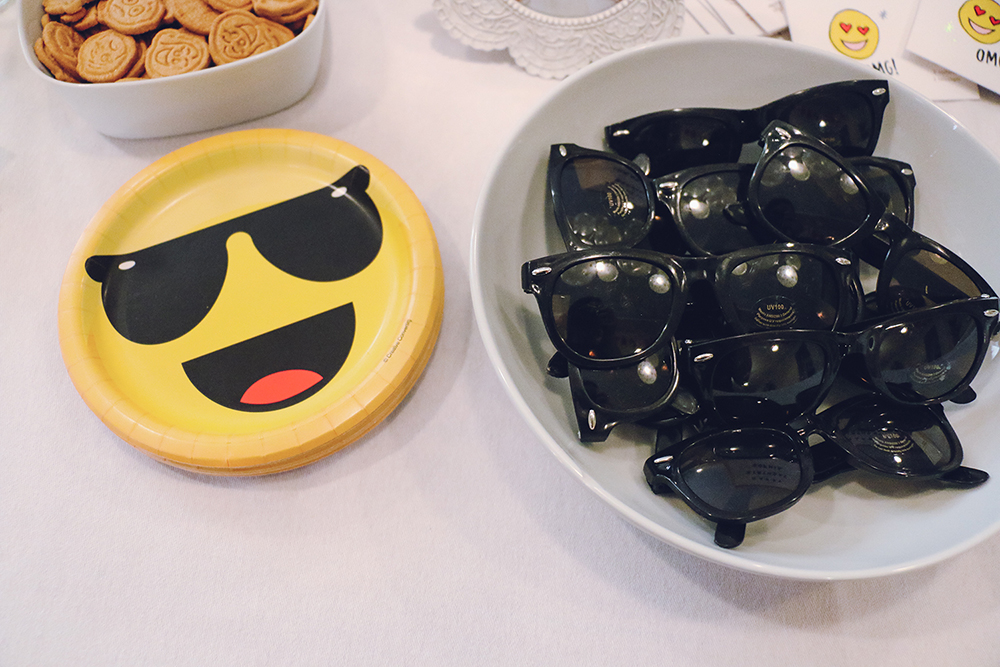 Sophia was excited for her friends to see all the goodies!
And she said that a lot of the kids have heir emojis on their backpacks now! hehe.
I like pulling down frames to share on the party tables…
Love being reminded of how little my babes were!
Oh and the bowl of Emoji cookies were a random grocery store find!
(From the Emoji Movie)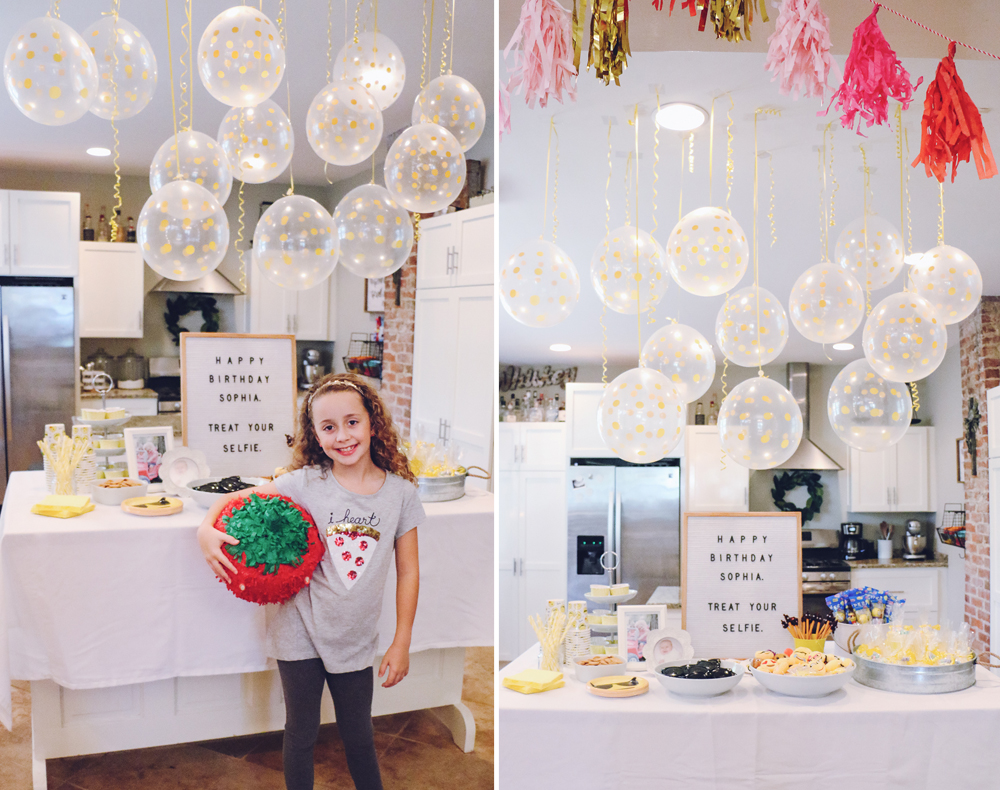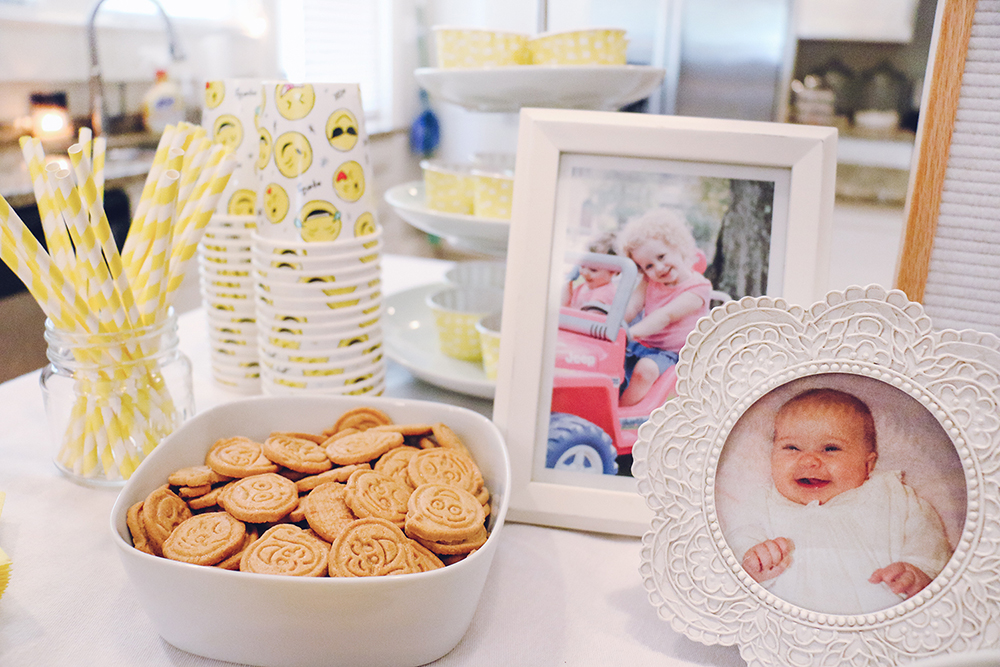 The house was ready for a party!
Anyone ever feel like you finally get your act together and clean the
best when you know you have company coming over. ;)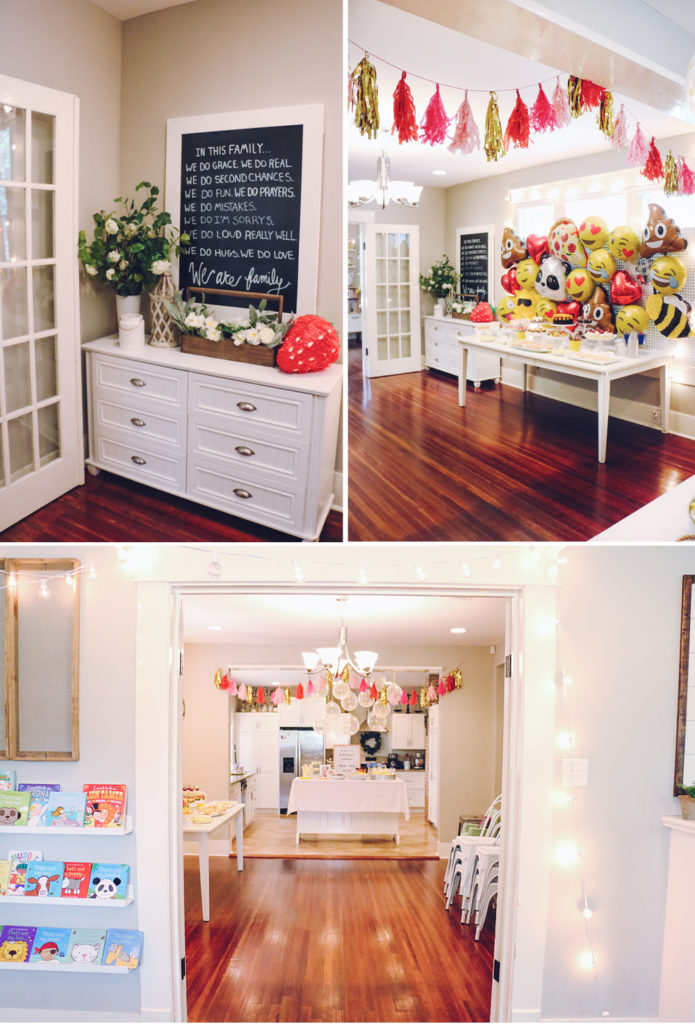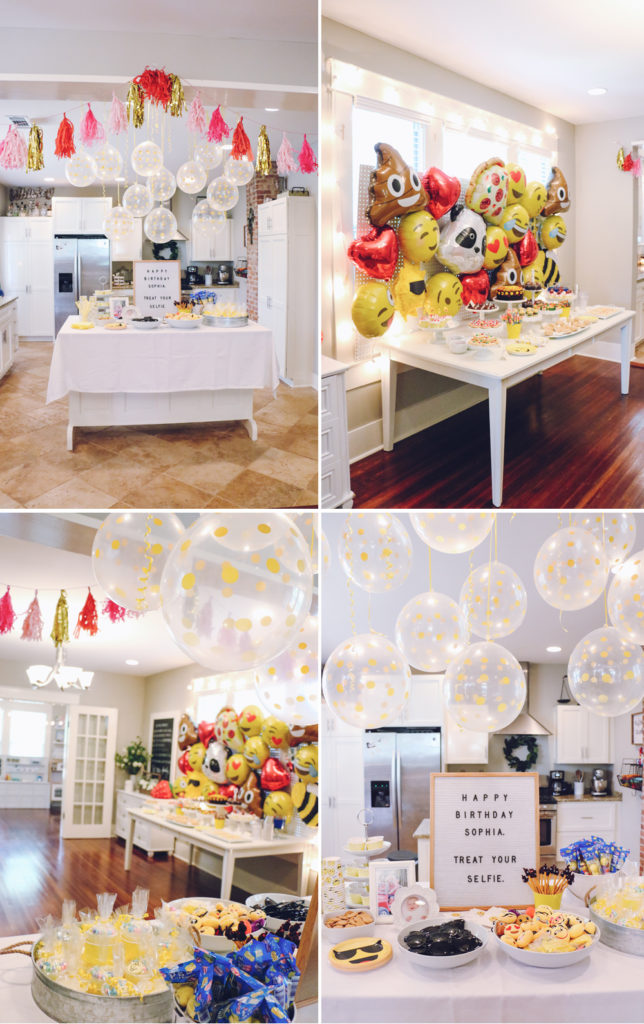 It was a fun day celebrating Sophia and THE BEST seeing her laugh and have fun with her friends.
Thankful for each of them who came to have fun and party Emoji style with us!
Never got a full group photo of all the kids but these have most of them in there!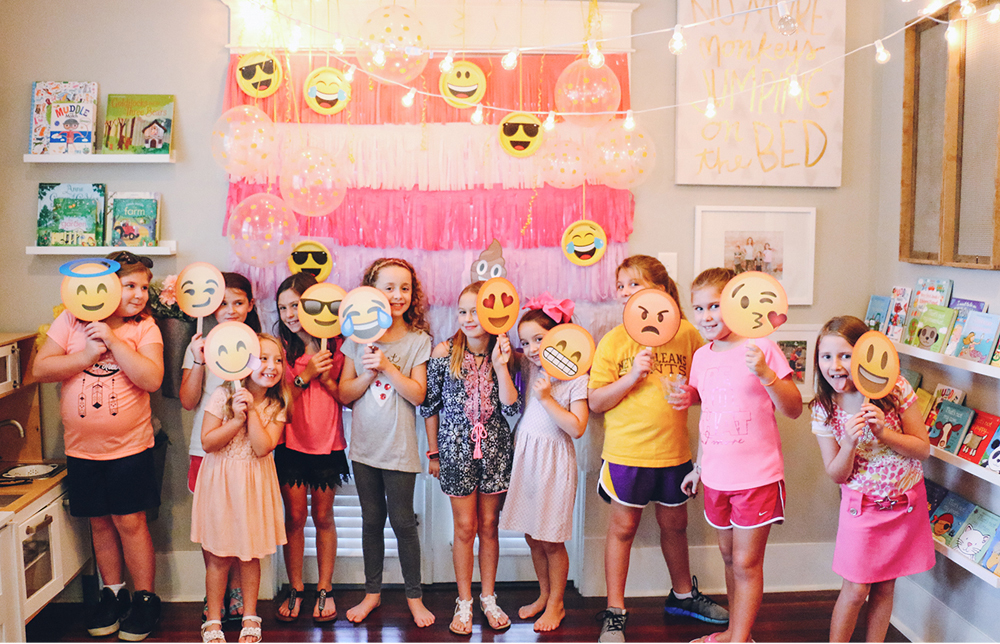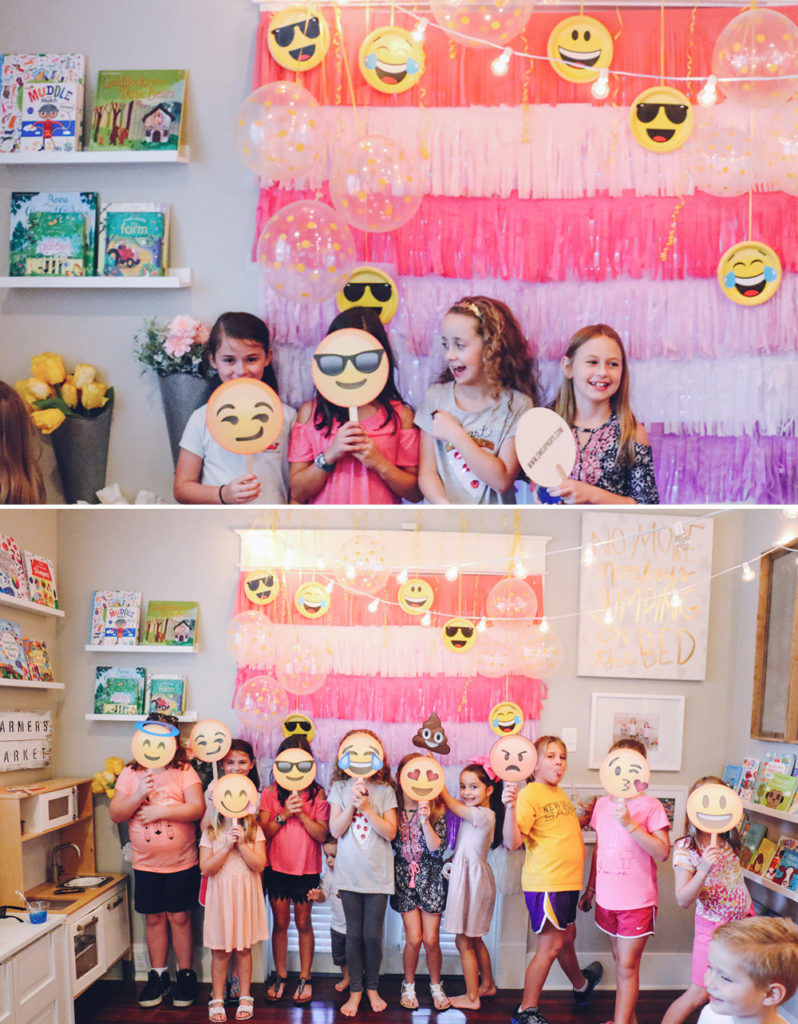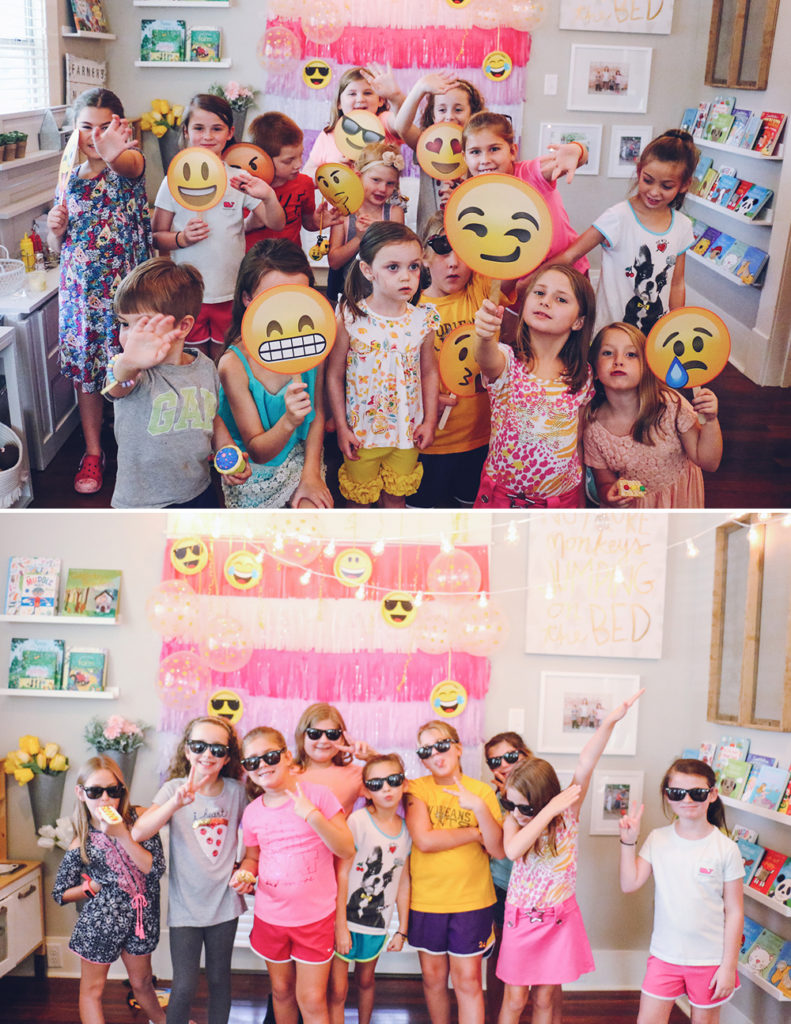 Asher and Micah had little DIY shirts on for the party.
I got cheap shirts from Walmart and then used some Iron on Transfer paper to
put the perfect Emojis on them.
Micah had the "cool guy" emoji and Asher had the poop emoji.
Ben was trying to convince me to put "little" above it…haha. ;)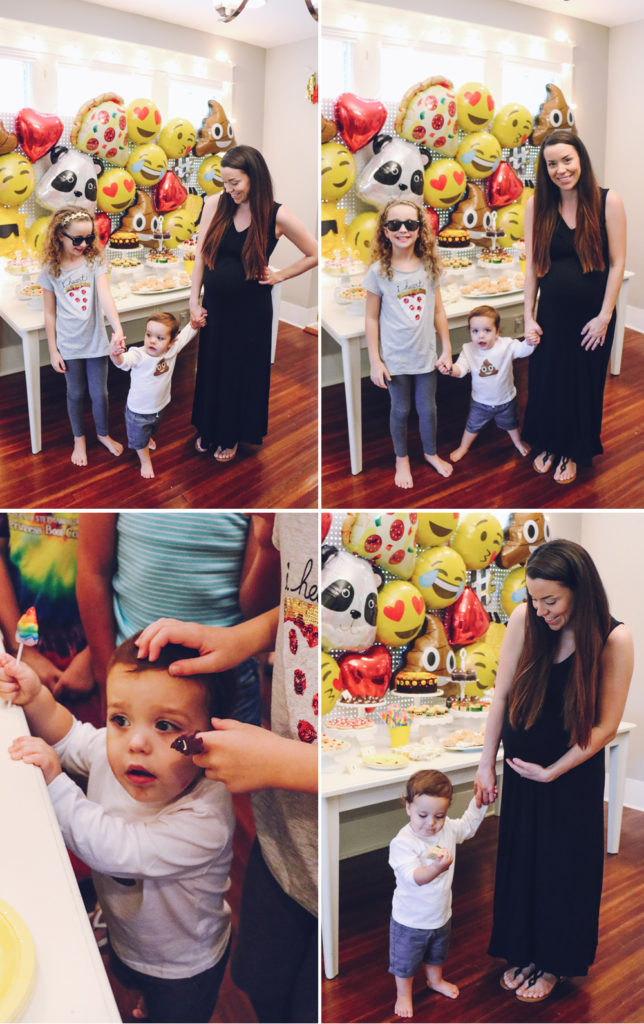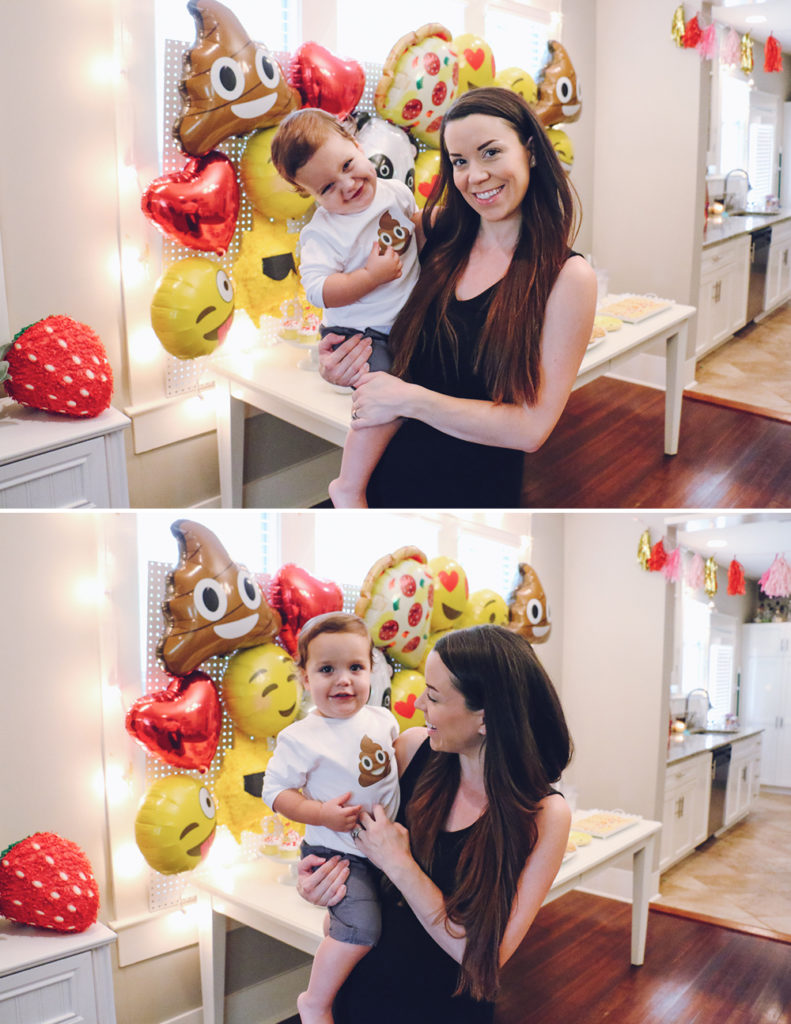 We love you so much Sophia! Happy 9th Birthday!
So proud of the sweet, smart and gorgeous girl you have grown into!
I'm still in denial that my oldest is 9… but she sure is the best.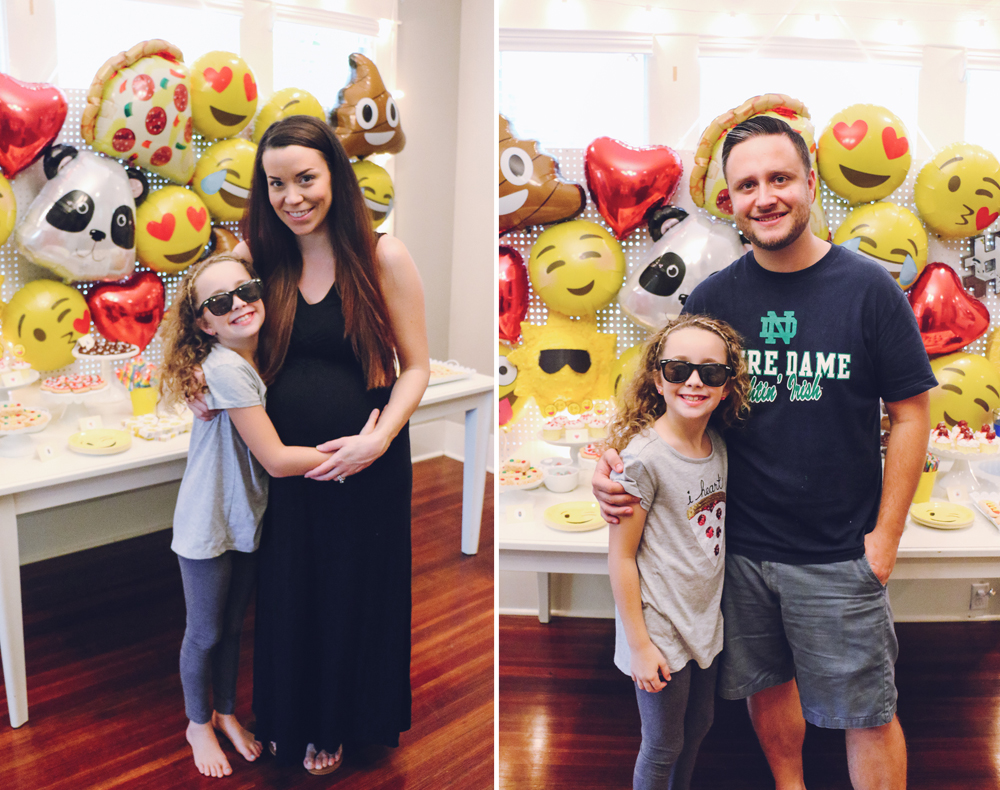 Thanks for checking out all the details
on Sophia's Emoji Birthday Party!
Happy party planning. xoxo.