I'm excited to be sharing Sienna's 7th Birthday Party with all of you today!
When she asked for a Unicorn Theme I was like YES. PLEASE. lol.
We had so much fun with the party planning… lots of sparkles and sugar!
This party is filled with details and DIY's that I was able to do in
advance or looked like more work than they were… so it all came together fairly simply and easily!
I'm 6 months pregnant and needed decor that looked larger than life
but without using up all my energy or time creating it.
The dessert table was budget friendly with a mix of homemade and store bought(made special) treats.
Keep reading for all the details and links to sources!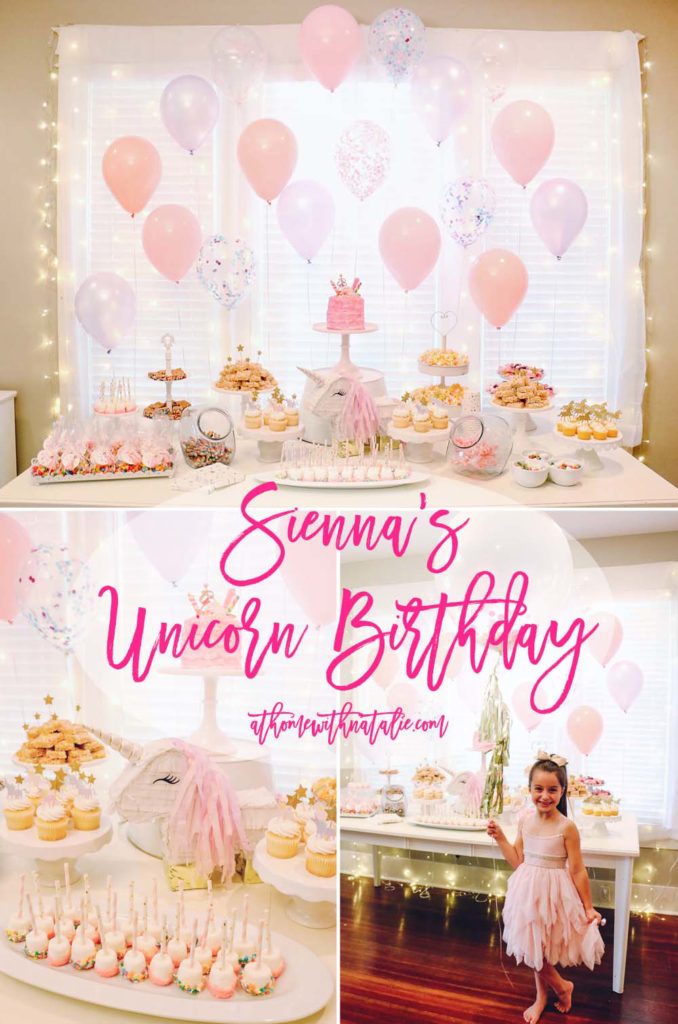 I love creating these whimsical DIY detailed parties. It's all about the memory making!
Before I know it the kids will all be grown! So taking advantage of these special days and events.
Here's some photos of how the house was set up for the party.
I created a fun floral backdrop for the family room area.
Ben got me a grass rug on sale ($20) because it had a little oil on it (that we rubbed off)
and then he framed it out with some wood we already had.
I hot glued some past party decor and some floral that I had
or got for CHEAP in Michael's summer floral section.
(Everything was 80% off so some stuff was 60 cents a bushel!)
I had some twinkle lights from Christmas that are battery operated…
and I just placed it against the grass and around the flowers.
(It's not attached really but it stayed there!)
I had gotten some string lights in the summer sale section at Target weeks ago. So I strung those up.
We are actually keeping them up right there because we loved them so much!
The Unicorn Balloon (from Haus of Hooray) was a FAVORITE of Sienna's and it was part
of the goodies that Haus of Hooray sent us.
Isn't it gorgeous?! I tied it to a chair, as Sienna requested. ;)

The birthday girl felt so pretty on her special day!
She's wearing a dress from LunaLuna Collection.
Sienna's is the Scarlett and Sophia was wearing the Clara.
They were so sweet to send her such a gorgeous dress that fit the theme perfectly!
The large 36″ confetti balloon is from Inspired Party Studio and all of the
balloons behind the dessert table are from Studio Pep.
More on the Dessert table below!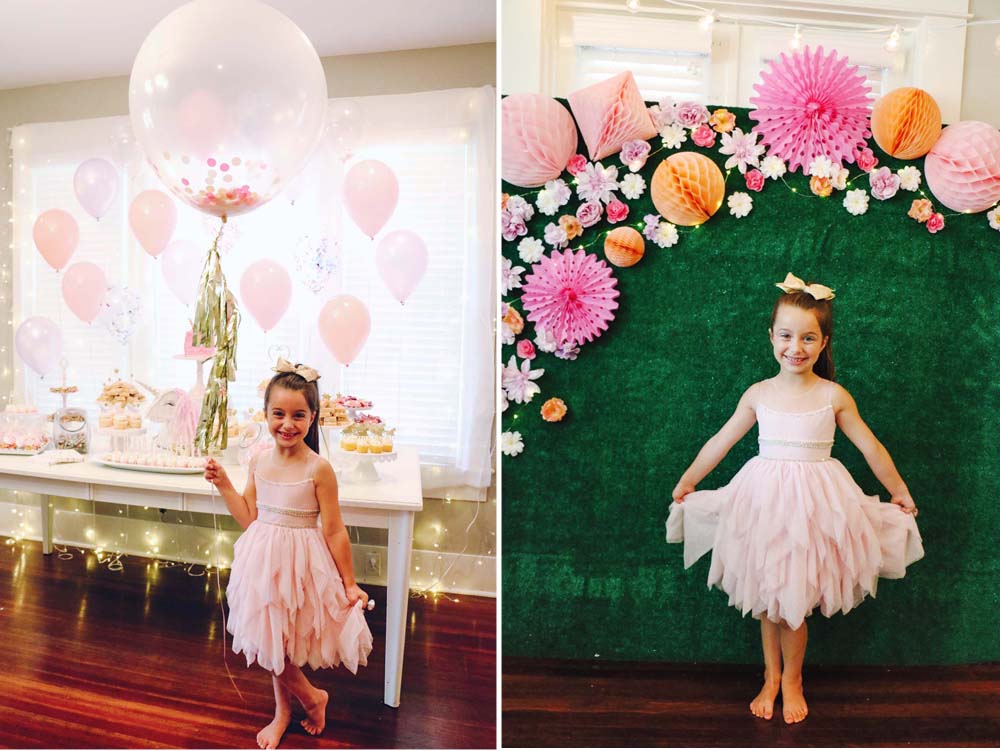 I just loved her in this dress!! I snapped a few photos before her friends arrived but I really
want to take more some day because it's just a dream of a dress!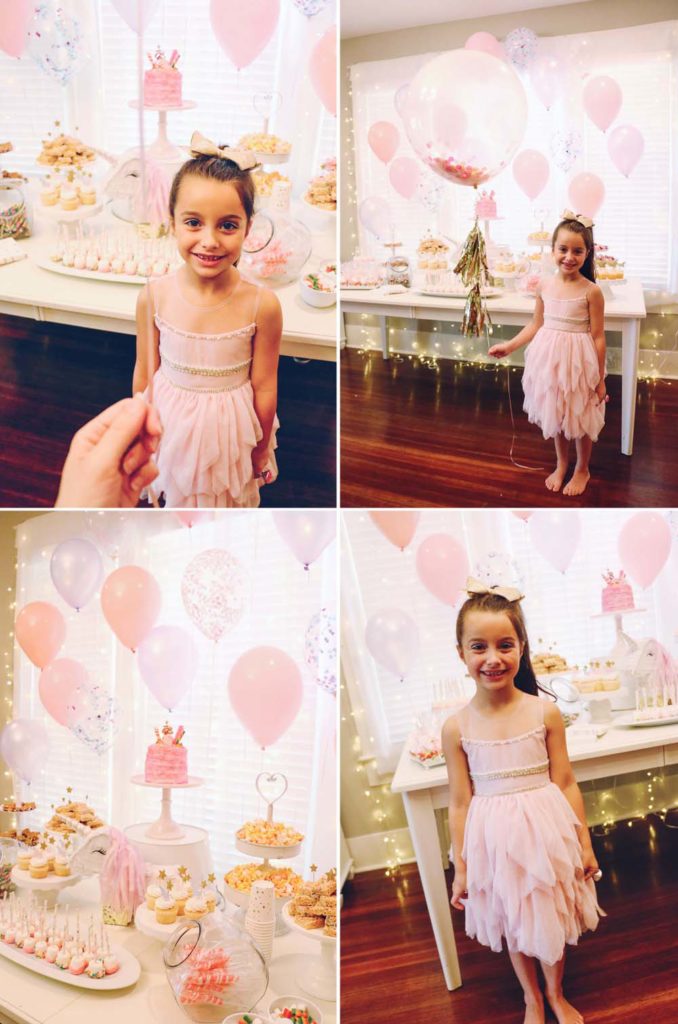 We don't have a HUGE space for entertaining..but when we move our dining room table to the side,
and raised up the light fixture, we suddenly have plenty of space!
I like to line up our dining room chairs (see Home Tour post for links) and
offer the adults a place to sit and chat. Oversee the crazy. ;)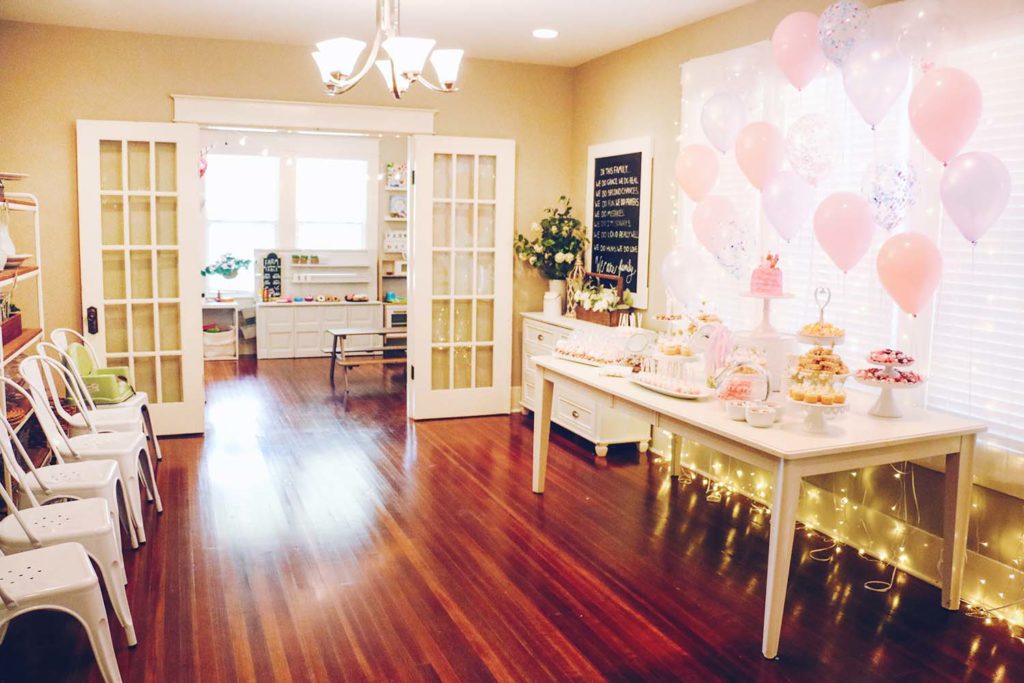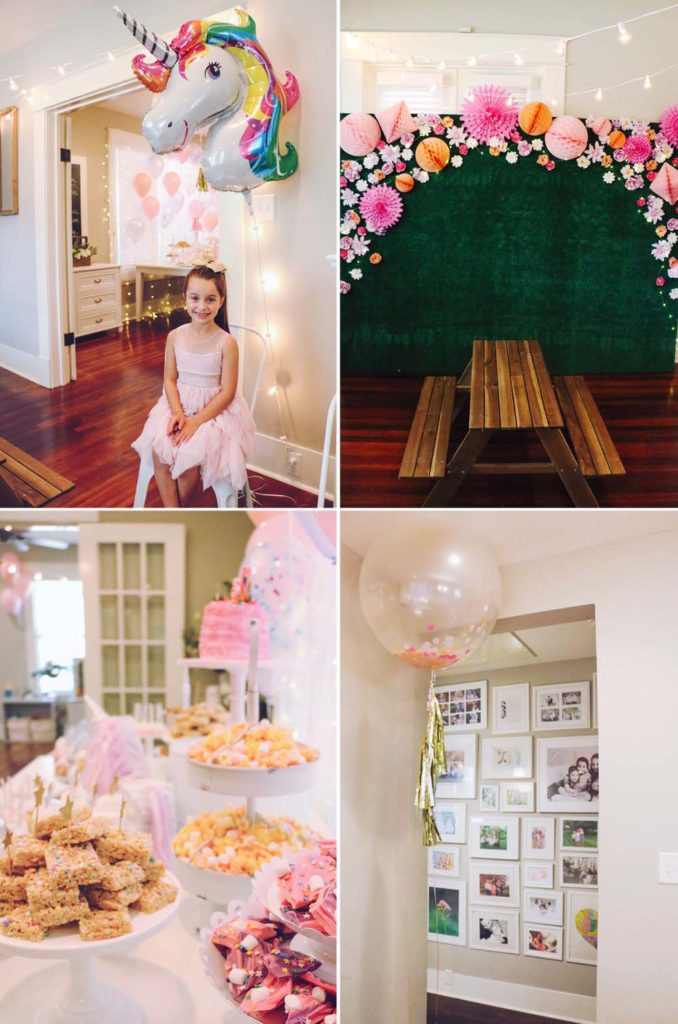 One of the best parts about having a lot of siblings… all the kids get to get in on the birthdays!
They were all excited to be celebrating Sienna and having ALL the sugar.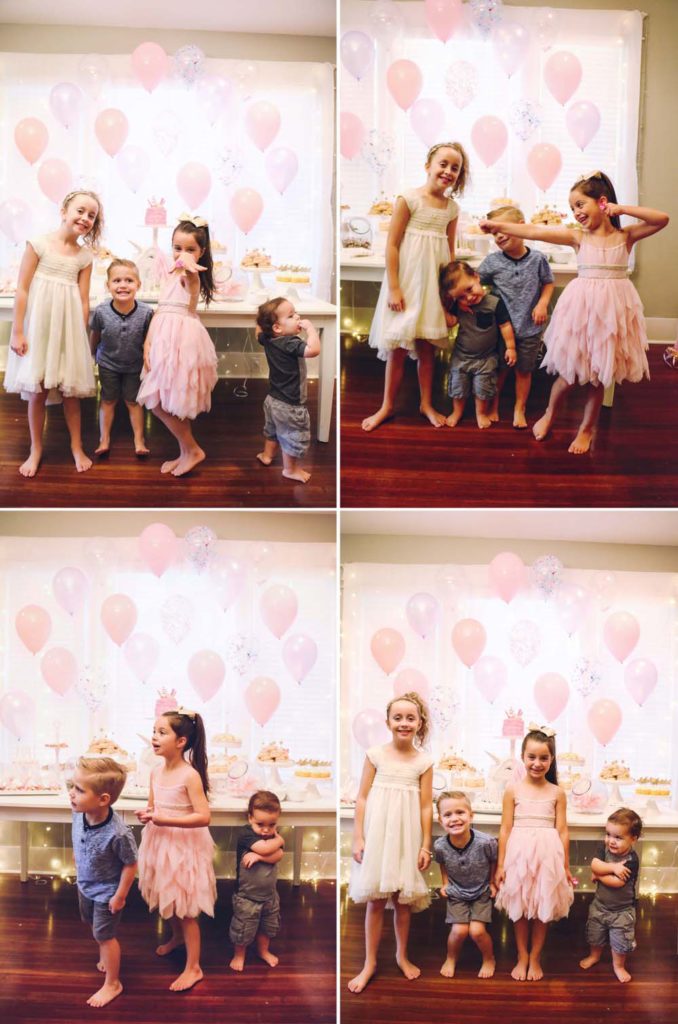 I wanted to add some fun to the kitchen island…
and since it's connected to the Dining room space it needed to have some of the whimsical party fun!
Inspired Party studio sent a gorgeous mix of tissue paper garlands that I just taped up.
I added some medium sized gold metallic stars from Oriental Trading
and gold string of stars that I got at Michael's.
(It's in their present wrapping section)
The peach garland is actually two deconstructed honeycomb balls from a past party!
They had gotten their use and now were falling a part so I just stretched
them and made them part of the ceiling decor!
I like to use scotch packing tape when attaching things to the ceiling. (Just not on trim paint)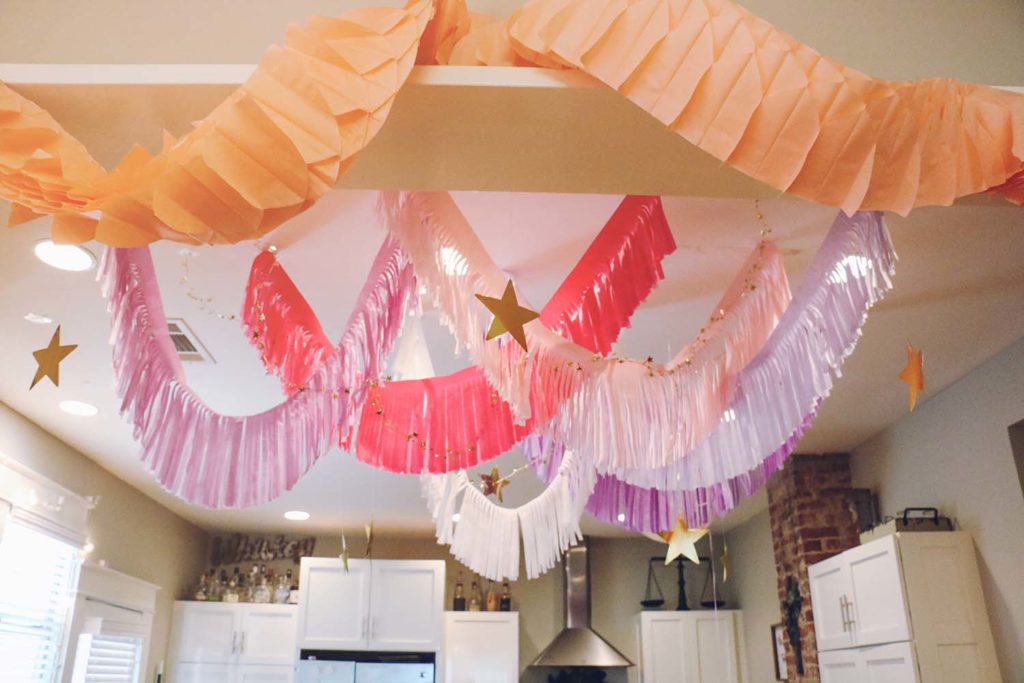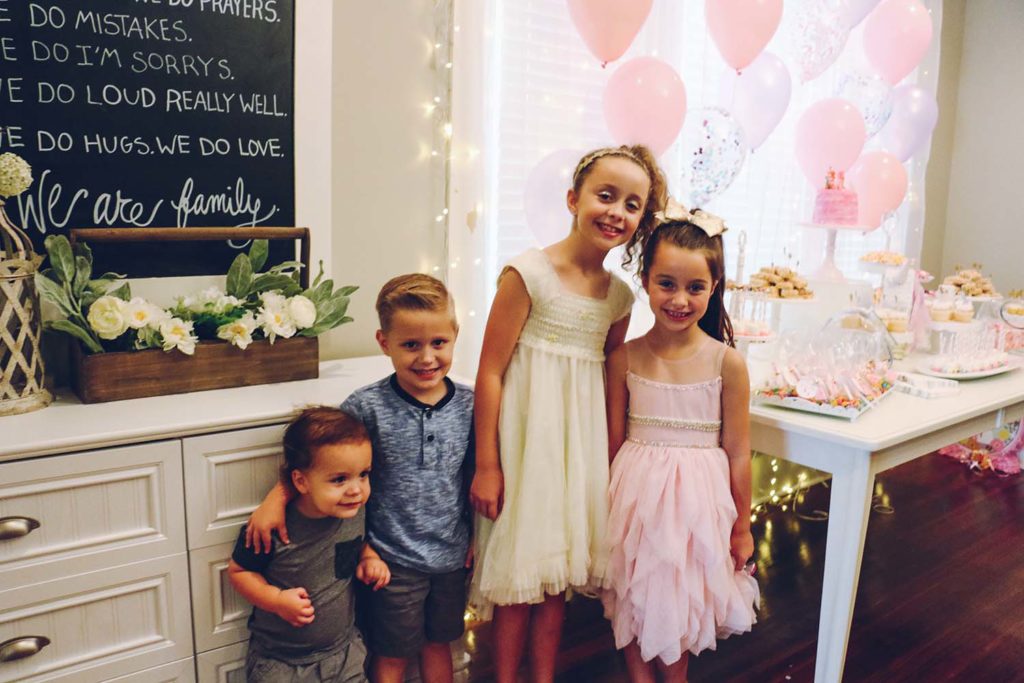 THE DESSERT TABLE
I wanted to keep the dessert table sweet and simple!
I ordered some string decor lights ($16??) off Amazon and picked up
two packs of sheer curtains from Walmart ($4.87 each)
I just tapped two nails into the corners of the trim and then strung up some chunky yarn.
(It's what I had…but by doubling it up it held up great.)
I loved how it added this sparkly glow to the table. The lights
had a button you could press to get different patterns going.
We had the sparkle on and off setting on during the party! SO FUN.
Big bang for your buck…I plan on using these lights for other Holidays as well!
The balloons really made the dessert table for me! They are all from
Shop Studio Pep and are their Unicorn Confetti Set! They ended up putting
more pinks in there for me since I didn't have blue in my color scheme. (They were so nice!)
We blew them up ourself with a helium tank that Oriental Trading sent.
I pulled out a bunch of my white cake stands…putting the main (pink) cake
stand on top of an upside down white metal bucket.
I wanted to give it some height in the middle! I usually place out all my platters the night before,
with a scrap of paper on it with what I'm putting on it.
Helps take away any stress about styling the next morning. I LOVE this part of party planning.
It all comes together and the kids have the best reactions.
Micah walked in and kept saying "OH MY GOSH MOM IT'S SO BEAUTIFUL." ;)
Even an almost 5 year old boy could appreciate
the pink pretty unicorn magic that we were putting together! Success! ;)
(Dishes/Stands are mostly from Zurchers.com but also from Marshalls and Hobby Lobby)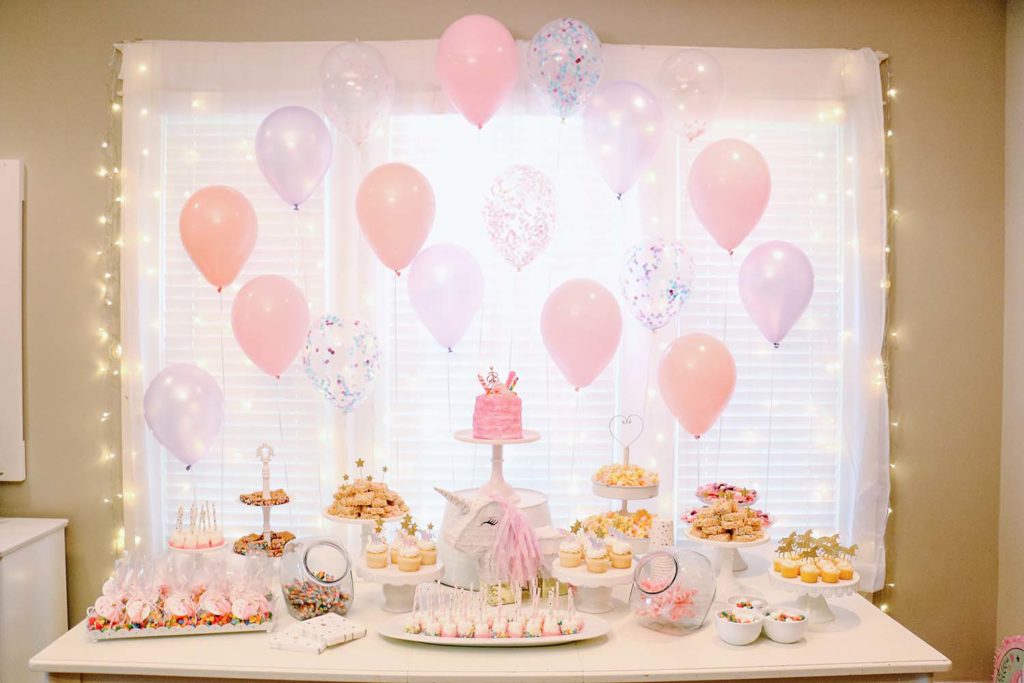 Sweets wise… I did a lot of easy homemade or storebought/tweaked treats!
I made a big pan of Rice Krispie Treats and sprinkled in a fun unicorn mix from The Bakers Party Shop.
I made Unicorn bark by melting three different colors of chocolate
(the bags of melting chocolate you can get at the store!)
I just proured them into a pan..swirled them around a bit with a spoon and
then sprinkled on some mini marshmallows and star sprinkles!
(Star sprinkles are from ShopSweetsandTreats.com)
Once it hardens you just break it up into the sizes you want and you're done.
SO colorful on the table… I saw a lot of people going for them.
I bought some large and mini cupcakes from Walmart and used
unicorn toppers from Inspired Party Studio and Haus of Hooray to dress them up.
I had these gorgeous star cups from Inspired Party Studio as well
and placed them next to my tier or pink popcorn!
I had other plans..but then decided this was EASIEST…The kids made up some bags of popcorn and
we just sprayed them with the pink spay you can get in the baking supplies aisles at most stores.
The kids freaked over it. I tossed in some white marshmallows because…
it seemed like the appropriate unicorn party thing to do.
We had some yummy and pretty suckers, from Oriental Trading, out in my glass containers.
These and These. Suckers are a great option for those friends of yours who have allergies!
I also like having them there for out the door favors. They can grab one to use for kid bribery later in the day. ;)
I'm a mama… I get it. lol. Do what you gotta do!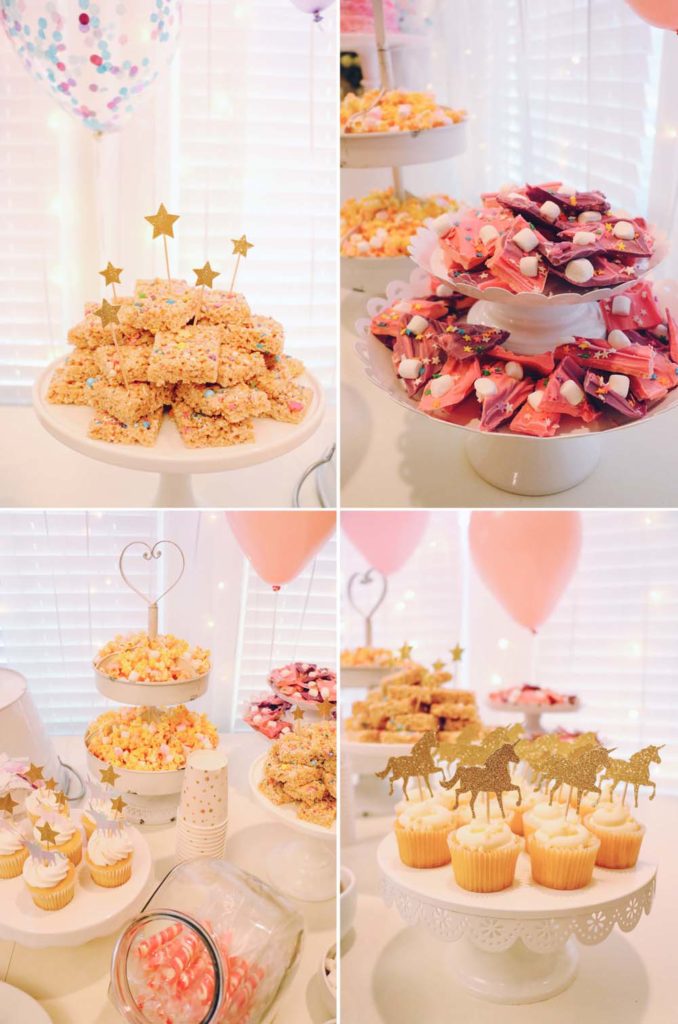 The sprinkle Marshmallows were such a pretty part of the table!
I just dipped them in white melting chocolate and then sprinkles from Inspired Party Studio(stars)
and The Bakers Party Shop (light pink sugar)
After the chocolate hardened, I cut straws from ShopSweetsandTreats.com in half and stuck them in the top.
(I used star ones and pink stripe ones.) It was another kid favorite on the table!
The pretty Unicorn piñata is from Inspired Party Studio and
at first was going to be filled with candy for an activity…
BUT it was just too pretty for that! So we grabbed another one at Party City and used this one on the table.
I loved it. It is currently hornless (Asher) but still being toted around the house by the kids as their pet. ;)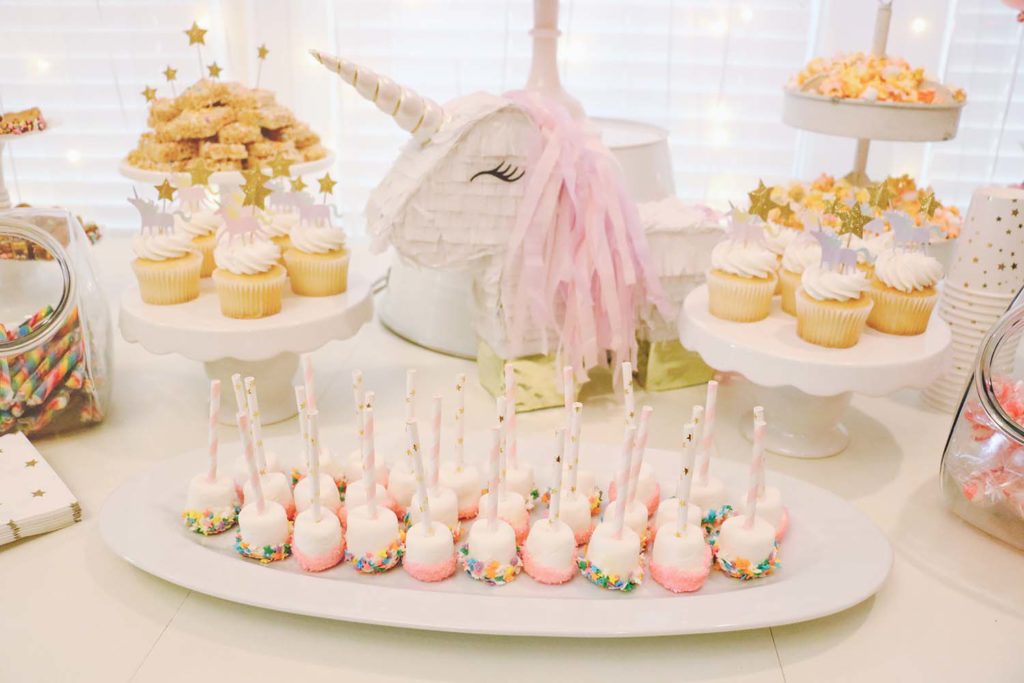 My kids love chocolate chip cookies…and I make them so often I have the recipe memorized!
I had the ingredients, so I quickly just made a pan of cookie bars and while they were still a little
warm, but cuttable, I pressed the sides in the star sprinkles mentioned above
and they immediately were a special details for the dessert table!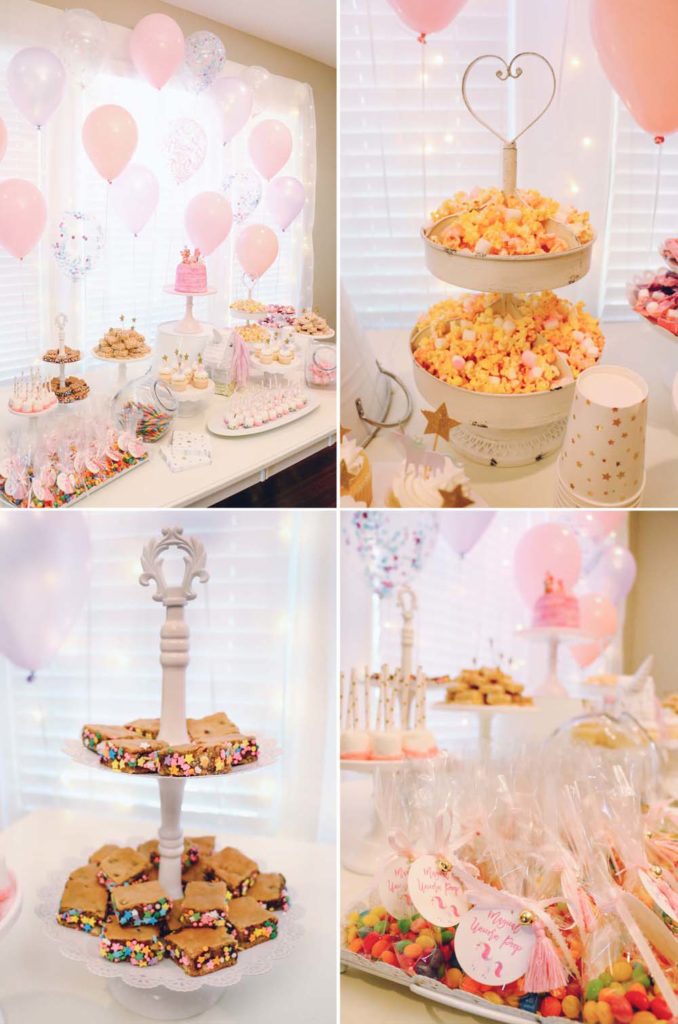 One of the favors was a treat bag of Magical Unicorn Poop.
(A must have apparently at Unicorn parties….haha.)
Sienna was so excited about this!
I used cellophane bags from The Bakers Party Shop and filled them with
a mix of jelly beans and the new bright colors pack of skittles!
(They had pink ones!) We also threw in a couple dashes of unicorn sprinkles. (That's the magic part. ;)
I created little printable tags that I cut out with my circle craft punch.
You can download for FREE the printable for this AND the Unicorn Slime.
(which I never got to photographing!! We had the slime in salad dressing containers
(I find them at Walmart in the paper plate section!) and then the printable on the lid.
I put that, a rainbow gummy and candy bracelet in a cellophane bag.
UNICORN POOP PRINTABLE —- UNICORN SLIME PRINTABLE
I attached them to the treat bags with some pink ribbon, pink tassels (on sale at Michael's)
and some jingle bells from Hobby Lobby.
I felt like Unicorns would wear little jingle bells. Just seemed right. ;)
The star napkins were so cute on the table too! I love how they matched the straws.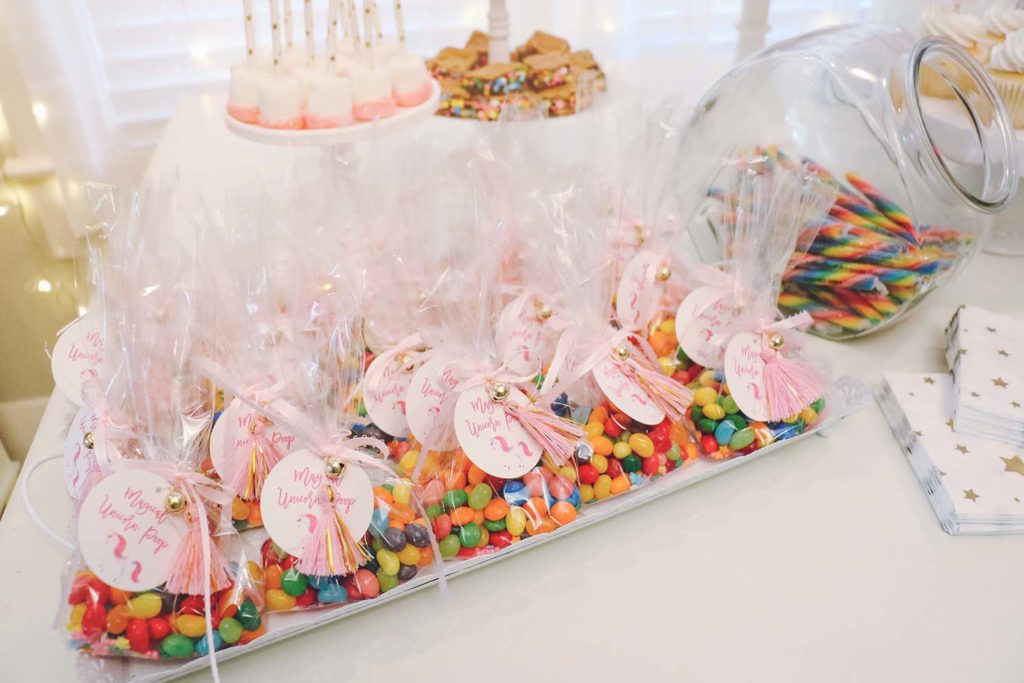 I made the treats extra special by poking some star cupcake toppers into them!
They were part of a cupcake decorating pack from Haus of Hooray.
(The pastel unicorns were in a kit from them too!)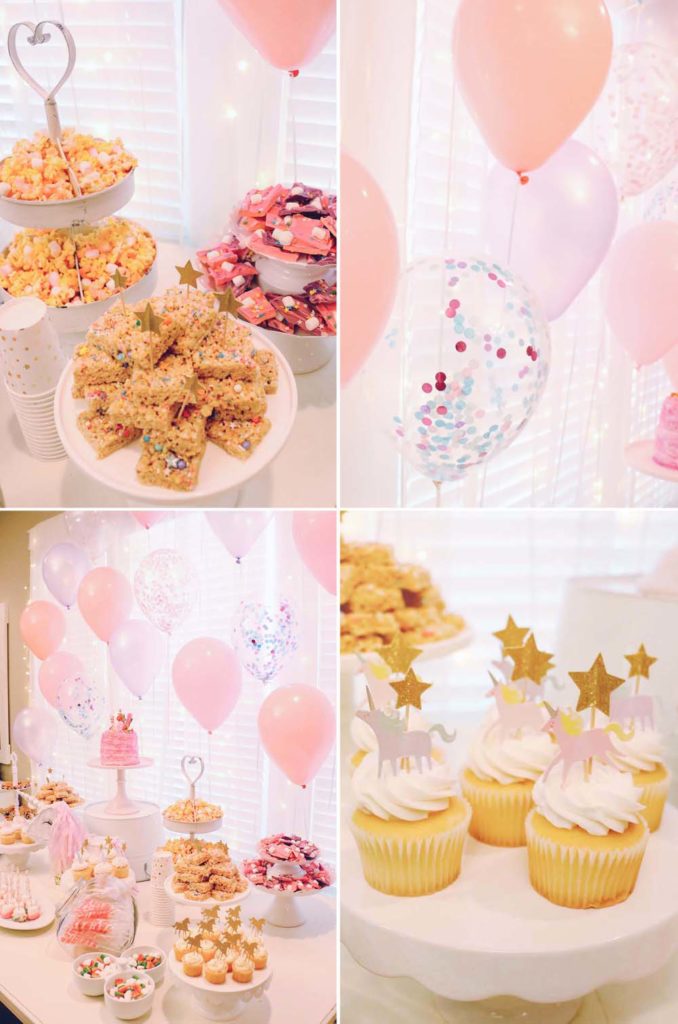 Rainbow candies were a must! I added some marshmallows to the mix, because…
Rainbows… fluffy clouds…get it. ;) Anywayssss… The kids devoured them. haha.
I watch a few episodes of cake wars and think I can bake a cake! LOL.
It made it through the party without falling over, so calling it a win. ;)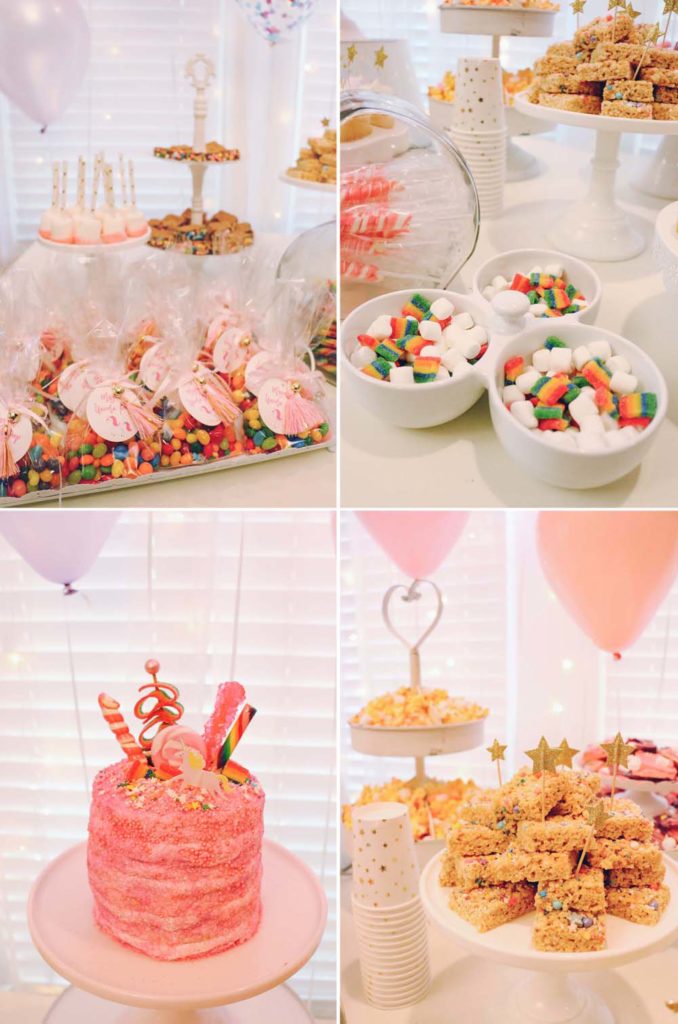 PARTY TIME
Before we knew it…guests were arriving and the house got LOUD.
Real quick. haha.
But I loved hearing all the giggles and kids having fun.
It was hilarious how some of the girls reallyyyyy appreciated this backdrop.
I heard one girl say, "Mom I think you should take my photo in front of this!"
Some of the girls were hanging in front of it so I asked for a photo
and they were all too eager to strike a pose.
My Sienna especially. ;)
The kids spent the party running through the house playing,
grabbing treats from the dessert table, getting their makeup done and tattoos!
Not shown, is the food table on the kitchen island.
I had a variety of chips and dips…carrots/hummus and fruit. I also had kielbasa/brown sugar in the crock pot.
We also made a punch that was raspberry sherbert and sprite.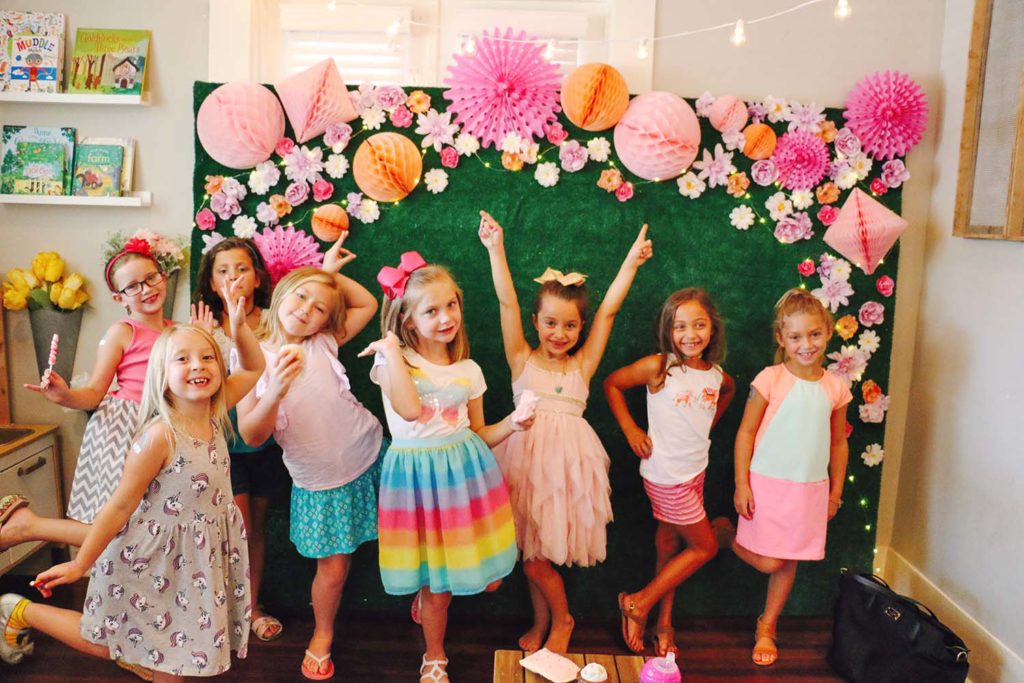 We had a couple activities planned.
The piñata was one… and then we had
some sweet Youth Group girls come and be our makeup girls!
They did glitter makeup and unicorn/rainbow tattoos.
The tattoos are from Daydream Society and they were GORGEOUS.
You know how some tattoos you are like ohhhh awesomeeeee…
but these… I just thought they were lovely!
(I just said no face tattoos. the one rule. haha.)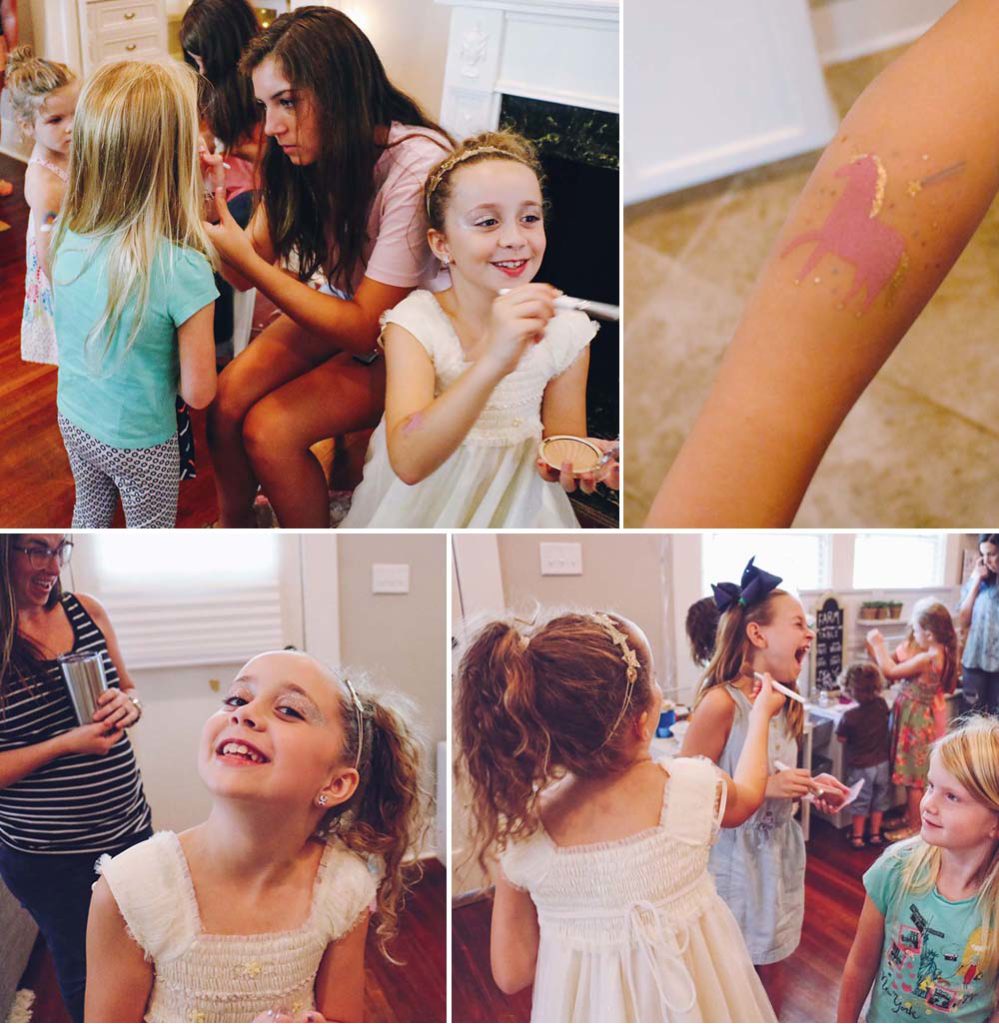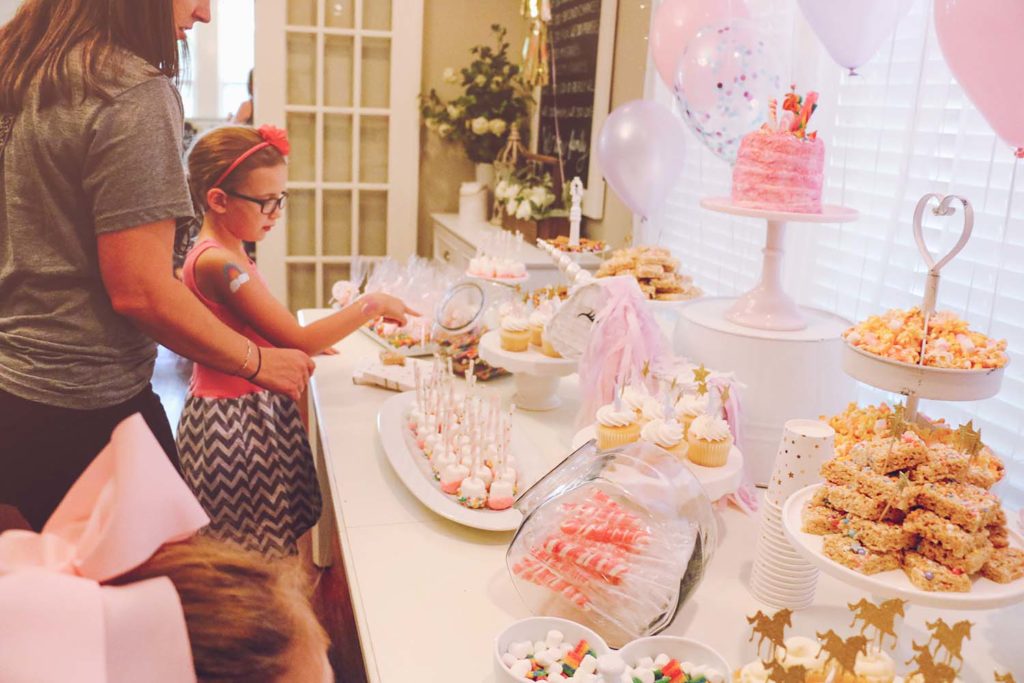 So thankful for all our friends who came and made Sienna feel loved and special at her party!
I really do love the little friends that she has found through her school and our church.
Made my mama heart happy seeing them have fun together.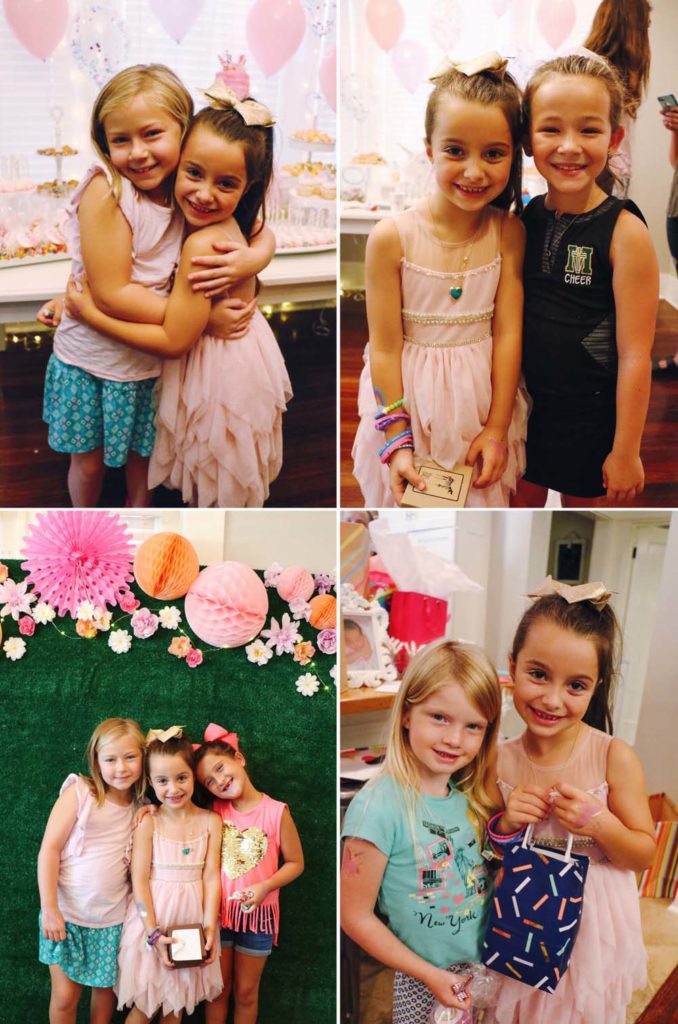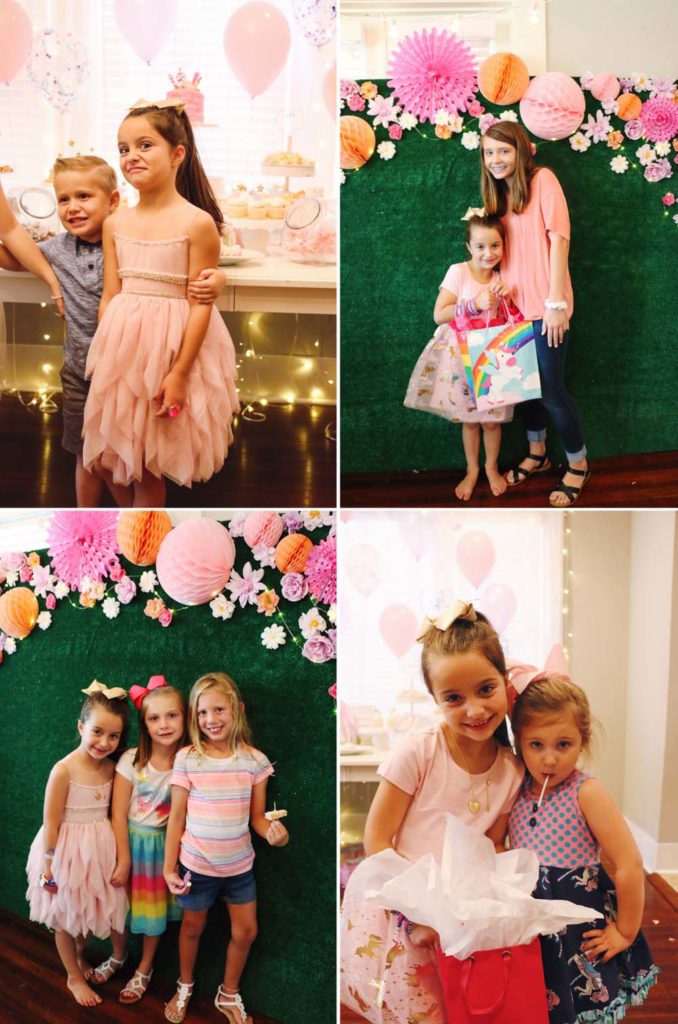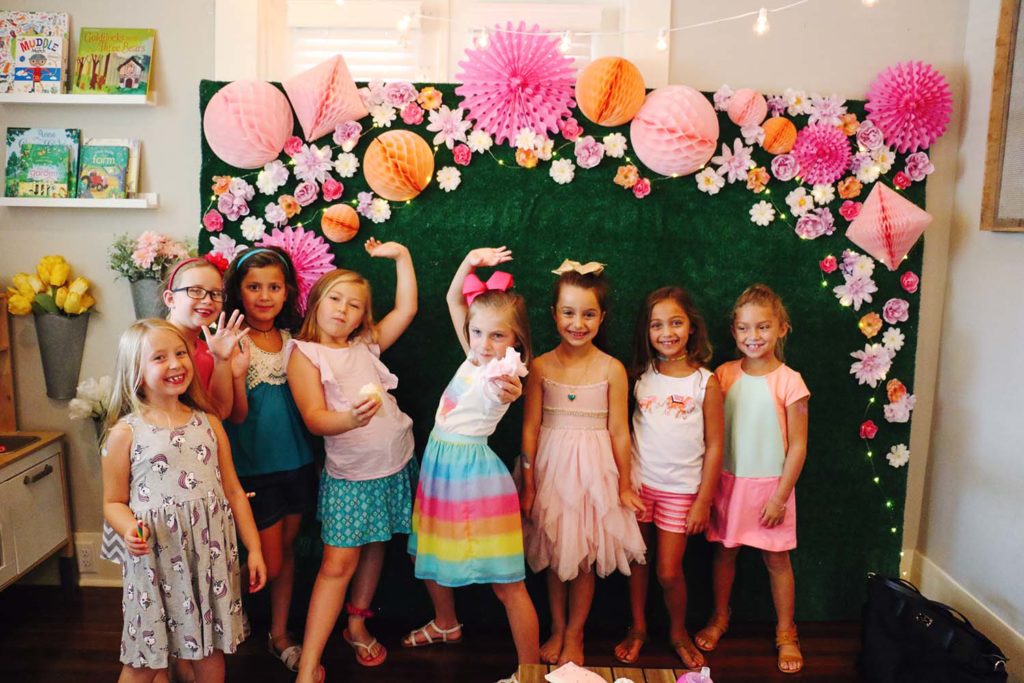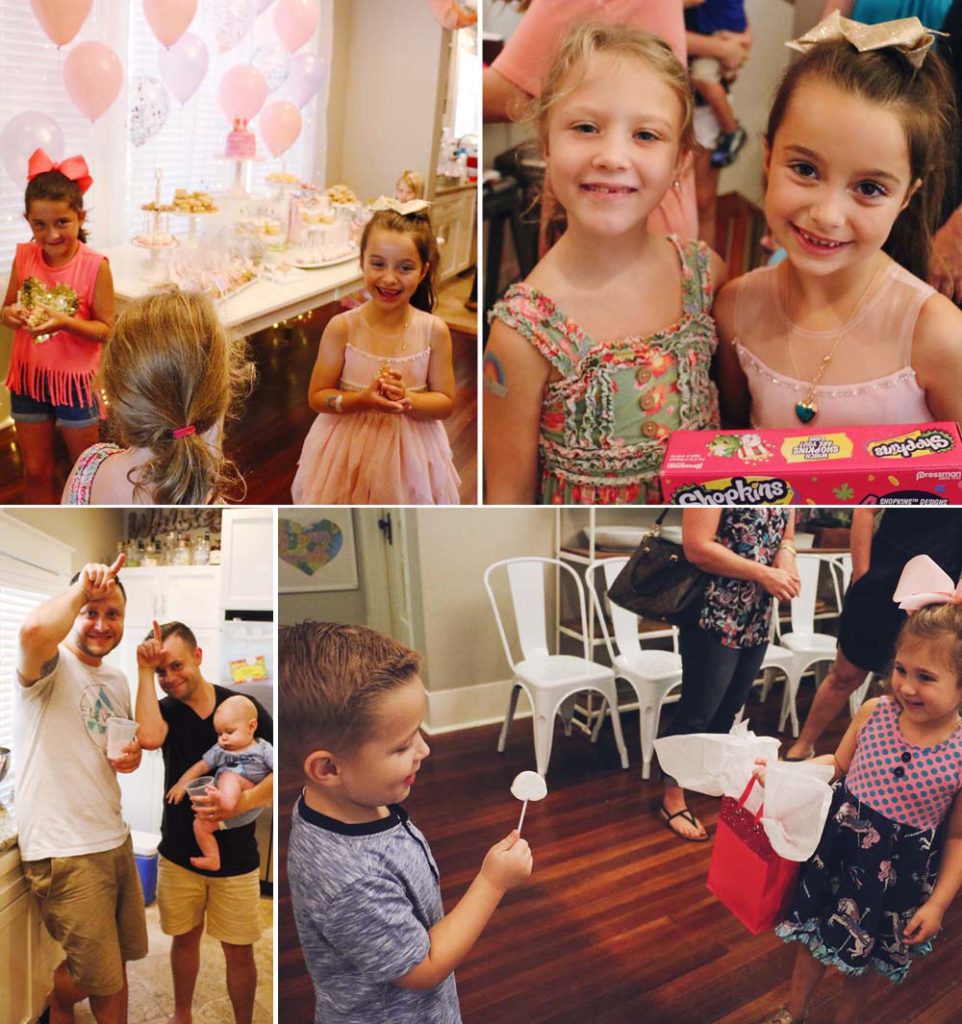 We moved the floral backdrop the girls' room this week!
They loved it too much…still arranging their room but we'll share an updated room tour soon.
Every time I walk by their room it makes me smile. :)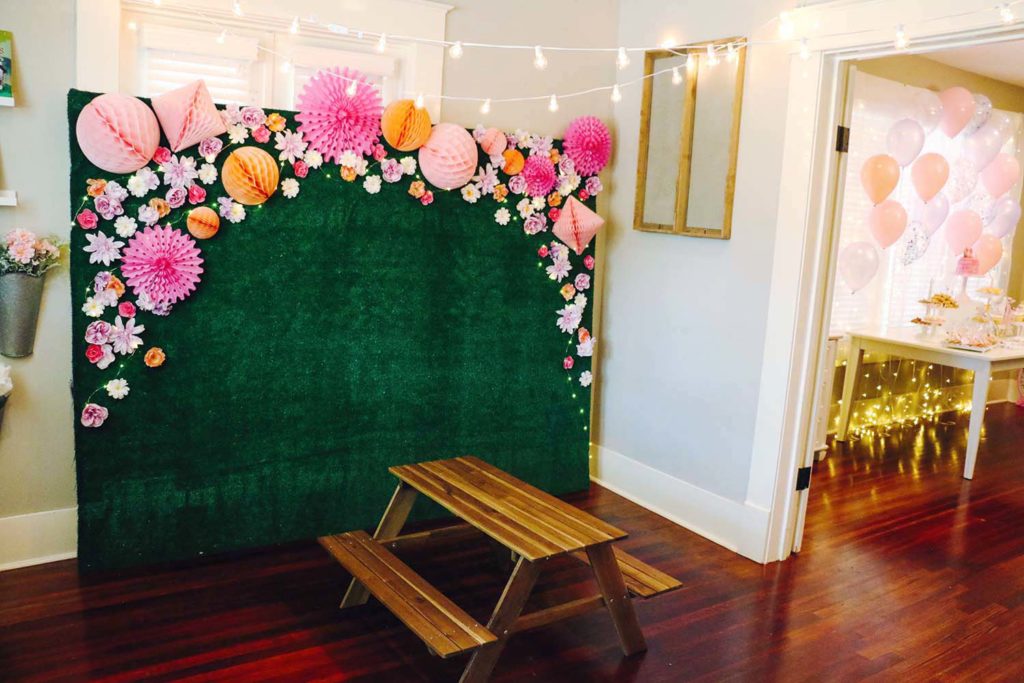 Happy 7th Birthday to our Sienna!
We are so proud of you and the sweet, kind and smart young lady you have grown up to be!
And thank you to all the amazing shops who sent party decor and goodies for her day.
It was fun styling and celebrating with everyone! I hope you enjoyed seeing all of the details from the party
and try some of them yourself if you have a Unicorn Theme Party.
I'll never forget Sienna's sweet face loving it all! Happy Party Planning friends. :)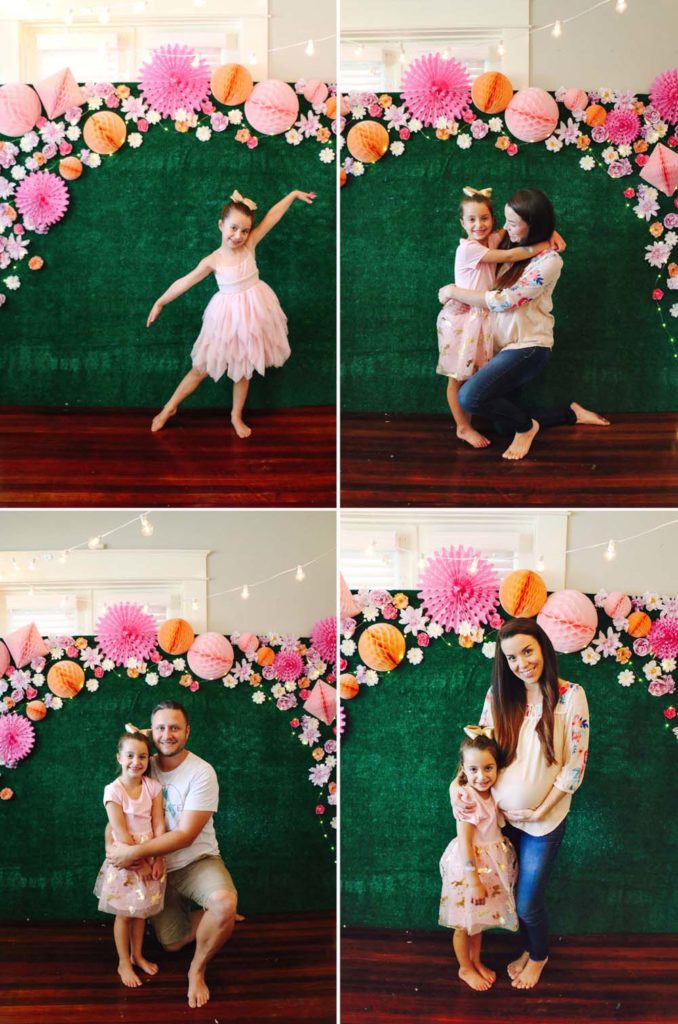 FREE Meal Gifting Printable
We all know someone who would appreciate a yummy home cooked meal delivered right to their doorstep! This gift idea is perfect for a family who just had a baby, adopted, is sick or as a random act of kindness! Grab my free printable!