This past weekend, Sophia turned 7 and we had her Princess and Knight Birthday Party!
It was so fun putting together some whimsical DIY's and fun touches to create a magical day!
Prepare yourself for photo overload. I tried my best to edit down,
there are just so many little details I wanted to share!
My Sophia loves princesses, but also wanted to invite boys to her party.
So we had the knights and dragons invited as well! If you're looking for a party theme that works for
both boys and girls, The princess and knight theme worked perfect!
She drew the cutest picture that we turned into her invitation.
It was the inspiration for a lot of the party details!
All the photos were taken by the talented Abbie of Southernly Studios.
Her work is amazing and was so excited to team up with her!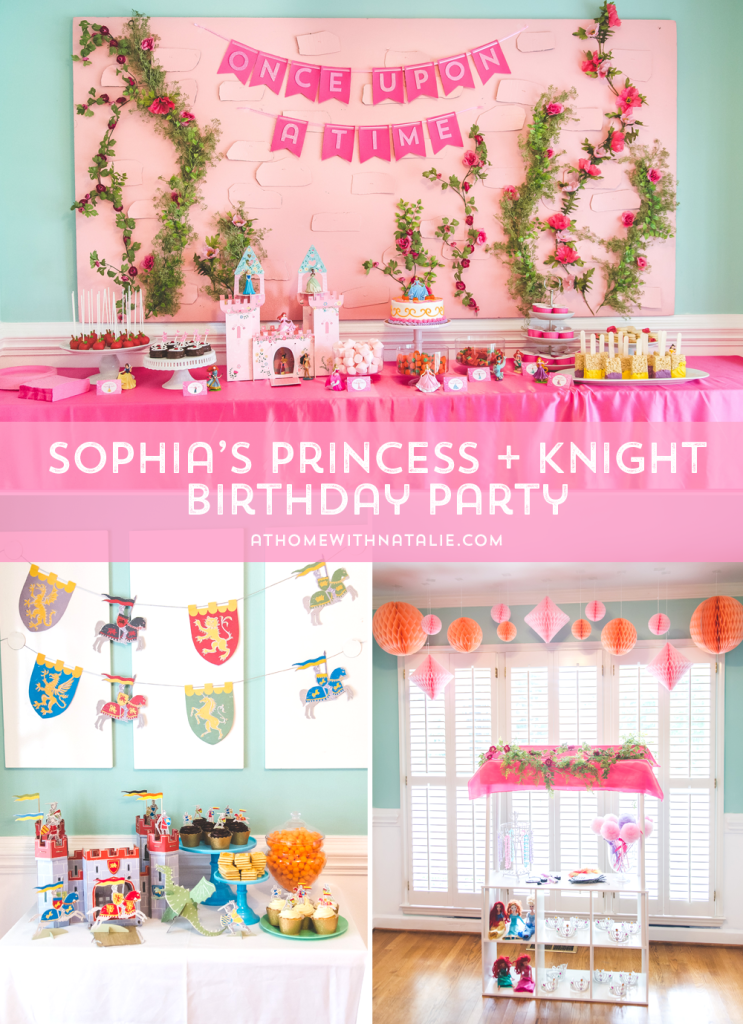 The Dessert Table has to be my favorite party detail so let's start with that!
In Sophia's drawing she had vines and flowers crawling up the tower…
At first I was going to do a castle cut out, but then I realized, I'm 35 weeks pregnant and need to
reel it in. haha. So instead I created a solid castle wall.
Check out my video tutorial on how I created the backdrop!
The pink fabric was from Walmart that I ended up getting for a total of $3.50 craziness.
I'm not sure how that happened..but that's what came up on my receipt!
The Pink Castle is from Zurchers and really helped set the tone of the table!
A yummy treat represented each of the princesses. I'll share all the details on those below.
They were all pretty easy to put together!
Sophia's present from mommy and daddy were two sets of princess figurines from the Disney Store.
A hit and perfect to decorate the table with!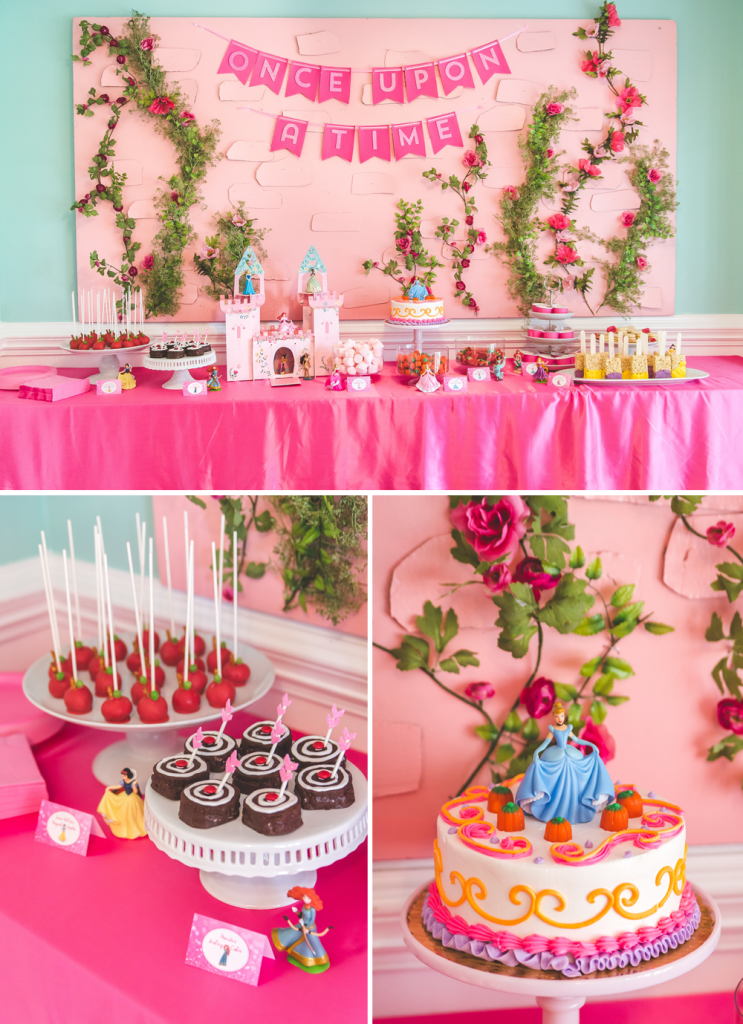 I created, in photoshop, some tented cards to label the treats with.
My girls helped me place the cards and princesses at each treat!
For Ariel we used Gold fish as her Fish Friends!
I believe the pink snack cups were from Hobby Lobby.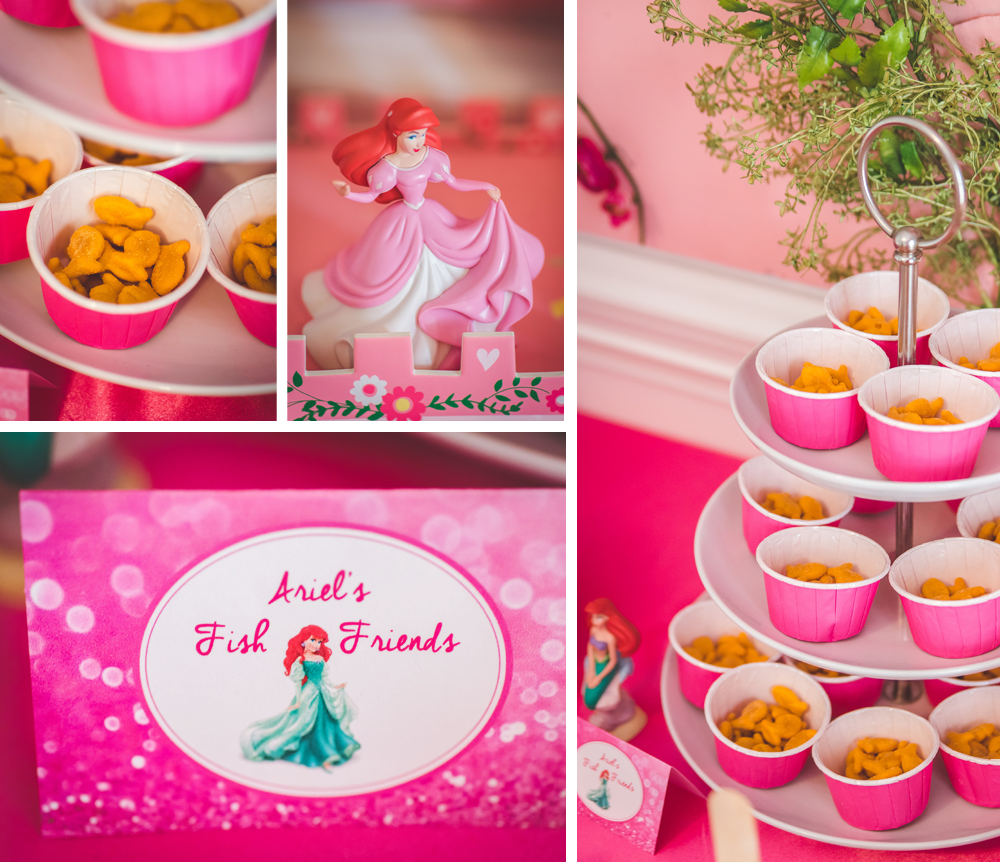 Merida's Archery Cakes were yummy Ho Hos!
I used a package of icing and red m&m's to decorate…and then realized the night before I didn't have arrows!
So I scrounged through my craft box and ended up using lollipop sticks cut in half…
and attached little v's that I cut out of leftover glitter foam sheets! (sticky on the backside!)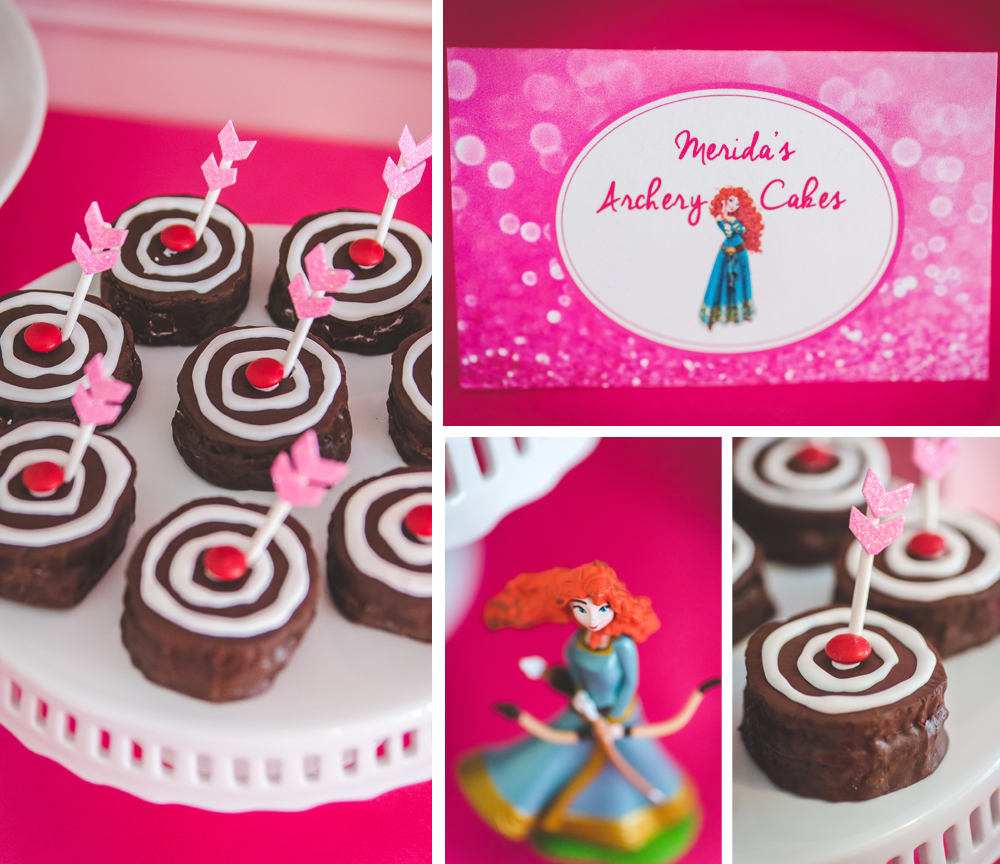 OK. I had seen this idea for a back to school treat for yearsss on pinterest!
Was so excited to pull this one out for Snow White's Magical Apples!
Oreo Truffles. delicious. I use the Kraft Recipe. To decorate, I bought the bag of red melting chocolates.
Mine dried almost immediately so I stuck in the little pretzel piece after slicing a little spot with a knife.
I used mike and ikes as the leaf (cut in half) and attached by dabbing in the
melted chocolate then placing next to the pretzels.
NOT..the way I read to do that part online, but it worked the best for me this way!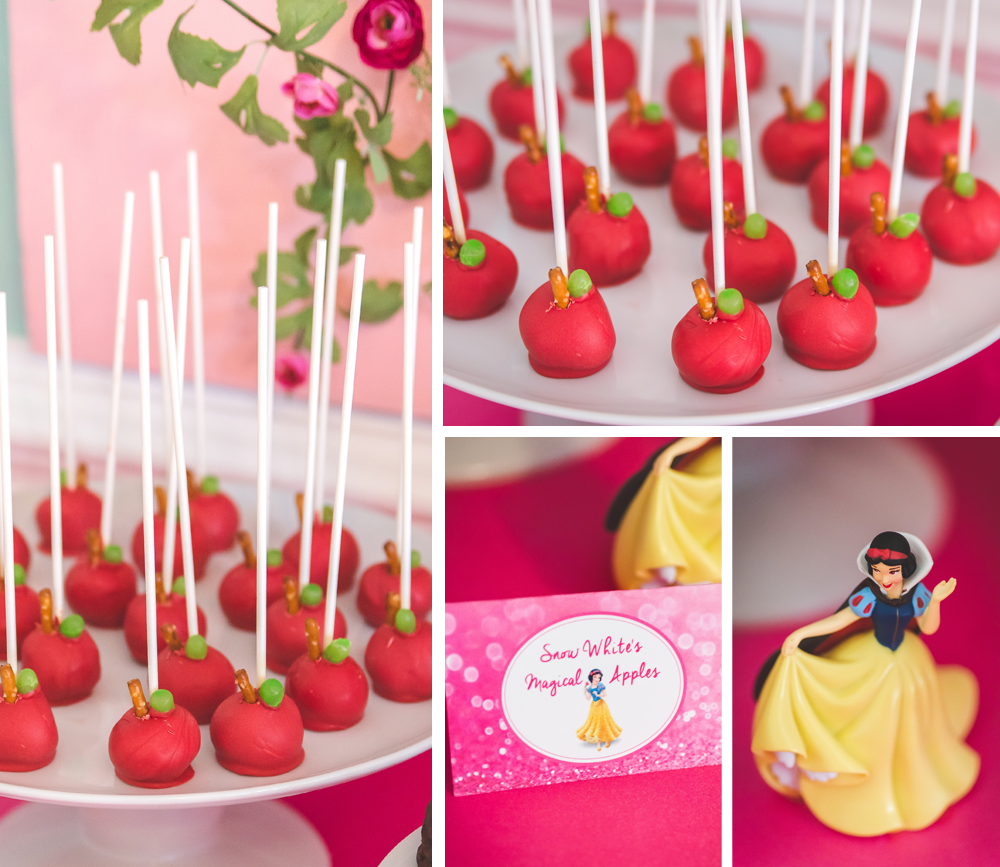 One of Sophia's favorite princesses is Rapunzel from Tangled!
This was another fun pinterest idea that I tucked away and was so excited to finally use!
We know how much Rapunzel likes to paint!
Made up a batch of rice krispie treats, and dipped in colored melted chocolate (purple and yellow for tangled!)
These were a hit..but next time I would have made them smaller. I had these big craft sticks already,
so I wanted to use them and going smaller looked silly. But if you had smaller
popsicle sticks, or ice cream spoons, they would work great!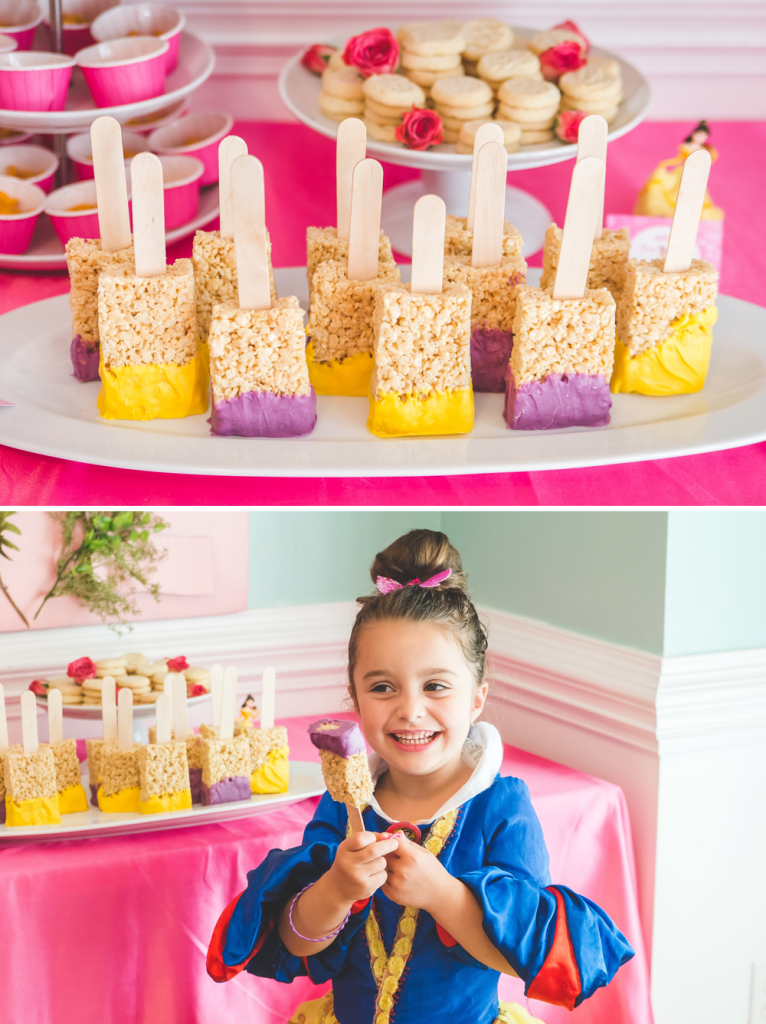 I had every intention of baking sugar cookies and learn how to pipe roses on them.
But then I remembered I was 35 weeks pregnant and that wasn't gonna happen.
So instead, I grabbed some mini sugar cookies at the store and ended up last minute cutting some
roses from my bouquet and placing around the plate! I actually liked how it turned out even better and the girls FLIPPED.
"Mom is putting REALLLL roses on the plate!!" boom. belle's rose cookies.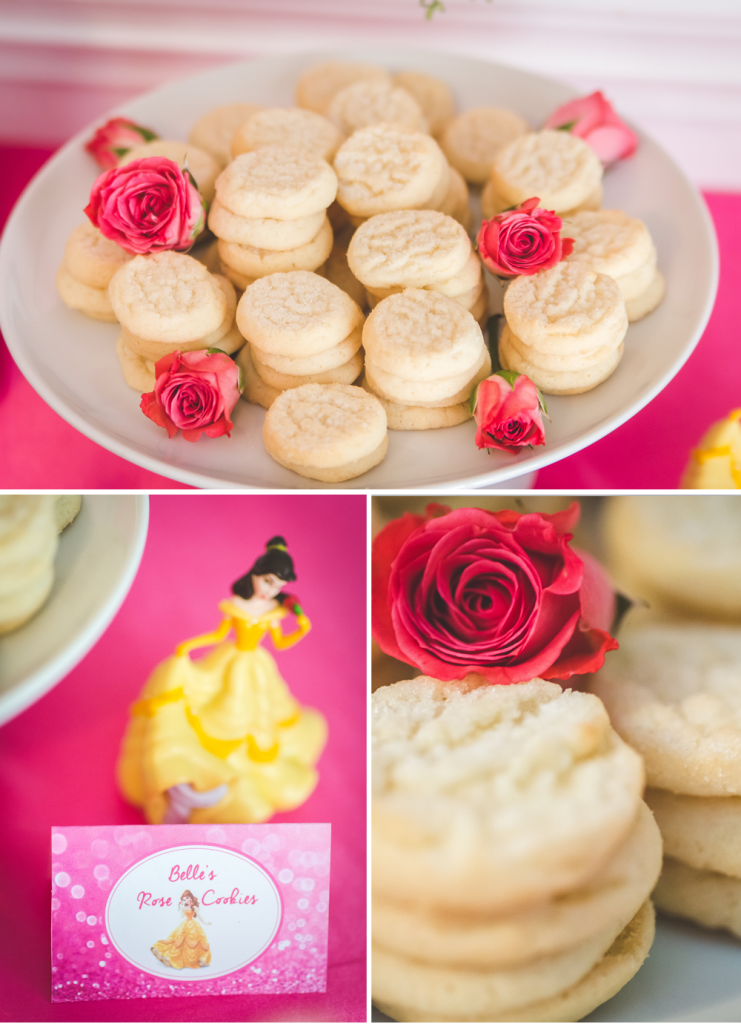 My husband made a joke saying I picked this next treat just for me haha. MAYBE.
Jasmine's flying carpets were a mix of different licorice and sour candies that looked like little rugs!
I put them, and two other candies, in plastic trifle containers from Birthdayinabox.com
They were the perfect size..and I loved how I didn't have to worry about kids' breaking them.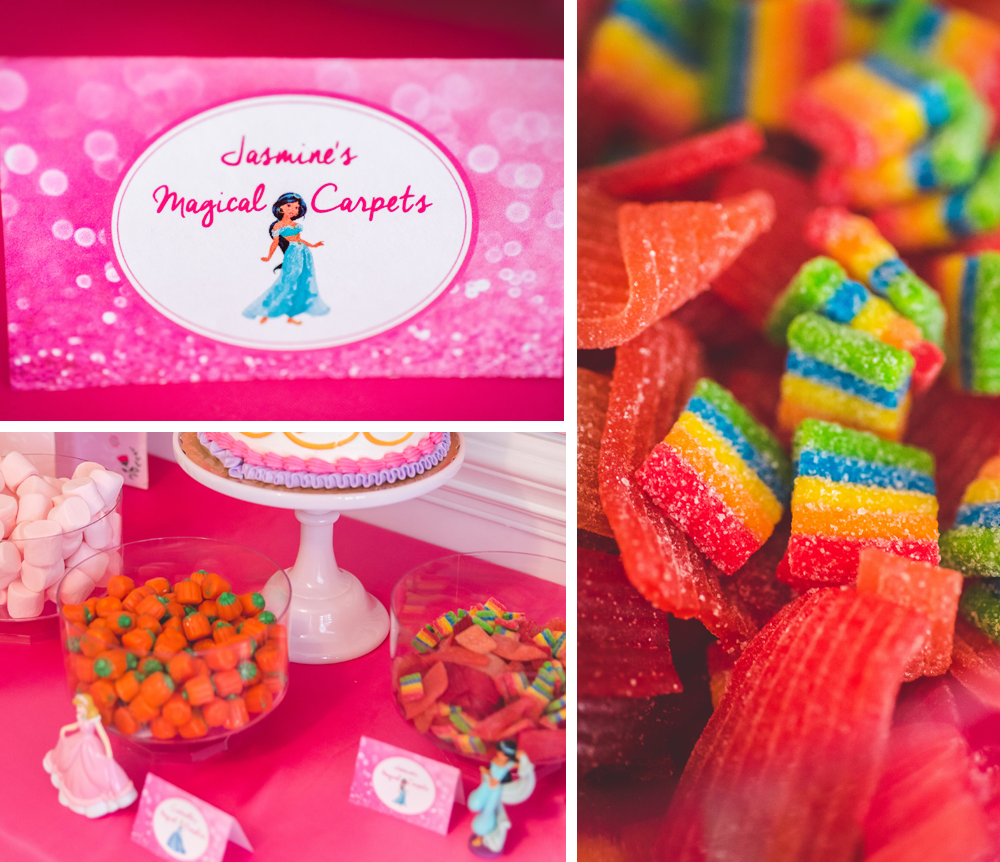 Sleeping Beauty had fluffy pillows…. pink marshmallows of course!
I pretty much always end up with marshmallows on my dessert tables. haha.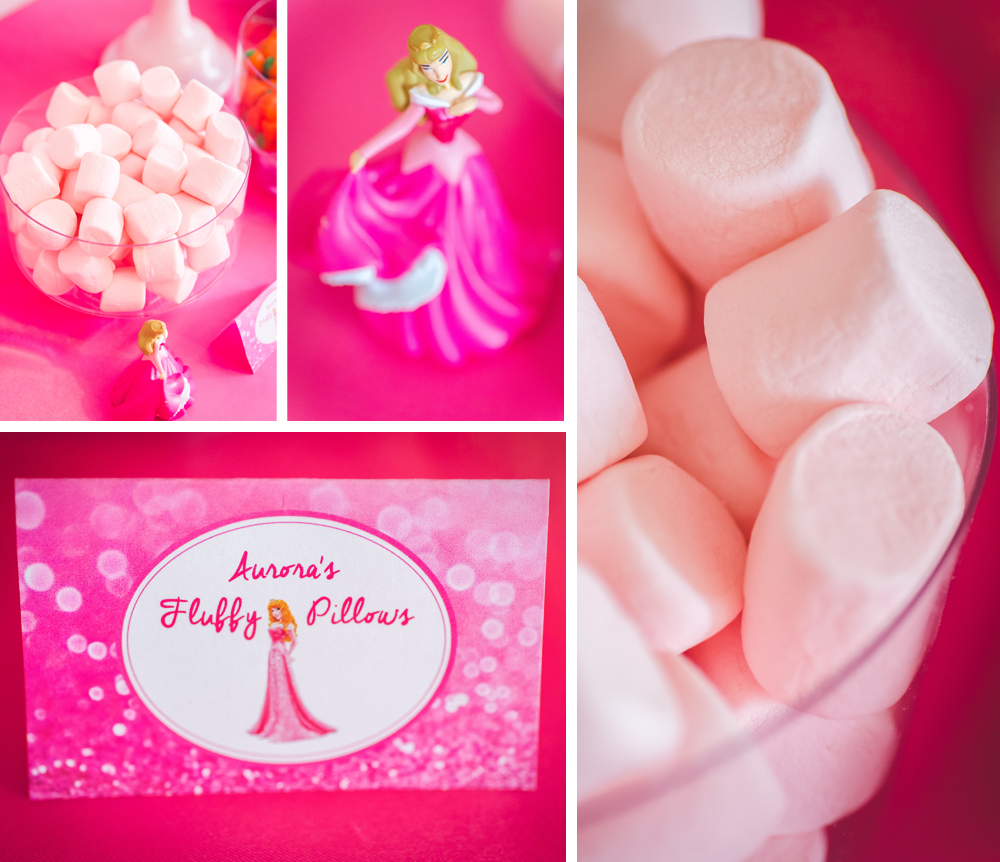 Sophia loves candy corn…and when I saw Target already had
some candy corn pumpkins out last week, I grabbed them up!
We had a bowl full of Cinderella's magical pumpkins!
We ended up putting them on the cake as well. Sophia's idea!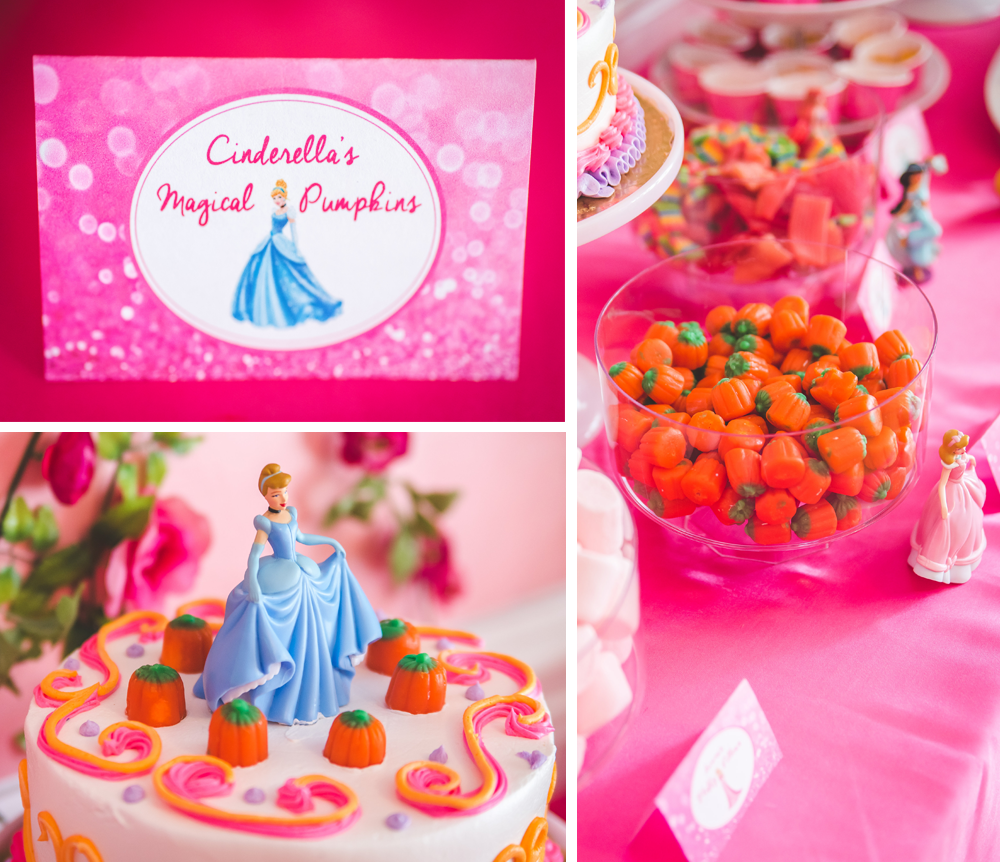 A great detail on the table was the Princess Castle! (From Zurchers.)
It was super easy to put together and came with these little paper princesses.
We tucked those away and used these princess for the party.
This castle is perfect for a cupcake display and even for play!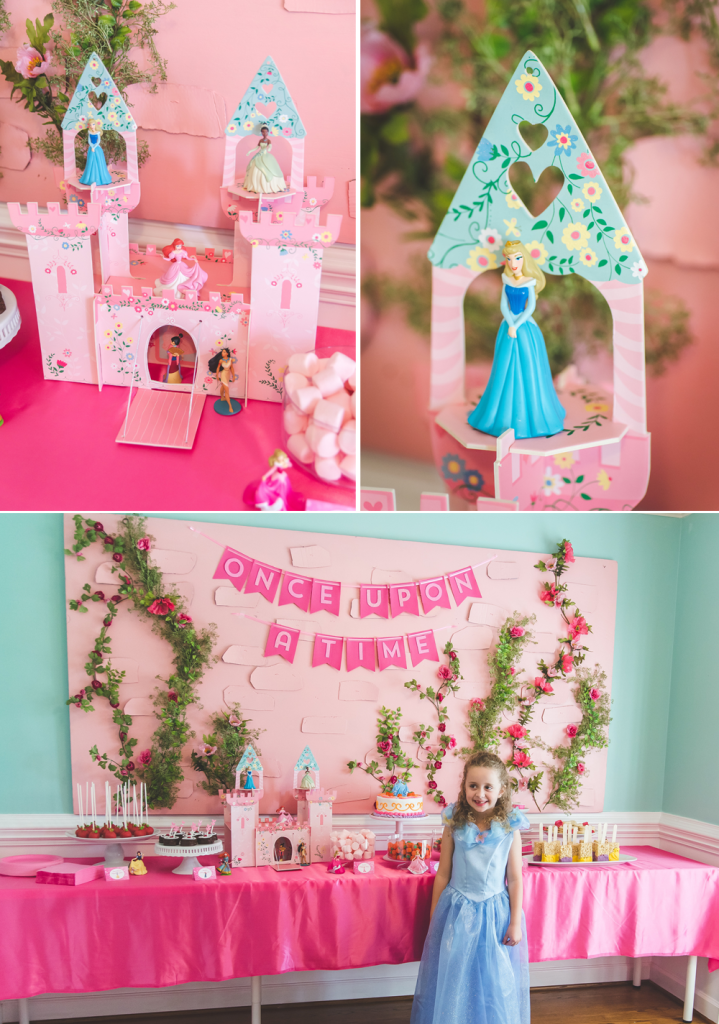 I LOVED seeing the smile on Sophia's face while I put her table together.
Micah walked in and kept going wowowwow. ;)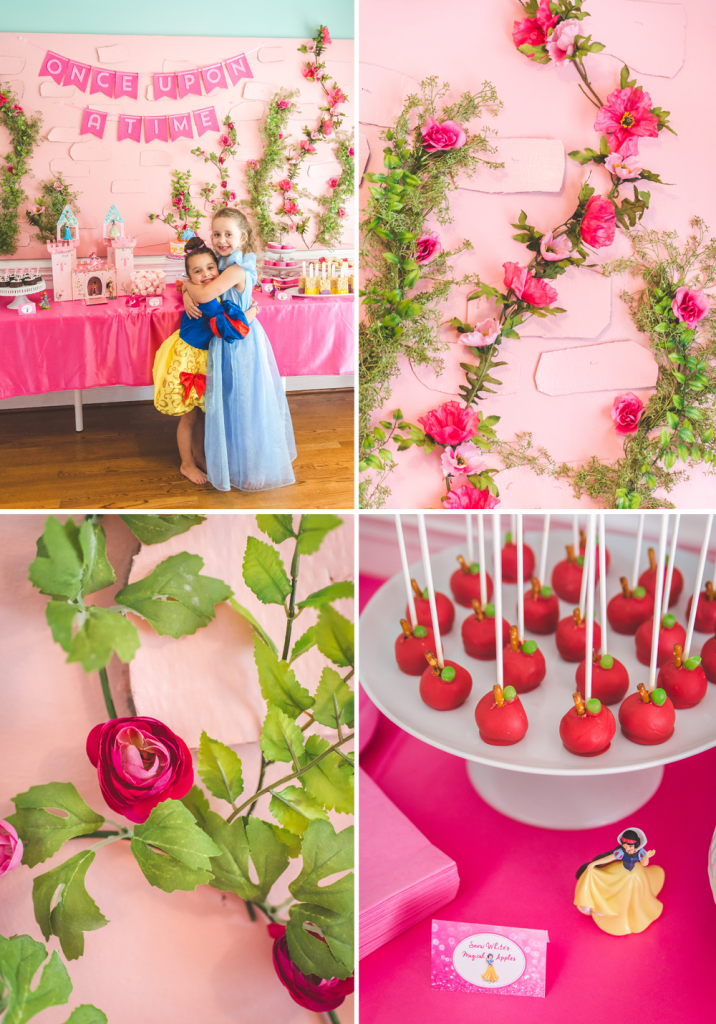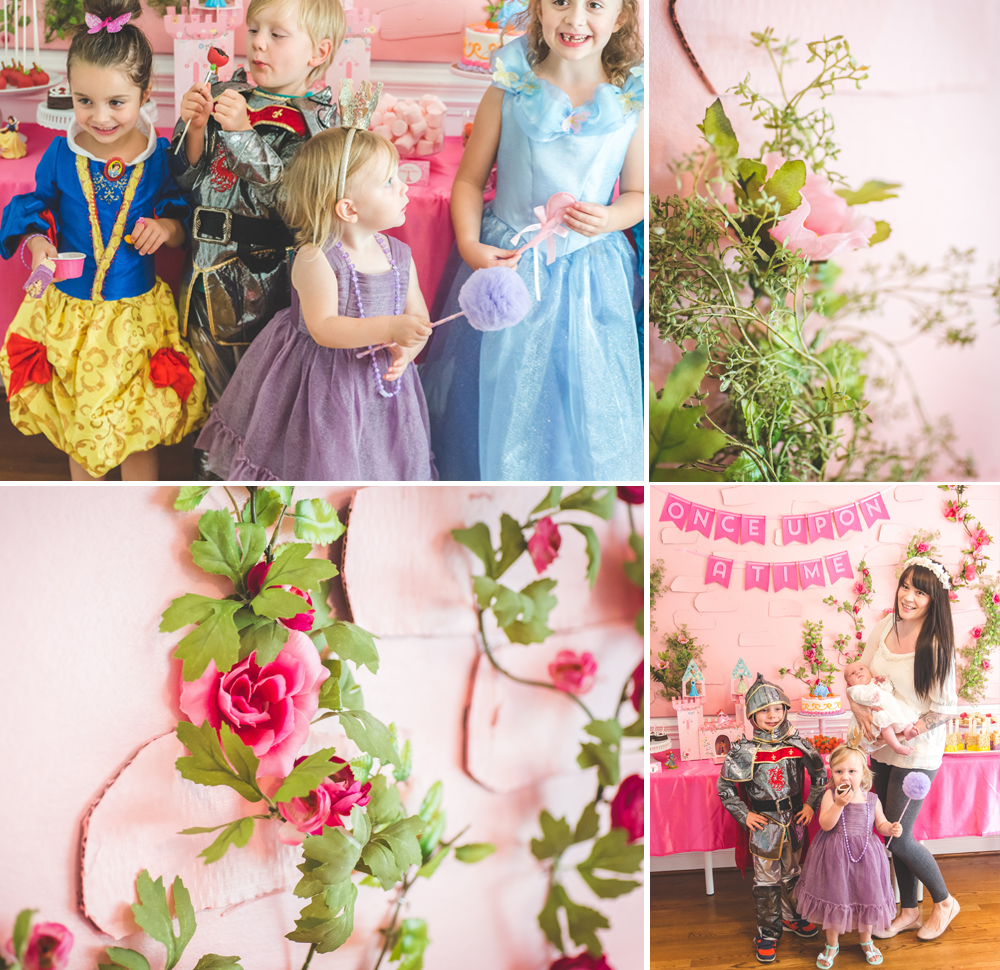 Now for the Knights Table (or the Boy table as Sophia called it.)
A few simple touches and it came together quickly!
All of the knight themed items are from Zurchers. Love how it pulled together the table!
I strung up a knight garland on my magnet boards (from ikea) and built the matching Knight Castle.
I used my blue cake stands (10″ and 6″) from Zurchers for the Cupcakes
and Chessman cookies. (pepperidge farm!)
The knight toppers and gold glitter cupcake wrappers are from Zurchers.
I loved how the cupcakes turned out.
I filled a plastic container I already had with cheese balls.
I mean dragon fireballs.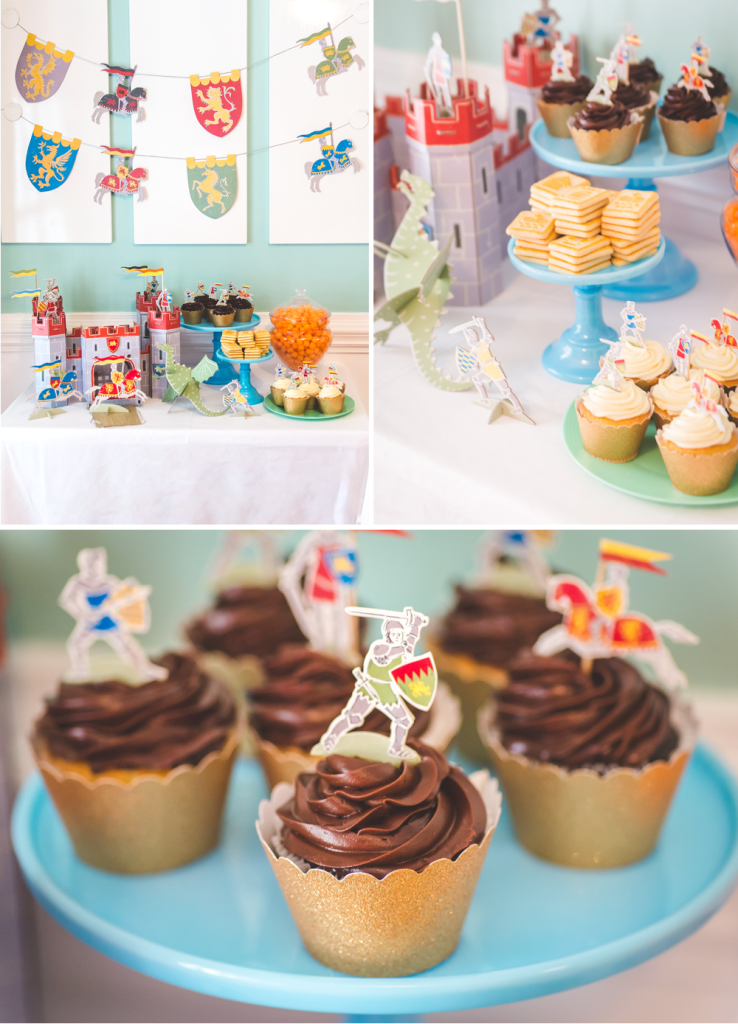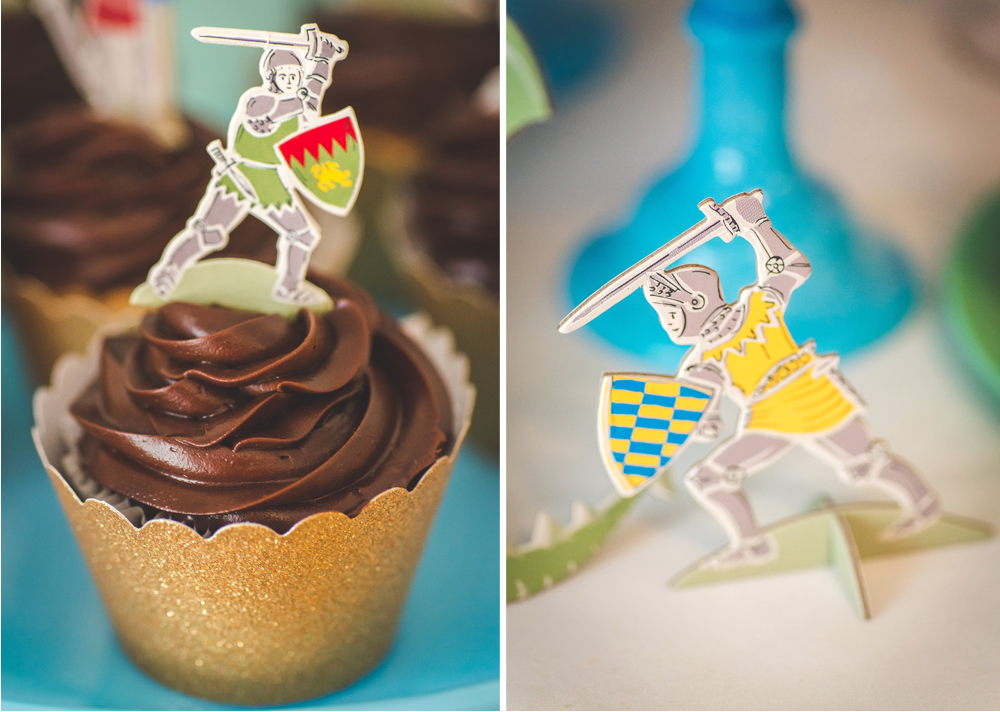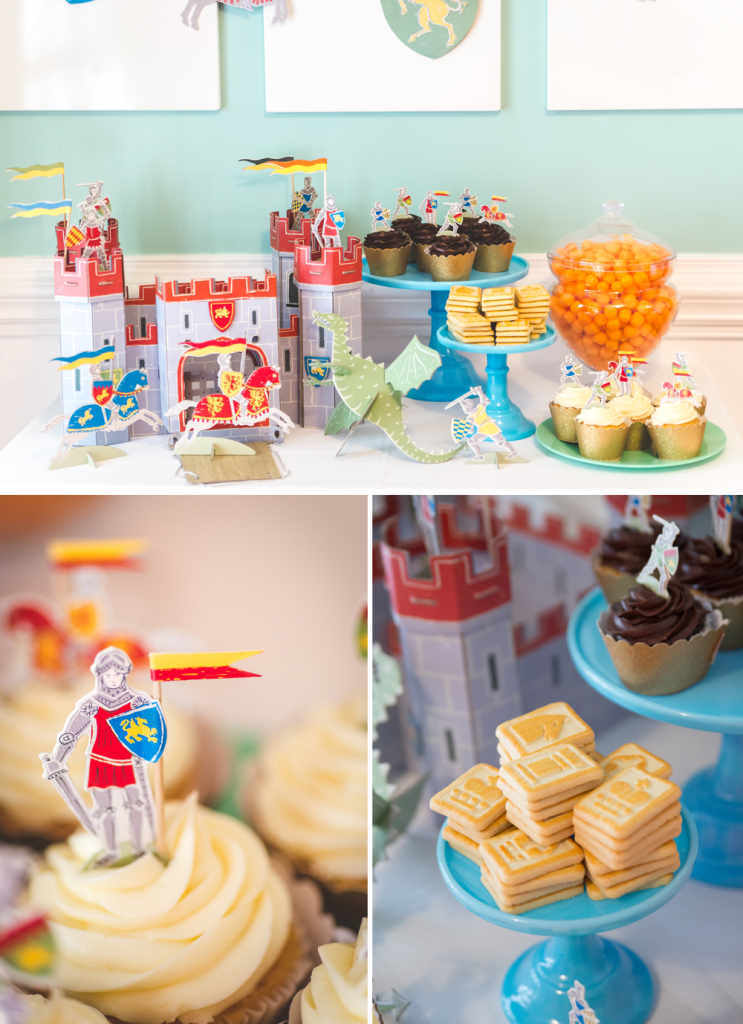 I was going to put most of the following items on the dessert table…
but as we moved furniture out of the playroom, I thought I would keep
the DIY market stand I made the kids (posted here) and turn it into a Princess Station!
It ended up being the perfect play place for the kids!
I cut off part of the main table's fabric to use on the awning, and draped some more floral pieces across it.
I hung up a bunch of honeycomb balls from Zurchers.
(Light Pink 5″ Ball — Light Pink Diamond —  Coral Honeycomb Balls)
LOVED how they looked. I don't want to take them down haha.
At Michaels there was this jewelry holder majorly discounted…spray painted the iron, white,
and it was ready for princess gear!
Necklaces from the Dollar Tree. Star and Fairy Wands and tiaras from Birthdayinabox.com!
The Knight hats were from Zurchers.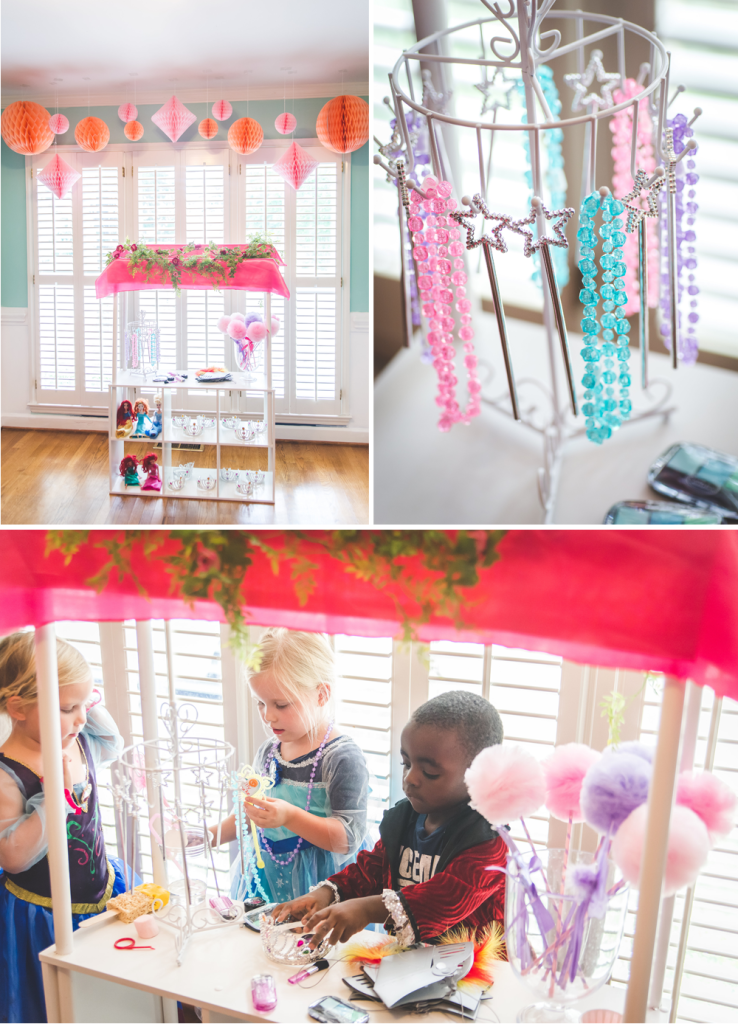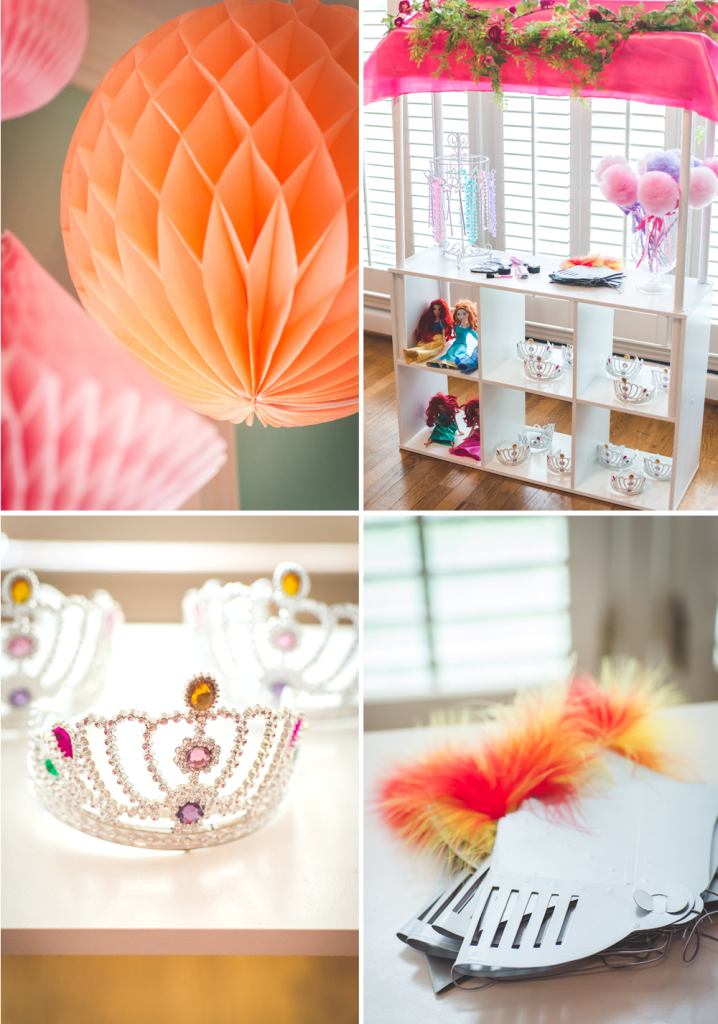 I also had these adorable wands out by Pretti Mini! So adorable!
They looked like cotton candy. :)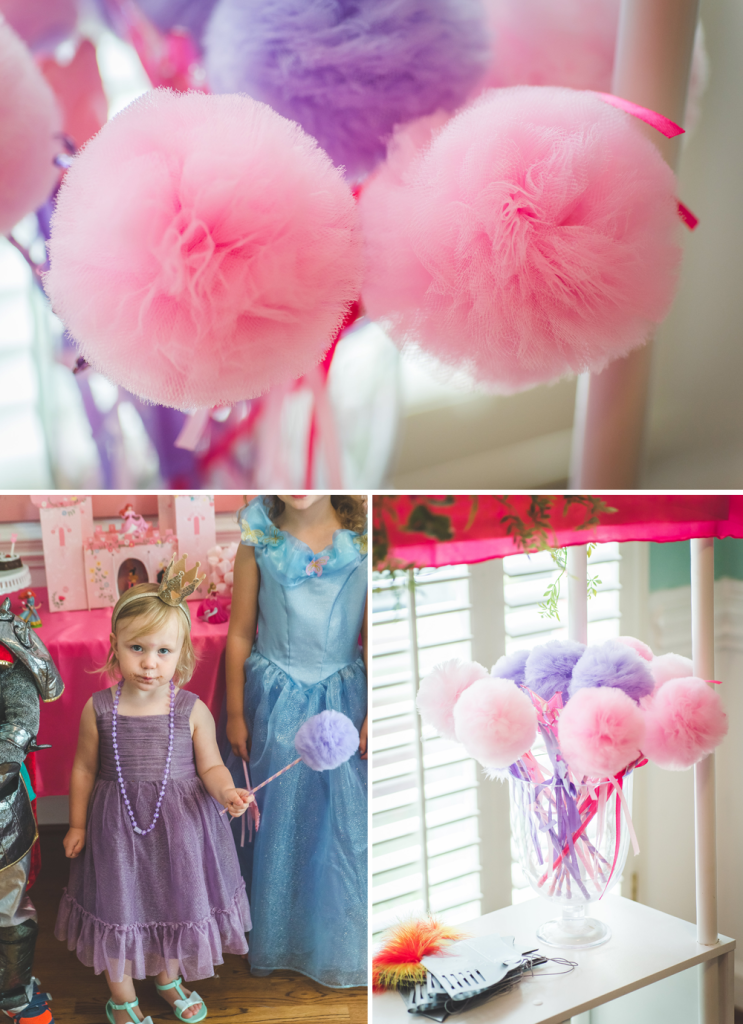 I put out some of our Pretend play makeup from Little Cosmetics for the kids to play with.
It was so cute looking over and seeing them do their makeup and pick out wands and jewelry.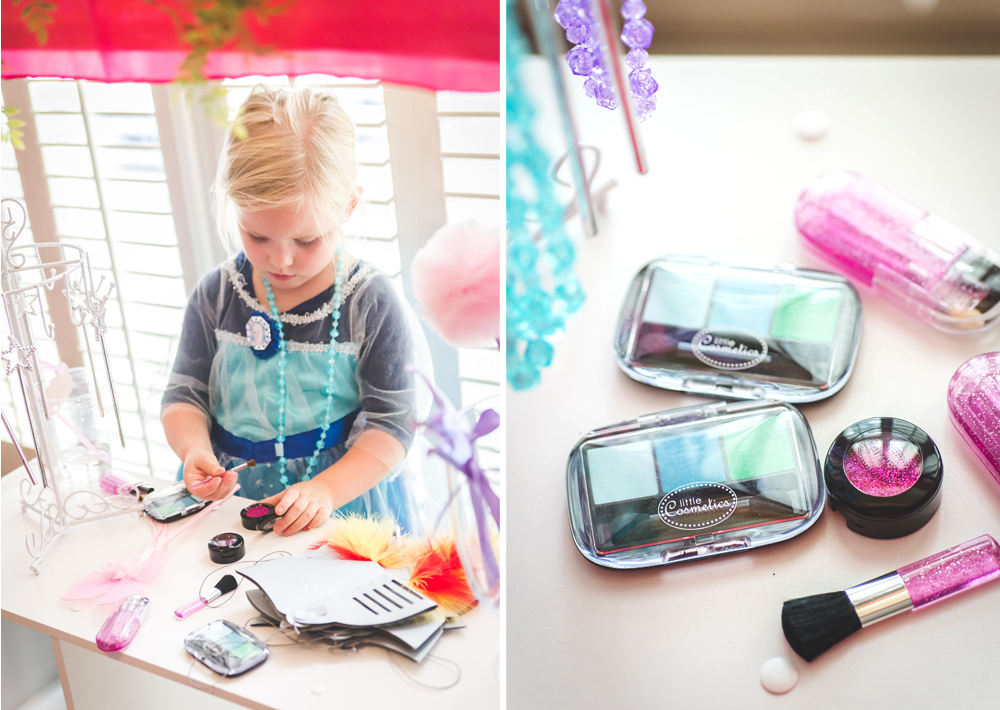 In our family room area we had a photo booth area set up! I found these cute photo booth props at walmart!
The Fabric Garland Backdrop was by Pretti Mini.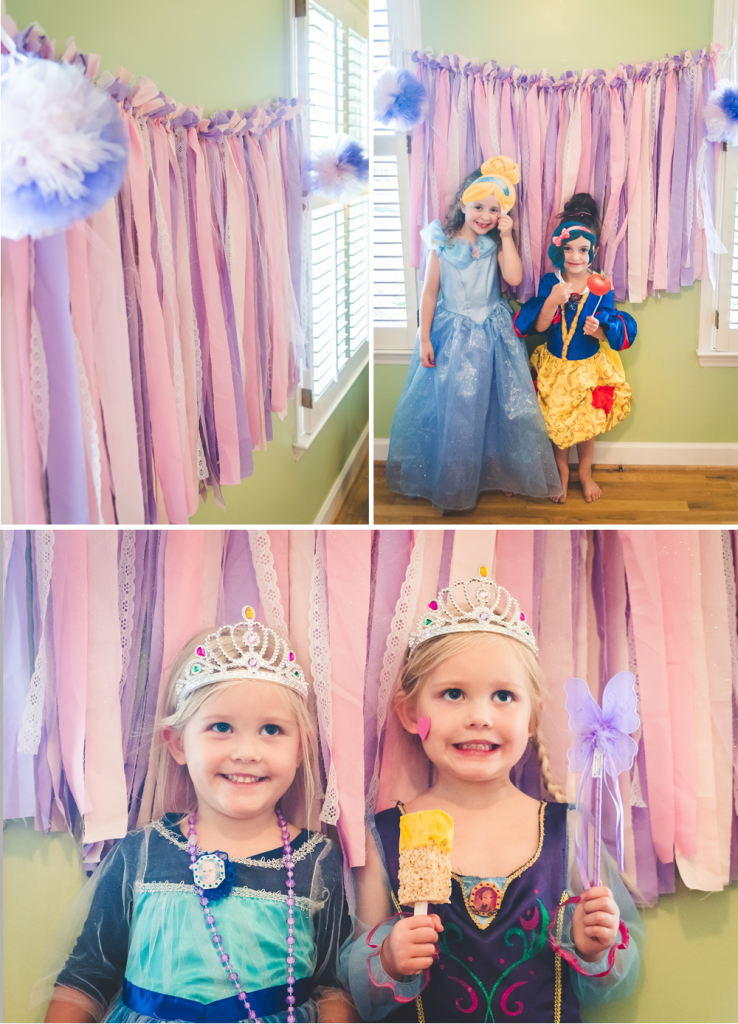 We put the AWESOME princess cardboard cutout from Birthdayinabox.com
over by the fireplace for the presents.
The cutout made the room instantly a princess party room!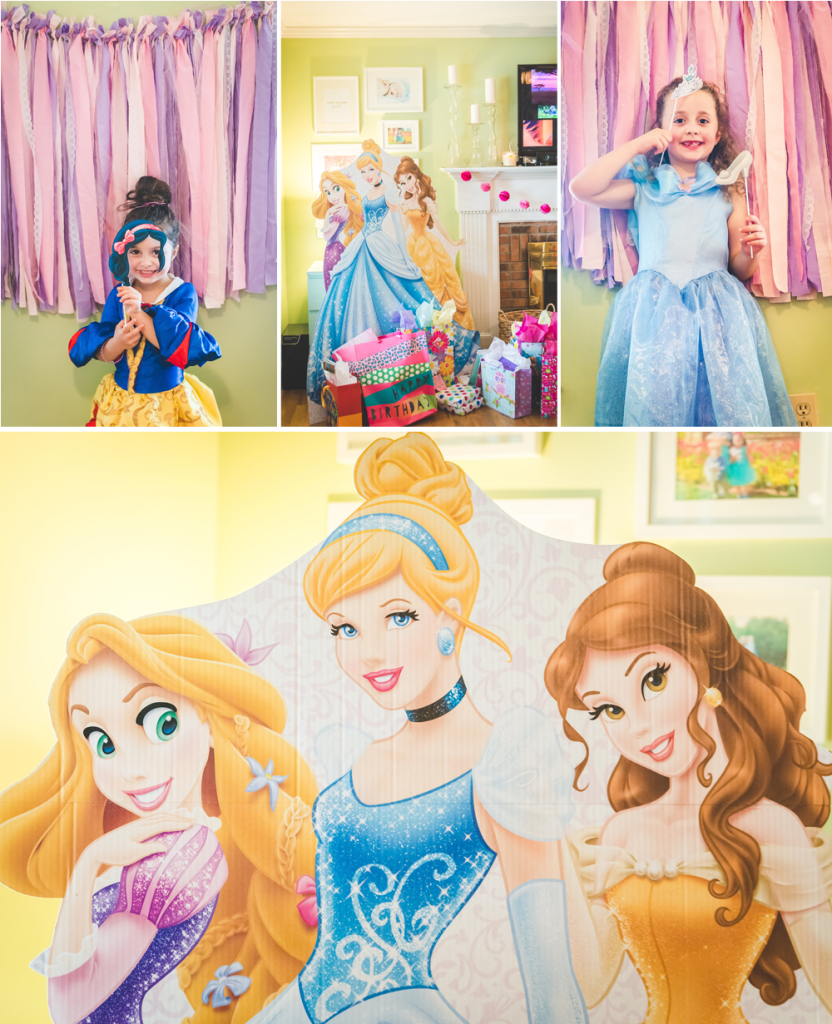 Also, in our family room, was this beautiful banner by my friend Laura at All Diaper Cakes!
Just like Sienna's Frozen Birthday Party Banner, I hung up the 'Sophia' part next to her bed.
Love how they have these to remember this day!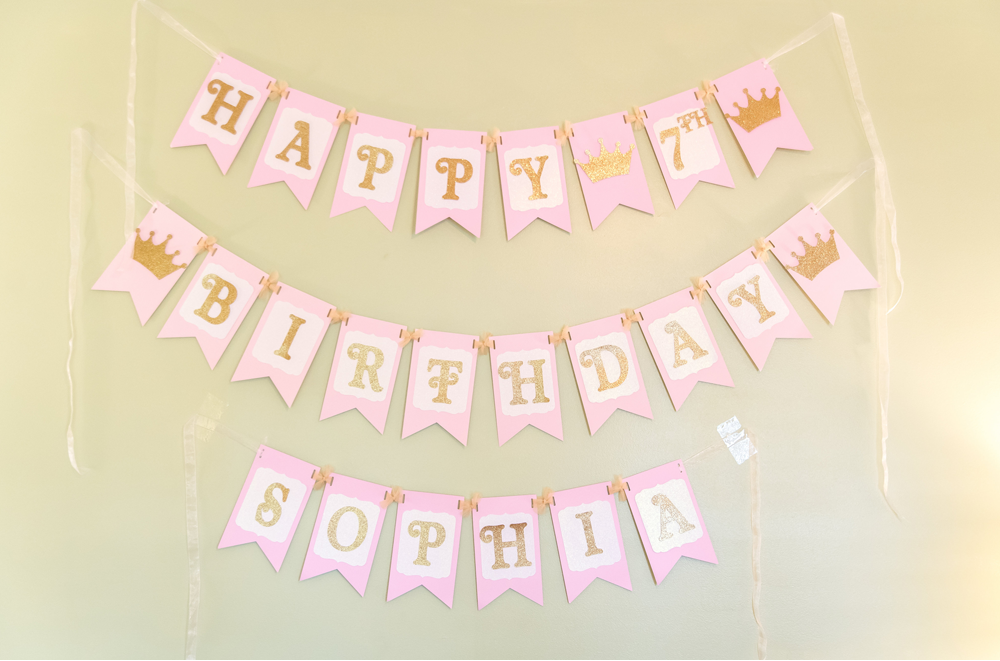 On the kitchen table, I put out the piñata and the favors the girls helped me put together.
I also had some pink jelly beans (walmart) that I put out and they were devoured.
Piñata from Birthdayinabox.com and favor bags are from Zurchers.
(grey stripe favor bags — pink stripe favor bags)
We filled the favor bags with one piece of candy and stickers for the girls
and mini knights (like army men) for the boys.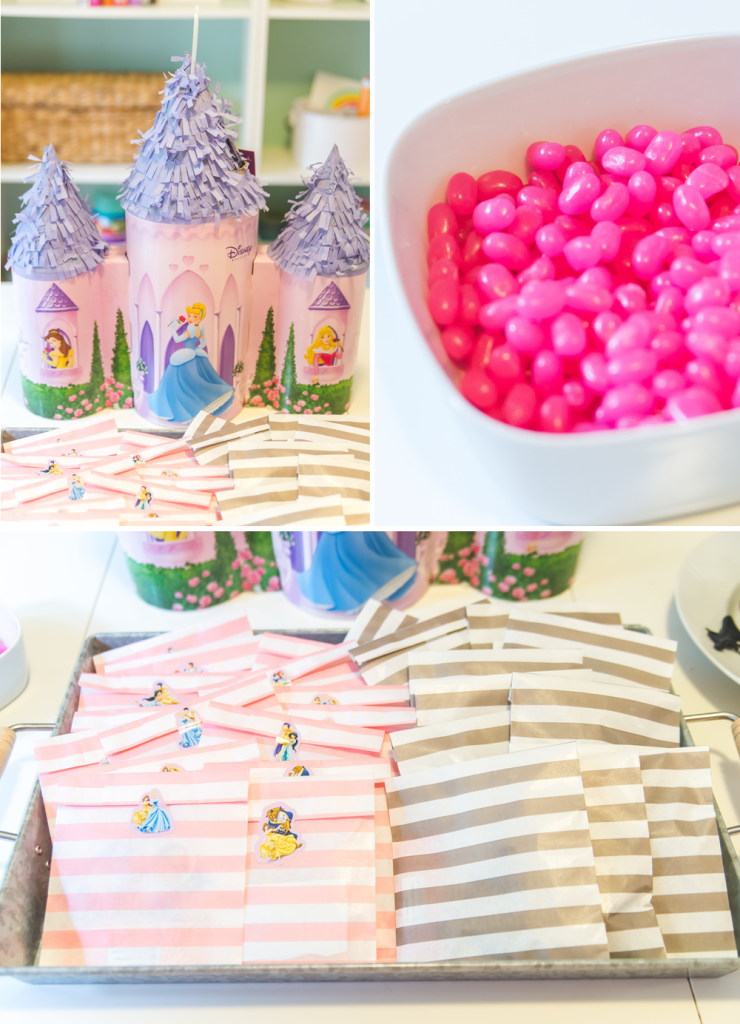 The morning of Sophia's party, after church, I ran into Publix
and found this PERFECT cake in the bakery fridge. lol.
I had planned on making a 3 level cookie cake (sophia's favorite kind of cake)
But then I decided to stop being crazy and just go buy one!
The best part about this cake is that Sophia chose the decorations on top.
I loved her idea of putting Cinderella and the candy corn pumpkins on there!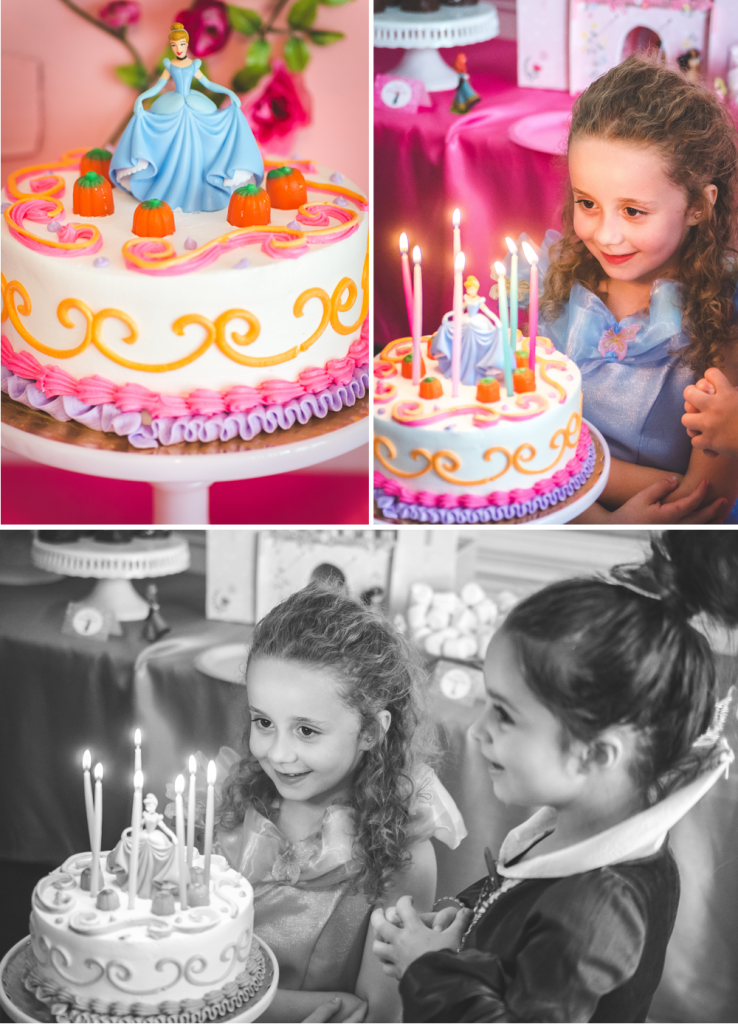 I can't believe she is 7!! Love her sweet little face here.
Her Cinderella Dress is from Birthdayinabox.com.
She felt SO PRETTY this day. She just stared at herself in the full length mirror twirling in her dress.
It was the sweetest thing!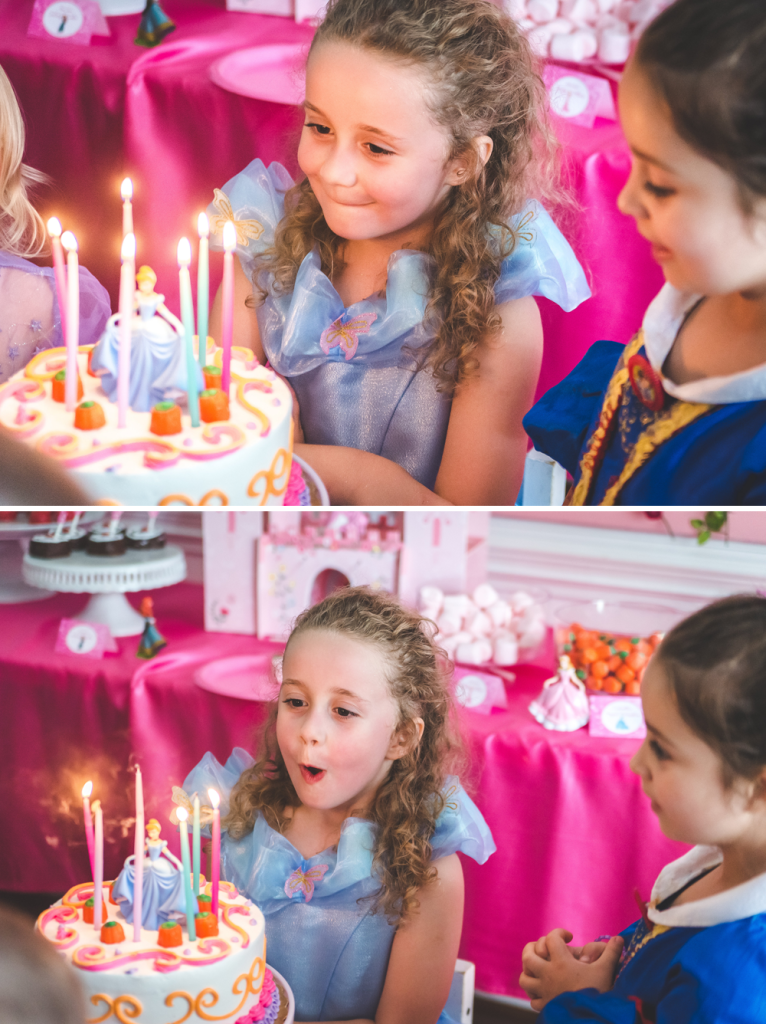 OK! Now..our house isn't humongous. And we invited a lot of people….a lot. it was kid craziness.
We chose an afternoon party time so we could just do sweets for everyone
and not worry about feeding a meal to everyone. (Focusing on just desserts made it easier to plan as well.)
I'm so glad they were there to have a fun afternoon with us!
But because our house isn't too big, we knew that outside fun was a must!
My husband and his buddy had just finished up the swing set/tree fort…it was great for the kids to play in.
We also had an inflatable slide at the party thanks to my husband's barter bucks through work!
It ended up only costing us 40 bucks……….BEST IDEA EVER. The kids loved it! (and the adults!)
These are some of my favorite photos of my kids. :)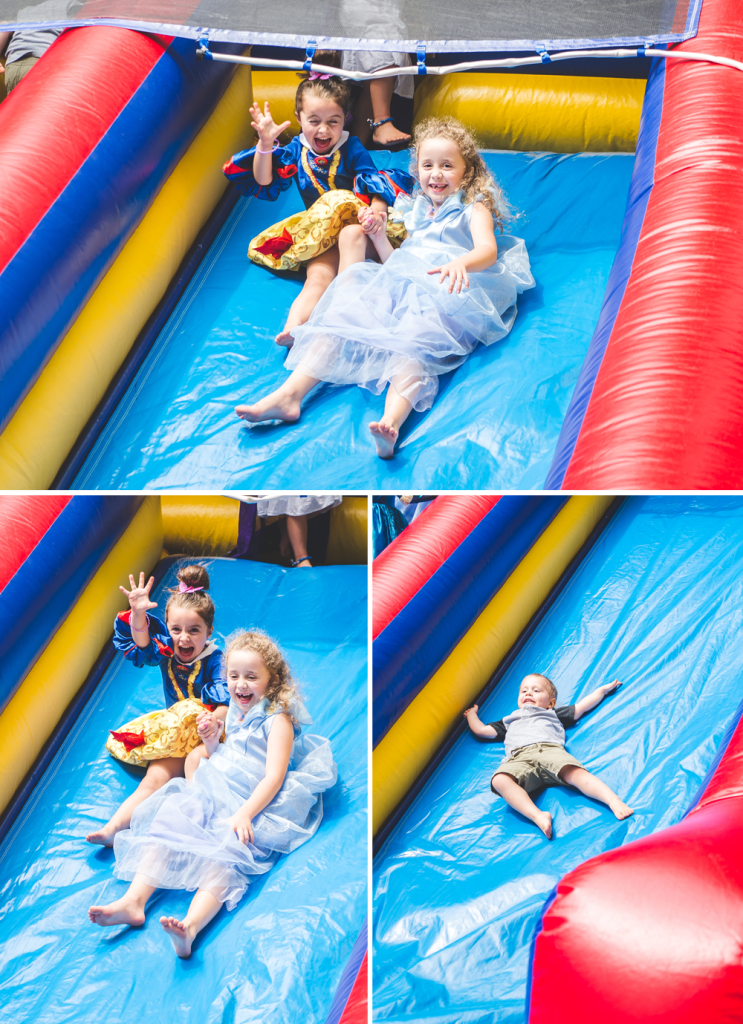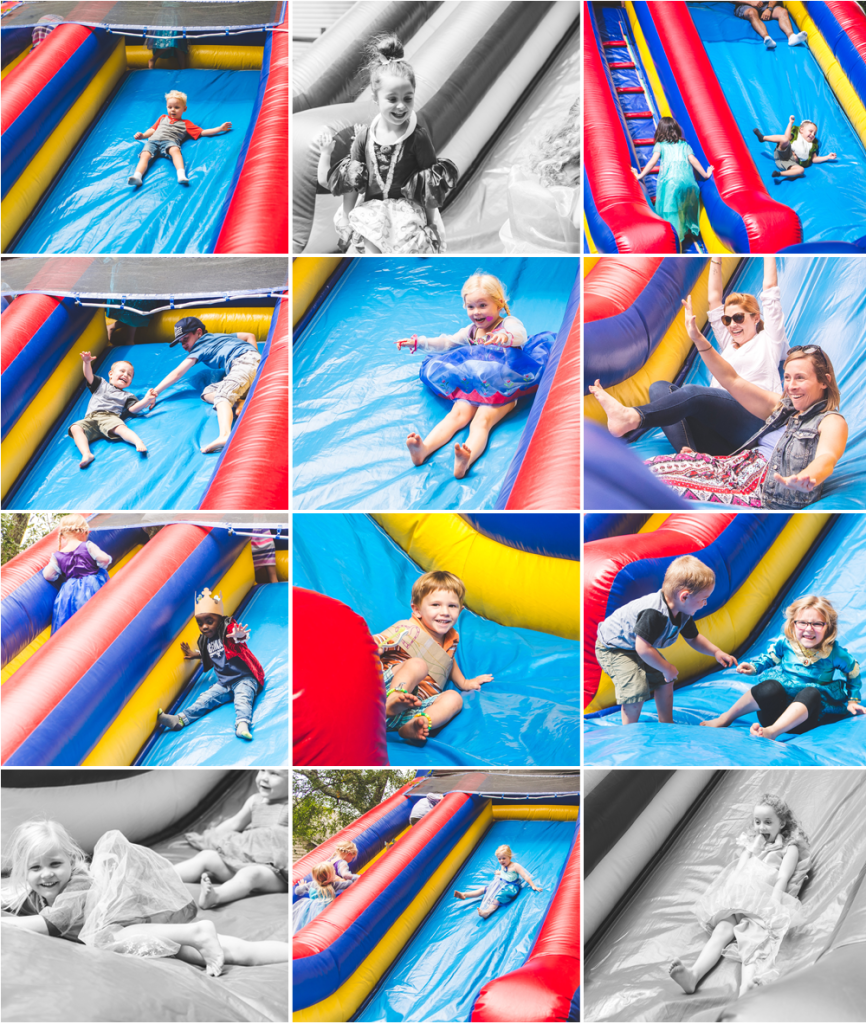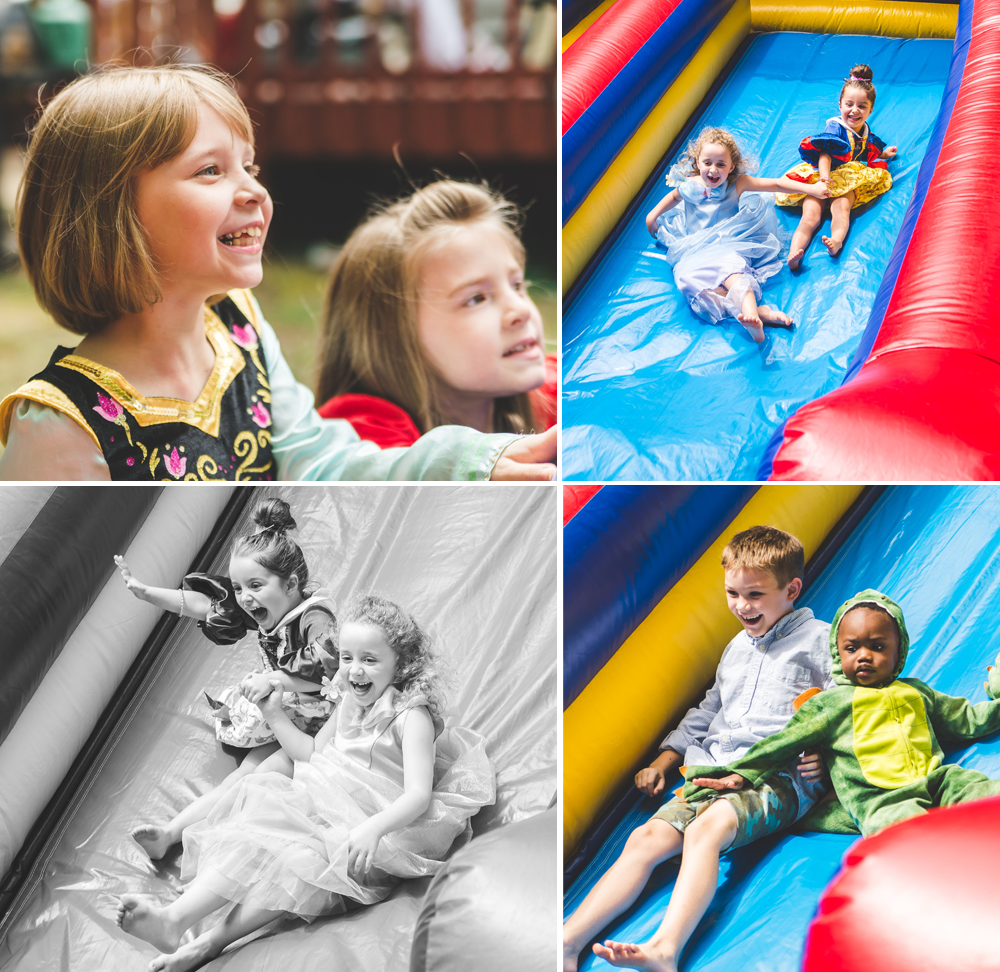 Family photo?! It's a  miracle!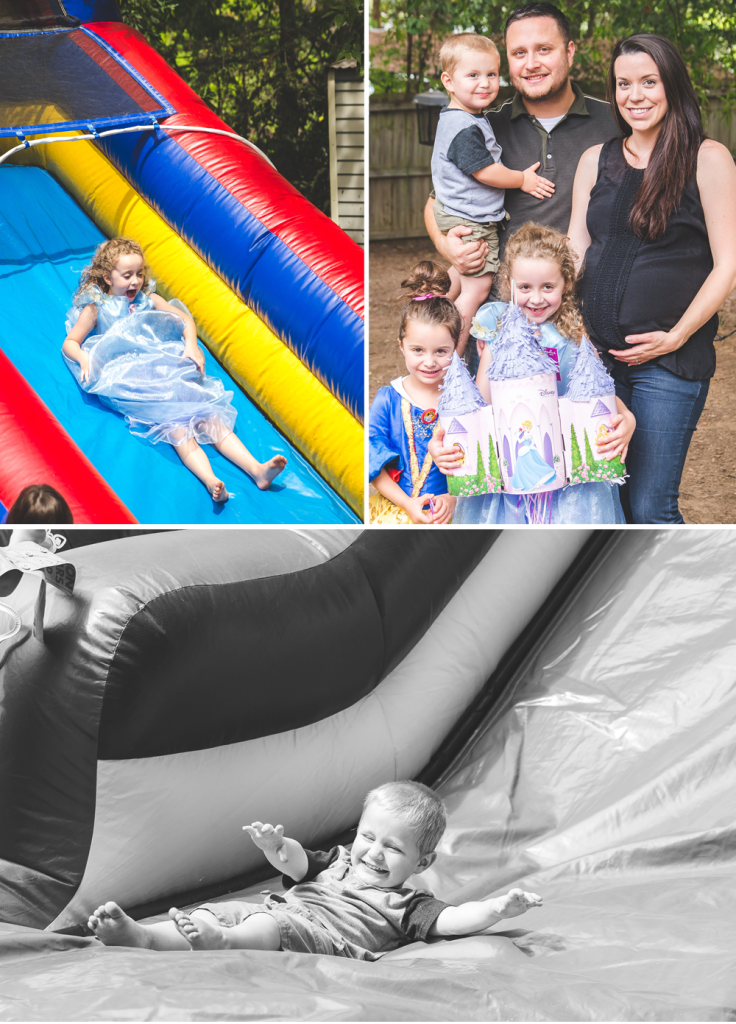 The Piñata was a hit. Candy was involved. So naturally…they loved it.
(Disney Princess Piñata from Birthdaysinabox.com)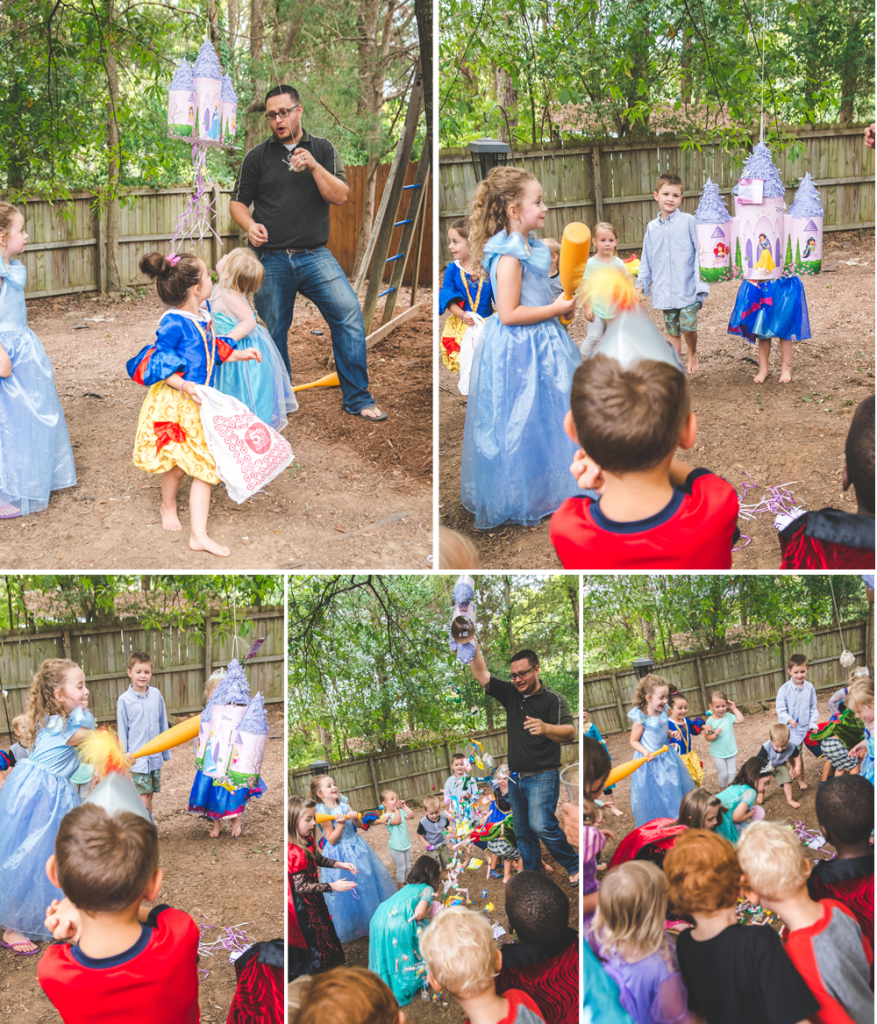 It was a special day and I loved seeing all the smiles!!
Happy Birthday sweet Sophia! You're 7!!
Now I'm going to go have a baby. (hopefully soon. lol.)
Planning this party was a great distraction from the 'is it baby time?!" mind games going on.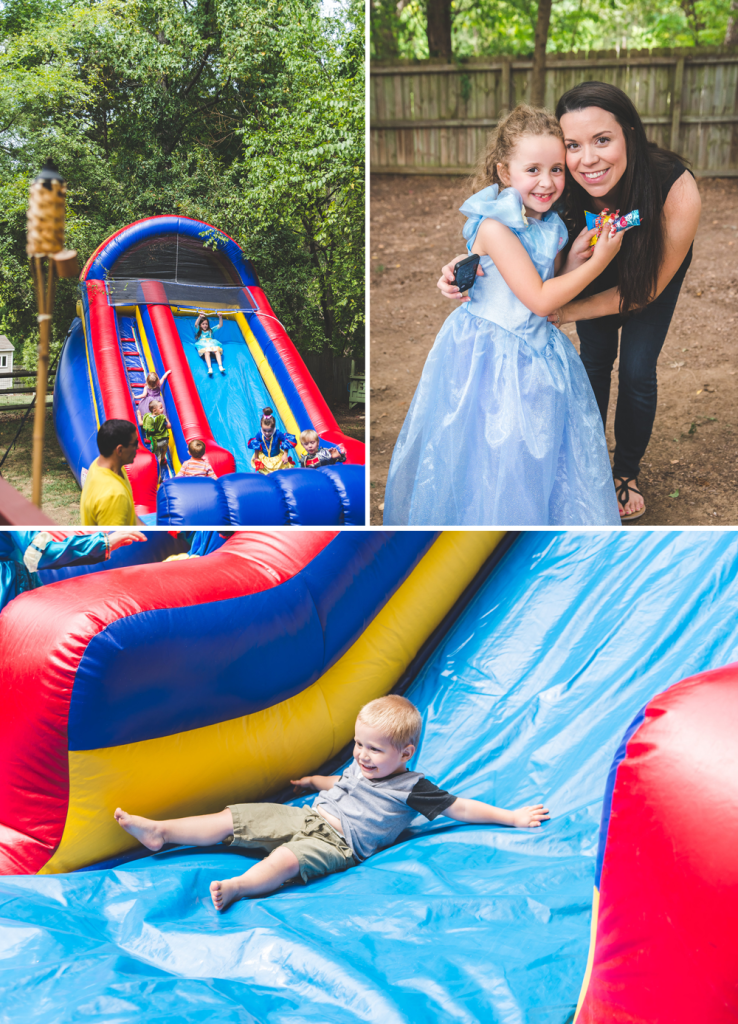 Thanks for checking out Sophia's birthday party!
Hope you found some inspiration if you are planning
your own Princess or Princess and Knights party!