Sienna turned five this past weekend and we celebrated with a Frozen Party!
She is a tad Elsa obsessed and it was fun making all her frozen dreams come true at this party.
She gasped and smiled and was giddy as I set up the party!
She also woke up at 5:30 am…and asked about every 20 minutes when her friends were going to start arriving. ;)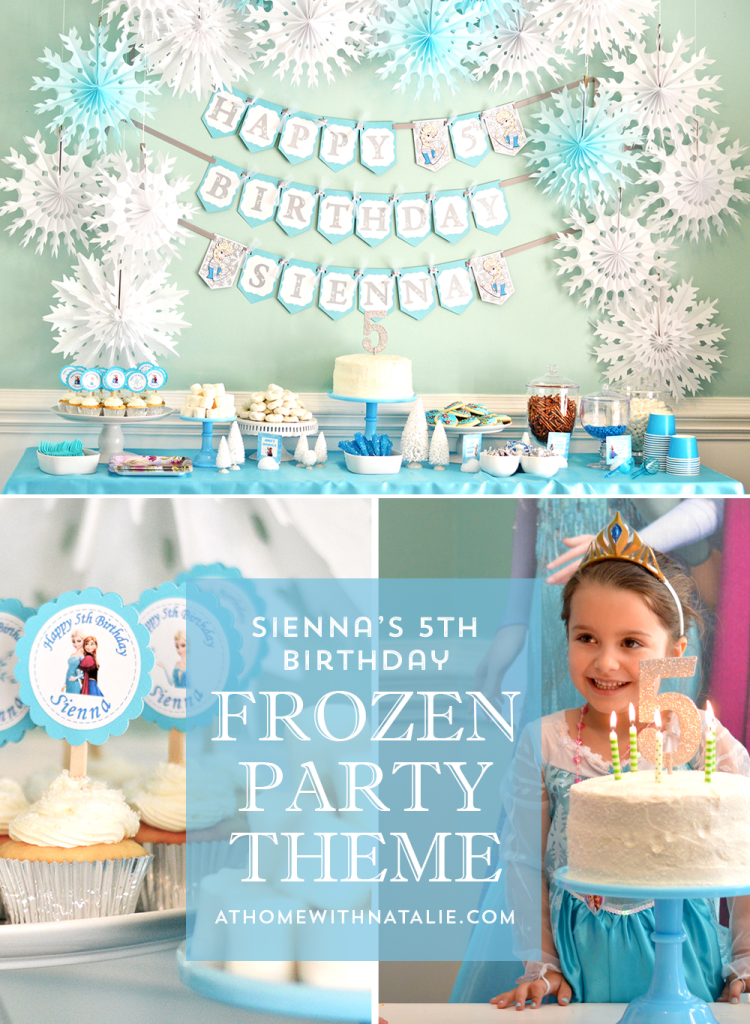 I cleared out part of our play room to set up the dessert table.
This was the main party spot in the house.
The party was in the afternoon so only served treats/snacks. Makes it a lot more manageable!
The paper snowflakes are from Zurchers and within 15 minutes I had the biggest bang for my buck!
Didn't take long to create this little winter wonderland for my Sienna.
I used 8 of the 15″ White Snowflakes
5 of the 19″ White Snowflakes
and 5 of the 15″ Blue Snowflakes
I just packed them up today  (they fold a part, and pack small.)
I think we'll use them for decorations at our Cookie Exchange this Christmas!
Sienna's cute Elsa Costume(size small) was from BirthdayinaBox.com
I didn't let her wear it longer than a few minutes before the party…
so the morning of, it was super special!
My mom caught elsa fever…she was texting me photos and calling me from
Walmart when she found this perfect blue fabric on clearance.
It made the party! She actually ended up getting it for free from their nice store manager
who was making up for a bit of a hot mess with customer service. Score!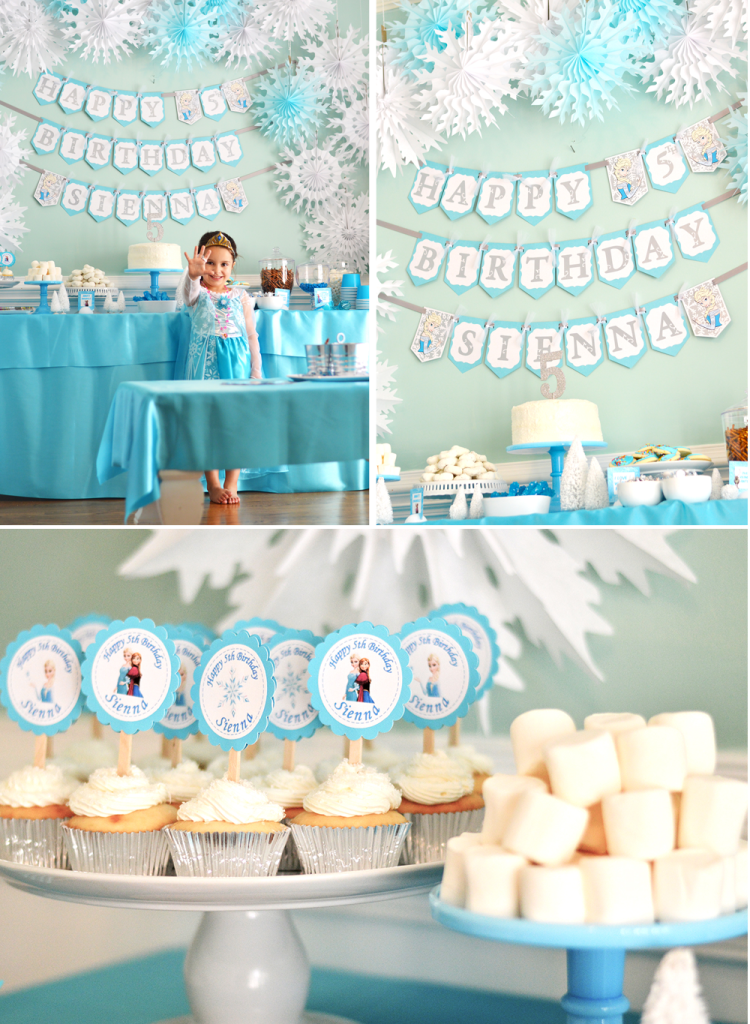 The Cupcake toppers and Birthday Banner was created by Crafty Xochy!
I love how they turned out! I made the cupcakes (Duncan Hines box mix and whipped frosting)
and used silver foil liners from…walmart?
I wasn't sure where I was going to place the banner, but it worked perfectly over the Dessert Table.
The bottom Sienna part is currently hanging by Sienna's bed. ;)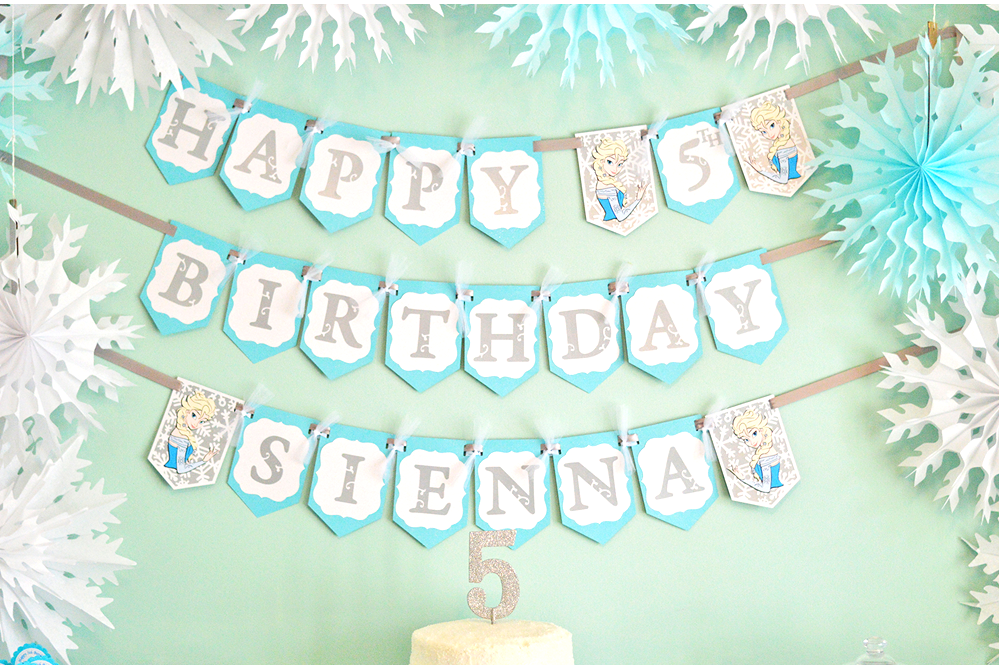 I baked her cake this year. A 3 layer cake (first time I tried!)
(duncan hines box mix and frosting) I just frosted and covered with "Snow" sprinkles (walmart)
I placed it on the "ELSA CAKE STAND" as sienna called it haha, and it just made it!
Love the color of those stands…both from Zurchers. (6″ cake plate and a 9″ cake plate in robins egg blue)
I was going to DIY a 5 cake topper, but found this one at Hobby Lobby for $1.99!!
yup. bought that baby right up.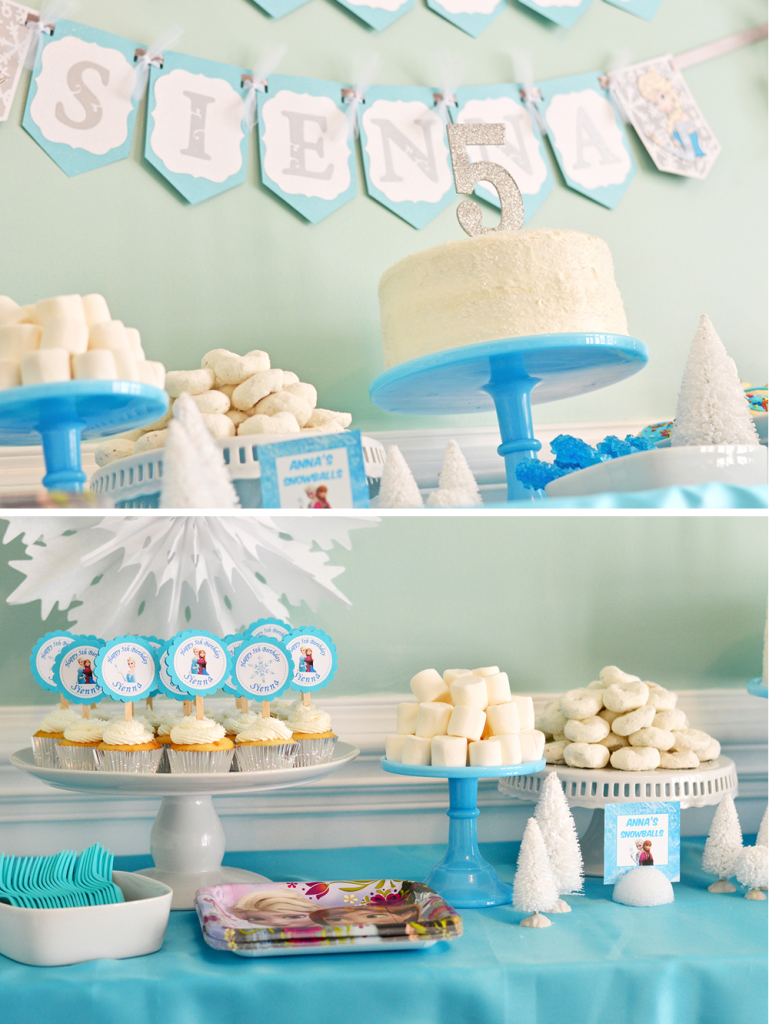 On the table we had marshmallows and Donuts for Anna's snowballs!
We also had blue rock candy sticks from Zurchers.
I had plans to make snowflake sugar cookies, then saw these blue sugar cookies at walmart and grabbed them.
I pulled out my box of Christmas Decorations and used some silver tinsel
garland around the house and some white trees across the dessert table.
I made up little menu cards in photoshop, and cut foam balls in half to hold them. (Snow balls from Walmart)
The Cards said "Anna's Snowballs" —– placed by the marshmallows and donuts
"I love Warm Hugs"—- placed by the hug hershey kisses
"I wanna stuff some chocolate in my face" —- placed by the regular and blue hershey kisses
and "Sven's Reindeer Antlers"—- placed by the pretzel sticks.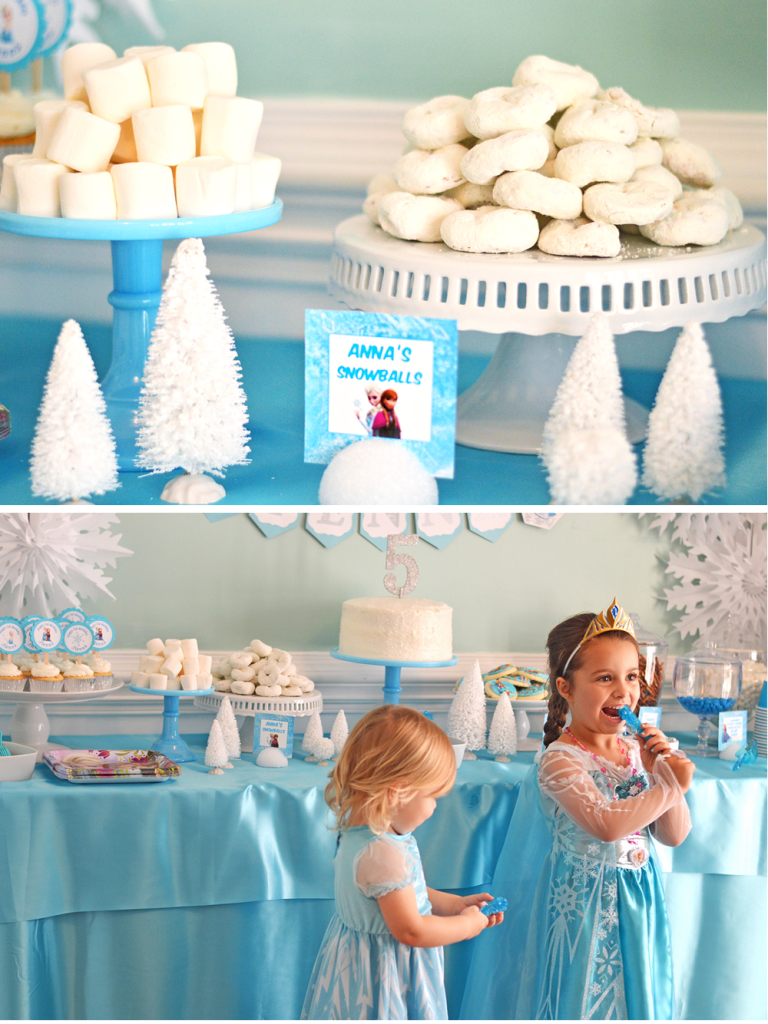 Sienna LOVES trail mix… so we made a fun elsa version with pretzels, mini marshmallows and blue m&m's.
I had the girls wash their hands and sort out the blue M&M's from a big bag.. that kept them busy! haha.
I used my three plastic containers for them…no worries about kids knocking them over!
The small middle one is from target($5) and the two large ones are from Michael's($6 and $7)
I got them all on clearance/with coupons at different times.
The blue party cups are from TomKat Studio Shop.
The blue candy scoops are from Zurchers. The kids loved making their own little mixes!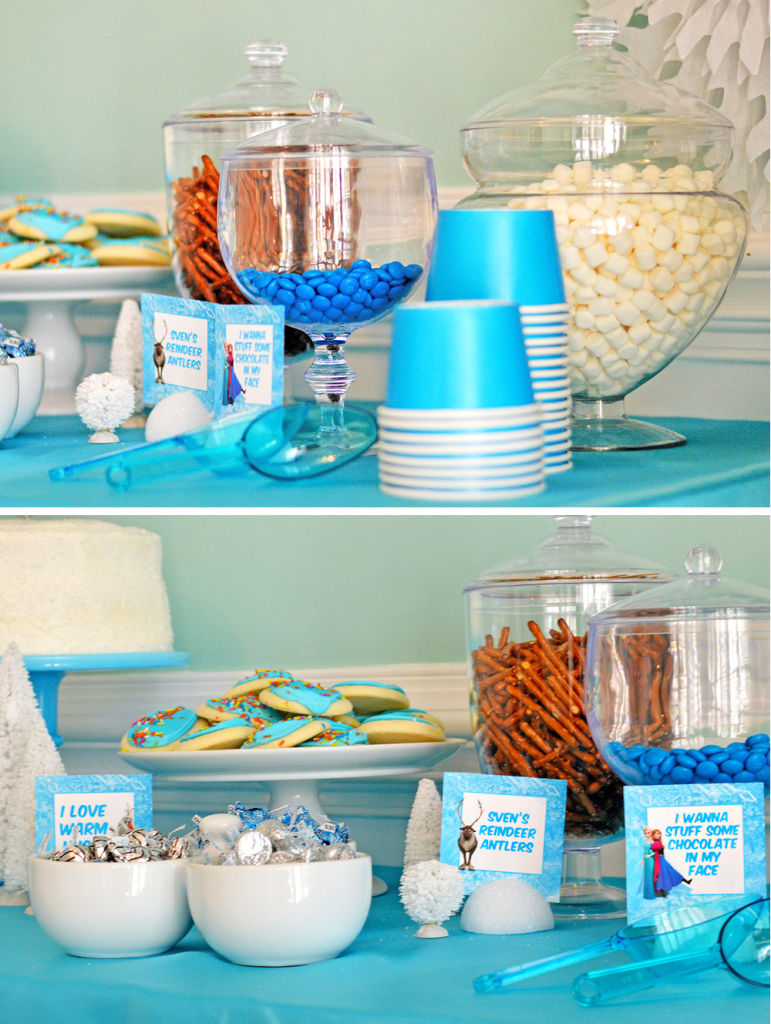 I had surprised Sienna the night before, showing her silver eyeshadow and blue nail polish for the party.
The morning of, we had a special little moment in my bathroom while I did her hair, nails and makeup.
She LOVED it. She felt all fancy. I also did Sophia's!
They ended up giving glitter eyeshadow makeovers to the other girls who wanted some. It was adorable.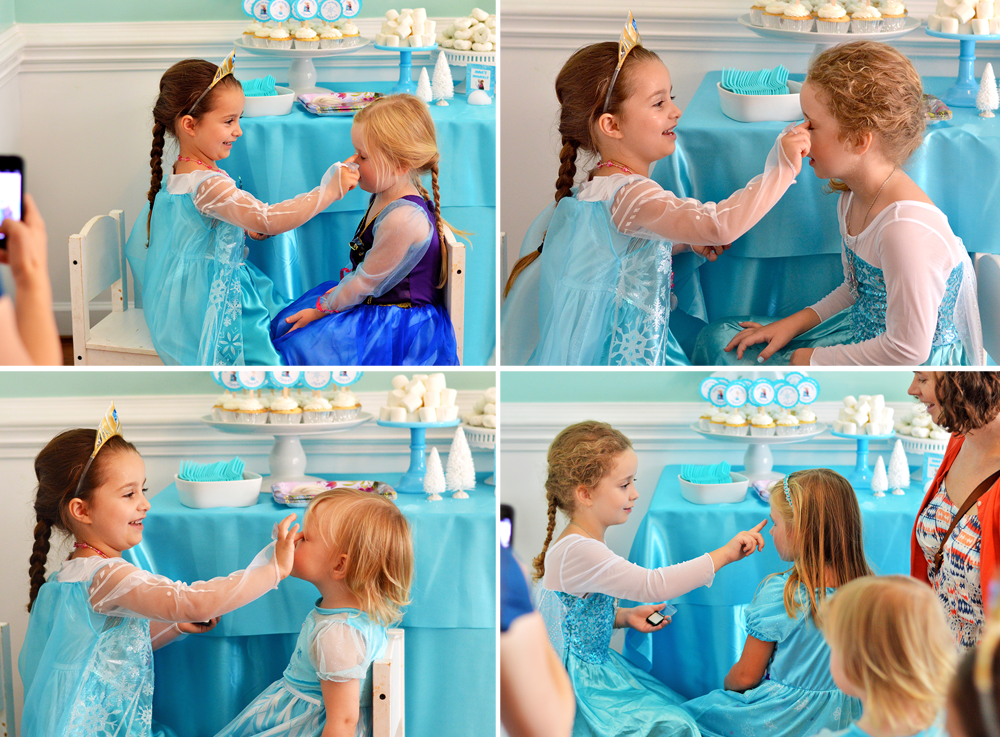 The Anna and Elsa Cutout is also from Zurchers and the girls loved it!
It's currently in their bedroom and will probably scare me half to death one of these nights haha.
Loved seeing Sienna's friends taking photos with it. Here's part of the group!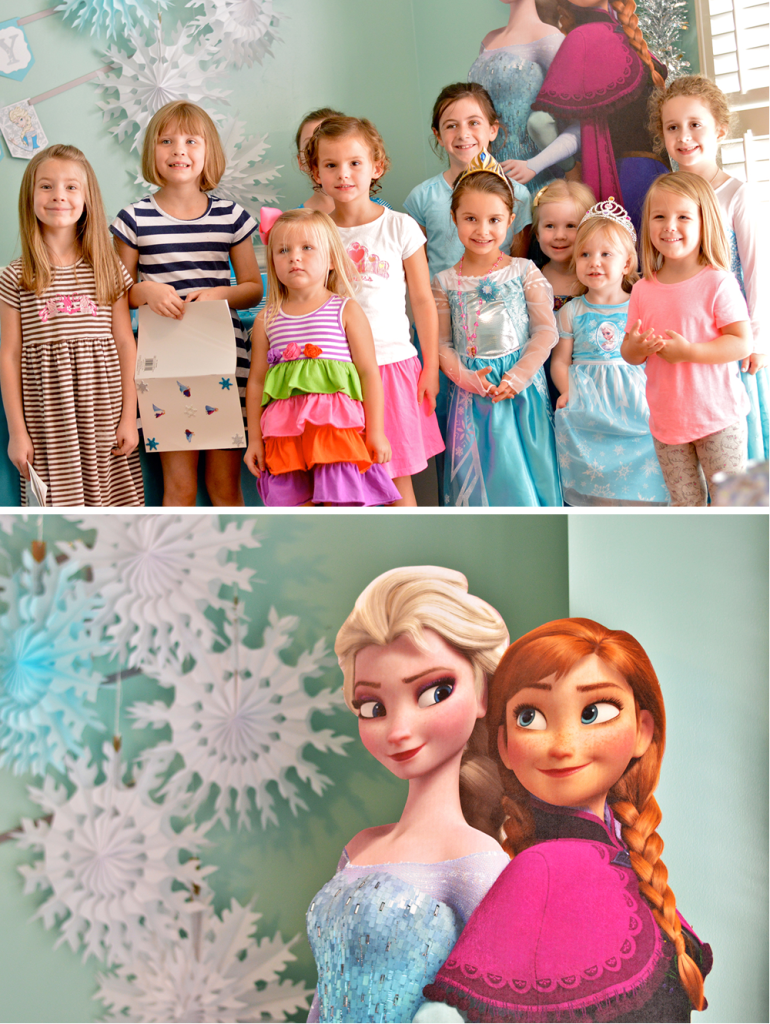 One of the cutest moments was Sienna blowing out her cake.
I just loved her smile! One thing I forgot was candles…
so was super thankful we had these green ones in the pantry from Ben's birthday!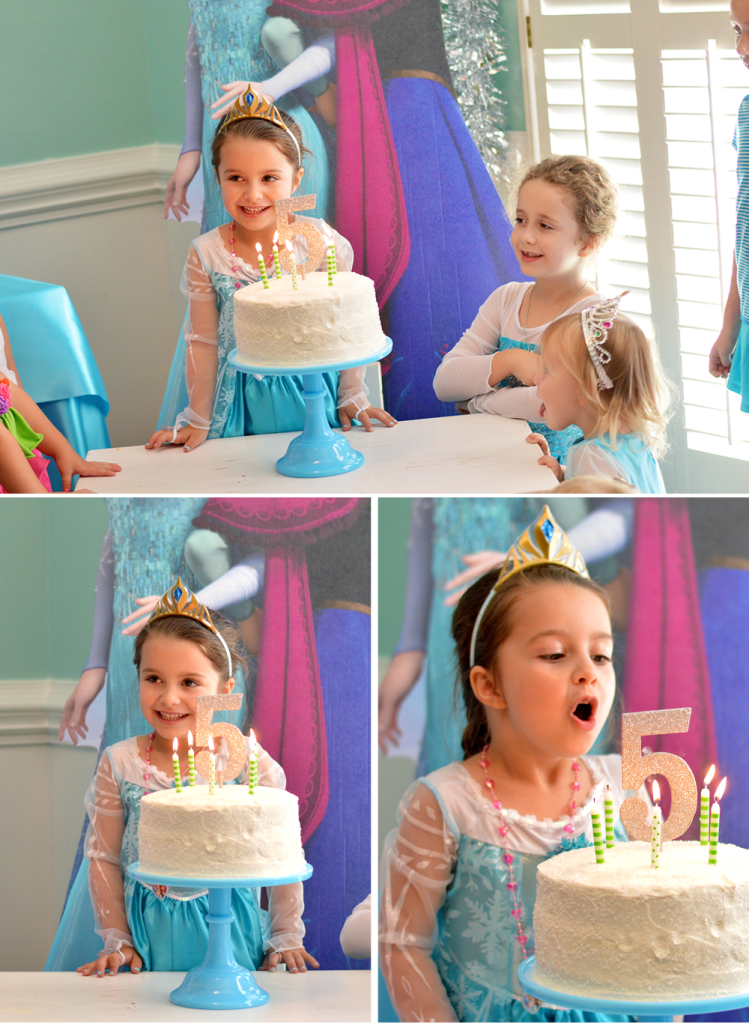 The Frozen Themed Piñata was from Birthday in a Box.
Sienna had been talking about wanting a piñata for months!
Daddy strung it up in the tree but ended up holding it for our little princesses to get a
good swing in with micah's bat. haha.
(It comes with pull strings, but we went old school.)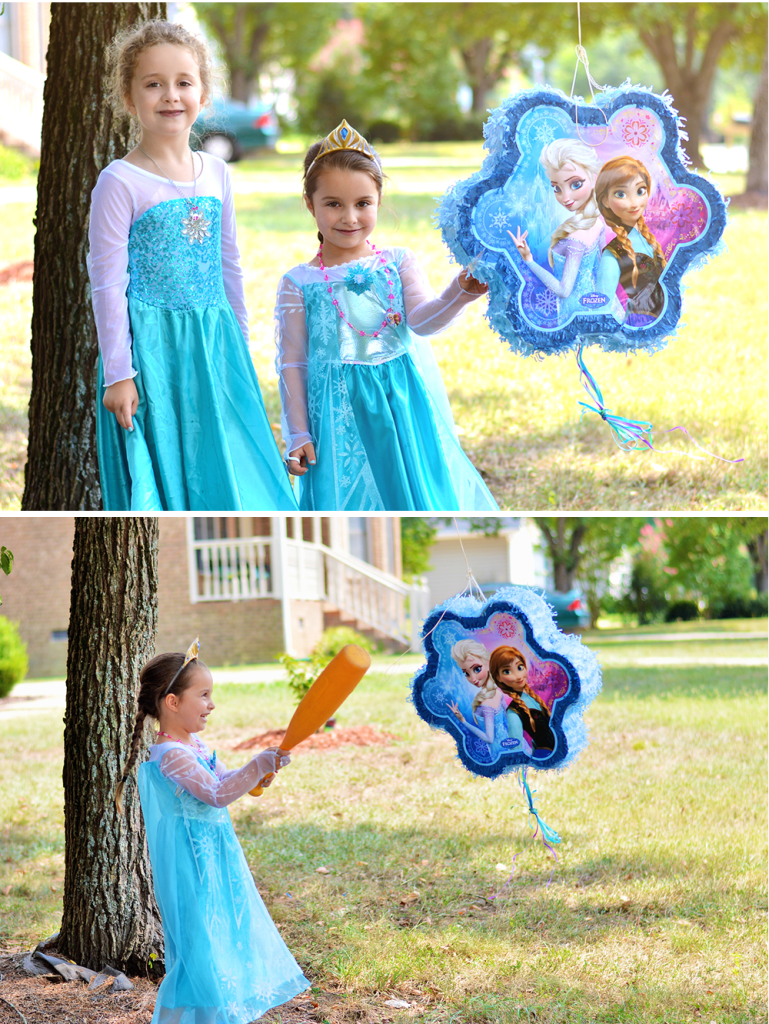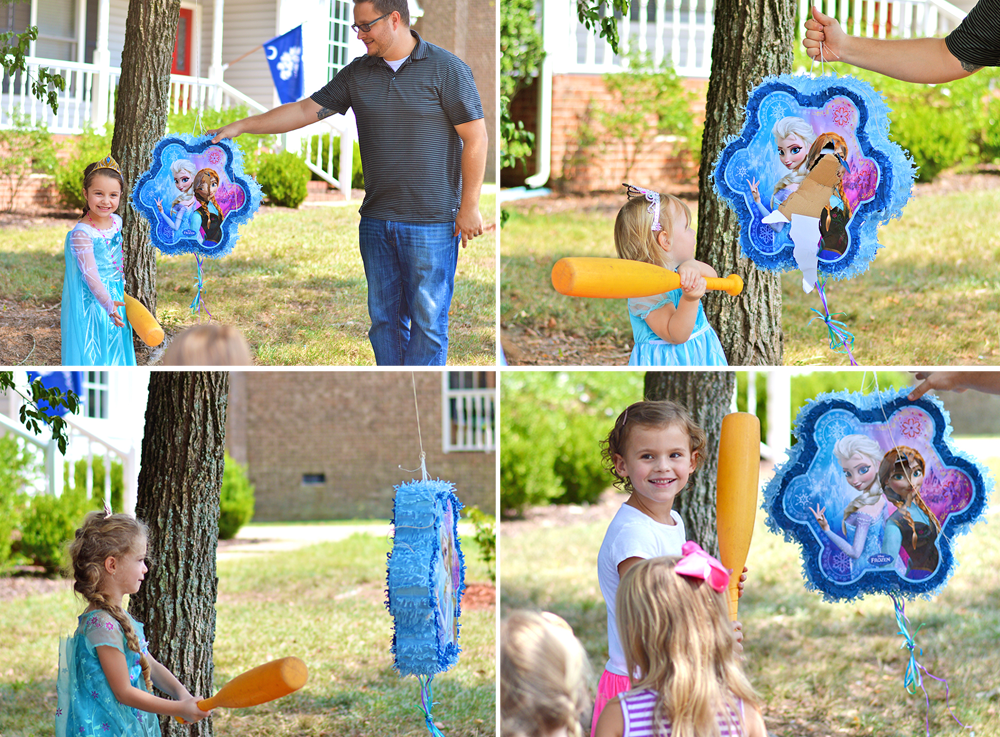 It was so cute seeing all the little elsas (and annas) outside in the sunshine!
When that candy hit the ground it was pure chaos! haha.
The elsas used their layers of tulle to hold their candy…smart.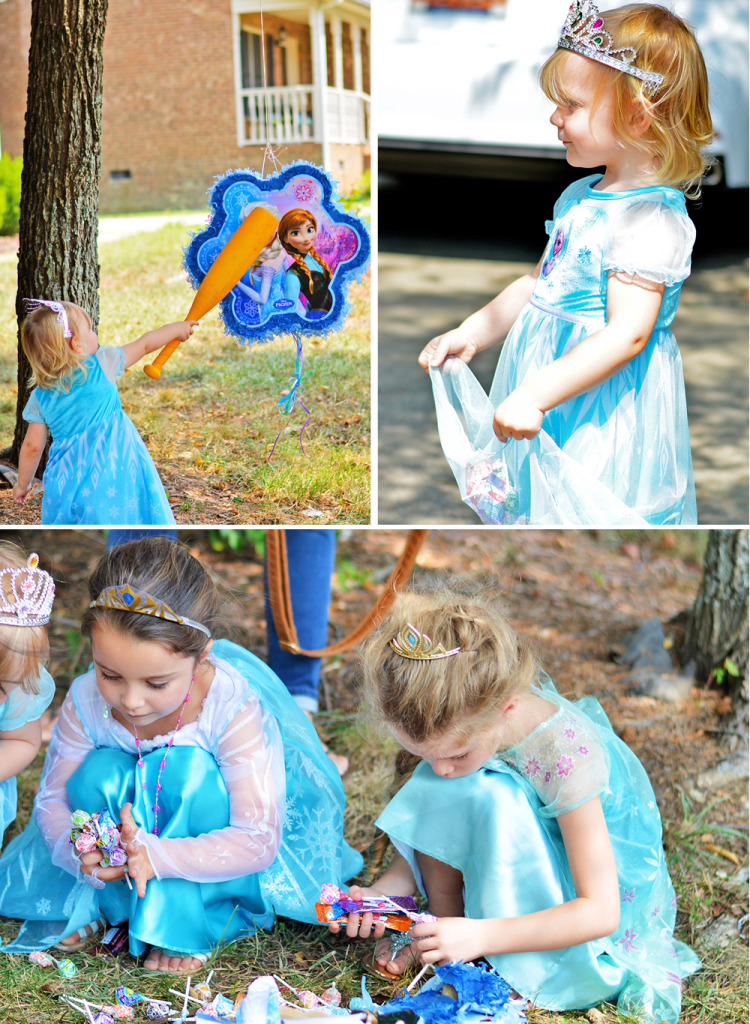 I had a fun little photo op area set up in our kitchen.
The Fabric Garland and Photo Booth props are from All Diaper Cakes.
The girls loved picking their prop and posing.
We did a 1 2 3 "let it goo!!"
It was the cutest elsa line up ever.
Sophia and Sienna did practice runs all morning before the party haha.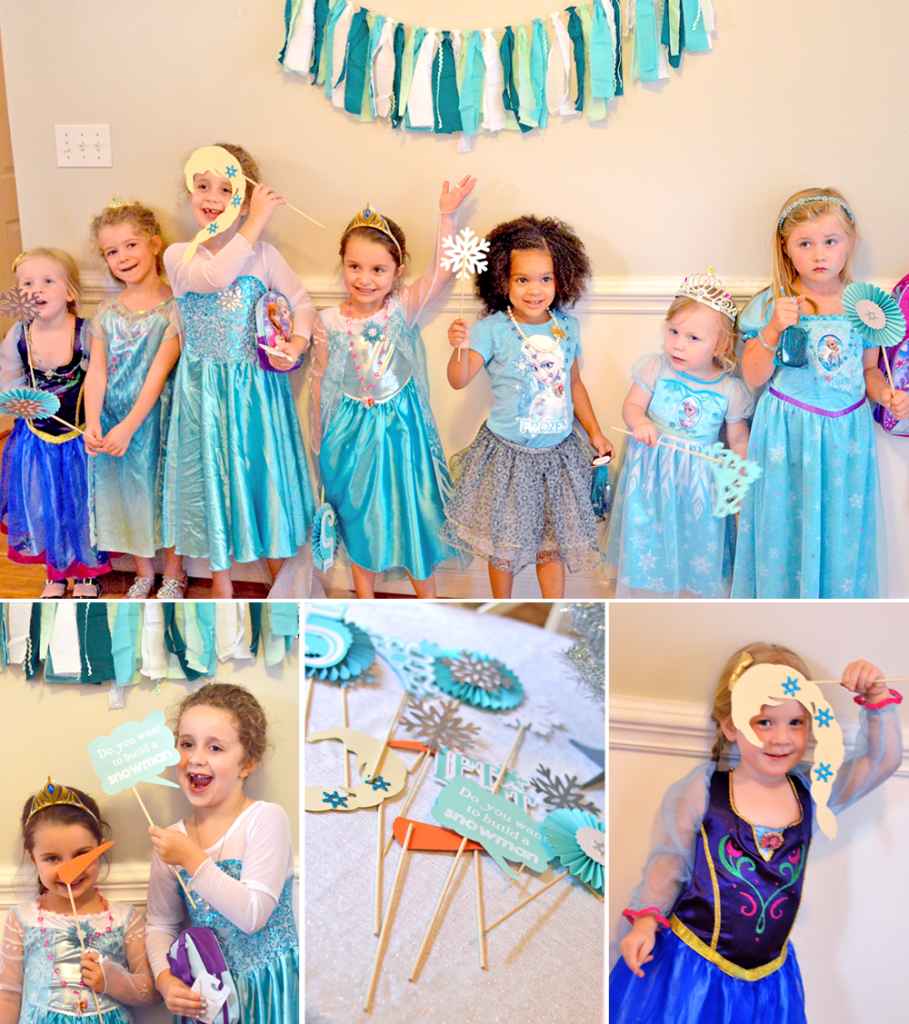 The Favors for the party guests were these frozen necklaces from Birthday in a Box.
and Pretend Play Makeup from Little Cosmetics!
I am OBSESSED with this toy for little girls… I found them via Instagram and
have told EVERYONE I know about them.
My girls love how they look and feel and will spend forever doing each other (and my) makeup.
They sent me a preview pack of their Birthday kits.. where they have the tulle bags coordinate
with the colors of your party, and include a bigger set for the birthday girl!
They launched them today on littlecosmetics.com!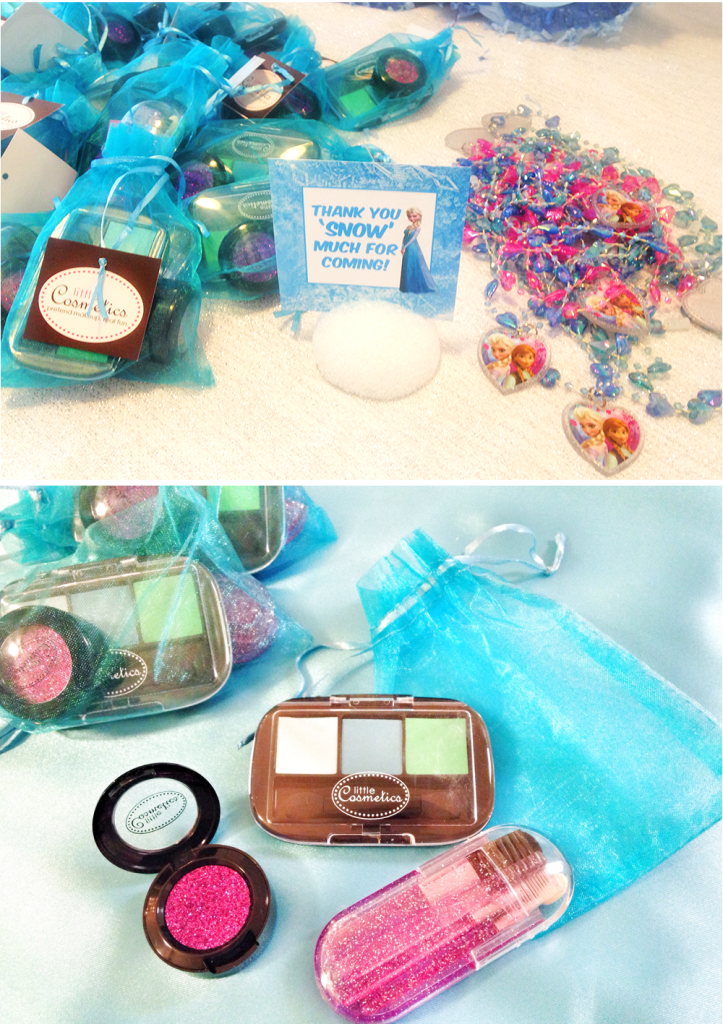 Sienna was so blessed by her friends with fun gifts!
Super cute presents… Time for thank you cards. ;)
The Tassel Garland was by All Diaper Cakes!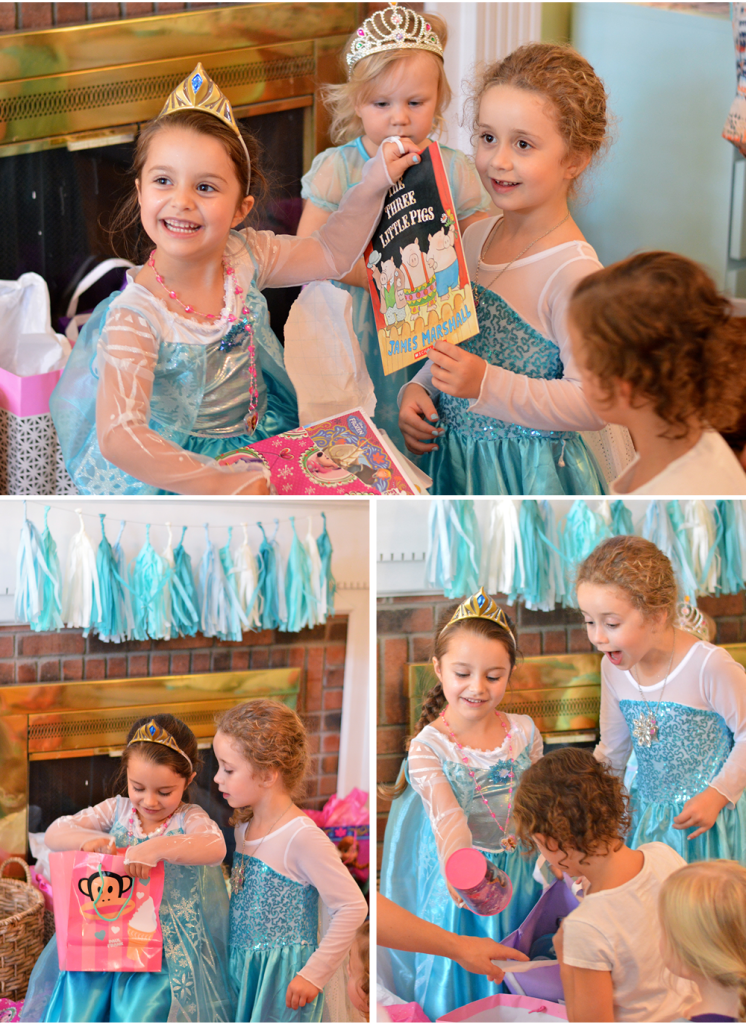 So much blue in our house! Loved celebrating our sweet Sienna with friends and family. :)
See that cute baby?? That's my newest niece. she is pretty much perfect.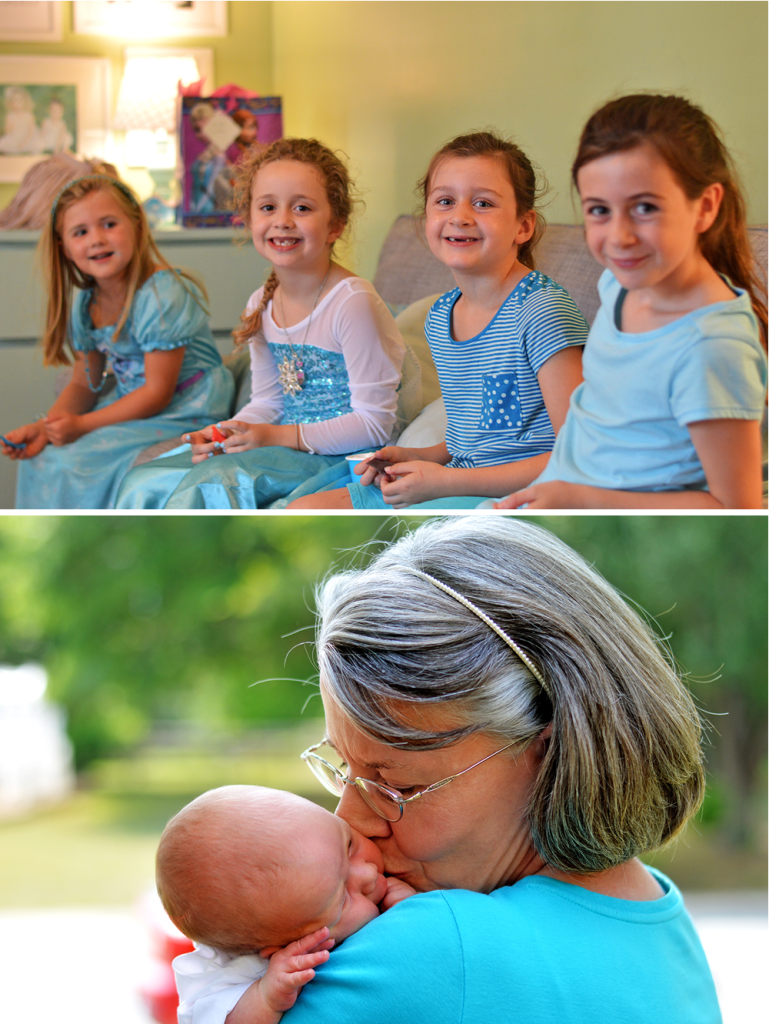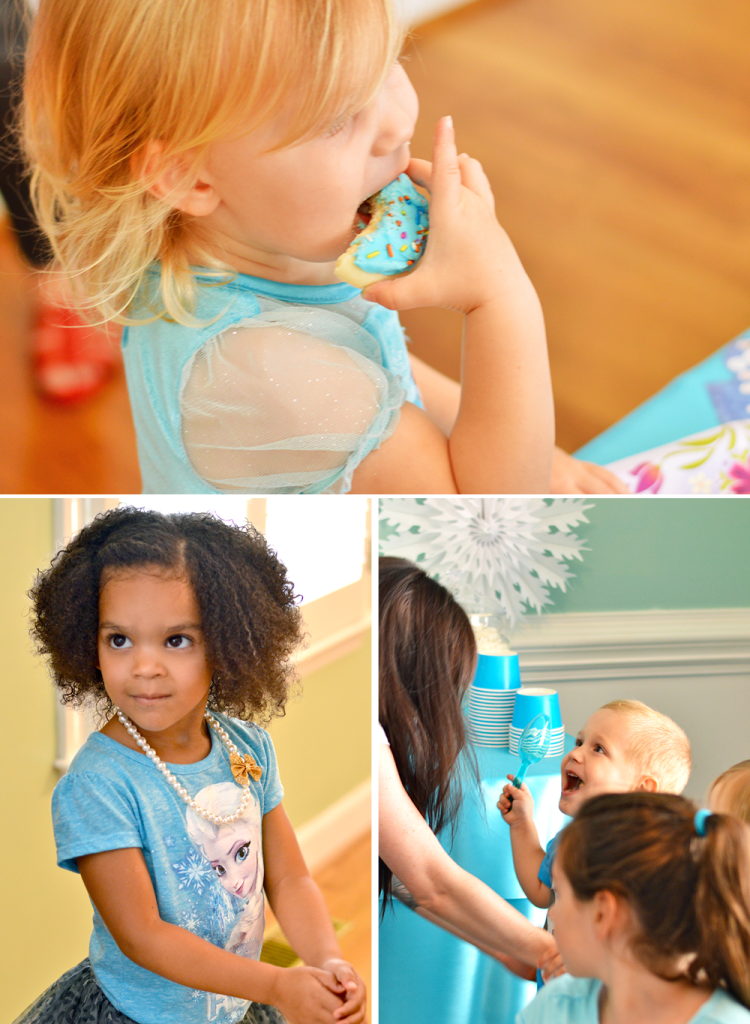 My Sienna loves to color in notebooks and journals… so I ordered some blank white paperback books
off of Amazon. I found Stickers at Walmart and stick on foam snowflakes at Hobby Lobby.
I used our old coffee table covered in matching fabric and set up a little craft table for the girls!
It was super cute watching them decorate their Elsa Books to take home. Sienna has been adding to her's daily.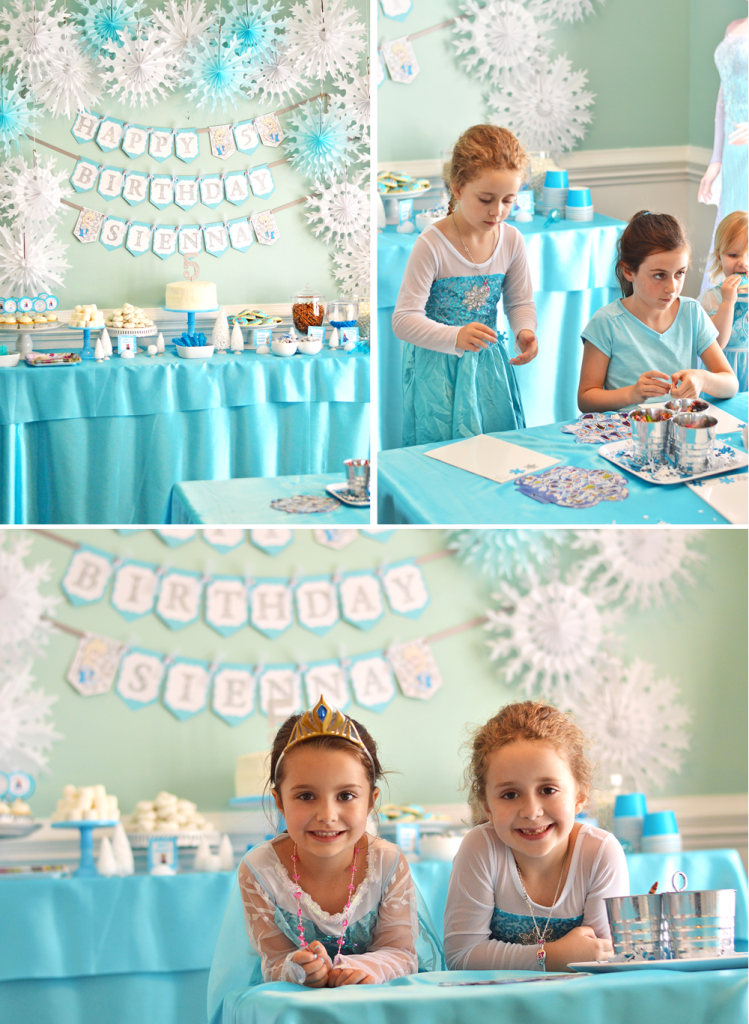 (silver crayon holder from Target bargain bin area-this summer.)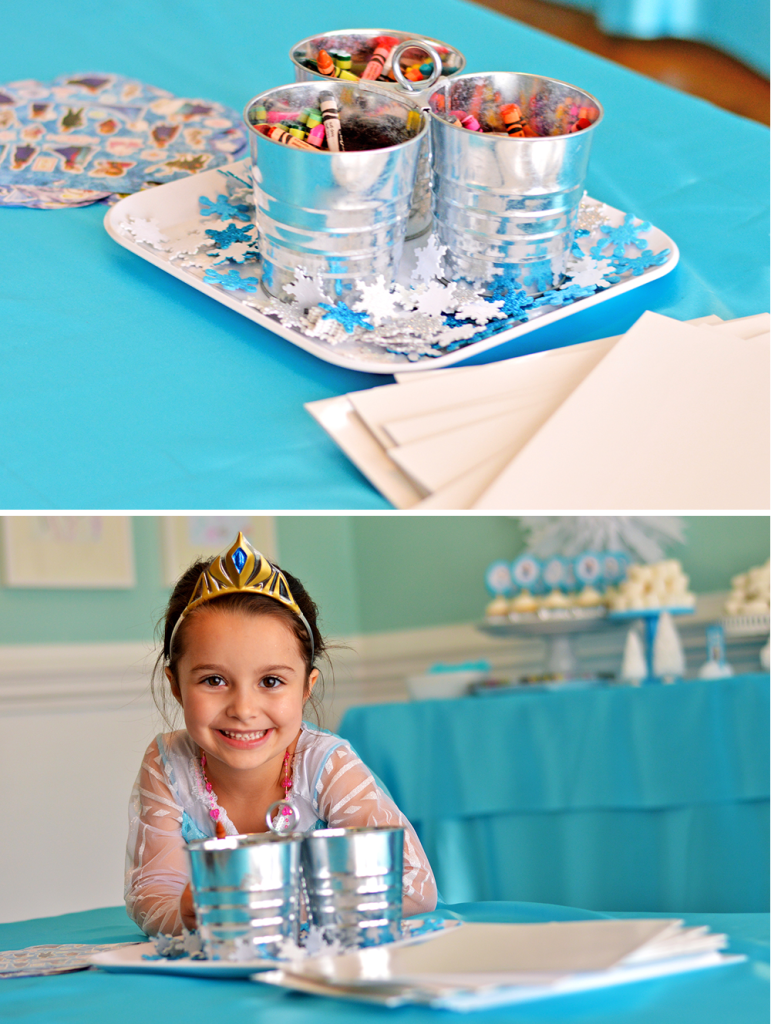 In the kitchen I had put out blue gatorade, blue cups (water from fridge)
and these fruit juice box things that I NEVER buy because it gives me anxiety how messy they look haha
BUT for Sienna's birthday..we went crazy and got them. ;) Minor spillage.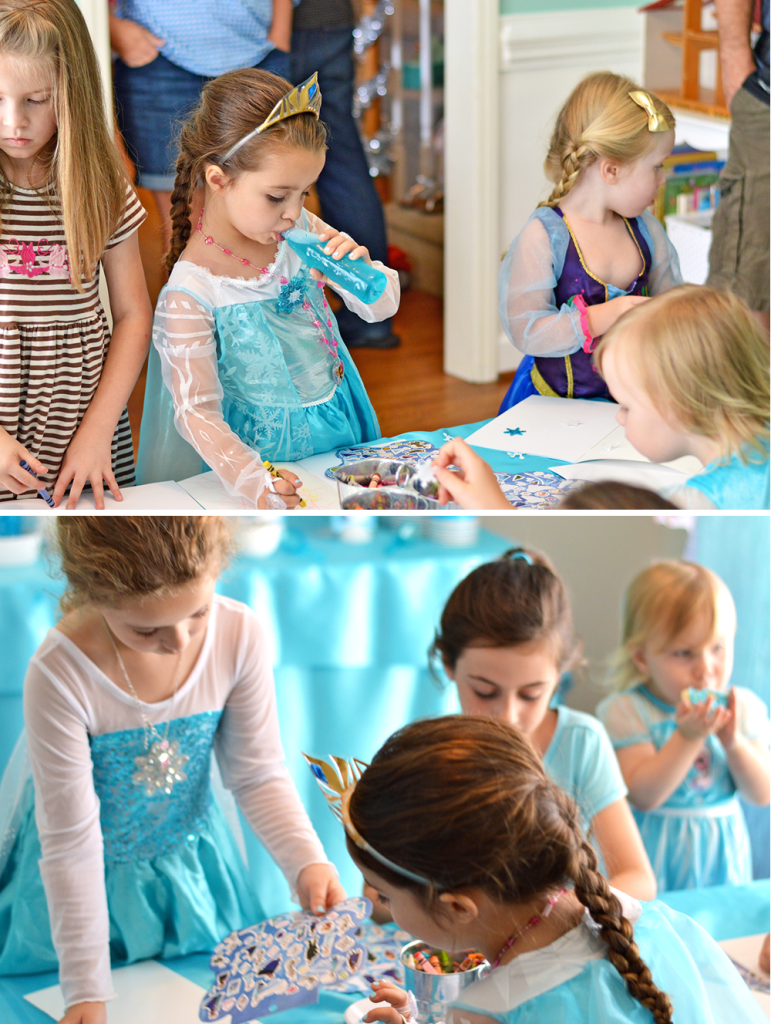 Thanks for stopping by and checking out Sienna's Party!
Big thank you to the wonderful brands a part of her special day.
Zurchers    Birthday in a Box    CraftyXochy    All Diaper Cakes    Little Cosmetics
I especially want to thank Palmetto Charm Photography for capturing these sweet memories for us!
Reach out to her if you are in the Rock Hill, SC or Charlotte, NC Area! – FACEBOOK   INSTAGRAM
Hope you found some Frozen Party inspiration!
You can see the party featured on Zurchers.com Here!
It was so fun styling this party and putting it together for my Sienna.
She kept hugging me and saying you're such a nice mommy! haha.
We had some sweet moments during the party planning, during and after..that I wouldn't trade for anything.
Love making such fun memories with my kids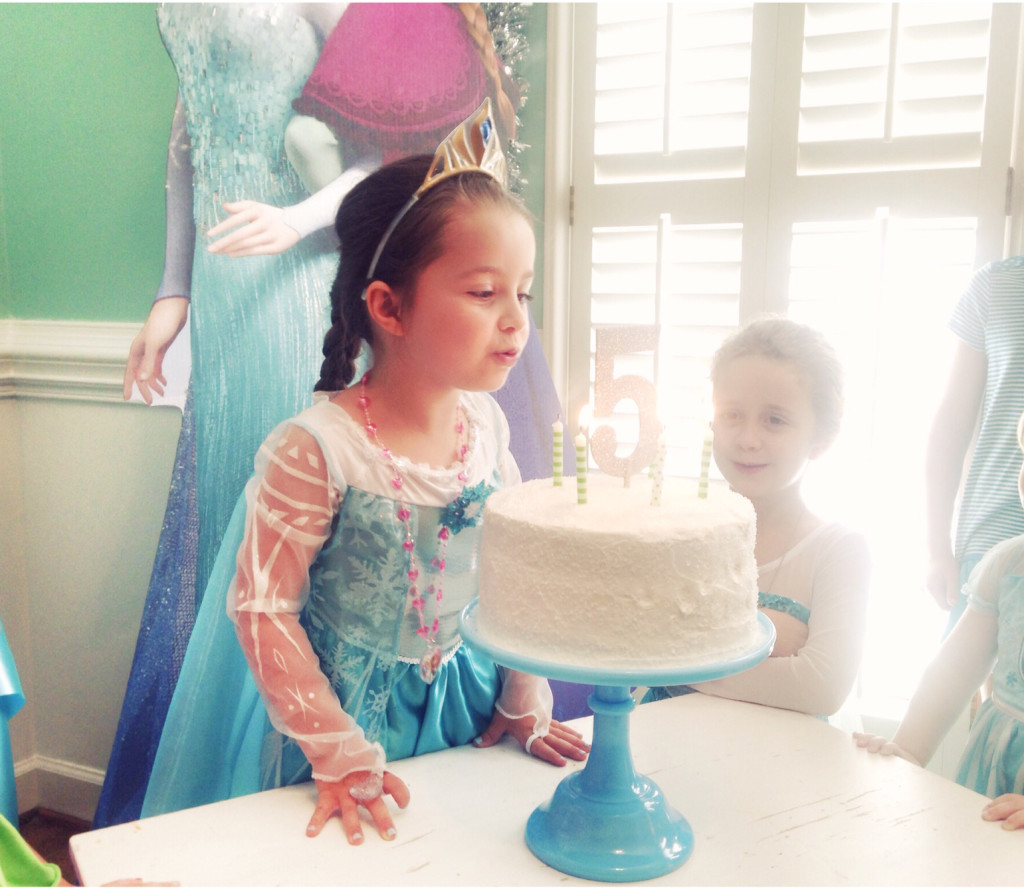 Follow me on INSTAGRAM! Here's the #siennasfrozenparty!
Sophia's Princess and Knights party is NEXT SATURDAY. lol.
So as soon as this post goes up, it's party planning for her around here!
She just found our pumpkin cookie cutter…"CINDERELLA!!"
Follow on INSTAGRAM for sneak peeks of party planning for her!
FREE Meal Gifting Printable
We all know someone who would appreciate a yummy home cooked meal delivered right to their doorstep! This gift idea is perfect for a family who just had a baby, adopted, is sick or as a random act of kindness! Grab my free printable!