Today is my due date! So of course instead of giving birth,
I'm going to blog my maternity wardrobe staples!
haha.
This is our fourth baby, so I had some staples already, and then got a few new tees and dresses.
I'm all about comfort and classic pieces you can mix up.
I'm not too fancy when pregnant. I like my wardrobe to be feminine, slimming and EASY.
So…plenty of black and dark wash skinnies! I like tops that define my bump so I don't feel washed out.
These are some of my favorite items that I most frequently asked about on social media.
Hope this post is helpful for any mamas trying to survive the pregnancy wardrobe crisis.
The struggle is real.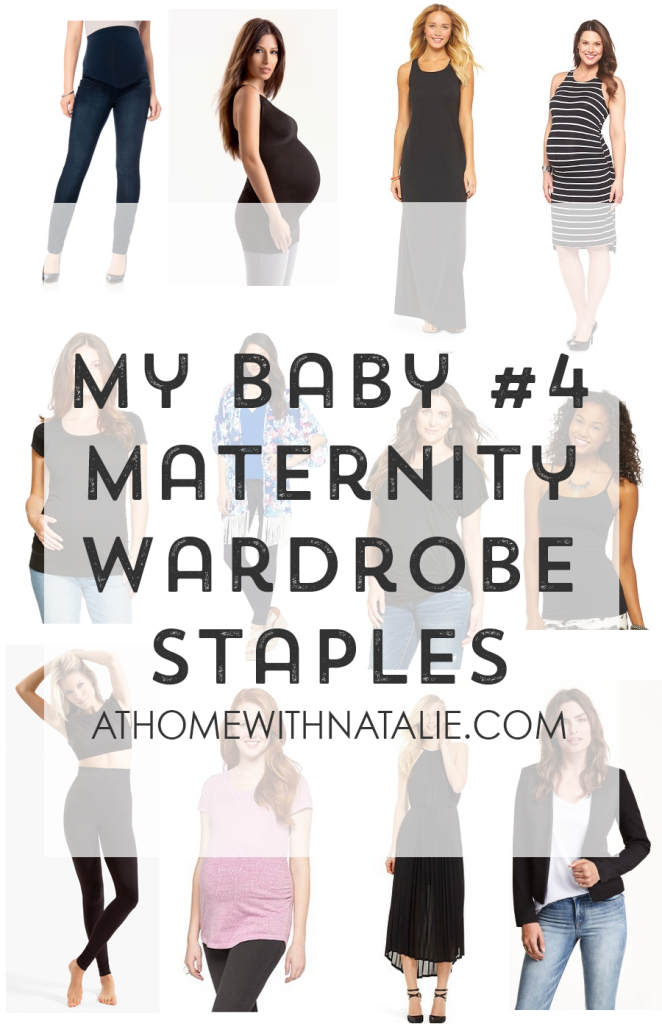 I've loved sharing my growing bump and having the photos to remember this pregnancy.
It really is a crazy thing, thinking there is a little baby human
in there and soon he or she will be in our arms!
I know I'll miss my bump, but so anxious to find out what we are having and snuggle up with this baby!
Links and details on each item below!
A lot of these are on clearance..so go check them out!
Hope it's helpful!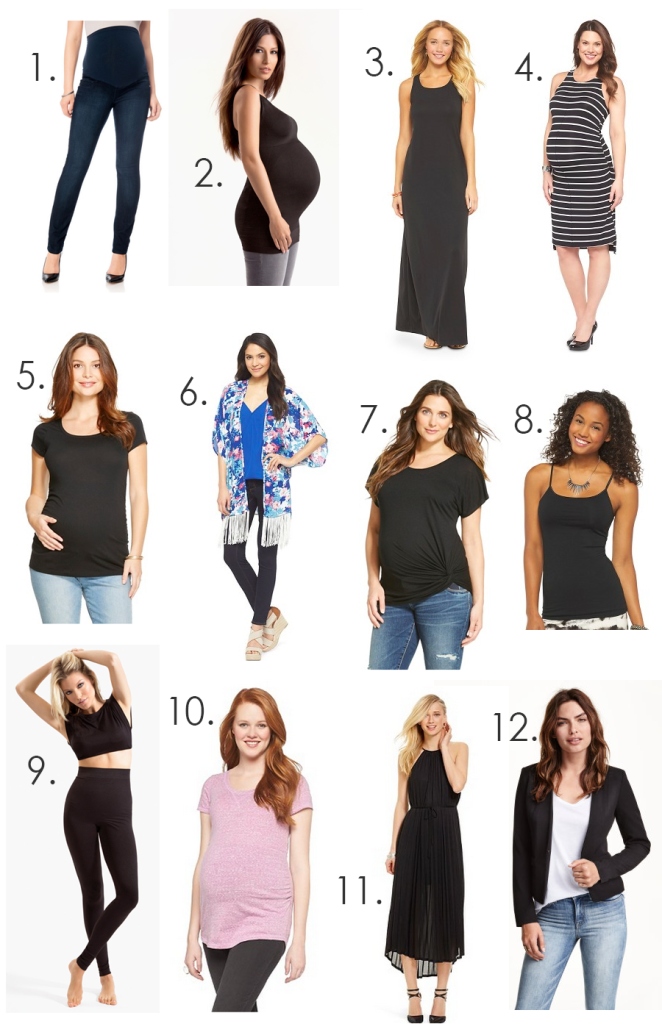 1. Skinny Leg Maternity Jeans – Motherhood Maternity (Indigo Rein brand!!)
I loveee these maternity jeans. And good ones are hard to come by.
The brand is Indigo Rein and I'm pretty sure I got them at Motherhood Maternity or Marshalls.
I live in these. wash and wear wash and wear.
Have had these jeans through multiple pregnancies and was SO
happy when I opened my maternity bin and saw them again…a good pair of jeans is a must.
2. BLANQI Bodystyler Support Tank
I wore my size medium throughout my pregnancy.
It's amazing the support it gives your bump and how it helps smooth you out.
Now that I'm at the end of my pregnancy, sometimes I just
wear this and pajama pants around the house lol.  It's a must have for your pregnancy wardrobe.
(and I'm not just saying that because it's my sister's company! I wear it every day!)

3. Knit Maxi dress (similar dress)
This non maternity dress is similar to the one I have.
Just a soft knit long maxi dress. Comfortable and slimming!
Don't just look in the maternity aisles… target has some great non maternity options with stretch!

4. Liz Lange Striped Sleeveless Dress
This was a maternity dress that was SO comfortable.
You need some knit dresses with stretch! I loved the length of this one.

5. Scoop Neck Short sleeve Tee
Basic tee with a nice scoop. I usually end up getting a few new tees over the pregnancy as I grow.

6. Fringe Kimono (similar kimono)
LOVED wearing my BLANQI support tank and my kimono!
This is another non maternity item from target's jr section and it was comfortable
and I always got compliments on it. I had a different color, but same idea.
Great layering piece!
7. Knot Detail Top
I loved how this top cinched in around my belly… helps define where the bump stops and
the rest of you continues, so you don't feel so much like a blob. ;)

8. Basic Cami
In the early weeks of my pregnancy, when I didn't need as much support from my BLANQI tank,
I would wear these basic camis to add a little length and layering to smooth me out.
I wear these all the time in my non pregnancy wardrobe.

9. BLANQI Leggings
It's like wearing pajama pants but being able to call them pants. haha.
I usually like wearing something to cover my bum in them, but they are great for layering.
Put them with a tunic and a sweater and it's the perfect comfortable fall pregnancy outfit!

10. Liz Lange Soft Textured Tee
This tee is SO soft. I wish it was a little tighter under my belly, but at the same time, it is comfortable!
It's nice having a few types of tees, some more fitted and some a little looser.

11. Pleated Maxi Dress (non maternity)
This is one of my most asked about wardrobe items.
It's a non maternity dress from target that I got in the middle of my pregnancy and I
was able to wear it through the 9 months! It's pleated, and slowly the pleats were stretched out haha.
But it was really comfortable and feminine. Loved wearing it.
Nice flowy coverage. (wore with a strapless bra. I have a t-shirt soft one from target that is great.)

12. Fitted Blazer (similar option)
Another great layering piece to have… Near the end of my pregnancy, I've been wearing my BLANQI tank
and a blazer and feeling pulled together! It helps slim you down and emphasize the bump only.
---
This dress has been one of my favorites, and it wasn't even maternity!
It's from target and is on clearance RIGHT NOW for 9 bucks on target.com!
Pleated Maxi Dress.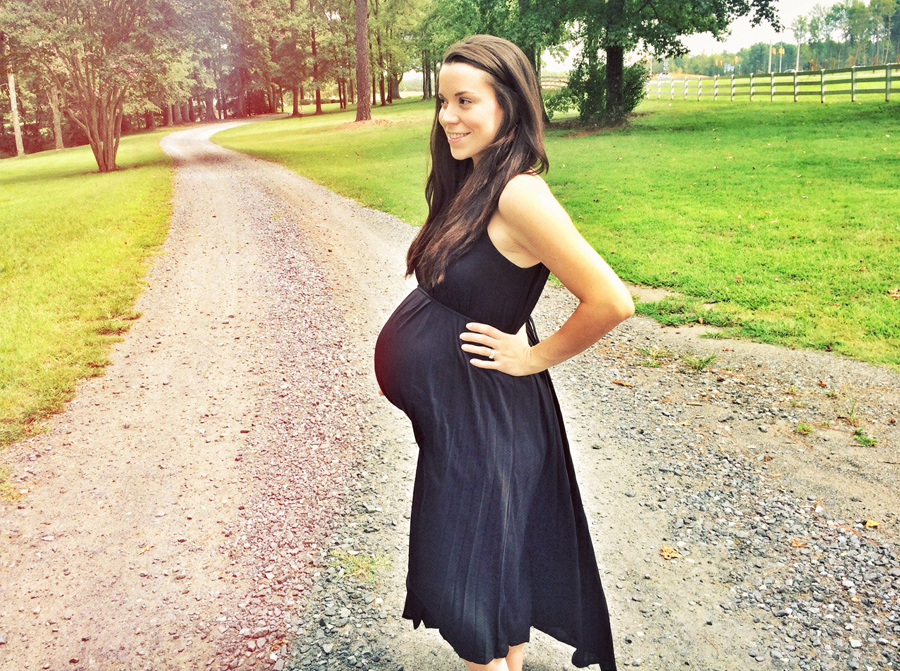 Hopefully the next post is a baby announcement!! eek! ;)
I'll be sure to share updates on social media.
INSTAGRAM.