Micah came home from school one day and somehow convinced me
that we should make something fun Dinosaur themed!
A quick dig through the pantry and I found we had some
leftover bags of mini marshmallows and some Rice Krispies!
BOOM. Dino Eggs.
You most likely already have the ingredients for this treat too!
It didn't take much to work up this cute Dino themed treat and my boys were freaking over them.
We had sone skittles from another fun project and they each helped put some inside of the eggs.
Sometimes it just feels good to say YES to the crazy and jump in- Play big!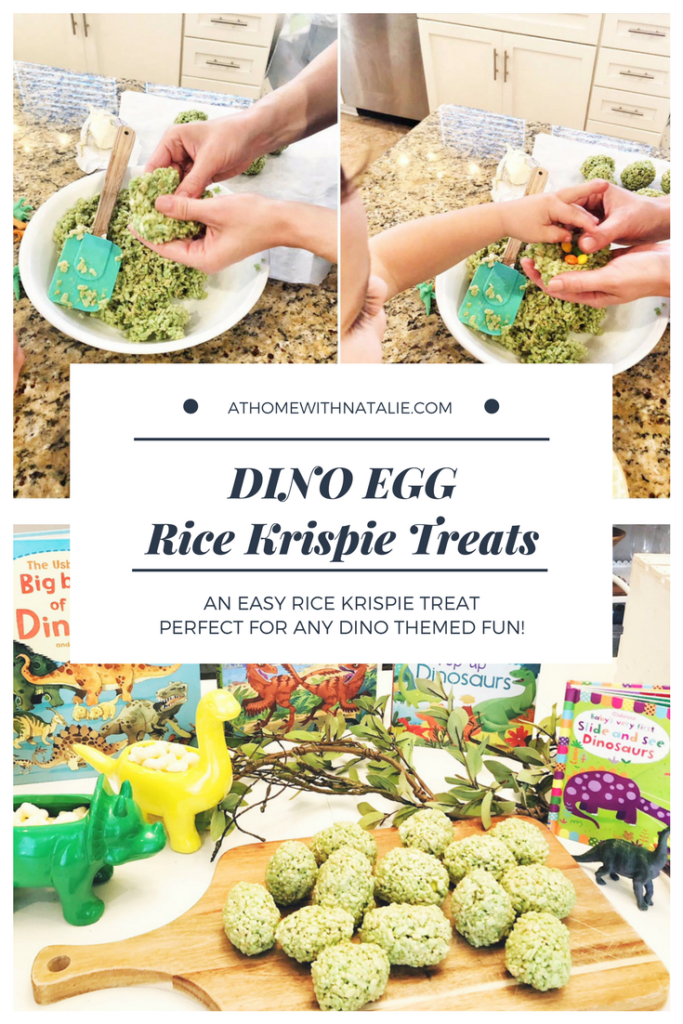 Micah quickly gathered up all his Dino books and toys and we set them up on the table.
I had gotten some Dino containers from the Target Bargain bins
to use in the boys' room…BUT they looked like the perfect snack containers in their eyes. haha.
We filled them up with popcorn booty and it was a party!
Micah announced it was officially Dinosaur Day and you better believe we are going to go all out for that! ;)
We made an afternoon of it and I was so glad I chose making Dino eggs and
having 'over the top' boy time with my kids instead of the
to do list that I was focused one earlier. This was way more fun!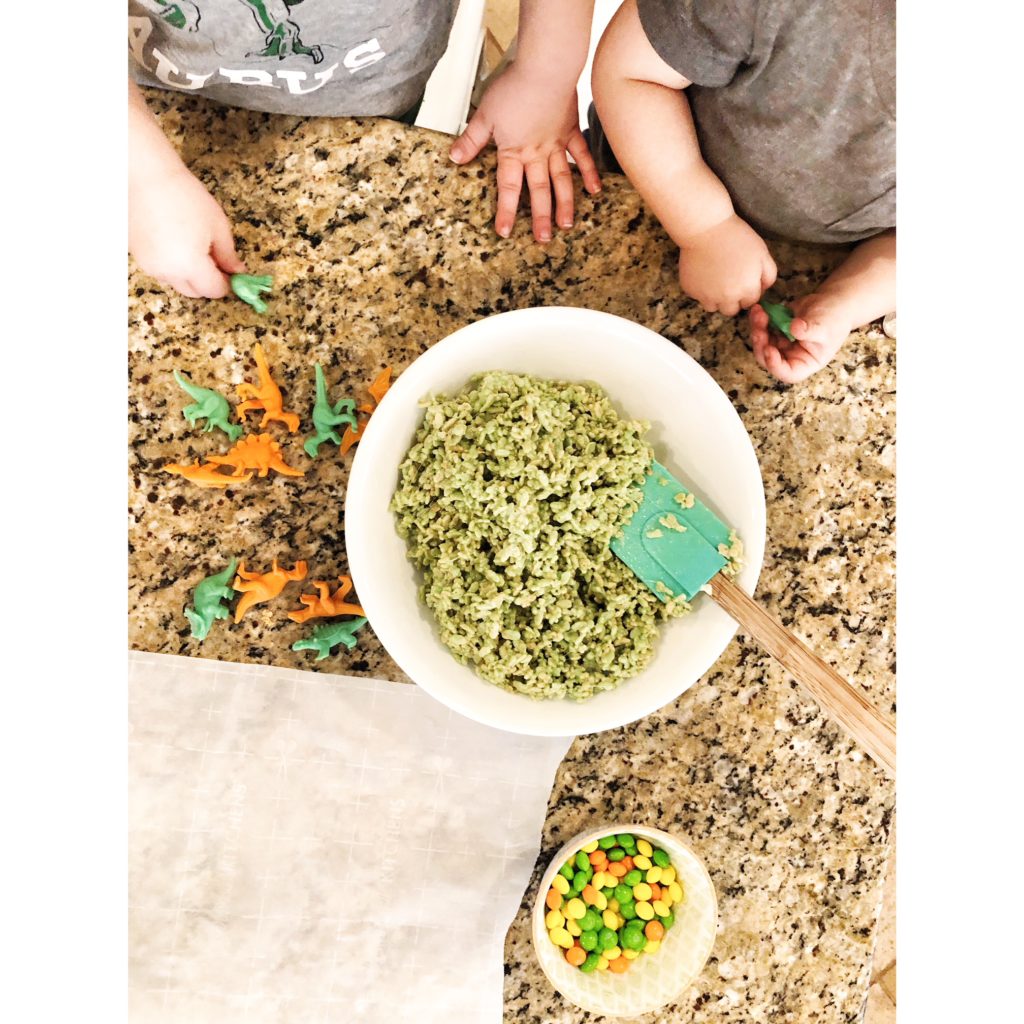 You know what really sparked all this??
Those little Dino toys were in the bargain bins at target and I got them for a later day.
The boys found them and thought they were just amazing.
Hence… all the Dino themed talking started and we ended up here!
Not mad about it one bit. ;)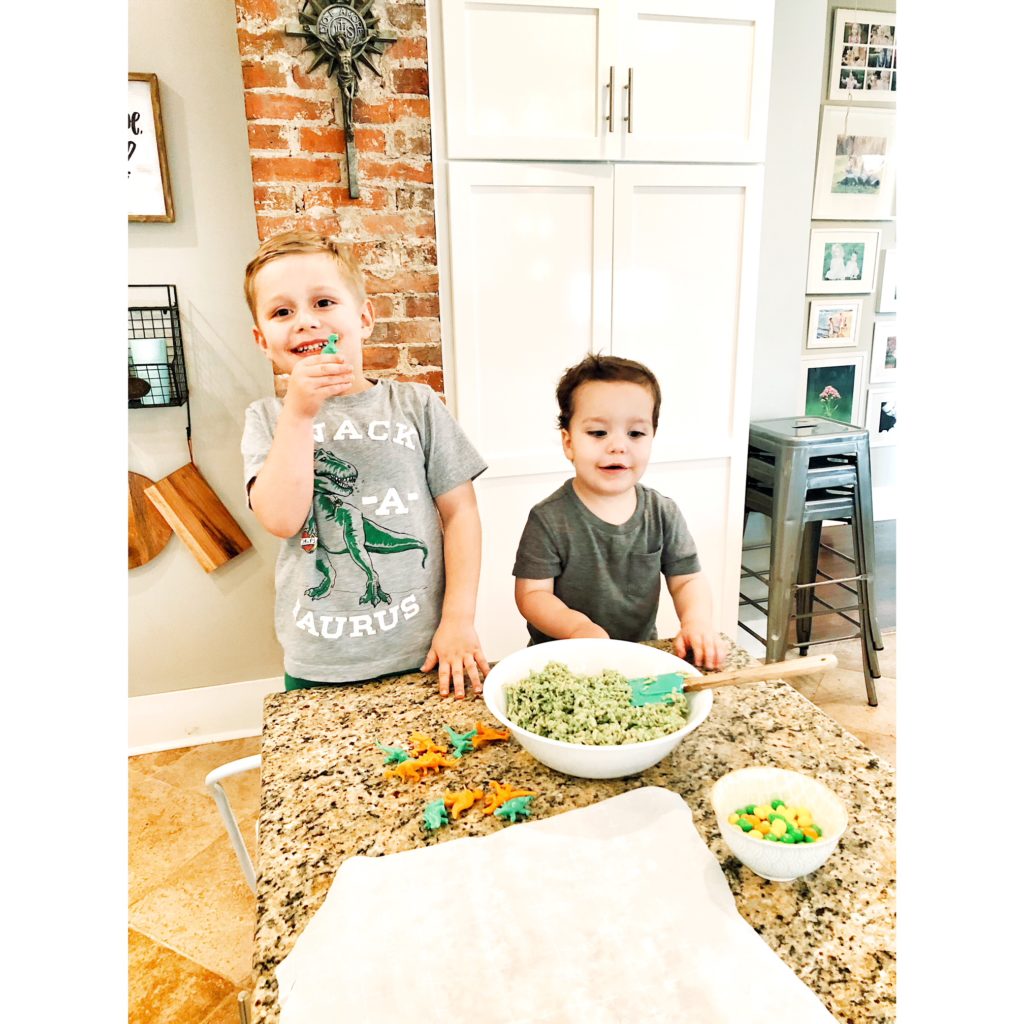 Plenty of skittles were snuck during this treat making session.
I asked them to say cheese for a photo and that right shot is what I got.
Pure pain lol. But they survived it. phew. close one. haha.
They felt like such big helpers as they used their sticky little fingers to put the skittles in.
I'm a pretty chill mama but plenty of times I'll take over to make it go easier or quicker…
But this day was one of those days I made a decision to say nope… time to slow down and make a sticky mess.
It can't be my choice every day… or else the house would go bonkers…
but some days it's the BEST CHOICE.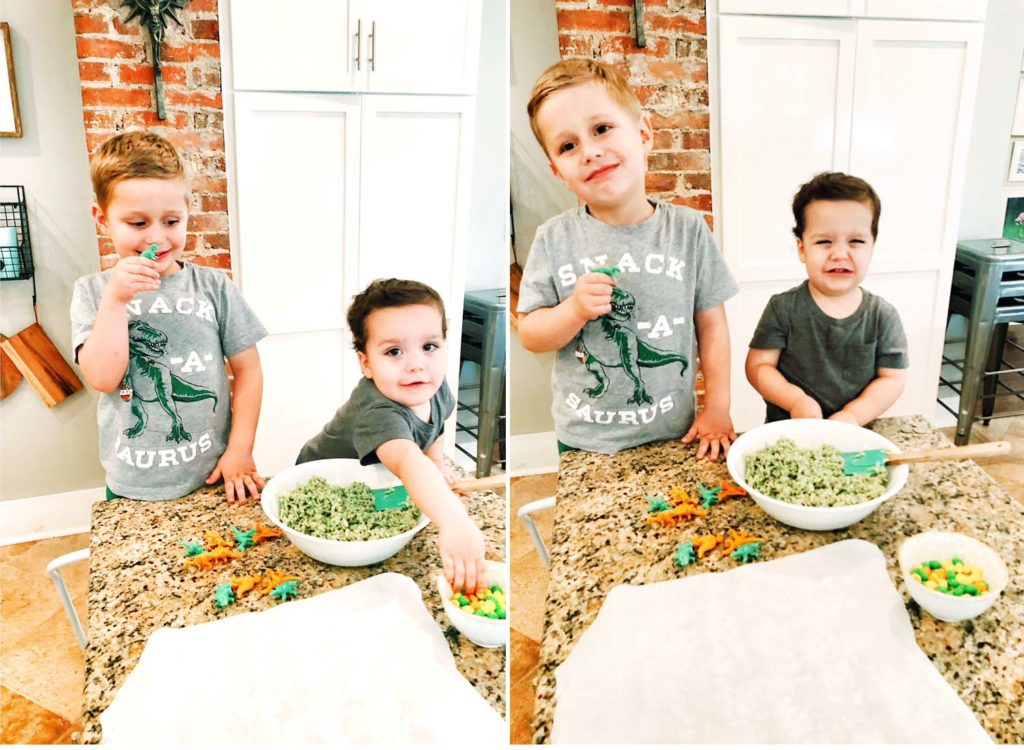 DIRECTIONS:
I made the Rice Krispies using the classic recipe by Kellogg's
When the marshmallows were melting I dropped in some green food coloring and just kept on stirring.
Then add in the Rice Krispies like normal and mix together.
I lightly buttered up a bowl and let the Rice Krispie goodness cool down a bit.
Then I just made a little nest for the boys to lay the skittles in and then smooshed it over and into an egg shape.
We were thinking of putting the Dinos inside but felt like the eggs would have to be too big.
(Boys didn't object to that but mama said too big. lol.)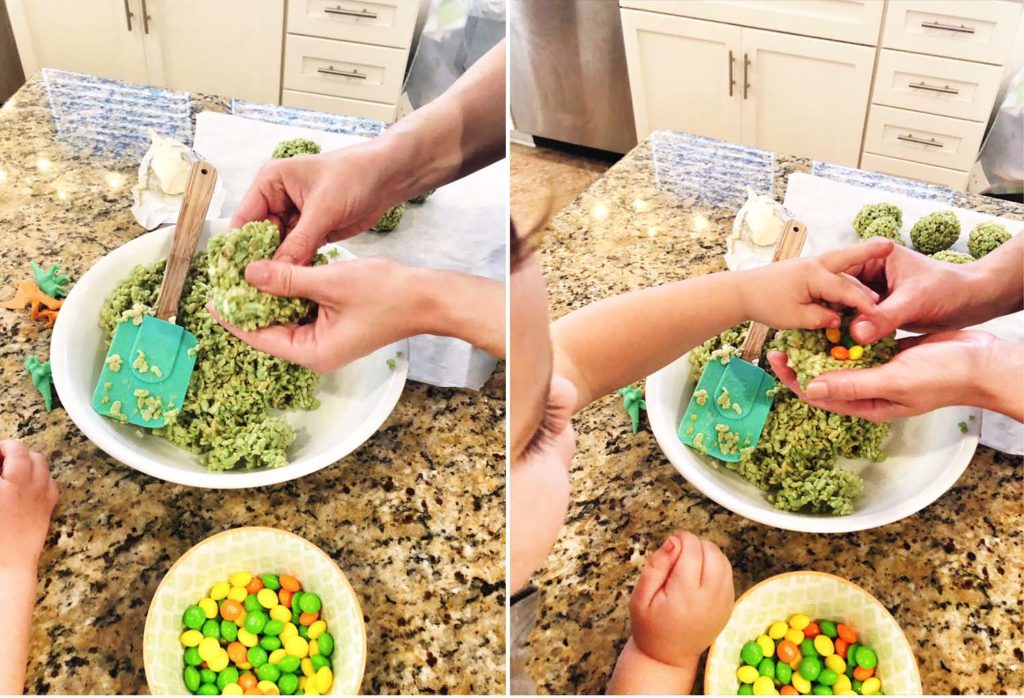 These are an easy treat to make up for your own Dino themed birthday parties or play dates.
Or maybe you want to just have some fun time with your kids like I did.
They grow up so fast…I love creating these whimsical special moments with them
Micah came out of the laundry room with the white crate and greenery garland.
(like the little party planning apprentice he is. hehe.)
I'll never forget their faces as we played dinosaurs together
and snuggled up on the sofa to read the books.
The boys wanted to roar like Dinos but…
Asher's Dino roar turned a little zombie on us…..scary. haha.
Also Sienna won't turn down a photo op. haha she jumped right in with the fun at this point!