Today I'm sharing the final video in our Creative Learning Book Series
where we combined a few of our favorite things…
crafting, snacking and reading!
It's funny seeing this video because we filmed it in our old house.
That was such a great bright room and we loved crafting in there.
My mom has the green thumb of the family and every time we read
our book, 'How do flowers grow?' we think of her!
It's a gorgeous book that's filled with information in such an engaging way. My kids love it.
Spring is just around the corner! Here in Louisiana, things are
already starting to bloom and it makes my heart happy!
We had fun with a flower treat of candy and fruit…and a sunflower craft that we still
have hanging up in our playroom because it's just too pretty to take down!
Painting with toothbrushes is the best thing ever. ;)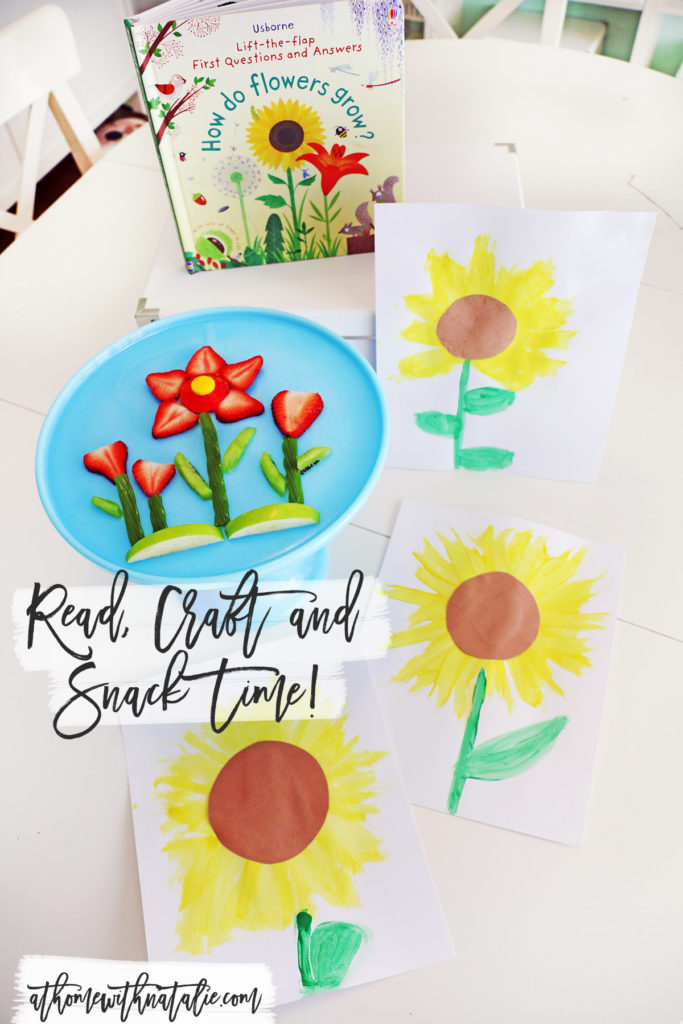 I hope you join us in having some fun craft,
snack and reading time with your littles!
The kids look so much younger in this video… I can't handle it. can't can't. ;)
And seriously guys isn't this book gorgeous?! I secretly bought it for me. haha.
So pretty!

Thanks for stopping by for another post
of my Creative Learning Book Series!
You can see all of the posts I've shared, so far, Here!
We love Usborne books and these are just a few of our favorites.
I'm in the middle of editing a video that Sienna made
sharing fun Usborne activity books for girls! Can't wait to share it.
I have a feeling you are going to love the Wild Garden book if you love flowers!