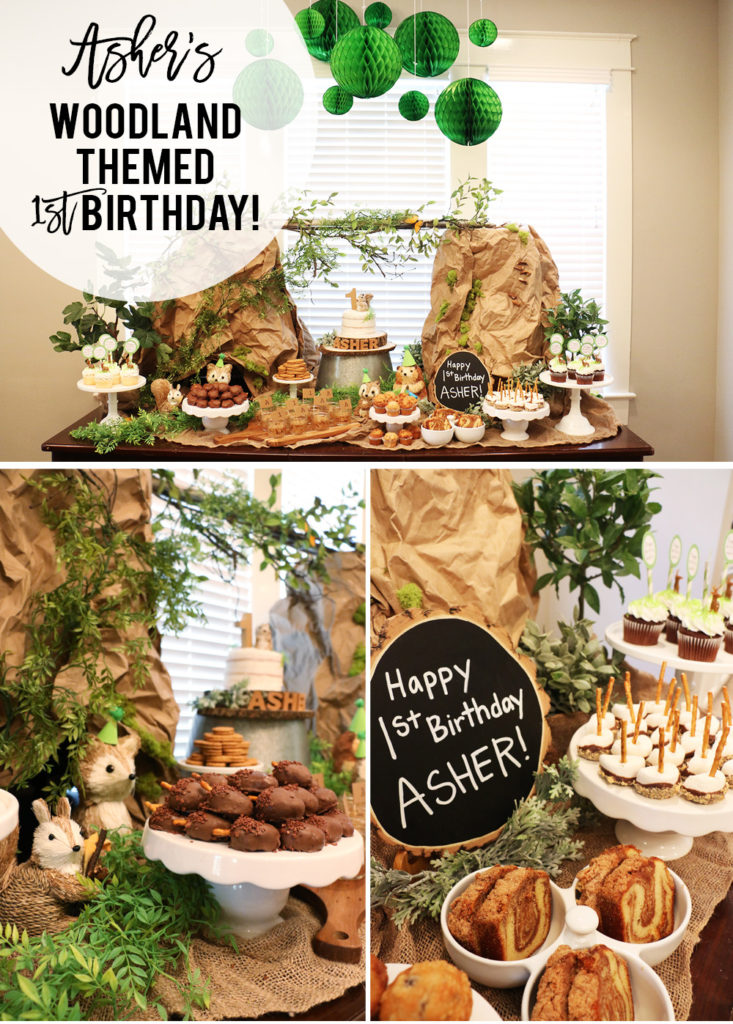 Life has been busy lately but I was determined to get Asher's birthday party on the blog this week!
Determined!! haha.
So… even though it's a tad late, and probably with some typos…
here you go! Asher's Woodland Themed First Birthday!
He has always been a little chubby guy from the start. (two weeks in he chunked up!)
I had been thinking about doing a woodland/baby forest animal theme, and when I saw the chubby little
squirrel ornament at Hobby Lobby I KNEW I had to do it. ;)
His arms are pretty proportional to Asher's. haha.
I set up two little party tables and used some good bang for your
buck DIY's to really have fun with the theme!

We were so excited to celebrate our Asher!
He has been such a blessing to our family and I can't imagine our crew without him!
He's like a big ol' teddy bear. cuddly and..large. haha.
It's been so fun seeing his personality come out these past months…
He is for sure a silly guy like his brother. He does this fake laugh… and silly faces.
All about cuddles…falling asleep snuggling with Ben the other night.
But then ON THE GO now too. Sloppy walking all over the place. :)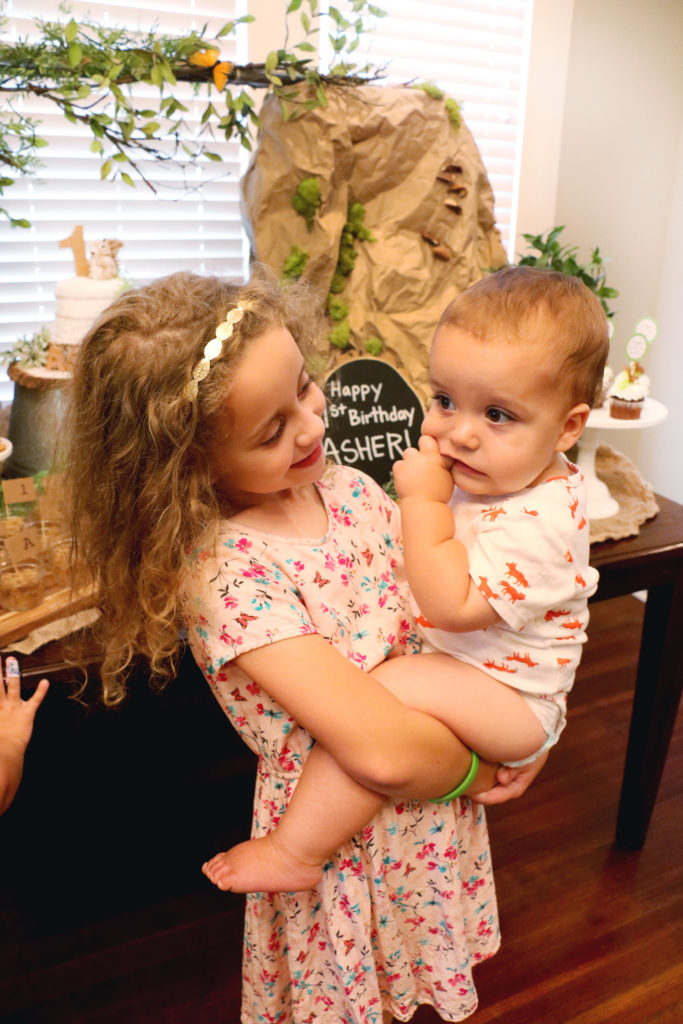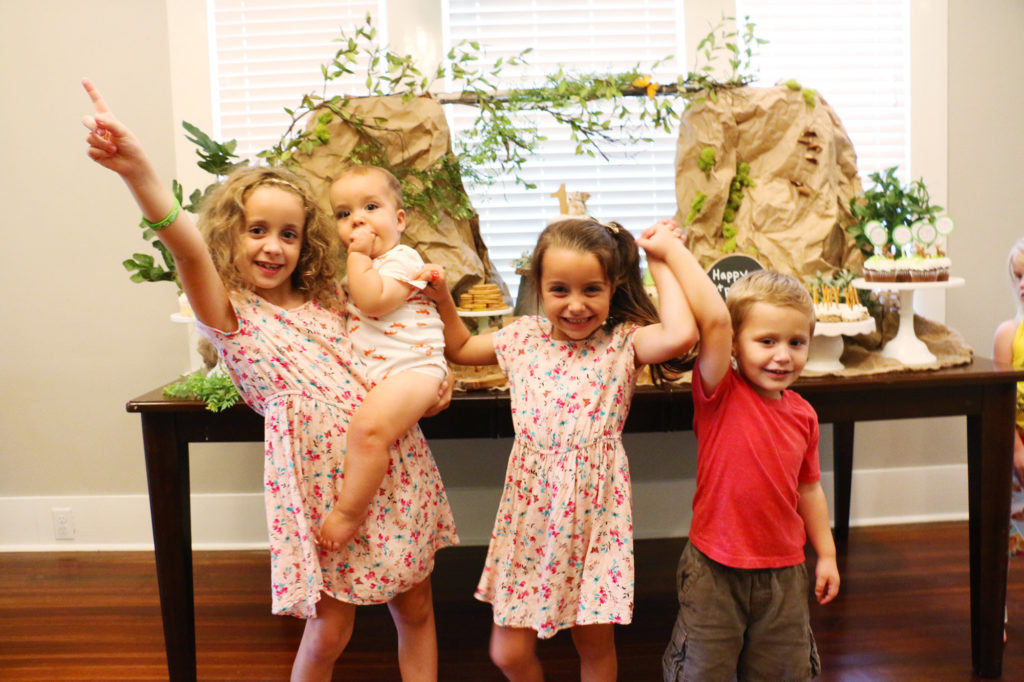 For the main Dessert table…I wanted to create a Forest!
I hung up paper Honeycombs from Zurchers.com
So I took two of my kitchen island stools, turned them upside down, wrapped some
large sheets of crumpled up kraft paper to them and attached with tape!
I used some sticks that I got on sale at Michaels to connect the two stools
and drape greenery across the sticks and brown paper.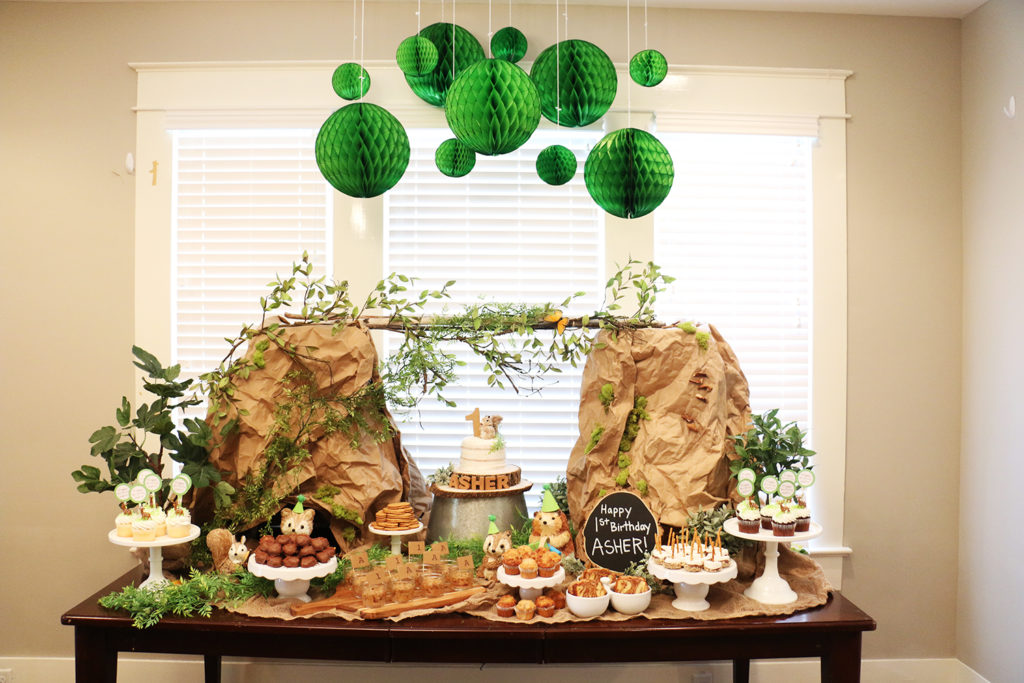 I knew that I had to be crazy and hot glue some mushrooms,
from the produce aisle, onto the paper.
HAD TOO. lol.
My mom and I were cracking up. seriously though. HAD TOO.
I had some moss in my craft bin so I slapped that up there too…
It came in handy to cover a spot that kept wanting to open up…
and in the end made sense because the moss would have liked to grow there.
(correct moss placement people!)
You better believe we thought about that…haha.
We are crazy I know.. but the memory of that night setting it up
with my mom will be something I'll always remember.
Who knew hot glueing moss and mushrooms to kraft paper could be so fun.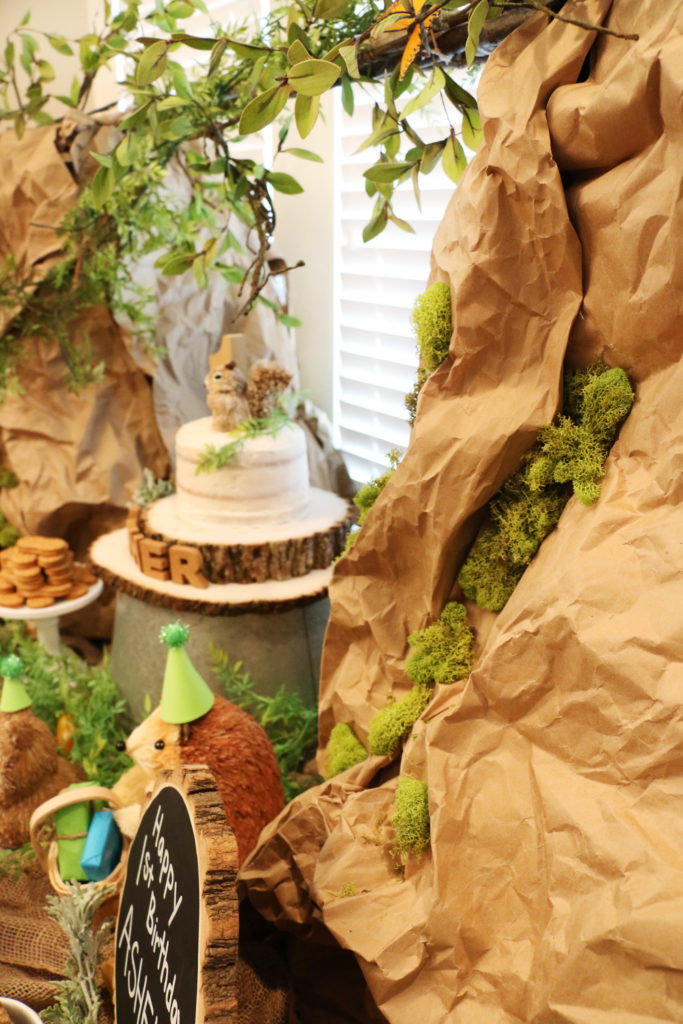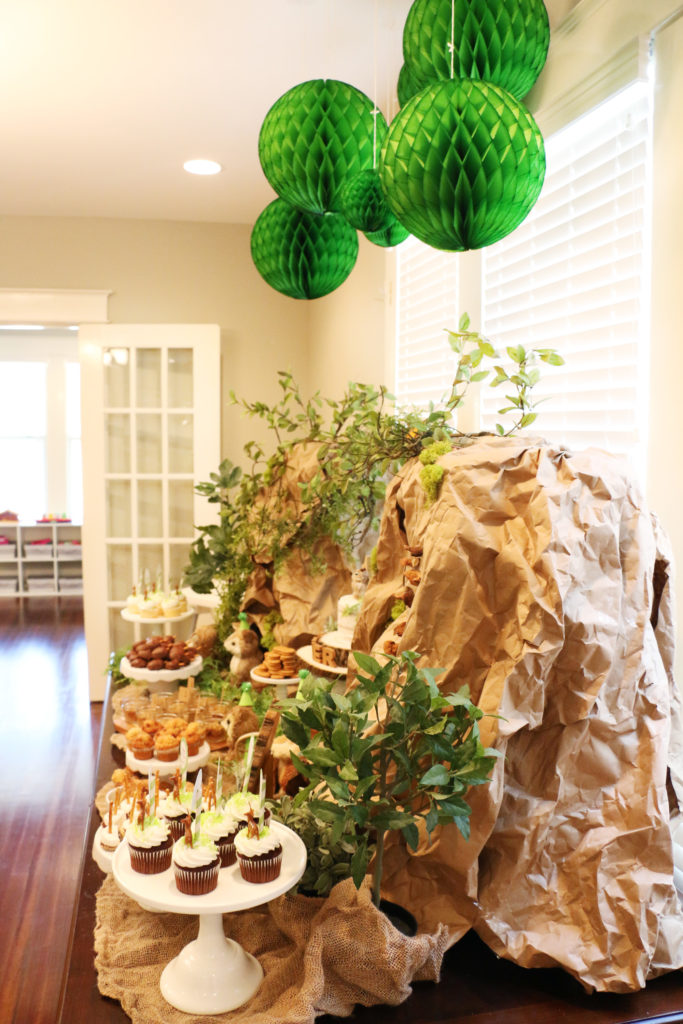 I made a little nook for the fox to be "living in"….
just leaving an opening at the bottom of the stool so I could tuck it in there!
I had the moss growing up around the outside of it. you know. as moss does.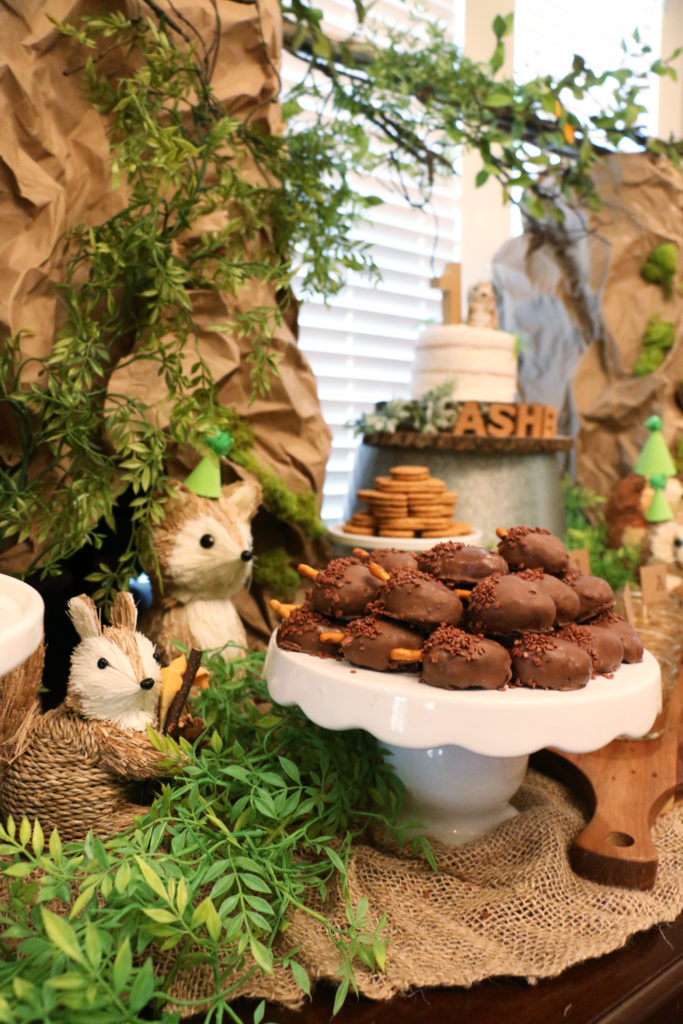 I kept the "forest floor" theme going by having mainly brown desserts across the table.
I grabbed burlap from my craft bins and pulled down the white cake stands off my Dining Room shelves.
I had some greenery leftover from other parties or around the house for decor…
so I tucked that in on the table too. I'm all about working with what you have!
I knew I had a butterfly somewhere from the girls' fairy themed birthday party (years ago)
so I topped our branch off with that! Just for a little forest touch.
I thought the mixes of greenery worked well and most of them I got discounted or already had.
I think I bought two greenery items for the party. I love them because
they come in handy for a lot of different themes.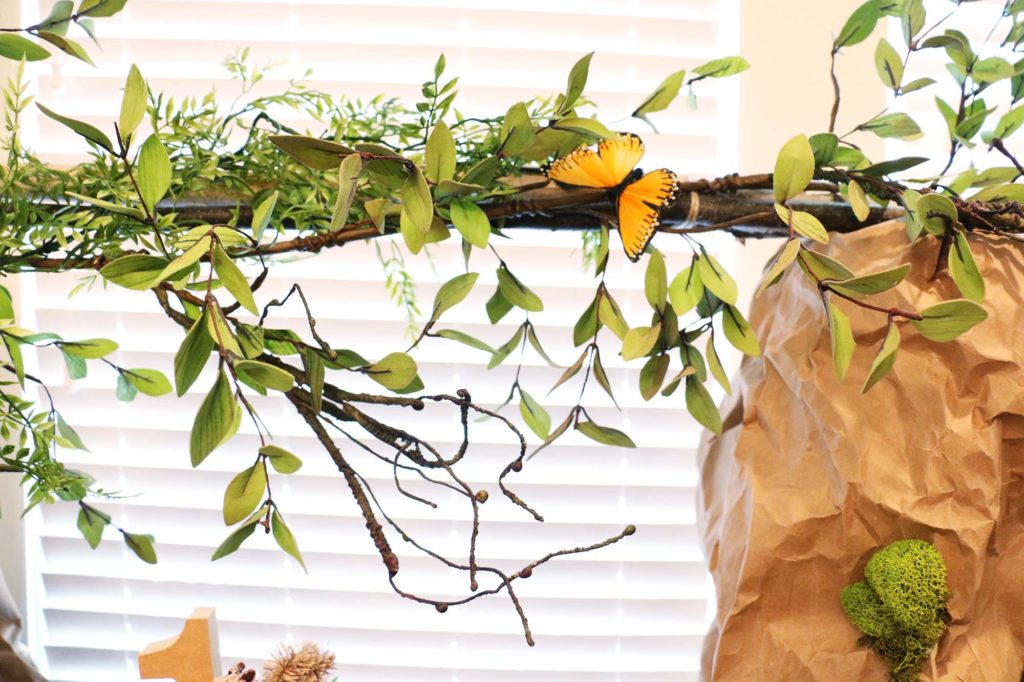 I used my cutting board in the kitchen to add more texture to the table and put my little jars of apple crisp on it!
Those jars are from Zurchers.com and I've used them for SO MANY parties. so many.
I had little brown flag picks from Michael's. I love how they have a section of party details by color. So handy!
I stamped little A's and 1's on them using brown ink. (I used the same ink on the party favor bags you'll see below.)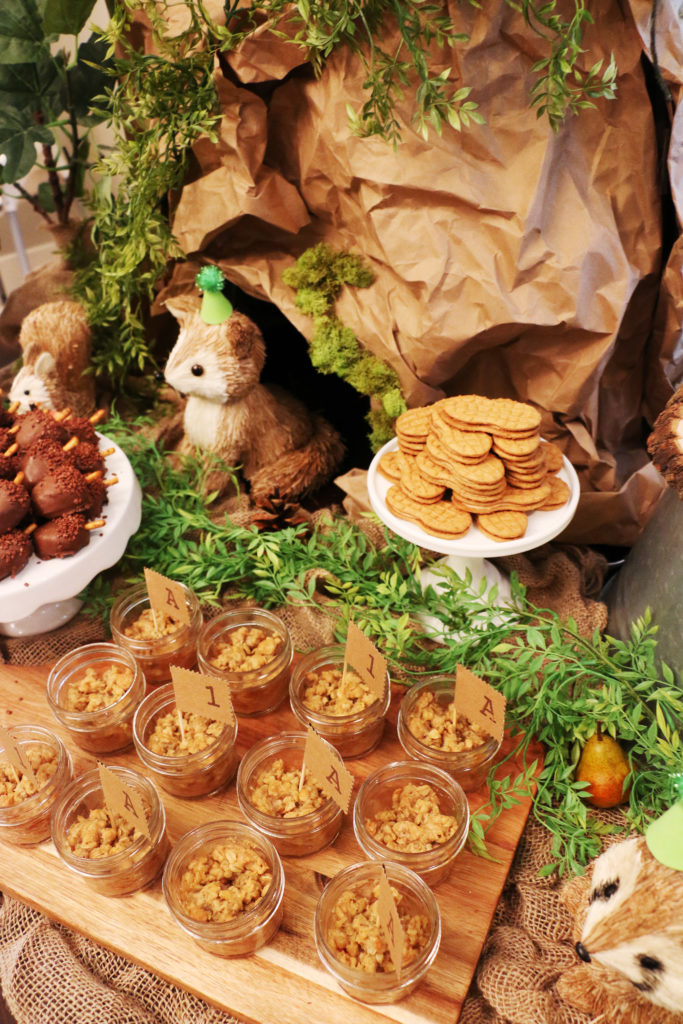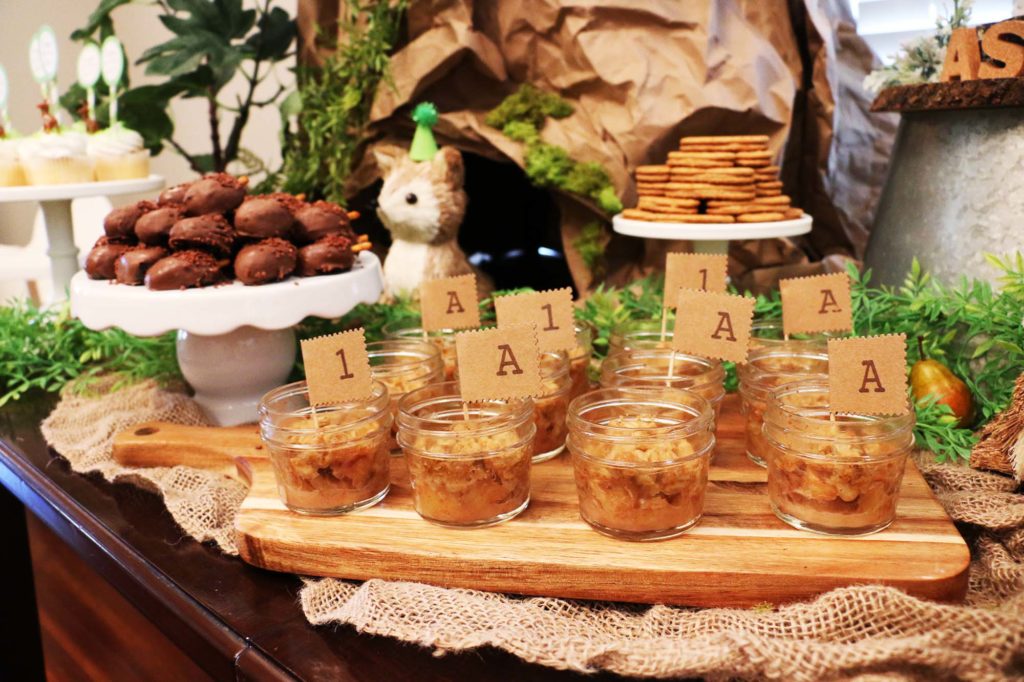 To give my table height, I used a galvanized tub I had
on the bottom of my dining room shelf as my cake stand.
It helped make the cake the star of the table! That chubby little ornament
turned cake topper was just too cute not to show off!
I got the 1 at Hobby Lobby?? I'm pretty sure. Or Walmart.
The cake is on two different pieces of wood from Hobby Lobby and Michaels.
The cork letters have been in my craft stash for over a year! I pulled them out, not sure how to use them,
and then randomly decided they could go around the stand!
They were my color after all.
My girls loved them. I used some greenery from Sophia's Princess Party Backdrop to decorate the cake too.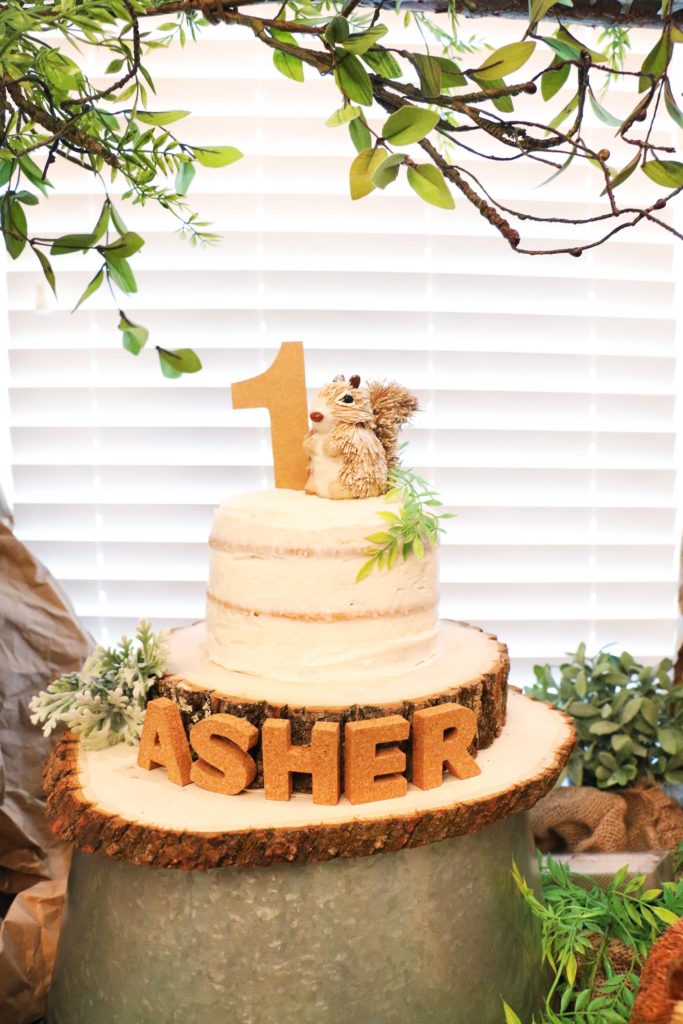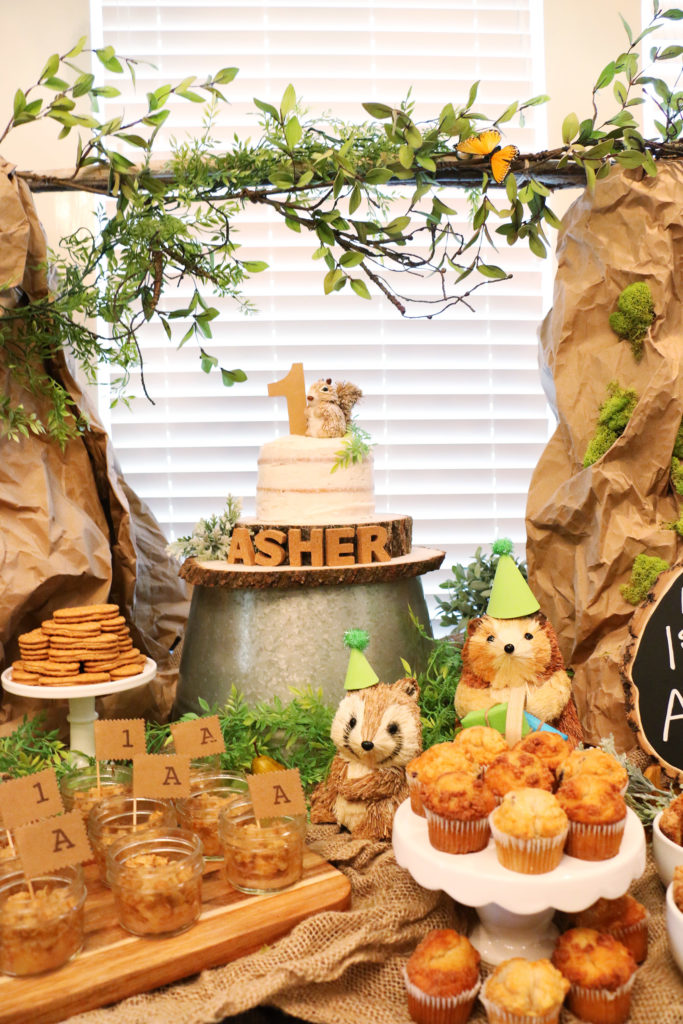 I was so excited to give Asher his birthday cake that I made. just a simple box cake with store bought icing.
I love the "rustic cake" look because it's very forgiving. ;)
When we gave it to him he looked at us like..um… are you sure? is this a trick? haha.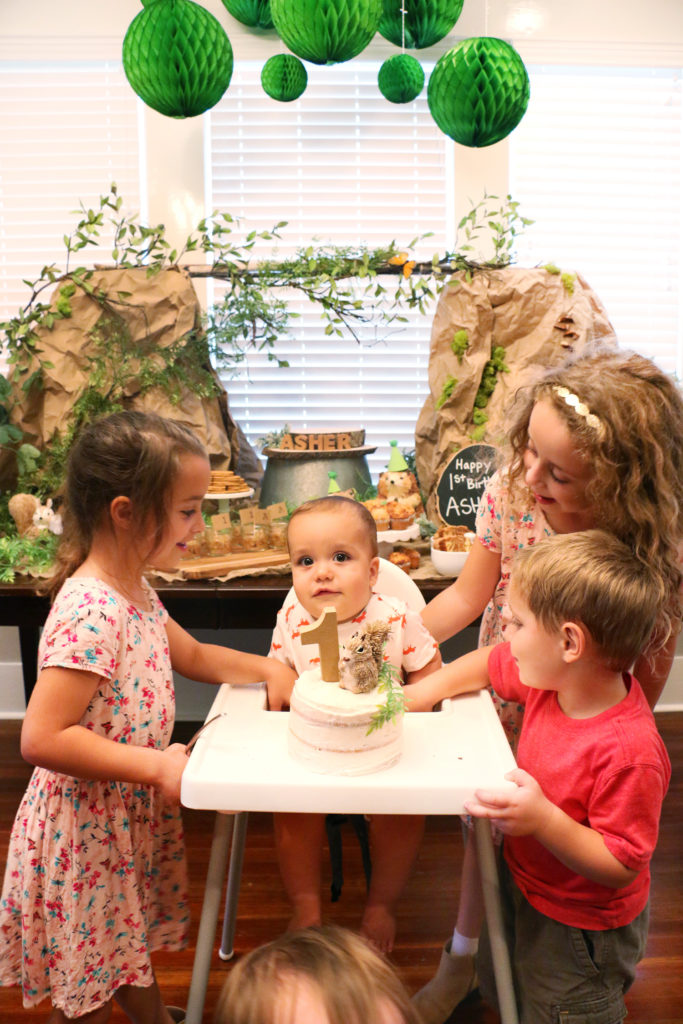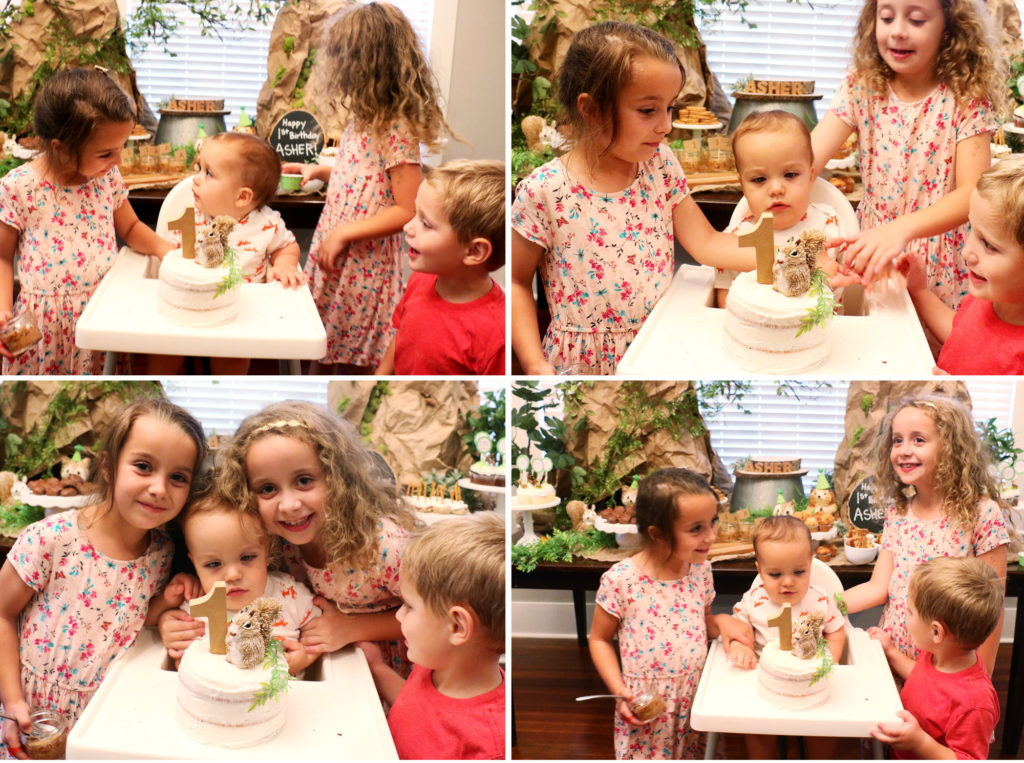 He liked the frosting… but I'm pretty sure he was overall confused on why
1. I was letting him eat this. and 2. people were watching him eat.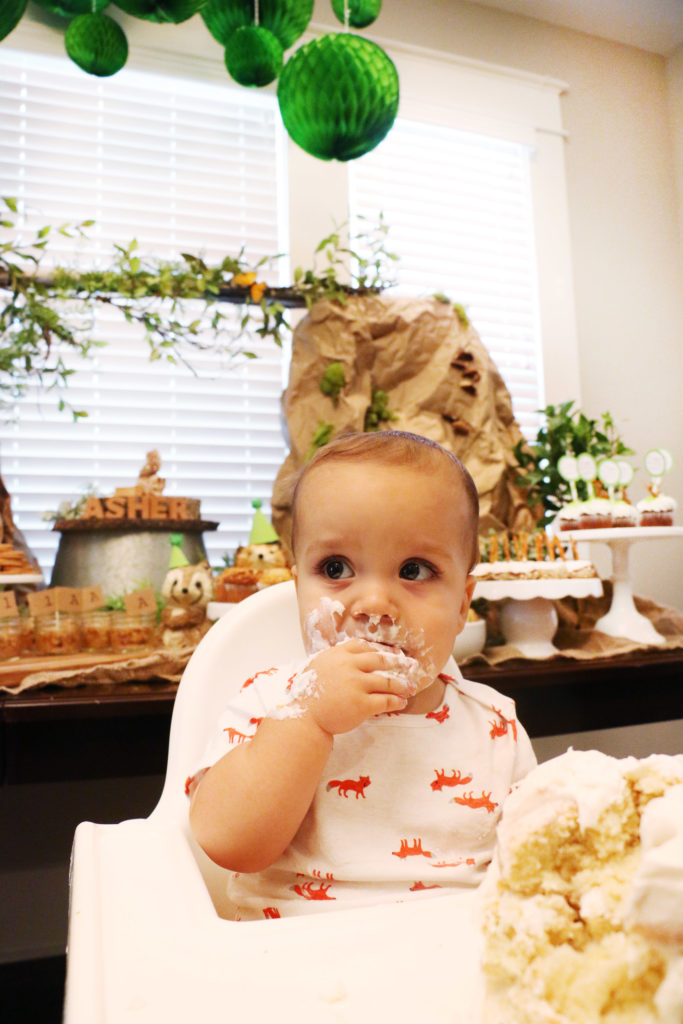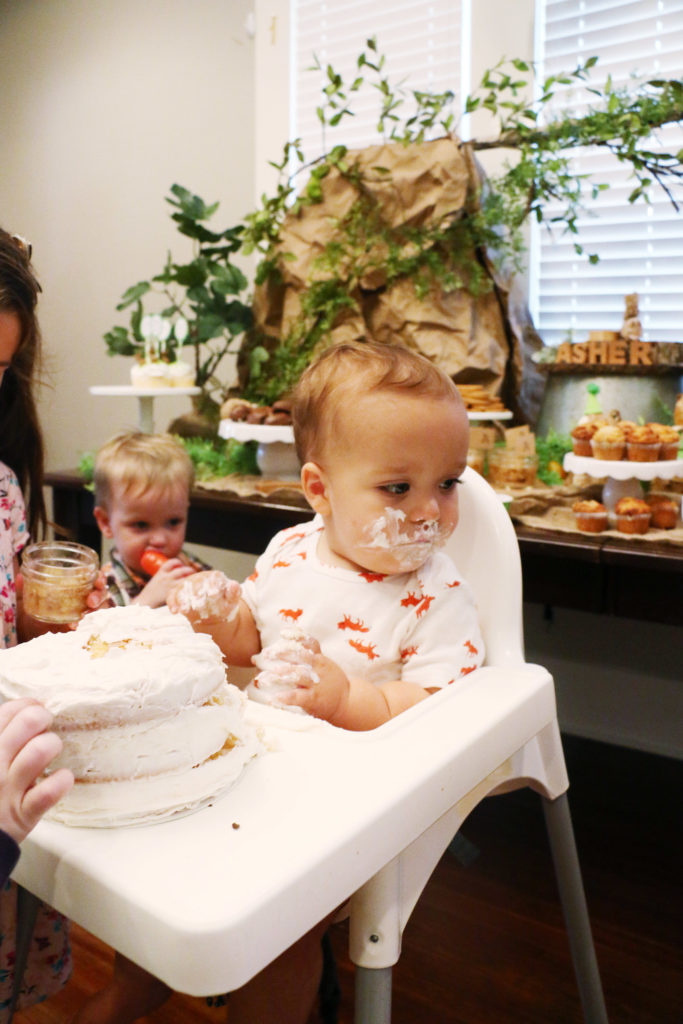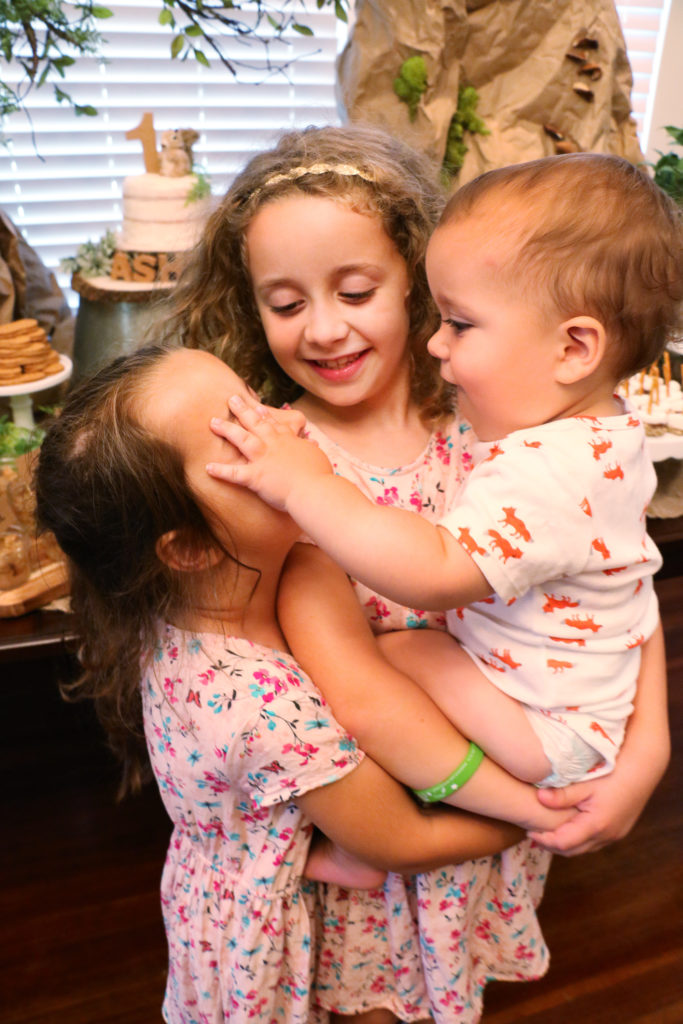 The Happy 1st Birthday sign was from Target..the spritz brand.
The little forest animals were from Michael's. They actually were the first purchases for the party.
I plan on using them for our fall decor each year. I thought they were so cute and whimsical!
My mom is ADORABLE and wrapped up little match boxes and other containers with tissues paper
and tied string around them to make them look like little presents for Asher!
They matched perfectly the party hats I made the animals out of green foam sheets. (by the felt at Michael's)
I hot glue gunned little green poms to the tops. I got the pom poms at Hobby Lobby.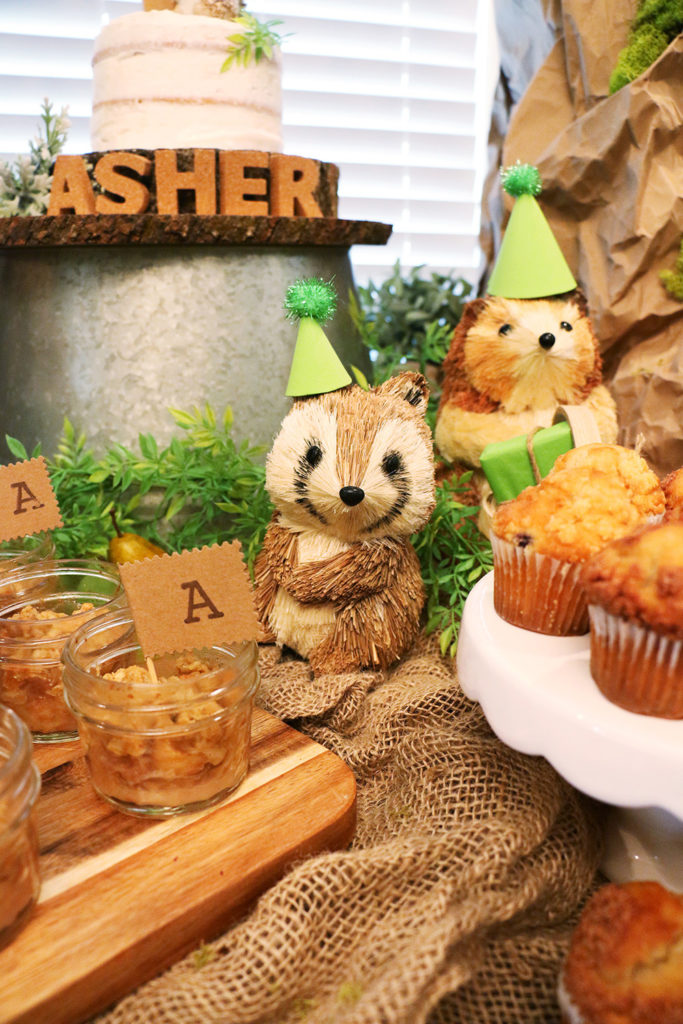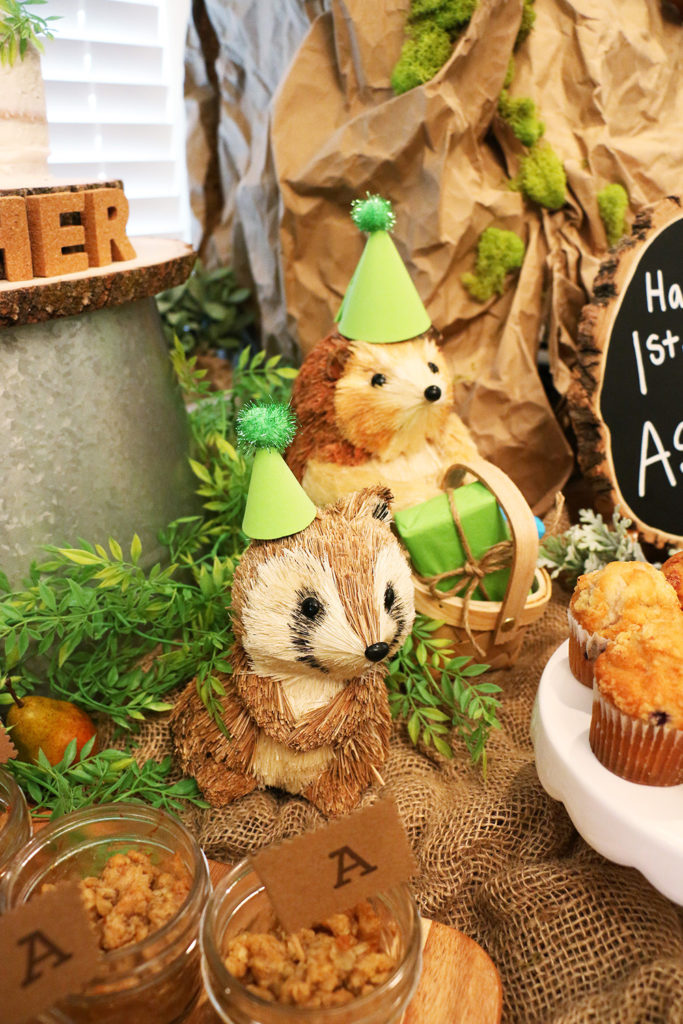 I had come across these really cute little reindeer ornaments at Hobby Lobby!
They were a pack for 3.99 or something crazy like that!
SO CUTE! And were perfect for a little cupcake topper!
I made up a little printable in Photoshop, cut them out with my circle craft punches,
and taped them to straws that I cut to size.
The kids thought they were just SO FUN.
There's just something about toppers on cupcakes that just make kids happy.
I had "grass" sprinkles from a past party so I just added a little dusting on
my store bought cupcakes and they were done!
This cake stand is from Zurchers. I have it in a few different sizes!
The others are from the bargain bins of Target earlier this year.
Have you seen the green/red metal and wood stands they have now?! NEED.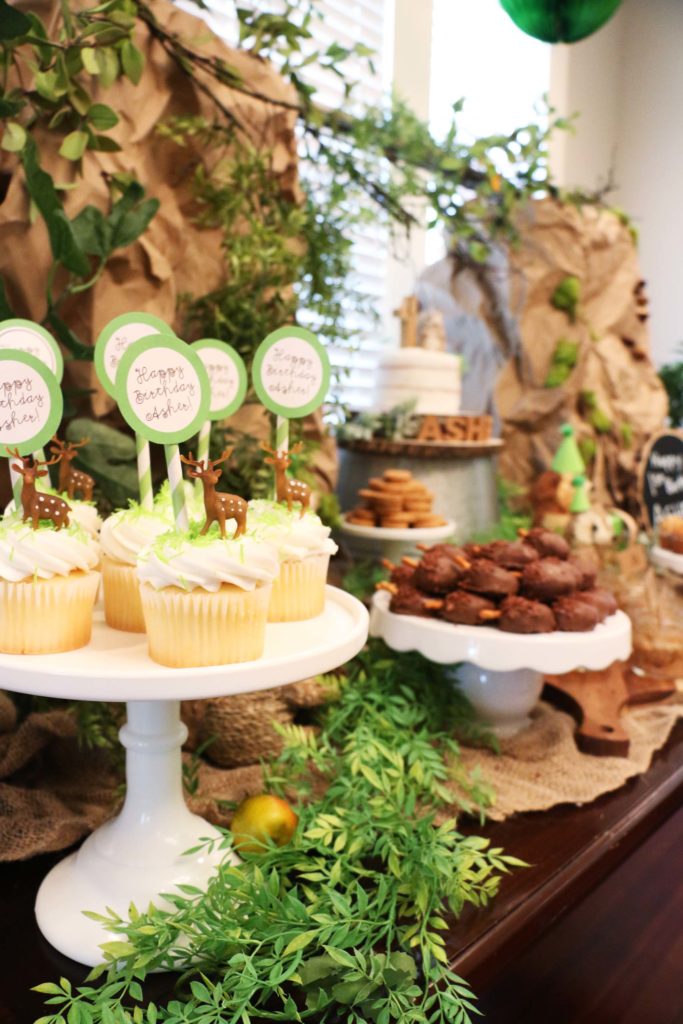 Most of the desserts were store bought. But I really wanted to make an oreo truffle recipe into an acorn!
My mom spotted these cute choco sprinkles at Michael's and they were PERFECT!
I used a pretzel as a stem and these came together easily.
I don't always do a bunch of homemade desserts for my tables…
But if I do I try to get the best bang for my buck.. and these are a special detail on the table!
(Oreo truffle recipe is just oreos and cream cheese/blended…
hardened in the freezer for a bit and then dipped in melted chocolate!)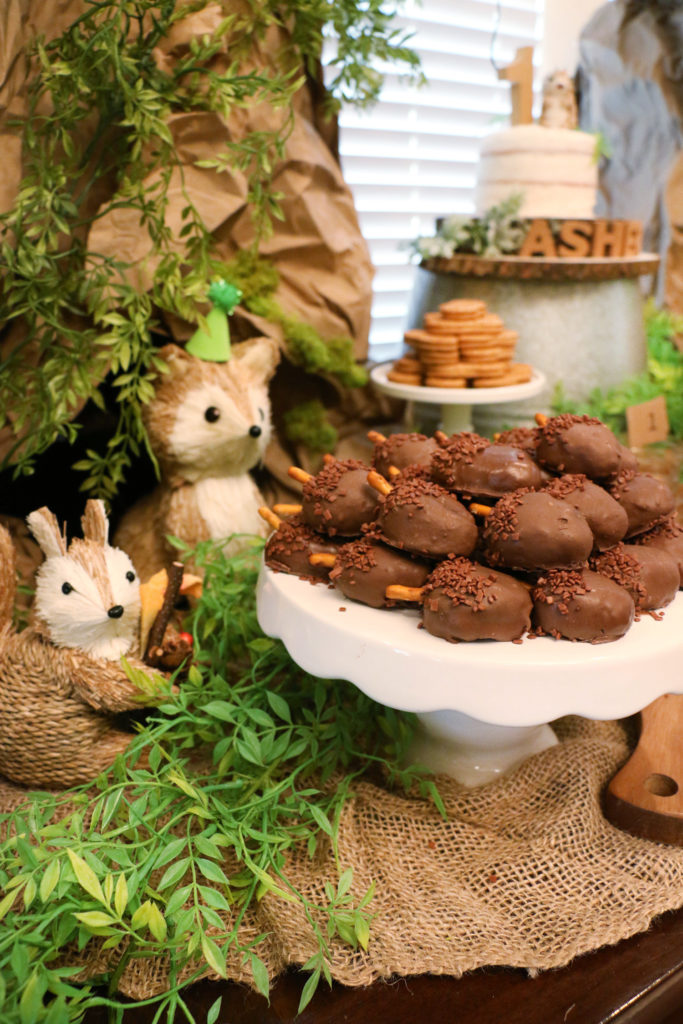 An easy treat for the table were the muffins and crumb cake bread!
The colors were just perfect and something Asher could eat!
I placed the muffins on and below my cake stand….
we just went with it and I ended up really liking how it looked.
I just loved the swirl of the bread…and to show it off I put it in this dish I had..just stacking them up.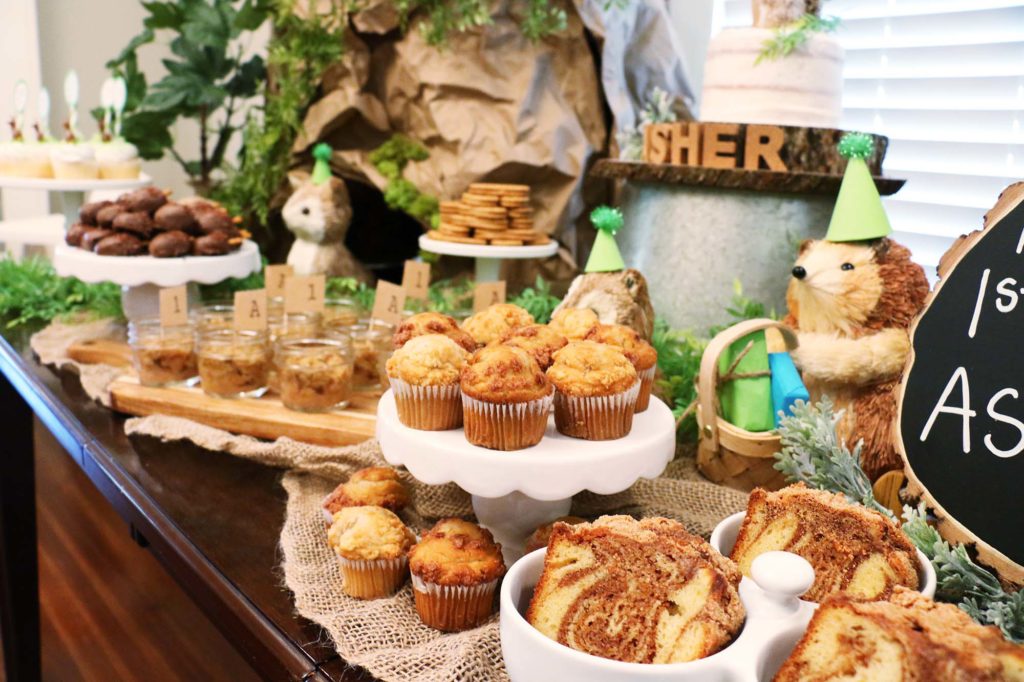 I had these LARGE marshmallows from something. I don't even know what…but they were massive.
I ended up using my kitchen scissors to cut them into smaller sizes…
dipping them in chocolate (from the oreo truffles above!)
and then dipping them in crushed up graham crackers! The pretzel stick added an earthy touch.
Little marshmallow smores! Kids like anything on a stick. ;)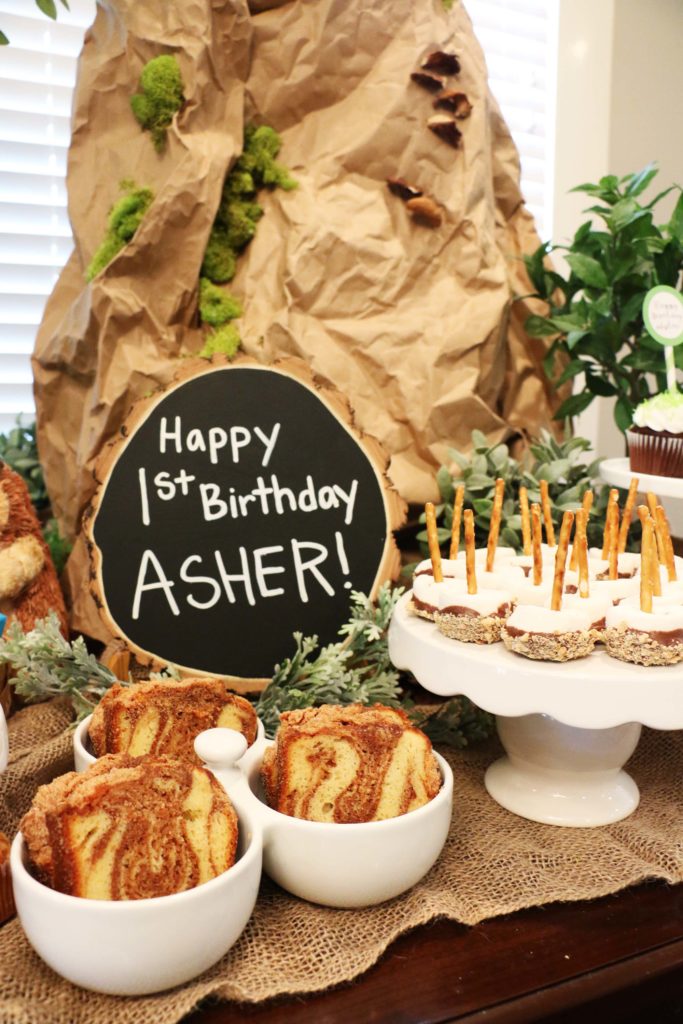 I also set up a little treat and favor table on my kitchen island!
I made peanut blossoms. (family favorite!) and put out the extra apple crisps I made up.
(That is a recipe i can't just make one of. I can only make apple crispS. more than one. like. 4 at a time. haha.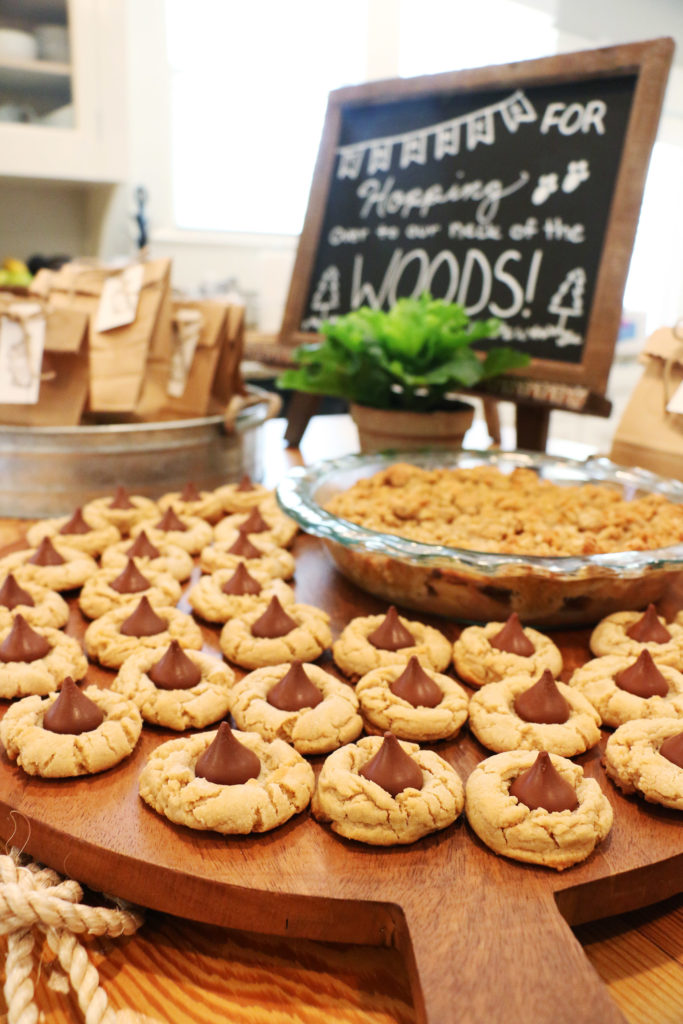 For the favors I used brown bags, filled with a little white Debbie Cake.
I tied up the bags by hole punching the bags… adding a little tag with a bunny stamp DIY and tieing with string!
Simple but cute. I made extra to send on to all the cousins far away that my mom could deliver them too.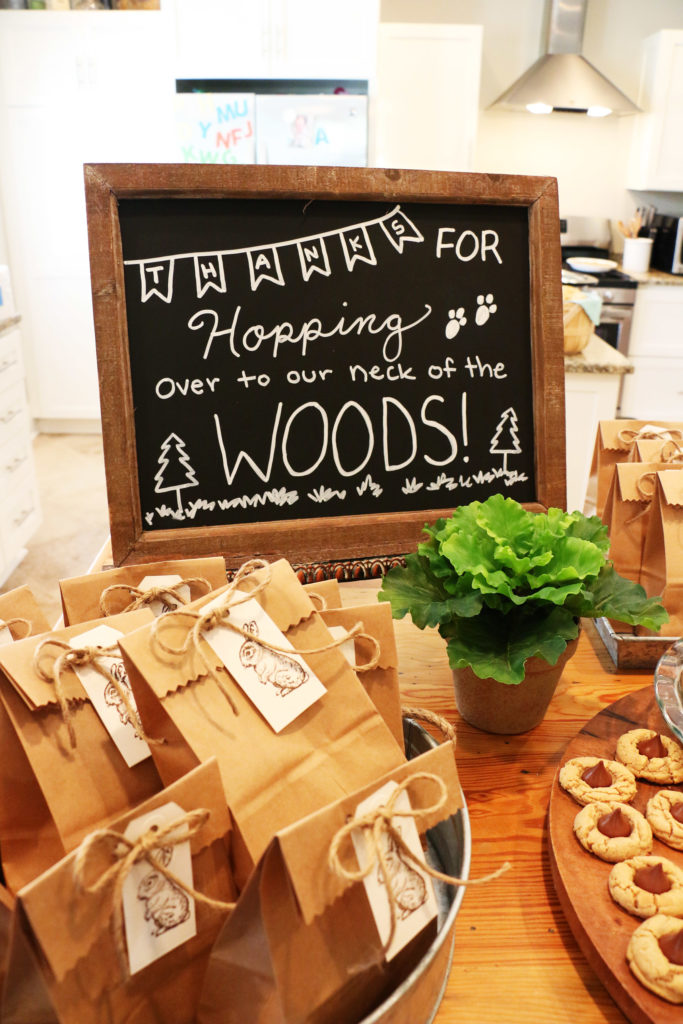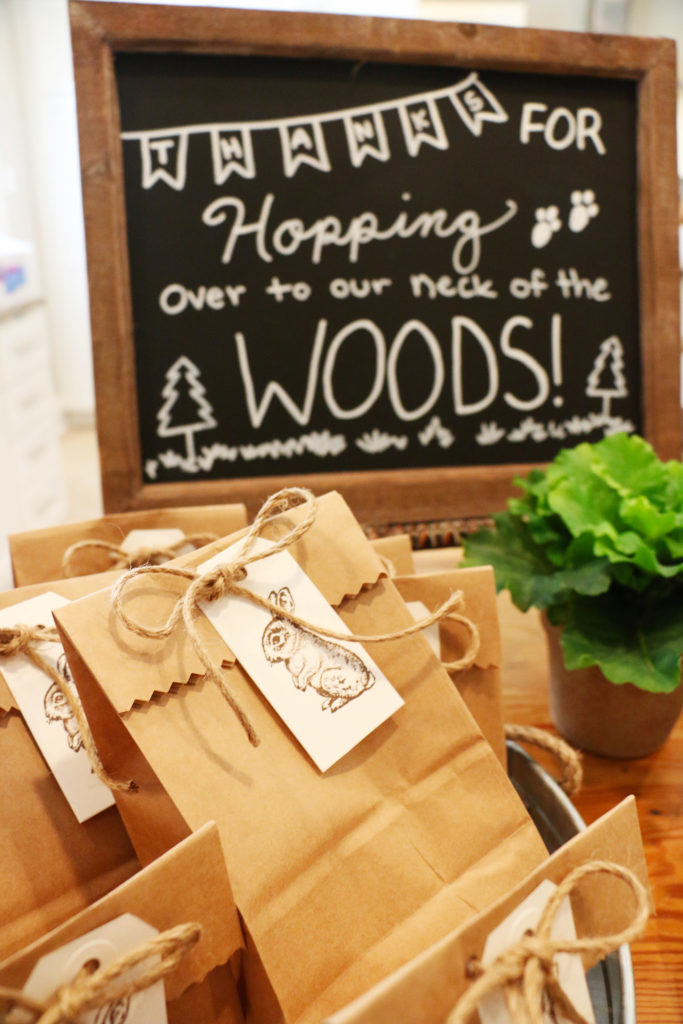 I also had little Bear treats out… gummy bears and teddy grahams!
Everything always looks cute in small portions..so put them out in little containers from Michael's.
(their colored party section again!)
My kids love trail mix…so filled up one of my jars with a fun mix.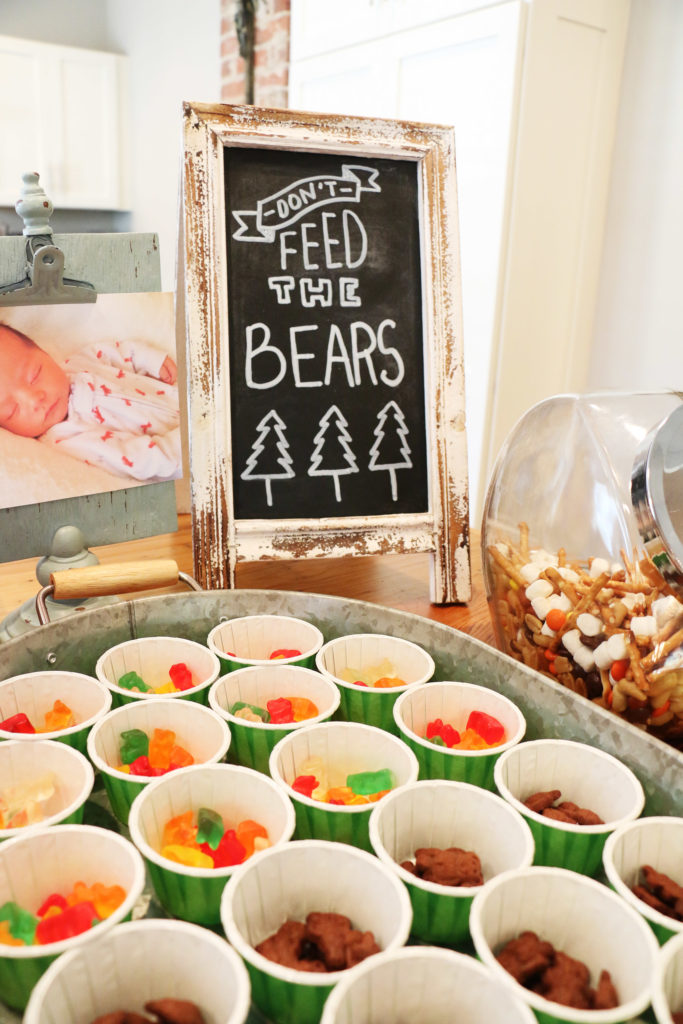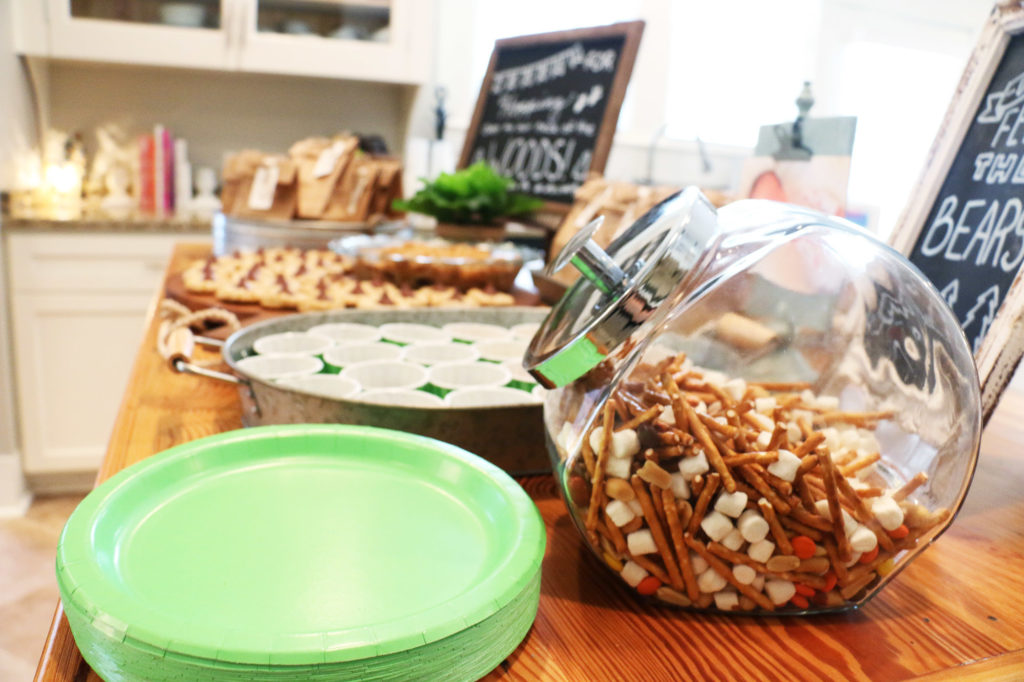 So happy with how the table came together..and without a lot of work! (REALLY!)
The display went up so easily and just made it immediately seem like a whimsical little forest scene!
My kids thought it was just magical and couldn't wait to dive into the treats!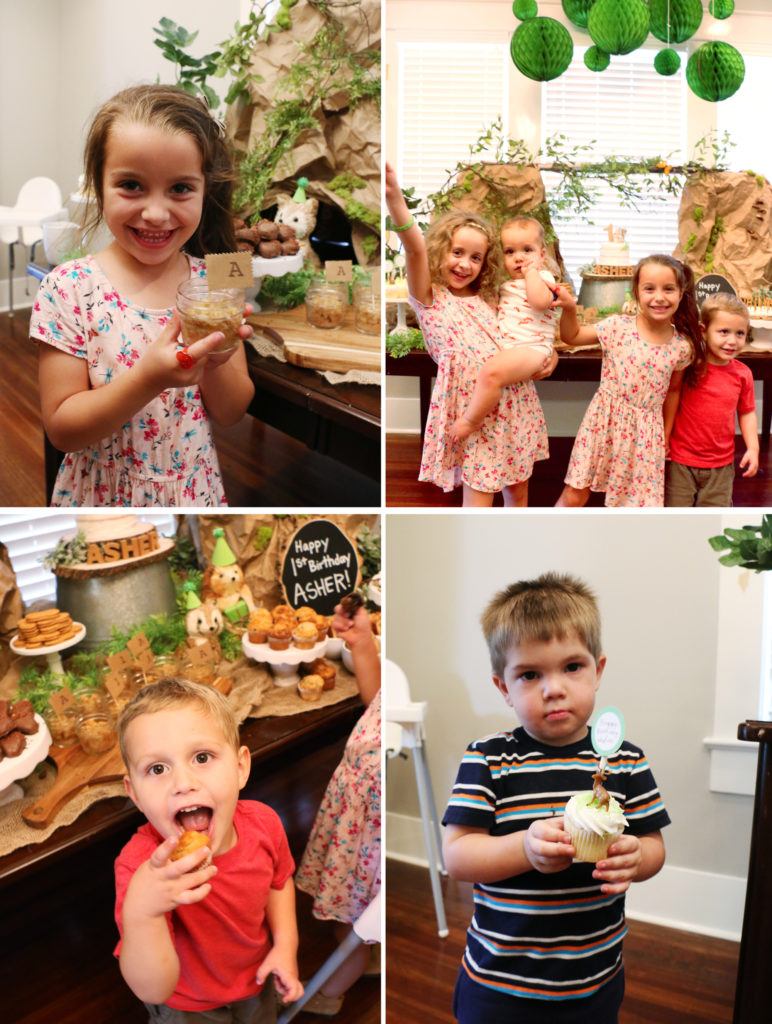 I saw this fox costume at Target and we knew we HAD to get it for Micah man to wear!
It has given us so many giggles!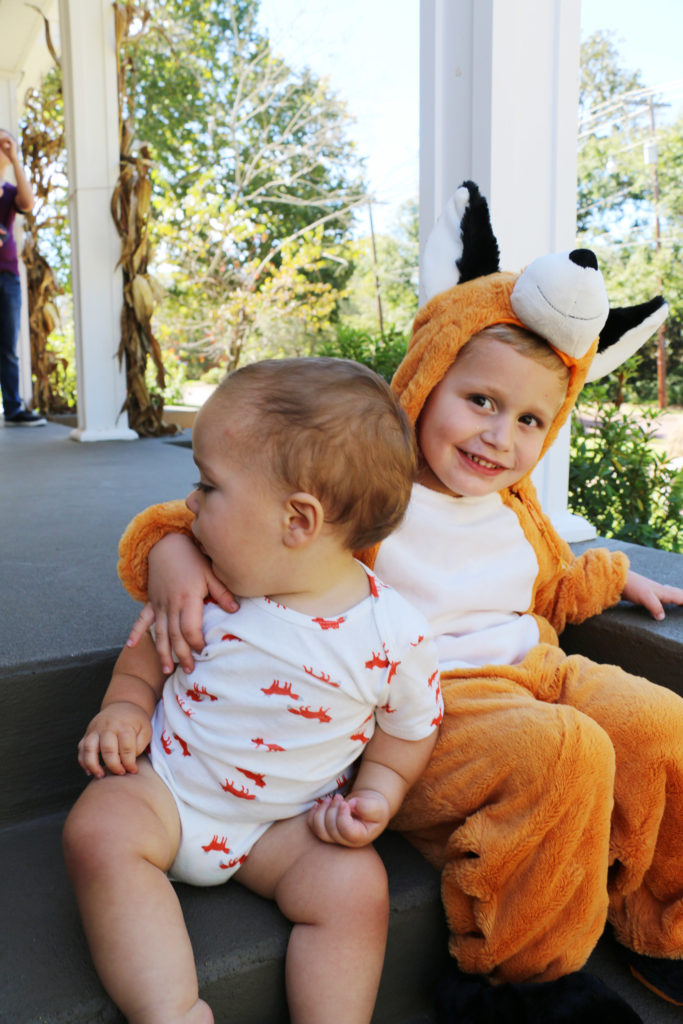 Haha I don't even know.
but It's amazing.
Luckily, Asher was smiling a few moments later but so glad I got this shot haha. babyyy.
This is how I feel about Mondays.
Also, it's his party he can cry if he wants too.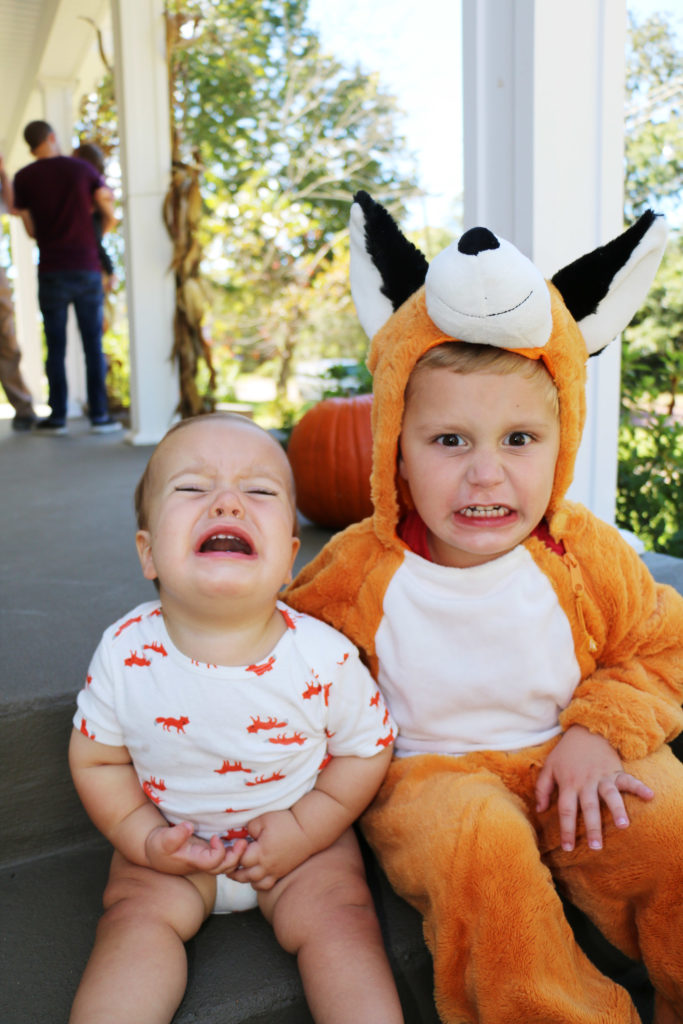 Sorry. I just felt like I needed to put that here.
Couldn't let it go.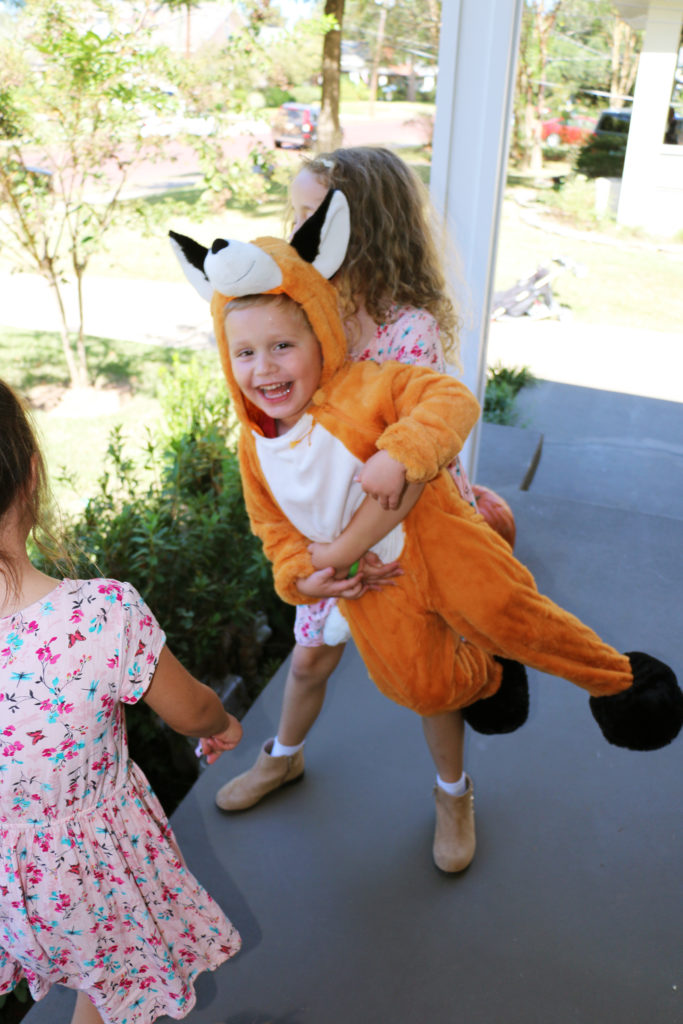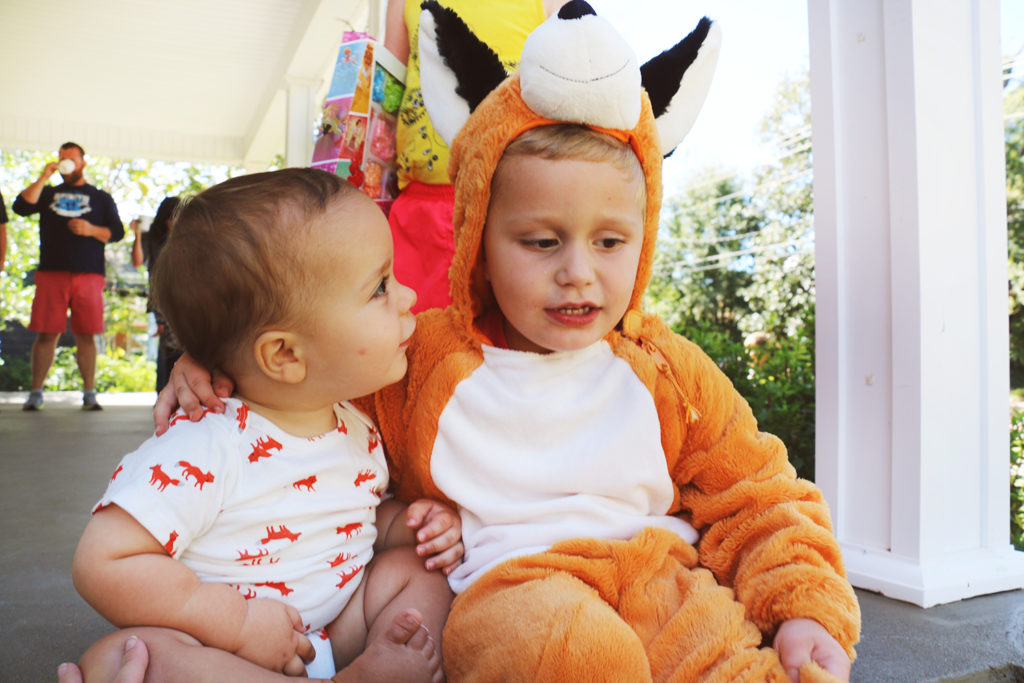 Thanks for stopping by to check out our celebration for Asher!
I'm a little behind but this past week we had Micah's 4th birthday party and it was a Construction Theme…
It was a cousin party that we threw together the day before Thanksgiving!
Excited to share the fun we had that day as well.
We love celebrating with the people we love!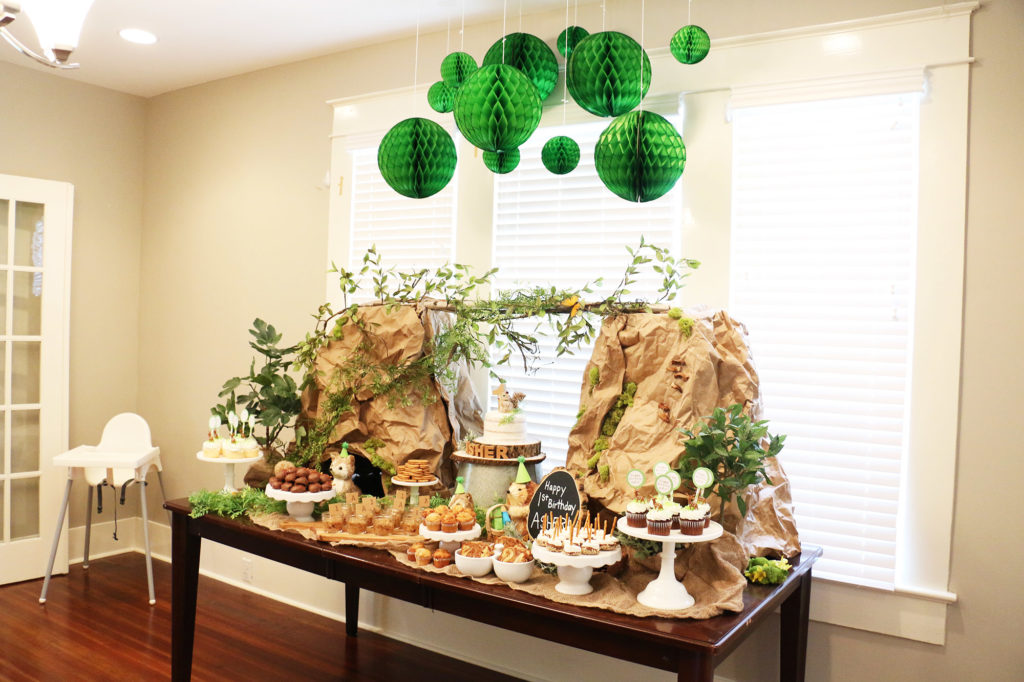 If you love party planning too… you should check out my Party Planning Course!
It's a fun at your own pace course where I share videos of sample parties I style just to
show you how I pull things together even with a little budget and little free time!
If you are a party planning pro you'll love it too!