This past fourth of July I was in charge of bringing some desserts for our family's cook out! I had seen this idea on pinterest months ago and knew I wanted to try it!
These Hot Dog Sugar Cookies would be perfect for a summer backyard cook out
or a baseball party or shower theme! They are just really fun and festive.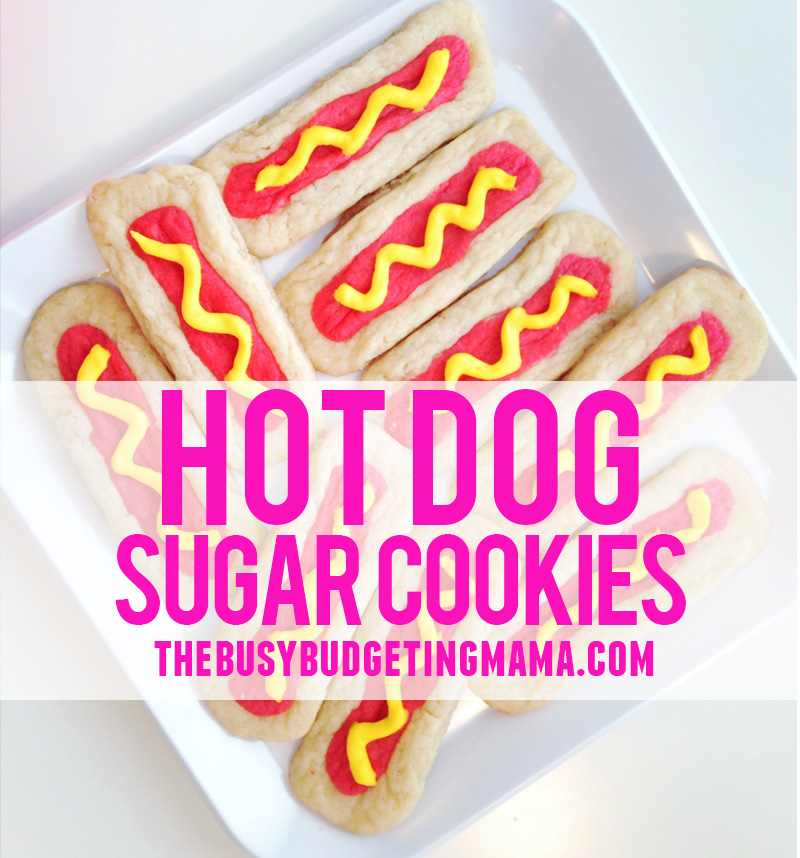 Ben was counting down till the #pinterestfail moment to happen with this one…
Which..yes… it happened. haha.
These look nothing like the photo I saw on pinterest. I think it's because I used store bought sugar cookie dough instead of making from scratch.
Mine ended up much flatter and longer than the image I saw.
But I was happy with how they ended up! And they were EASY and
FAST to make. Which was perfect because
I had no time and little fireworks crazed kids at my ankles.
HOT DOG SUGAR COOKIES
STEP ONE – make the dough and form little "bun" looking
cookies with an indent for the hot dog
STEP TWO – add some red food coloring to a portion of the
sugar cookie dough to make the hot dogs.
STEP THREE – Form red dough into hot dogs and place on the buns!
STEP FOUR – use a knife to draw lines at the end of the hot dogs
for the casing. It just looks more real.
STEP FOUR – Bake as directed, but keep an eye on them
so they don't go too brown, also if they flatten out, like they did for me…. just pull them out and use a knife to smoosh the sides back into each other to form the bun again.
I did that a couple times and it ended up being fine!
NOT like the pictures I saw on pinterest..but this is how it worked for me and a bag of store bought cookie dough. It works but you have to smoosh them back together occasionally so they harden in that shape. (even after you pull them out of the oven)
STEP FIVE – Once the cookies cool down, use yellow frosting to add some mustard to your cookies. You could also use coconut for onions and red icing for ketchup!
I used the cake mate icing tube from the grocery store instead of making my own (saved time and dirty dishes) and put on one of my decorating tips to get the size I wanted.
Tag me on instagram if you ever end up making these!!
would love to see :)
The little cousins loved them but so did the adults!
HAVE FUN AND ENJOY!